Penske driver McLaughlin breaks Bathurst record again, Whincup crashes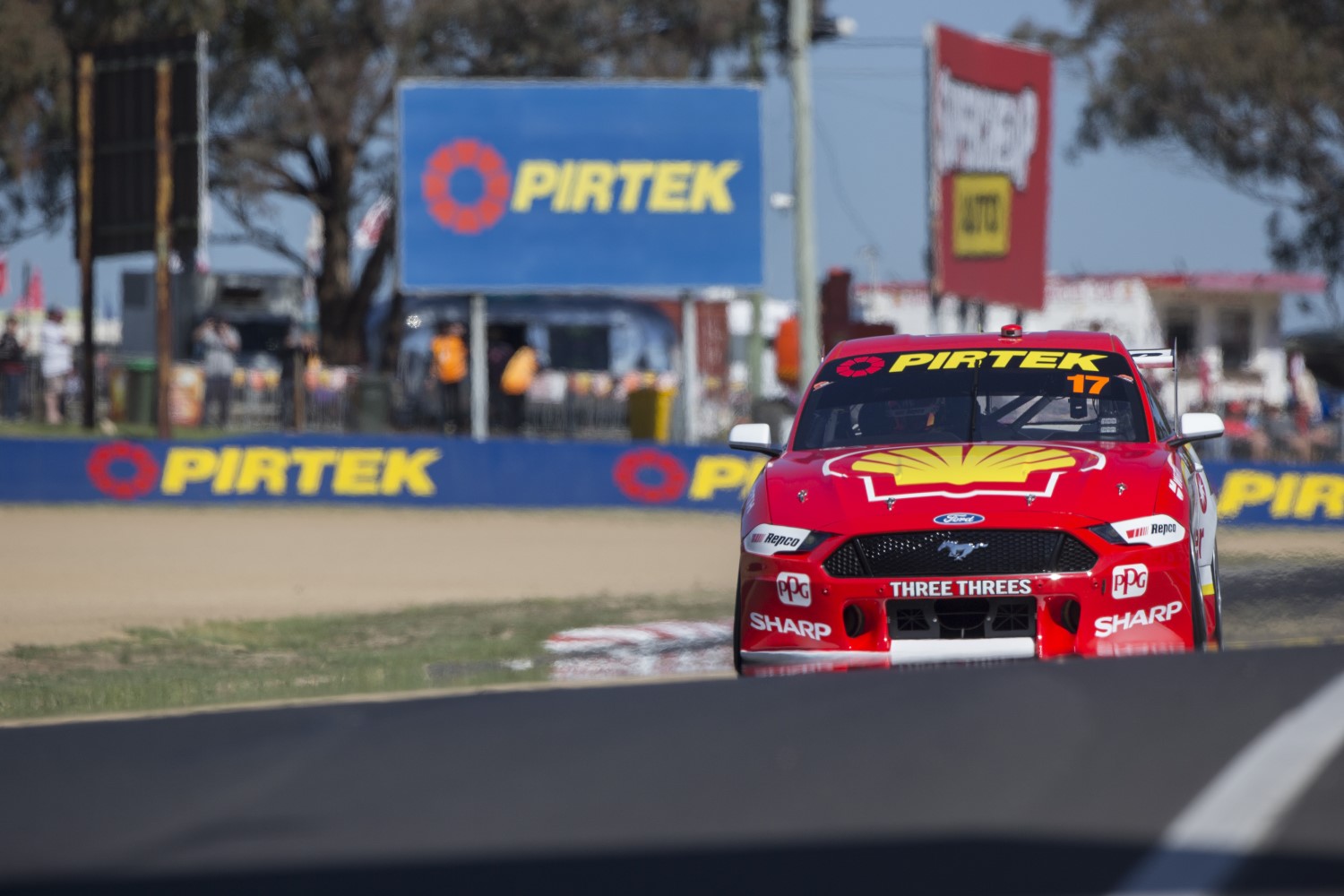 Scott McLaughlin in the Penske Ford Mustang
Scott McLaughlin made it two record-breaking Bathurst laps in two days, while Jamie Whincup crashed out of an eventful practice session this morning at the Supercheap Auto Bathurst 1000.
In an eventful practice session ahead of this afternoon's ARMOR ALL Qualifying, Richie Stanaway crashed near the top of the mountain before Whincup's car became collateral damage.
The next car in the queue, Mark Winterbottom, narrowly avoided becoming part of the carnage.
Before the drama, McLaughlin narrowly missed besting his 2:03.7728 from Thursday afternoon at the midway point of Practice 5.
He then did raise the bar 10 minutes later with a remarkable 2:03.4813 to set a new benchmark for the fastest Supercars lap around Bathurst.
David Reynolds had been on track for a lap to challenge the #17 Shell V-Power Racing Mustang, 0.09s shy at the second sector, until the session was stopped.
Andre Heimgartner the only driver other than McLaughlin to post a sub-2:04 time.
Cameron Waters, Reynolds and Fabian Coulthard completed the top five as the session ended early when IndyCar wildcard Alexander Rossi found a sand trap with four minutes remaining. One thing is for certain, the backmarker IndyCar drivers are going to go home to the USA with their tails between their legs and looking quite inferior in every aspect.
Qualifying which will determine just who reaches tomorrow's famed Top Ten Shootout will begin at 4:00pm local time.
Practice 5 Results
| | | | | | |
| --- | --- | --- | --- | --- | --- |
| Pos | Num | Team/Sponsor | Driver(s) | Car | Time |
| 1 | 17 | Shell V-Power Racing Team | Scott McLaughlin | Ford Mustang GT | 2:03.4813 |
| 2 | 7 | Plus Fitness Racing | Andre Heimgartner | Nissan Altima | 2:03.9853 |
| 3 | 6 | Monster Energy Racing Team | Cameron Waters | Ford Mustang GT | 2:04.0248 |
| 4 | 9 | Penrite Racing | David Reynolds | Holden Commodore ZB | 2:04.1919 |
| 5 | 12 | Shell V-Power Racing Team | Fabian Coulthard | Ford Mustang GT | 2:04.2325 |
| 6 | 97 | Red Bull Holden Racing Team | Shane van Gisbergen | Holden Commodore ZB | 2:04.2852 |
| 7 | 5 | The Bottle-O Racing Team | Lee Holdsworth | Ford Mustang GT | 2:04.3370 |
| 8 | 2 | Mobil 1 Racing | Scott Pye | Holden Commodore ZB | 2:04.4820 |
| 9 | 99 | Penrite Racing | Anton De Pasquale | Holden Commodore ZB | 2:04.5004 |
| 10 | 34 | Boost Mobile Racing | James Golding | Holden Commodore ZB | 2:04.5240 |
| 11 | 18 | Irwin Racing | Mark Winterbottom | Holden Commodore ZB | 2:04.6103 |
| 12 | 15 | Castrol Racing | Rick Kelly | Nissan Altima | 2:04.6298 |
| 13 | 55 | Supercheap Auto Racing | Chaz Mostert | Ford Mustang GT | 2:04.7297 |
| 14 | 3 | RABBLE.club Racing | Garry Jacobson | Nissan Altima | 2:04.7547 |
| 15 | 35 | Bigmate Racing | Todd Hazelwood | Holden Commodore ZB | 2:04.8433 |
| 16 | 33 | Boost Mobile Racing | Richie Stanaway | Holden Commodore ZB | 2:04.8815 |
| 17 | 888 | Red Bull Holden Racing Team | Jamie Whincup | Holden Commodore ZB | 2:04.9580 |
| 18 | 8 | 7-Eleven Mobil Racing | Nick Percat | Holden Commodore ZB | 2:05.0038 |
| 19 | 22 | Mobil 1 Racing | James Courtney | Holden Commodore ZB | 2:05.2185 |
| 20 | 23 | Milwaukee Racing | W.Davison/A.Davison | Ford Mustang GT | 2:05.2555 |
| 21 | 78 | Team Harvey Norman | Simona De Silvestro | Nissan Altima | 2:05.2664 |
| 22 | 14 | Freightliner Alliance Racing | Tim Slade | Holden Commodore ZB | 2:05.7105 |
| 23 | 56 | Team Arcoweld Racing | Brodie Kostecki | Holden Commodore ZB | 2:06.1389 |
| 24 | 21 | Team CoolDrive | Macauley Jones | Holden Commodore ZB | 2:06.2179 |
| 25 | 27 | NAPA Auto Parts Racing | Alexander Rossi | Holden Commodore ZB | 2:06.3885 |
| 26 | 19 | Truck Assist TEKNO Racing | J.Le Brocq/J.Webb | Holden Commodore ZB | 2:06.8144 |