Penske Car first, IndyCar drivers dead last in practice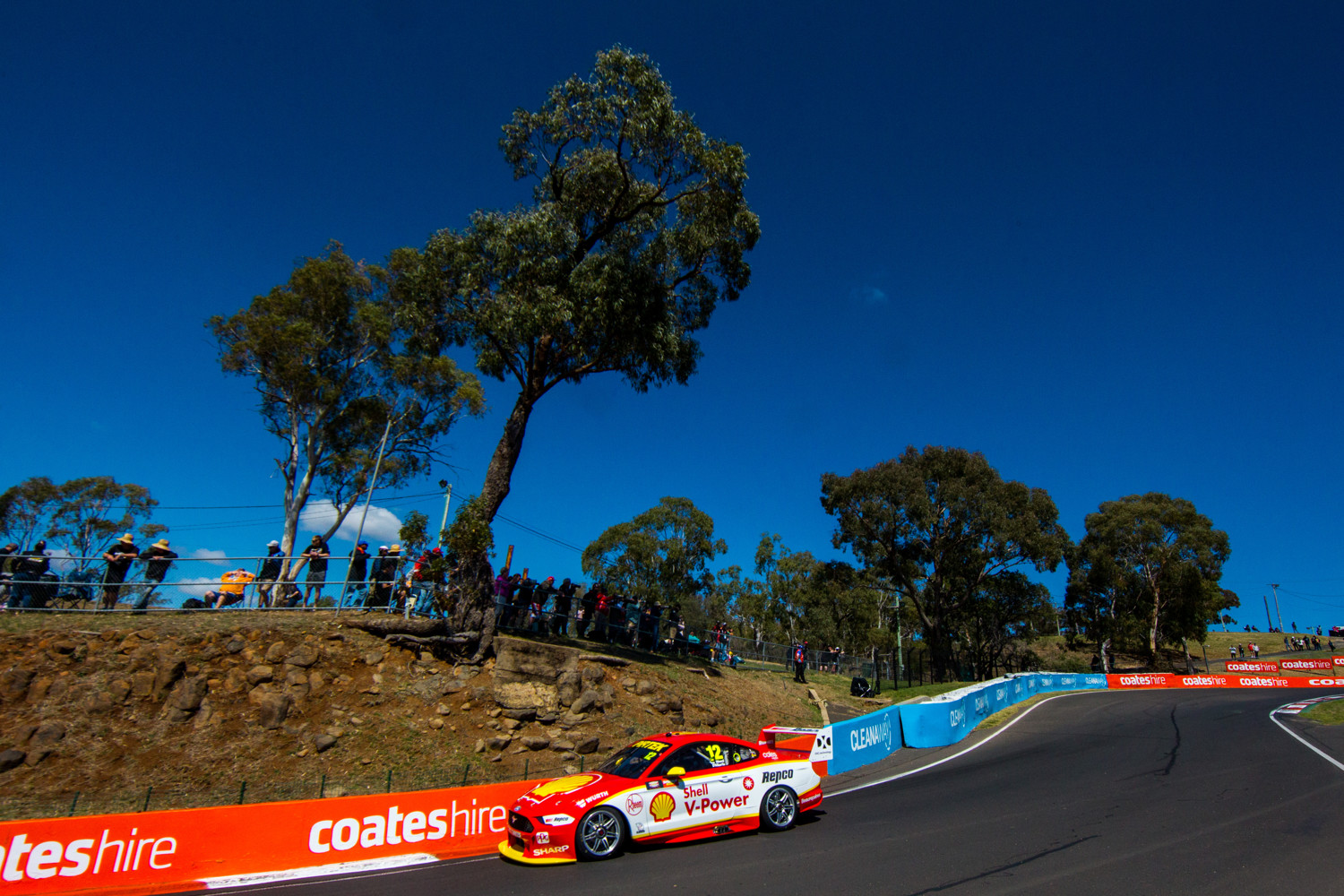 Coulthard was 2nd quick in the #12 Penske Mustang
The pace was incredible on the opening day of the 2019 Bathurst 1000, with Team Penske's Scott McLaughlin breaking his 2017 lap record with a flying run around the 6.2km Mount Panorama circuit.
The pace was massively fast in every session, with the times inside the 2m04s bracket in Practice 1 and co-driver times in the 2m05s in Practice 2.
The Penske Shell V-Power Racing Team worked on the Coulthard/D'Alberto and McLaughlin/Premat Mustangs across the day, with ideal conditions in Practice 3 with low ambient temperatures and a dry track allowing drivers to take advantage of green tires late in the session.
Coulthard and McLaughlin both ran their fastest laps ever around Mount Panorama, with McLaughlin resetting his own lap record with a 2m03.7728.
Andretti WUA Drivers Embarrass Themselves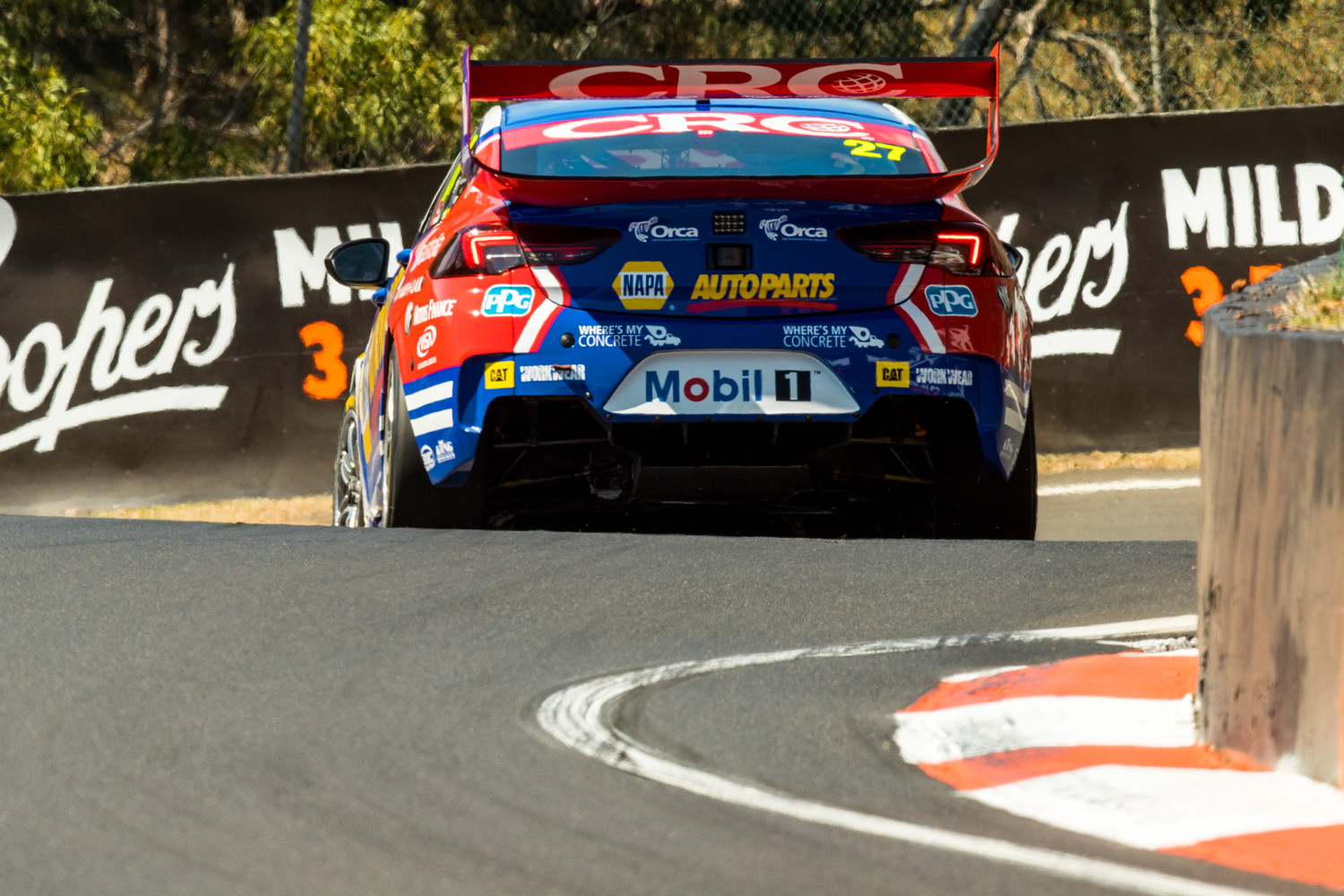 The view McLaughlin will have each time he comes up to lap the Rossi/Hinchcliffe car
Meanwhile at the back of the grid every practice session was the Andretti car. Beaten in IndyCar all year, and beaten in Supercars all year, the Roger Penske outfit continued to eat the Andretti team's lunch.
Alexander Rossi and James Hinchcliffe ran dead last in 2 of the 3 sessions and the only thing they are going to accomplish this weekend is to make IndyCar drivers look inferior to the Supercar regulars.
Mission not accomplished we suppose.
Quotes
COULTHARD QUOTE: "I can't be unhappy with today. Any day you get to drive a race car around Mount Panorama is a good day. It's fast out there, that was my fastest ever lap around this place. It's going to be a fast weekend, that's for sure."
MCLAUGHLIN QUOTE: "You're hanging on over the top now, it's unbelievable the grip of the cars and I think everyone is having a full dip. The second last corner, I dropped a wheel there. That was a moment and a half because I kept my foot into it, I'm an idiot, I've got to remember it's Thursday! There's a little bit here and there, the green side of the car felt alright, so the left-handers were pretty good, but the right-handers it's still a little bit loose. We'll tune it up overnight and throw a set of greens on it tomorrow and see. Hopefully it doesn't rain."
D'ALBERTO QUOTE: "That's the fastest I've ever been around Bathurst! It's really quick this year, as we can see from Scott breaking the record on the first day. Car 12 is feeling pretty strong. We have a little bit of work to do, but we're looking good."
PREMAT QUOTE: "Being back at Mount Panorama is always great, and watching Scott break the lap record was special. The car feels nice, it feels strong and I'm pretty happy. Bathurst is always a good time, a good race and I think we are in a strong position."
Results: Practice 1
| | | | | | |
| --- | --- | --- | --- | --- | --- |
| Pos | Num | Team/Sponsor | Driver(s) | Car | Time |
| 1 | 888 | Red Bull Holden Racing Team | J.Whincup/C.Lowndes/G.Tander | Holden Commodore ZB | 2:04.6744 |
| 2 | 5 | The Bottle-O Racing Team | L.Holdsworth/T.Randle/J.Moffat | Ford Mustang GT | 2:04.8648 |
| 3 | 99 | Penrite Racing | A.De Pasquale/W.Brown/L.Youlden | Holden Commodore ZB | 2:05.0634 |
| 4 | 55 | Supercheap Auto Racing | C.Mostert/T.Randle/J.Moffat | Ford Mustang GT | 2:05.0945 |
| 5 | 97 | Red Bull Holden Racing Team | S.van Gisbergen/C.Lowndes/G.Tander | Holden Commodore ZB | 2:05.1578 |
| 6 | 9 | Penrite Racing | D.Reynolds/W.Brown/L.Youlden | Holden Commodore ZB | 2:05.2012 |
| 7 | 12 | Shell V-Power Racing Team | F.Coulthard/T.D'Alberto/A.Premat | Ford Mustang GT | 2:05.2210 |
| 8 | 17 | Shell V-Power Racing Team | S.McLaughlin/T.D'Alberto/A.Premat | Ford Mustang GT | 2:05.3329 |
| 9 | 15 | Castrol Racing | R.Kelly/B.Fullwood/D.Wood | Nissan Altima | 2:05.4112 |
| 10 | 78 | Team Harvey Norman | S.De Silvestro/D.Fiore/A.Rullo | Nissan Altima | 2:05.4728 |
| 11 | 7 | Plus Fitness Racing | A.Heimgartner/B.Fullwood/D.Wood | Nissan Altima | 2:05.7383 |
| 12 | 23 | Milwaukee Racing | W.Davison/M.Caruso/A.Davison | Ford Mustang GT | 2:05.8082 |
| 13 | 6 | Monster Energy Racing Team | C.Waters/M.Caruso/A.Davison | Ford Mustang GT | 2:05.8094 |
| 14 | 35 | Bigmate Racing | T.Hazelwood/J.Smith | Holden Commodore ZB | 2:05.8689 |
| 15 | 8 | 7-Eleven Mobil Racing | N.Percat/T.Blanchard/A.Walsh | Holden Commodore ZB | 2:05.9786 |
| 16 | 14 | Freightliner Alliance Racing | T.Slade/T.Blanchard/A.Walsh | Holden Commodore ZB | 2:06.0683 |
| 17 | 34 | Boost Mobile Racing | J.Golding/R.Muscat/C.Pither | Holden Commodore ZB | 2:06.0912 |
| 18 | 2 | Mobil 1 Racing | S.Pye/J.Perkins/W.Luff | Holden Commodore ZB | 2:06.2302 |
| 19 | 18 | Irwin Racing | M.Winterbottom/S.Richards | Holden Commodore ZB | 2:06.2446 |
| 20 | 3 | RABBLE.club Racing | G.Jacobson/D.Fiore/A.Rullo | Nissan Altima | 2:06.3389 |
| 21 | 22 | Mobil 1 Racing | J.Courtney/J.Perkins/W.Luff | Holden Commodore ZB | 2:06.7077 |
| 22 | 33 | Boost Mobile Racing | R.Stanaway/R.Muscat/C.Pither | Holden Commodore ZB | 2:06.9316 |
| 23 | 56 | Team Arcoweld Racing | B.Kostecki/J.Kostecki | Holden Commodore ZB | 2:07.5973 |
| 24 | 21 | Team CoolDrive | M.Jones/D.Canto | Holden Commodore ZB | 2:07.6944 |
| 25 | 19 | Truck Assist TEKNO Racing | J.Le Brocq/J.Webb | Holden Commodore ZB | 2:08.0006 |
| 26 | 27 | NAPA Auto Parts Racing | A.Rossi/J.Hinchcliffe | Holden Commodore ZB | 2:09.2497 |
Results: Practice 3
| | | | | | |
| --- | --- | --- | --- | --- | --- |
| Pos | Num | Team/Sponsor | Driver(s) | Car | Time |
| 1 | 17 | Shell V-Power Racing Team | Scott McLaughlin | Ford Mustang GT | 2:03.7728 |
| 2 | 888 | Red Bull Holden Racing Team | Jamie Whincup | Holden Commodore ZB | 2:03.9327 |
| 3 | 6 | Monster Energy Racing Team | Cameron Waters | Ford Mustang GT | 2:03.9490 |
| 4 | 23 | Milwaukee Racing | Will Davison | Ford Mustang GT | 2:03.9918 |
| 5 | 55 | Supercheap Auto Racing | C.Mostert/J.Moffat | Ford Mustang GT | 2:04.0622 |
| 6 | 5 | The Bottle-O Racing Team | Lee Holdsworth | Ford Mustang GT | 2:04.0673 |
| 7 | 12 | Shell V-Power Racing Team | Fabian Coulthard | Ford Mustang GT | 2:04.1348 |
| 8 | 97 | Red Bull Holden Racing Team | Shane van Gisbergen | Holden Commodore ZB | 2:04.1501 |
| 9 | 99 | Penrite Racing | Anton De Pasquale | Holden Commodore ZB | 2:04.3315 |
| 10 | 15 | Castrol Racing | Rick Kelly | Nissan Altima | 2:04.4975 |
| 11 | 14 | Freightliner Alliance Racing | Tim Slade | Holden Commodore ZB | 2:04.5245 |
| 12 | 22 | Mobil 1 Racing | James Courtney | Holden Commodore ZB | 2:04.5398 |
| 13 | 7 | Plus Fitness Racing | Andre Heimgartner | Nissan Altima | 2:04.6028 |
| 14 | 18 | Irwin Racing | Mark Winterbottom | Holden Commodore ZB | 2:04.7099 |
| 15 | 34 | Boost Mobile Racing | James Golding | Holden Commodore ZB | 2:04.7188 |
| 16 | 3 | RABBLE.club Racing | Garry Jacobson | Nissan Altima | 2:04.7546 |
| 17 | 8 | 7-Eleven Mobil Racing | Nick Percat | Holden Commodore ZB | 2:04.8205 |
| 18 | 35 | Bigmate Racing | Todd Hazelwood | Holden Commodore ZB | 2:05.1352 |
| 19 | 33 | Boost Mobile Racing | Richie Stanaway | Holden Commodore ZB | 2:05.2452 |
| 20 | 2 | Mobil 1 Racing | S.Pye/W.Luff | Holden Commodore ZB | 2:05.2683 |
| 21 | 78 | Team Harvey Norman | S.De Silvestro/A.Rullo | Nissan Altima | 2:05.7410 |
| 22 | 21 | Team CoolDrive | M.Jones/D.Canto | Holden Commodore ZB | 2:05.8574 |
| 23 | 19 | Truck Assist TEKNO Racing | Jack Le Brocq | Holden Commodore ZB | 2:07.1522 |
| 24 | 27 | NAPA Auto Parts Racing | Alexander Rossi | Holden Commodore ZB | 2:07.2281 |