34 Entries for Petit Le Mans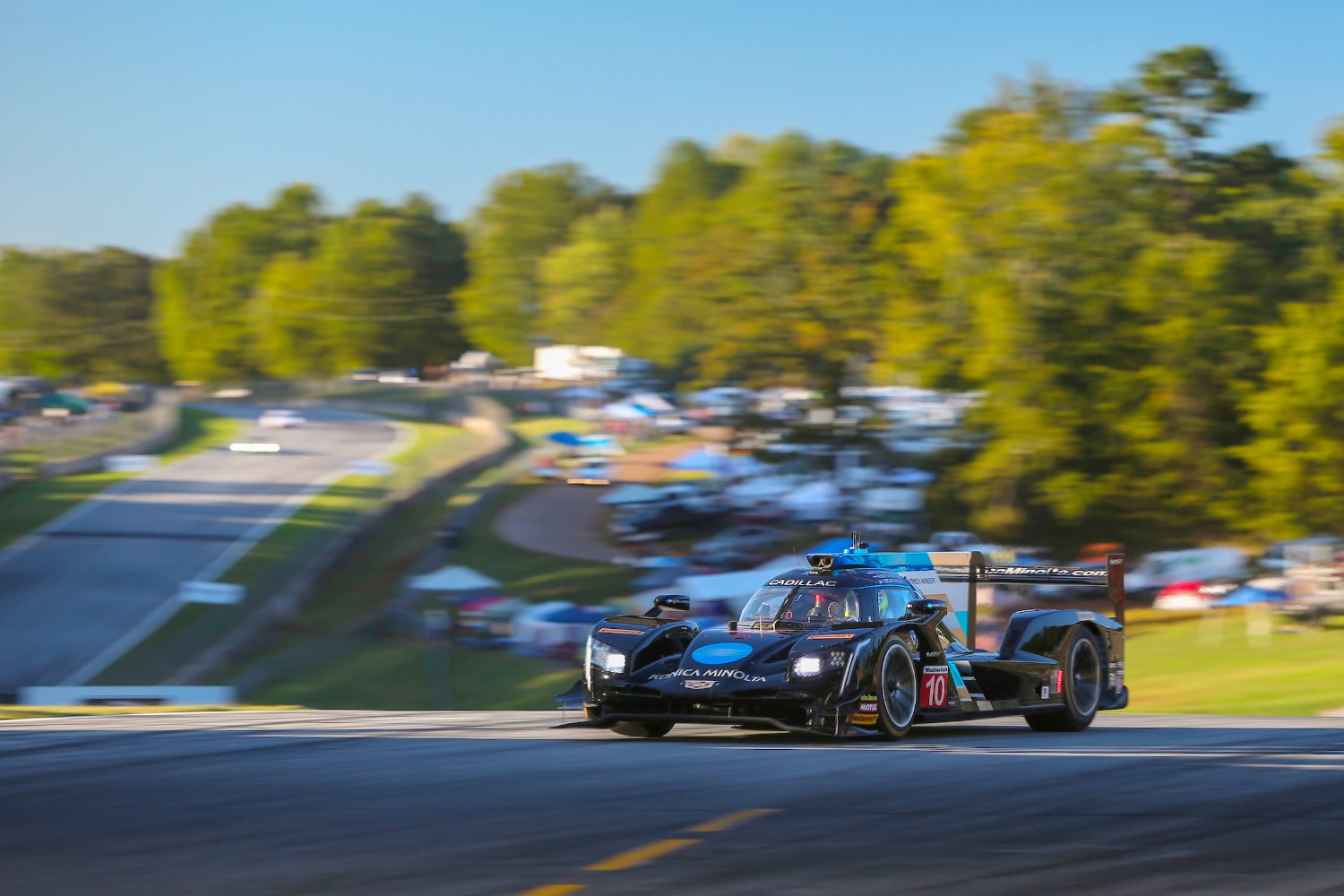 Road Atlanta
It's the 22nd Annual Motul Petit Le Mans on Saturday, Oct. 12. The entry list revealed today includes 34 entries across four classes of competition, with 11 Daytona Prototype international (DPi) machines, two LMP2s, a nine-car GT Le Mans (GTLM) field and 12 GT Daytona (GTD) entries.
Television coverage of the 2019 Motul Petit Le Mans begins on the NBC Network at noon ET on Saturday, Oct. 12. The broadcast shifts exclusively to the NBC Sports App and NBCSports.com from 3:00-5:30 p.m. ET. NBCSN takes over the broadcast from that point until its dramatic conclusion on Saturday night. The NBC Sports App and NBCSports.com also will have live flag-to-flag coverage.
As always, IMSA Radio will have live coverage throughout the race week on IMSA.com and RadioLeMans.com, with a live race broadcast airing on SiriusXM Radio.
Tickets are available now at RoadAtlanta.com.
And with that, let's take a peek at who has enjoyed success in the 10-hour race over the past 21 years:
No. 4 Corvette Racing Chevrolet Corvette C7.R driver Oliver Gavin has the most Motul Petit Le Mans wins of any active driver with five class wins (2002, 2004, 2005, 2007, 2010). He is one win ahead of a two-way tie for second between No. 3 Corvette driver Jan Magnussen (2004, 2005, 2008, 2010) and No. 77 Mazda Team Joest RT-24P DPi driver Timo Bernhard (2003, 2004, 2006, 2007).
No. 33 Mercedes-AMG Team Riley Motorsports Mercedes AMG GT3 driver Jeroen Bleekemolen has the most Motul Petit Le Mans pole positions among active drivers with three (2010, 2011, 2016). However, the Gold-rated driver will not be eligible for a fourth this year as GTD class rules require Bronze- or Silver-rated drivers only to qualify.
Only four other drivers have multiple pole positions at Motul Petit Le Mans. Drivers with two each include No. 54 CORE autosport Nissan DPi driver Romain Dumas (2004, 2007), No. 6 Acura Team Penske ARX-06 DPi driver Dane Cameron (2011, 2013), No. 63 WeatherTech/Scuderia Corsa Ferrari 488 GT3 driver Toni Vilander (2012, 2016) and No. 67 Ford Chip Ganassi Racing Ford GT driver Richard Westbrook (2015, 2016).
Corvette Racing is the winningest active team at Motul Petit Le Mans with eight victories in the 10-hour race. The team won three consecutive between 2000 and 2002 and returned to victory lane for back-to-back wins in 2004 and 2005, as well as 2007 and 2008. The team's most recent Motul Petit Le Mans win came in 2010.
Porsche is the winningest manufacturer in the field with an even 20 victories since 1998. Audi is second with 11, followed by Chevrolet in third with 10 Motul Petit Le Mans victories.
Previous Motul Petit Le Mans Winning Drivers in 2019 Field (29)
Oliver Gavin (5) – ALMS GTS – 2002, 2004; ALMS GT1 – 2005, 2007; ALMS GT2 – 2010
Jan Magnussen (4) – ALMS GTS – 2004; ALMS GT1 – 2005, 2008; ALMS GT2 – 2010
Timo Bernhard (4) – ALMS GT – 2003, 2004; ALMS P2 – 2006, 2007
Nick Tandy (3) – ALMS GT – 2013, GTLM/Overall – 2015, GTLM – 2018
Bill Auberlen (2) – ALMS GT – 2001, GTLM – 2017
Romain Dumas (2) – ALMS GT – 2003, ALMS P2 – 2007
Ryan Briscoe (2) – ALMS P2 – 2008, 2013
Joao Barbosa (2) – ALMS P2 – 2011, P – 2015
Jeroen Bleekemolen (2) – ALMS GTC – 2011, GTD – 2016
Toni Vilander (2) – ALMS GT – 2012, GTLM – 2016
Bryan Sellers (2) – ALMS GT – 2013, GTLM – 2014
Spencer Pumpelly (2) – ALMS GTC – 2013, GTD – 2015
Jordan Taylor (2) – P/Overall – 2014, 2018
Renger van der Zande (2) – PC – 2014, P/Overall – 2018
Patrick Pilet (2) – GTLM/Overall – 2015, GTLM – 2018
Dirk Mueller (1) – ALMS GT – 1999
Helio Castroneves (1) – ALMS P2 – 2008
Simon Pagenaud (1) – ALMS P2 – 2010
Mario Farnbacher (2) – ALMS GTC – 2012
Ricky Taylor (1) – P/Overall – 2014
Sebastien Bourdais (1) – P – 2015
Olivier Pla (1) – P/Overall – 2016
James Calado (1) – GTLM – 2016
Ben Keating (1) – GTD – 2016
Connor De Phillippi (1) – GTD – 2017
Christopher Mies (1) – GTD – 2017
Frederic Makowiecki (1) – GTLM – 2018
Daniel Serra (1) – GTD – 2018
Cooper MacNeil (1) – GTD – 2018
Previous Motul Petit Le Mans Pole-Winning Drivers in 2019 Field (17)
Jeroen Bleekemolen (3) – ALMS GTC – 2010, 2011; GTD – 2016
Romain Dumas (2) – ALMS GT – 2004, ALMS P2 – 2007
Dane Cameron (2) – ALMS PC – 2011, 2013
Toni Vilander (2) – ALMS GT – 2012, GTLM – 2017
Richard Westbrook (2) – P/Overall – 2015, GTLM – 2016
Bill Auberlen (1) – ALMS GT3 – 1998
Dirk Mueller (1) – ALMS GT – 1999
Oliver Gavin (1) – ALMS GTS – 2004
Ryan Briscoe (1) – ALMS P2 – 2008
Spencer Pumpelly (1) – ALMS GTC – 2013
Nick Tandy (1) – GTLM – 2014
Jack Hawksworth (1) – PC – 2014
Earl Bamber (1) – GTLM – 2015
Helio Castroneves (1) – P/Overall – 2017
Pipo Derani (1) – P/Overall – 2018
John Edwards (1) – GTLM – 2018
Daniel Serra (1) – GTD – 2018
Previous Motul Petit Le Mans Winning Teams in 2019 Field (13)
Corvette Racing (8) – ALMS GTS – 2000, 2001, 2002, 2004; ALMS GT1 – 2005, 2007, 2008; ALMS GT2 – 2010
Risi Competizione (4) – WSC/Overall – 1998 (Doyle-Risi); ALMS GT2 – 2008, 2009; GTLM – 2016
Penske (3) – ALMS P2 – 2006, 2007, 2008
PR1-Mathiasen Motorsports (3) – ALMS PC – 2011; PC – 2015, 2016
CORE autosport/Porsche GT Team (3) – ALMS PC – 2012, GTLM/Overall – 2015; GTLM – 2018
Wayne Taylor Racing (2) – P/Overall – 2014, 2018
Paul Miller Racing (1) – GTD – 2014
Action Express Racing (1) – P – 2015
Shank (1) – P/Overall – 2016
Riley (1) – GTD – 2016
BMW Team RLL (1) – GTLM – 2017
Montaplast by Land Motorsport (1) – GTD – 2017
Scuderia Corsa (1) – GTD – 2018
Previous Motul Petit Le Mans Winning Manufacturers in 2019 Field (9)
Porsche – 20
Audi – 11
Chevrolet – 10
Ferrari – 9
BMW – 2
Cadillac – 1
Mazda – 1
Nissan – 1
Ford – 1