Marquez hospitalised after heavy Thailand MotoGP FP1 crash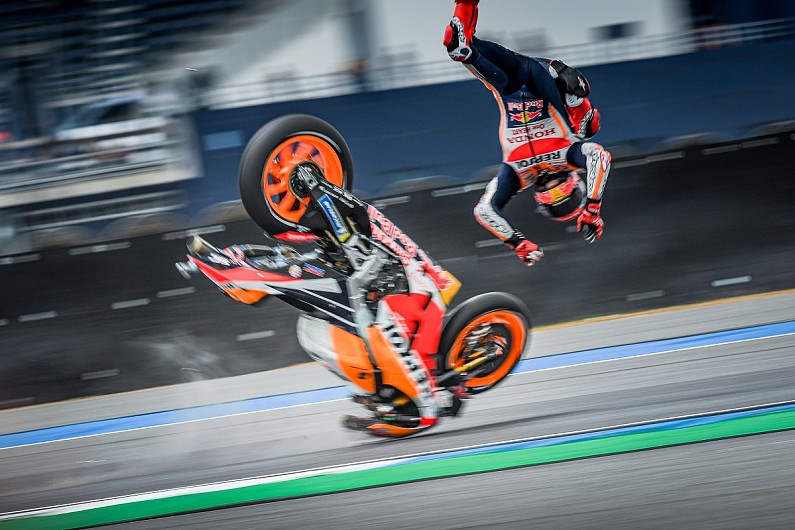 Marquez goes over the handlebars
Fabio Quartararo led an all-Yamaha 1-2-3 in the second MotoGP free practice session for the Thailand Grand Prix, as Marc Marquez returned to action following his heavy FP1 crash.
Marquez was hospitalised after a huge crash in FP1.
Honda said its rider was "lucky" to escape injury. Marquez was on an out-lap in the closing 10 minutes of the opening session when he lost the rear of his Honda going into the Turn 7 right-hander and was launched into a highside.
He hit the ground hard which knocked the wind out of him (he complained he could not breathe for 5-seconds) and took some time to get to his feet. The accident was so bad the rear of the bike ripped off.
"We started the day well but in the last run we had a big crash on our out lap. I was feeling OK when I arrived in the medical center but we followed the doctor's procedures and went for some checks.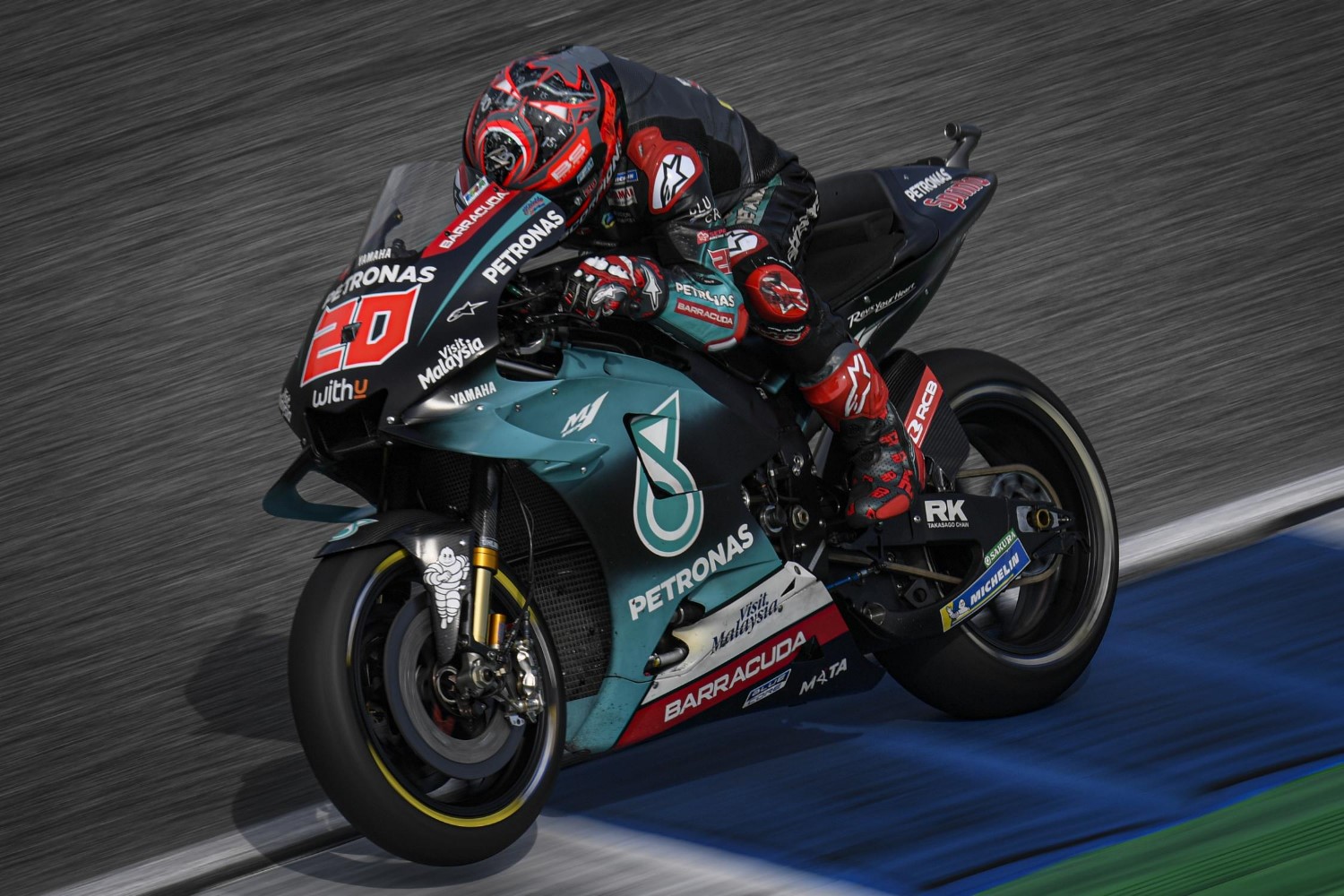 Fabio Quartararo
"The most important thing is I am OK, I'm in some pain but OK. In the afternoon I was able to ride well and I am happy with what we achieved. We only had to modify our plan a little bit but I was able to be fast immediately."
Fabio Quartararo got his Thailand Grand Prix weekend off to a super start, ending the opening day of practice in hot conditions at the Buriram International Circuit in first..
Impressive not only on time attack but on his consistent lap times as well, Quartararo was delighted to end the day in P1, with his best time almost two tenths quicker than his nearest rival. Quick to adapt to the Buriram circuit despite only making his MotoGP debut today and unfazed by the hot Thai conditions, Fabio was second fastest in the morning, before bettering his time by almost eight tenths in the afternoon to set his 1min 30.404secs lap.
Practice 1
| | | | | | |
| --- | --- | --- | --- | --- | --- |
| POS | RIDER | TEAM | TIME | GAP | LAPS |
| 1 | Maverick Vinales | Yamaha | 1m30.979s | – | 21 |
| 2 | Fabio Quartararo | Petronas Yamaha | 1m31.170s | 0.191s | 21 |
| 3 | Marc Marquez | Honda | 1m31.187s | 0.208s | 17 |
| 4 | Andrea Dovizioso | Ducati | 1m31.205s | 0.226s | 20 |
| 5 | Jack Miller | Pramac Ducati | 1m31.227s | 0.248s | 18 |
| 6 | Valentino Rossi | Yamaha | 1m31.482s | 0.503s | 22 |
| 7 | Franco Morbidelli | Petronas Yamaha | 1m31.569s | 0.590s | 22 |
| 8 | Danilo Petrucci | Ducati | 1m31.593s | 0.614s | 18 |
| 9 | Joan Mir | Suzuki | 1m31.753s | 0.774s | 22 |
| 10 | Francesco Bagnaia | Pramac Ducati | 1m31.799s | 0.820s | 20 |
| 11 | Alex Rins | Suzuki | 1m31.847s | 0.868s | 20 |
| 12 | Aleix Espargaro | Aprilia | 1m31.865s | 0.886s | 17 |
| 13 | Pol Espargaro | KTM | 1m31.895s | 0.916s | 20 |
| 14 | Takaaki Nakagami | LCR Honda | 1m31.947s | 0.968s | 19 |
| 15 | Andrea Iannone | Aprilia | 1m32.239s | 1.260s | 19 |
| 16 | Tito Rabat | Avintia Ducati | 1m32.280s | 1.301s | 21 |
| 17 | Miguel Oliveira | Tech3 KTM | 1m32.524s | 1.545s | 15 |
| 18 | Cal Crutchlow | LCR Honda | 1m32.554s | 1.575s | 19 |
| 19 | Jorge Lorenzo | Honda | 1m32.838s | 1.859s | 19 |
| 20 | Mika Kallio | KTM | 1m32.877s | 1.898s | 23 |
| 21 | Hafizh Syahrin | Tech3 KTM | 1m33.033s | 2.054s | 18 |
| 22 | Karel Abraham | Avintia Ducati | 1m33.129s | 2.150s | 17 |
Practice 2
| | | | | |
| --- | --- | --- | --- | --- |
| POS | RIDER | NAT | TEAM | TIME/DIFF |
| 1 | Fabio Quartararo | FRA | Petronas Yamaha (YZR-M1)* | 1'30.404s |
| 2 | Maverick Viñales | SPA | Monster Yamaha (YZR-M1) | +0.193s |
| 3 | Franco Morbidelli | ITA | Petronas Yamaha (YZR-M1) | +0.221s |
| 4 | Jack Miller | AUS | Pramac Ducati (GP19) | +0.294s |
| 5 | Valentino Rossi | ITA | Monster Yamaha (YZR-M1) | +0.329s |
| 6 | Marc Marquez | SPA | Repsol Honda (RC213V) | +0.487s |
| 7 | Aleix Espargaro | SPA | Factory Aprilia Gresini (RS-GP) | +0.603s |
| 8 | Andrea Dovizioso | ITA | Ducati Team (GP19) | +0.623s |
| 9 | Joan Mir | SPA | Suzuki Ecstar (GSX-RR)* | +0.682s |
| 10 | Alex Rins | SPA | Suzuki Ecstar (GSX-RR) | +0.690s |
| 11 | Danilo Petrucci | ITA | Ducati Team (GP19) | +0.711s |
| 12 | Francesco Bagnaia | ITA | Pramac Ducati (GP18)* | +0.750s |
| 13 | Cal Crutchlow | GBR | LCR Honda (RC213V) | +0.940s |
| 14 | Takaaki Nakagami | JPN | LCR Honda (RC213V) | +1.020s |
| 15 | Pol Espargaro | SPA | Red Bull KTM Factory (RC16) | +1.095s |
| 16 | Andrea Iannone | ITA | Factory Aprilia Gresini (RS-GP) | +1.108s |
| 17 | Karel Abraham | CZE | Reale Avintia Ducati (GP18) | +1.184s |
| 18 | Tito Rabat | SPA | Reale Avintia Ducati (GP18) | +1.528s |
| 19 | Miguel Oliveira | POR | Red Bull KTM Tech3 (RC16)* | +1.532s |
| 20 | Jorge Lorenzo | SPA | Repsol Honda (RC213V) | +1.545s |
| 21 | Mika Kallio | FIN | Red Bull KTM Factory (RC16) | +1.587s |
| 22 | Hafizh Syahrin | MAL | Red Bull KTM Tech3 (RC16) | +2.180s |