WEC: Toyota fastest in Friday practice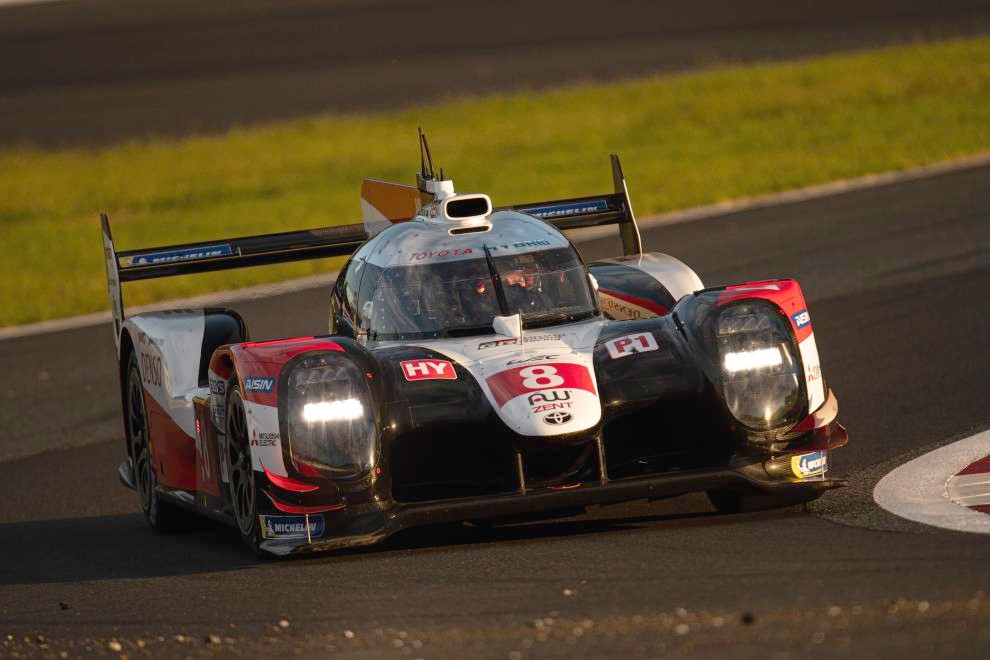 #8 Toyota on top Friday
Toyota led the way both free practice sessions for this weekend's Fuji round of the World Endurance Championship.
The second 90 minutes of Free Practice for the 6 Hours of Fuji, took place this afternoon in warm and dry conditions, with the sun shining down on Fuji Speedway.
The main FP2 headlines (the faster of the two sessions) can be found below:
LMP1
– No. 8 Toyota TS050 Hybrid on top in LMP1 again as Kazuki Nakajima sets best time at his home track
– Japanese driver clocks a time of 1:25.623 early in the session – nearly two seconds faster than his team-mate Sebastien Buemi who was quickest during FP1
– Rebellion Racing second quickest out of other LMP1 crews with Norman Nato posting a time of 1:27.042 during the session's first 30 minutes
– Team LNT's No. 5 third fastest with Egor Orudzhev clocking 1:27.602 in the Ginetta G60-LT-P1 car
LMGTE Pro
– Porsche continue to set the pace in the class, but with a gap to Ferrari of just 0.038s – the potential battle between the different marques in GTE will undoubtedly intensify from now until the end of the 6 Hours of Fuji!
– Michael Christensen in the No.91 Porsche 911 RSR-19 topped the LMGTE Pro times with a time of 1:38.214 ahead of the No.51 Ferrari 488 GTE of James Calado in second place, the British driver having been at the top of the class for the first half of the session
– In third was the sister Porsche GT Team entry, the No.91's best time being set in the hands of Richard Lietz
– Aston Martin Racing's two Vantage AMRs, Nos.97 and 95, were 4th and 5th in class respectively, the British team opting to concentrate on longer fuel and tire runs during the session
– Also working on optimizing set up prior to the race was the No.71 AF Corse Ferrari. Nevertheless, only 0.695 seconds separated the factory GTE entries – close competition guaranteed for qualifying tomorrow and the race on Sunday
LMP2
– JOTA's Anthony Davidson set the pace out of the eight LMP2 crews as the Briton posted a time of 1:29.633 half-way through the session
– Davidson's time was 0.09s adrift of Kenta Yamashita's fastest FP1 time earlier today
– Yamashita was second fastest in FP2 at the wheel of the No. 33 High Class Racing Oreca 07, setting a time of 1:30.163
– United Autosports rounded out the top three as Phil Hanson was at the wheel when the team clocked 1:30.205
– First and second fastest LMP2 teams both equipped with Goodyear's new tires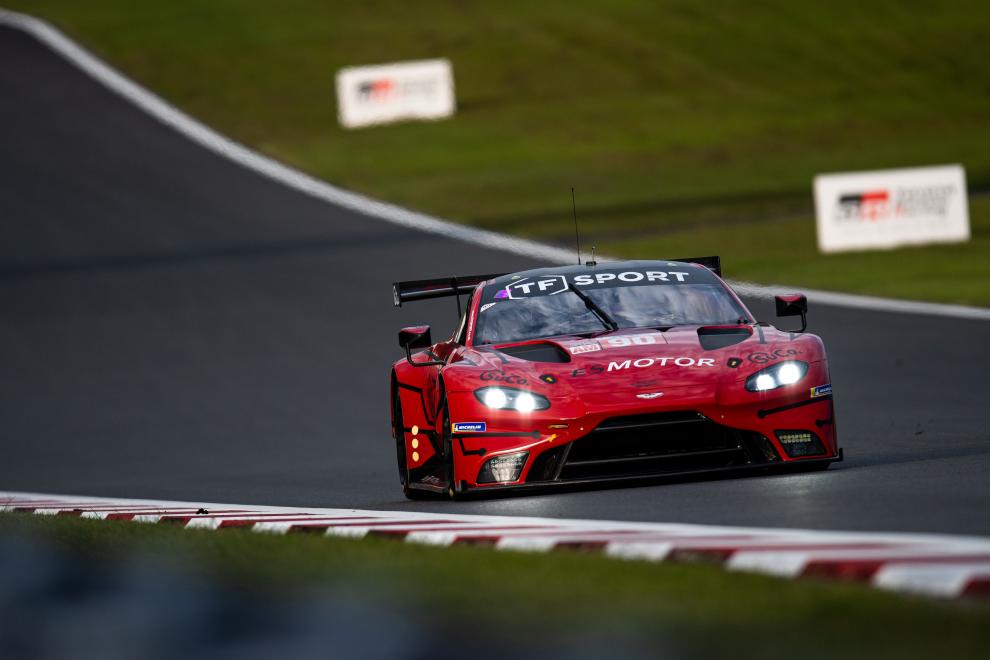 No.90 Aston Martin Vantage with Jonny Adam at wheel
LMGTE Am
– TF Sport's No.90 Aston Martin Vantage continued its strong morning form, with Jonny Adam once again a fastest time of 1:38.719, a slight improvement on FP1 pace
– In second place in the LMGTE Am class was Super Season class champion, Team Project 1, with Matteo Cairoli setting the pace in the No.56 Porsche 911 RSR for the German team
– Aston Martin Racing made it three different manufacturers in the top three places. Ross Gunn took the No.98 Vantage to a best time of 1:38.949, the young Briton teaming this year with Paul Dalla Lana and long-time factory driver Darren Turner
– Fourth in class was the No.54 AF Corse Ferrari of Francesco Castellacci, Giancarlo Fisichella and Thomas Flohr. 0.098s separated the Italian car from the first of the Dempsey-Proton Racing Porsches, Thomas Preining setting the fastest time for this entry
The third and final Free Practice session will take place tomorrow at 09h20 local time with Qualifying to follow in the afternoon.
Quotes
Mike Conway (TS050 HYBRID #7): "We didn't get as much running as we would like. The car balance feels okay but with the success handicap we are behind the sister car, as expected. There's also tough competition from Rebellion and Ginetta as well; the race pace looks very close so it's going to be an interesting race. We need to execute well and stay out of trouble."
Kamui Kobayashi (TS050 HYBRID #7): "I didn't drive so much today but I could experience the success handicap and the effect is quite severe. It will be difficult to fight with the sister car and I think it's going to be a very tough race for us. There is simply less power due to the success handicap and it makes quite a big difference. We need to manage it and do our best to get the maximum from this weekend."
Jose María López (TS050 HYBRID #7): "It wasn't an easy day on our car so we have some work to do to get ready for the race. We expected a tough challenge here for our home race and it looks like it will be difficult. But it's great to be here again in Japan and we are determined to give our home fans a good result to reward them for their fantastic support."
Sebastien Buemi (TS050 HYBRID #8): "We had a pretty positive day. We experienced the success handicap for the first time and tried to optimise the car as much as we can. We cannot use all the data from last year which meant we had plenty of work to do so it was nice to have a clean day with no rain. Now we have a lot of data to go through to be ready for the rest of the weekend."
Kazuki Nakajima (TS050 HYBRID #8): "We have been working hard on the car in terms of set-up and systems. It's tricky because our two cars have different energy levels due to the handicap system. We have less fuel and boost compared to Silverstone and this significantly changes the balance of the car; we need to prepare new set-ups for the energy allocation which is complicated, but I think we made a good start."
Brendon Hartley (TS050 HYBRID #8): "It was a good day and we got through our programme efficiently. It's nice to be back in Fuji, particularly as a TOYOTA driver in Japan for the first time. We already saw plenty of TOYOTA GAZOO Racing fans today and we really feel their support. We finished both sessions as fastest but it looks very tight now thanks to the success handicap."
Practice 1
| | | | | | | |
| --- | --- | --- | --- | --- | --- | --- |
| POS | CLASS | DRIVER | CAR | TIME | GAP | LAPS |
| 1 | LMP1 | S.Buemi, K.Nakajima, B.Hartley | Toyota | 1m27.373s | – | 49 |
| 2 | LMP1 | B.Senna, G.Menezes, N.Nato | Rebellion/Gibson | 1m27.659s | 0.286s | 41 |
| 3 | LMP1 | M.Conway, K.Kobayashi, J.M.Lopez | Toyota | 1m27.790s | 0.417s | 24 |
| 4 | LMP1 | L.Ghiotto, B.Hanley, E.Orudzhev | Ginetta/AER | 1m28.449s | 1.076s | 7 |
| 5 | LMP1 | C.Robertson, M.Simpson, G.Smith | Ginetta/AER | 1m28.712s | 1.339s | 8 |
| 6 | LMP2 | M.Patterson, K.Yamashita, A.Fjordbach | ORECA/Gibson | 1m29.624s | 2.251s | 34 |
| 7 | LMP2 | F.van Eerd, G.van der Garde, N.de Vries | ORECA/Gibson | 1m30.382s | 3.009s | 49 |
| 8 | LMP2 | N.Lapierre, A.Borga, A.Coigny | ORECA/Gibson | 1m30.814s | 3.441s | 39 |
| 9 | LMP2 | T.Laurent, A.Negrao, P.Ragues | Alpine/Gibson | 1m31.025s | 3.652s | 39 |
| 10 | LMP2 | R.Gonzalez, A.F.da Costa, A.Davidson | ORECA/Gibson | 1m31.141s | 3.768s | 45 |
| 11 | LMP2 | P.Hanson, F.Albuquerque, O.Jarvis | ORECA/Gibson | 1m31.398s | 4.025s | 34 |
| 12 | LMP2 | H-Pin Tung, G.Aubry, W.Stevens | ORECA/Gibson | 1m31.805s | 4.432s | 40 |
| 13 | LMP2 | R.Lacorte, A.Belicchi, G.Sernagiotto | Dallara/Gibson | 1m32.491s | 5.118s | 34 |
| 14 | GTE Pro | G.Bruni, R.Lietz | Porsche | 1m38.315s | 10.942s | 38 |
| 15 | GTE Pro | M.Christensen, K.Estre | Porsche | 1m38.419s | 11.046s | 38 |
| 16 | GTE Pro | D.Rigon, M.Molina | Ferrari | 1m38.707s | 11.334s | 41 |
| 17 | GTE Pro | M.Sorensen, N.Thiim | Aston Martin | 1m38.738s | 11.365s | 50 |
| 18 | GTE Pro | J.Calado, A.P.Guidi | Ferrari | 1m38.825s | 11.452s | 40 |
| 19 | GTE Am | S.Yoluc, C.Eastwood, J.Adam | Aston Martin | 1m39.010s | 11.637s | 43 |
| 20 | GTE Am | M.Ishikawa, O.Beretta, K.Cozzolino | Ferrari | 1m39.039s | 11.666s | 42 |
| 21 | GTE Pro | A.Lynn, M.Martin | Aston Martin | 1m39.069s | 11.696s | 47 |
| 22 | GTE Am | M.Wainwright, A.Watson, B.Barker | Porsche | 1m39.351s | 11.978s | 46 |
| 23 | GTE Am | E.Perfetti, D.H.Hansson, M.Cairoli | Porsche | 1m39.542s | 12.169s | 37 |
| 24 | GTE Am | S.Hoshino, A.De Leener, T.Preining | Porsche | 1m39.576s | 12.203s | 44 |
| 25 | GTE Am | C.Ried, R.Pera, M.Campbell | Porsche | 1m39.616s | 12.243s | 40 |
| 26 | GTE Am | T.Flohr, F.Castellacci, G.Fisichella | Ferrari | 1m39.618s | 12.245s | 45 |
| 27 | GTE Am | F.Perrodo, E.Collard, N.Nielsen | Ferrari | 1m39.663s | 12.290s | 42 |
| 28 | GTE Am | P.D.Lana, D.Turner, R.Gunn | Aston Martin | 1m39.761s | 12.388s | 47 |
| 29 | GTE Am | B.Keating, F.Fraga, J.Bleekemolen | Porsche | 1m39.942s | 12.569s | 43 |
| 30 | GTE Am | B.Grimes, J.Mowlem, C.Hollings | Ferrari | 1m40.678s | 13.305s | 35 |
Practice 2
| | | | | | | |
| --- | --- | --- | --- | --- | --- | --- |
| POS | CLASS | DRIVER | CAR | TIME | GAP | LAPS |
| 1 | LMP1 | S.Buemi, K.Nakajima, B.Hartley | Toyota | 1m25.623s | – | 49 |
| 2 | LMP1 | B.Senna, G.Menezes, N.Nato | Rebellion/Gibson | 1m27.042s | 1.419s | 42 |
| 3 | LMP1 | L.Ghiotto, B.Hanley, E.Orudzhev | Ginetta/AER | 1m27.602s | 1.979s | 30 |
| 4 | LMP1 | C.Robertson, M.Simpson, G.Smith | Ginetta/AER | 1m28.062s | 2.439s | 23 |
| 5 | LMP1 | M.Conway, K.Kobayashi, J.M.Lopez | Toyota | 1m28.171s | 2.548s | 34 |
| 6 | LMP2 | R.Gonzalez, A.F.da Costa, A.Davidson | ORECA/Gibson | 1m29.633s | 4.010s | 50 |
| 7 | LMP2 | M.Patterson, K.Yamashita, A.Fjordbach | ORECA/Gibson | 1m30.163s | 4.540s | 37 |
| 8 | LMP2 | P.Hanson, F.Albuquerque, O.Jarvis | ORECA/Gibson | 1m30.205s | 4.582s | 39 |
| 9 | LMP2 | N.Lapierre, A.Borga, A.Coigny | ORECA/Gibson | 1m30.346s | 4.723s | 48 |
| 10 | LMP2 | F.van Eerd, G.van der Garde, N.de Vries | ORECA/Gibson | 1m30.462s | 4.839s | 49 |
| 11 | LMP2 | T.Laurent, A.Negrao, P.Ragues | Alpine/Gibson | 1m30.833s | 5.210s | 42 |
| 12 | LMP2 | H-Pin Tung, G.Aubry, W.Stevens | ORECA/Gibson | 1m31.118s | 5.495s | 51 |
| 13 | LMP2 | R.Lacorte, A.Belicchi, G.Sernagiotto | Dallara/Gibson | 1m31.836s | 6.213s | 37 |
| 14 | GTE Pro | M.Christensen, K.Estre | Porsche | 1m38.214s | 12.591s | 46 |
| 15 | GTE Pro | J.Calado, A.P.Guidi | Ferrari | 1m38.252s | 12.629s | 49 |
| 16 | GTE Pro | G.Bruni, R.Lietz | Porsche | 1m38.315s | 12.692s | 49 |
| 17 | GTE Pro | A.Lynn, M.Martin | Aston Martin | 1m38.451s | 12.828s | 49 |
| 18 | GTE Am | S.Yoluc, C.Eastwood, J.Adam | Aston Martin | 1m38.719s | 13.096s | 46 |
| 19 | GTE Pro | M.Sorensen, N.Thiim | Aston Martin | 1m38.728s | 13.105s | 48 |
| 20 | GTE Pro | D.Rigon, M.Molina | Ferrari | 1m38.909s | 13.286s | 40 |
| 21 | GTE Am | E.Perfetti, D.H.Hansson, M.Cairoli | Porsche | 1m38.916s | 13.293s | 41 |
| 22 | GTE Am | P.D.Lana, D.Turner, R.Gunn | Aston Martin | 1m38.949s | 13.326s | 47 |
| 23 | GTE Am | T.Flohr, F.Castellacci, G.Fisichella | Ferrari | 1m38.953s | 13.330s | 48 |
| 24 | GTE Am | S.Hoshino, A.De Leener, T.Preining | Porsche | 1m39.051s | 13.428s | 45 |
| 25 | GTE Am | C.Ried, R.Pera, M.Campbell | Porsche | 1m39.071s | 13.448s | 49 |
| 26 | GTE Am | B.Keating, F.Fraga, J.Bleekemolen | Porsche | 1m39.127s | 13.504s | 45 |
| 27 | GTE Am | F.Perrodo, E.Collard, N.Nielsen | Ferrari | 1m39.337s | 13.714s | 46 |
| 28 | GTE Am | M.Ishikawa, O.Beretta, K.Cozzolino | Ferrari | 1m39.405s | 13.782s | 47 |
| 29 | GTE Am | M.Wainwright, A.Watson, B.Barker | Porsche | 1m39.676s | 14.053s | 41 |
| 30 | GTE Am | B.Grimes, J.Mowlem, C.Hollings | Ferrari | 1m40.512s | 14.889s | 48 |