12 Hours of Sebring Preview
The start of last year's race
TUDOR United SportsCar Championship
The Race:
Mobil 1 Twelve Hours of Sebring
Fueled by Fresh From Florida
The Place:
Sebring International Raceway
Sebring, Florida
The Date:
March 21
The Track:
17-turn, 3.74-mile road course
Continental Tire SportsCar Challenge
The Race:
Microsoft Visual Studio 150
The Place:
Sebring International Raceway
Sebring, Florida
The Date:
March 20
The Track:
17-turn, 3.74-mile road course
Twelve Hours Of Sebring A Rite Of Spring Since 1952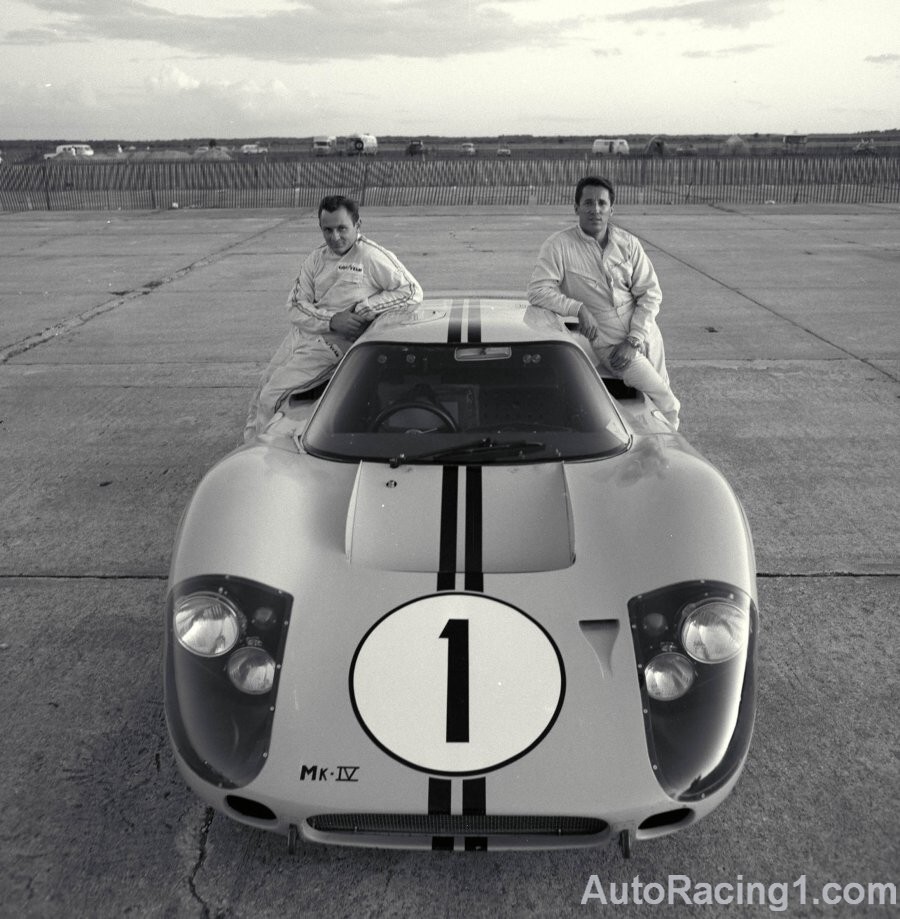 Bruce McLaren and Mario Andretti dominated the 1967 race for Ford
The tradition of America's longest-running endurance sports car race continues Saturday, March 21 when the TUDOR United SportsCar Championship takes the green flag for the 63rd annual Mobil 1 Twelve Hours of Sebring Fueled by Fresh From Florida (FOX Sports 1, 10:30 a.m. ET.)
Since 1952, world class drivers from Formula One, NASCAR, IndyCar and international sports car competition have gathered at Sebring International Raceway. While the course has changed from the original configuration which utilized active runways of the Sebring Airport, the now 3.74-mile, 17-turn circuit still has sections unchanged from the original course, including the concrete front straight and the Gurney Bend.
One year ago, the TUDOR Championship kicked off a new era of racing in the Twelve Hours of Sebring with a record-breaking event that saw all four classes decided by a margin of less than six seconds for the first time in the race's history, nine cars on the lead lap – shattering the previous record of three – and a record 11 cars leading the race overall.
A 47-car field across the TUDOR Championship's four classes is expected for the Twelve Hours of Sebring in 2015, part of a larger weekend that includes more than 140 cars across four IMSA-sanctioned series. Fans can follow all of the on-track action via FOX Sports and IMSA TV on IMSA.com with audio from the new IMSA Radio, via a co-productions partnership with Radio Show Limited.
24 Hours Down, 28 Hours To Go In Patr¢n Endurance Cup
When the checkered flag flies on the Mobil 1 Twelve Hours of Sebring Fueled by Fresh From Florida at 10:40 p.m. ET on Saturday, March 21, drivers and teams in the TUDOR United SportsCar Championship will have completed a grueling 36 hours of racing through its first two events.
Following the season-opening Rolex 24 At Daytona, the Twelve Hours of Sebring is Round 2 of the Patron Endurance Cup, which also includes the Sahlen's Six Hours of The Glen (June 28) and the 10-hour Petit Le Mans powered by Mazda at Road Atlanta.
In total, the four events make up 52 hours of racing at North America's most prestigious endurance events. A purse of $300,000 is awarded to the champions of the Patr¢n Endurance Cup with $100,000 going to the Prototype (P) and GT Le Mans (GTLM) championship-winning teams and $50,000 going to the Prototype Challenge (PC) and GT Daytona (GTD) championship-winning teams.
Patr¢n Endurance Cup round winners at each of the four tracks receives a limited edition bottle of Gran Patr¢n Platinum, numbered and signed by Francisco Alcaraz, the creator of the Gran Patr¢n Platinum recipe and Tequila Patr¢n's Master Distiller and Blender.
For the Twelve Hours of Sebring points will be awarded at four hours, eight hours and the finish. First-place at the end of each segment receives five points, four points for second, three points for third and fourth-place and each subsequent position receives two points.
One Year After Record-Breaking Sebring Event, Prototype Class Set For Encore
The TUDOR United SportsCar Championship Prototype class is set for an encore performance in the Mobil 1 Twelve Hours of Sebring Fueled by Fresh From Florida, one year after debuting with the most competitive race for the overall victory in the event's storied history.
In that event nine cars shattered the previous race record of three cars finishing on the lead lap, with a record 11 cars also leading the race overall.
The top three finishing cars from last year return in 2015, led by Scott Pruett, Joey Hand and Scott Dixon in the No. 01 Chip Ganassi Racing with Felix Sabates Ford EcoBoost/Riley that took the victory.
Chip Ganassi Racing also won the season-opening Rolex 24 At Daytona with Dixon joined by NASCAR stars Kyle Larson and Jamie McMurray, and fellow IndyCar driver Tony Kanaan in the No. 02 Ford EcoBoost/Riley that was entered specially for the Rolex 24.
Bourdais returns for Action Express
A deep Prototype field also includes defending TUDOR Championship and Tequila Patr¢n North American Endurance Cup Prototype champions Christian Fittipaldi and Joao Barbosa returning with four-time Champ Car titlist Sebastien Bourdais for Action Express Racing in the No. 5 Mustang Sampling Corvette DP who finished third in 2014.
The No. 5 Action Express Racing team has completed every lap in TUDOR Championship competition and could surpass 3,200 consecutive laps at Sebring.
The runner-up finishers from 2014, Tequila Patr¢n ESM, will revert back to its HPD ARX-03b/Hondas that nearly won the event one year ago. Scott Sharp, David Heinemeier Hansson and Ryan Dalziel – who set the fastest race lap in 2014 – will drive the No. 1, while Ed Brown, Johannes van Overbeek and Jon Fogarty will pilot the No. 2.
Among other contenders are the Wayne Taylor Racing and VISITFLORIDA.com Corvette DP teams and the Ligier JS P2/Honda of Michael Shank Racing with Curb/Agajanian that qualified on pole in the Rolex 24.
CORE autosport Looks To Avenge The One That Got Away In Daytona
Twenty minutes from securing its second Prototype Challenge (PC) class victory in the Rolex 24 At Daytona, the No. 54 CORE autosport ORECA FLM09 team suffered a heartbreaking finish in the season-opening TUDOR Championship event.
With a 47-second lead, contact with a Prototype unknowingly damaged the rear suspension resulting in an accident involving driver Colin Braun in the chicane shortly later. In the process, a suspension piece punctured the oil tank, causing a fire and ending the team's race 20 minutes before the checkered flag
A sizable lead still allowed Braun and co-drivers Jon Bennett, James Gue and Mark Wilkins to finish on the PC class podium and win the opening round of the Tequila Patr¢n North American Endurance Cup, but the victory ultimately went to the No. 52 PR1/Mathiasen Motorsports entry driven by Mike Guasch, Andrew Novich, Andrew Palmer and Tom Kimber-Smith.
"We had an incredibly well-built and bulletproof car," said owner/driver Bennett. "We led at the six-hour mark, 12-hour mark, 18-hour mark and we would've led at the 24-hour mark as well. But it just wasn't meant to be. The most important thing is Colin is fine, the car will heal itself and we'll be back at Sebring."
Sebring may be the best medicine for the CORE autosport team. Last year, the team nearly swept the TUDOR Championship's four Patr¢n Endurance Cup events with wins at Daytona, the Mobil 1 Twelve Hours of Sebring Fueled by Fresh From Florida and Sahlen's Six Hours of The Glen, before finishing second in the season-ending Petit Le Mans powered by Mazda at Road Atlanta.
Six other cars in the PC class will try to deny CORE autosport another victory at Sebring, including entries from Starworks Motorsport, RSR Racing, BAR 1 Motorsports, Performance Tech Motorsports, PR1/Mathiasen Motorsports and JDC/Miller Motorsports.
One year ago, RSR Racing came close, falling 2.428 seconds short. The No. 11 RSR Racing entry includes open-wheel and sports car standout Bruno Junqueira, Chris Cumming and Gustavo Menezes.
The Rolex 24 winning PR1/Mathiasen Motorsports entry will be driven by the trio of Guasch, Palmer and Kimber-Smith, all returning from the Rolex 24.
All cars in the spec PC class use Continental Tires and Chevrolet engines.
Corvette Racing On Track To Rediscover Sebring Magic With C7.R
Last year the Gavin and Milner Corvette
At this time last year, Corvette Racing was still working out the bugs of a new and still unproven C7.R racecar in the GTLM class.
In the car's debut at the Rolex 24 At Daytona in 2014, the team's pair of bright yellow C7.Rs showed promise with impressive speed and economy, but ultimately fell victim to mechanical issues.
That continued in the Mobil 1 Twelve Hours of Sebring Fueled by Fresh From Florida where both cars led in class for significant portions of the race, but a combination of bad luck and further teething issues kept the team out of victory lane.
What happened following that opening two-race stretch has been well-documented: the first win for the C7.R by Antonia Garcia and Jan Magnussen at Long Beach. Then another win at Mazda Raceway Laguna Seca; and again at Watkins Glen and Canadian Tire Motorsport Park.
Four straight wins put the No. 3 Corvette Racing Corvette C7.R in the thick of the championship hunt before falling just short of SRT Motorsports.
Fast forward to today and Corvette Racing is the early favorite return to victory at Sebring in the GTLM class. Corvette Racing opened the 2015 season with a double podium in the Rolex 24, with Garcia, Magnussen and Ryan Briscoe joining forces to win the race in the No. 3 entry.
Now the team heads to Sebring where it looks to add to its heritage of eight victories since 2002 dating back to the American Le Mans Series.
Briscoe returns with Garcia and Magnussen in the No. 3 Corvette C7.R while Simon Pagenaud joins full-time drivers Tommy Milner and Oliver Gavin in the No. 4 Corvette C7.R.
An additional seven entries including factory-backed Porsches, BMWs, Ferraris and an Aston Martin look to spoil a Corvette sweep in the two Florida classics.
Porsche was able to accomplish the feat in 2014, winning at Daytona with the No. 911 Porsche 911 RSR and Sebring with the No. 912 Porsche 911 RSR.
Defending class winners Patrick Long and Joerg Bergmeister return to the team for this year's race, but in different cars.
GT Daytona Class Features 17 Cars, Six Different Automotive Manufacturers
Of the four TUDOR Championship classes competing in next weekend's Mobil 1 Twelve Hours of Sebring Fueled by Fresh From Florida, no class has more cars or more variety than the GTD class.
A total of 17 cars from Aston Martin, Audi, BMW, Dodge, Ferrari and Porsche are set to battle it out at Sebring's 17-turn, 3.74-mile road course.
Among those is the No. 44 Magnus Racing Porsche 911 GT America of defending race winners John Potter, Andy Lally and Marco Seefried. Always one of the most competitive classes in the TUDOR Championship, six cars finished on the lead lap at Sebring in GTD in 2014 with the Porsche 911 GT America of Potter, Lally and Seefried beating the Ferrari 458 Italia of Bill Sweedler, Townsend Bell, Jeff Segal and Maurizio Mediani by a mere 1.864 seconds.
"The team is ready, and they've been working even harder than they did last year to try to live up to the expectations," said Lally. "But at the same time, the competition is tough and has also stepped up. So I think we're going to have our hands full."
Another early favorite is the Riley Motorsports Dodge Viper SRT GT3-R team which won the Rolex 24 with Ben Keating, Dominik Farnbacher, Al Carter, Kuno Wittmer and Cameron Lawrence.
Keating, Carter and Lawrence are entered in the team's No. 93 entry along with Marc Goossens while Keating also is entered in the team's No. 33 entry with Jeroen Bleekemolen and Sebastiaan Bleekemolen.
TUDOR Championship, Etc.
This year's race marks the 20th anniversary of Alex Job Racing's first victory at Sebring, coming in the team's seventh season. Job would like to celebrate the occasion by scoring his 10th victory in the event – extending the team's record for class victories.
BMW will celebrate the 40th anniversary of its first U.S. race win at Sebring. The manufacturers GTLM cars will compete with a special 3.0 CSL-inspired livery.
50 years after Jim Hall drove the Chaparral 2 to victory at Sebring, the car returns this year for exhibition laps driven by his son Jim Hall ll.
Camaro Z/28.R Celebrates Anniversary Of First Victory
Andrew Davis and Robin Liddell drove the Chevrolet Z/28.R to its first Continental Tire SportsCar Challenge victory last year at Sebring International Raceway. Driving the No. 6 Stevenson Motorsports entry, the pair held off the No. 46 Fall-Line Motorsports BMW M3 of John Edwards and eventual Grand Sport (GS) champion Trent Hindman in a race that saw different manufacturers fill the top six finishing positions.
Davis and Liddell return in the No. 6 Camaro, joined by Matt Bell and Lawson Aschenbach in the team's No. 9 entry. The team placed two cars on the podium in the 2015 season opener at Daytona International Speedway, with Davis and Liddell placing second, followed by Bell and new co-driver Aschenbach.
Mantella Autosport joins the Bow Tie Brigade in 2015. Anthony Mantella and Mark Wilkins finished ninth at Daytona in the No. 8 Mantella Autosport Gulf/Spyder Camaro, while Martin Barkey and Kyle Marcelli placed 12th in the team's No. 80 MBRP/The Garage/Sawmill Creative Camaro.
Plumb Brothers Look to Continue Streak at Sebring
Brothers Matt and Hugh Plumb co-drove to victory at Daytona in the No. 13 Rum Bum Racing Porsche 911, when they combined to lead 43 laps – including the final 14. The victory tied Matt Plumb for the lead in all-time Continental Tire Challenge victories with Sylvain Tremblay, with 20 each.
Prior to Daytona, the last victory for the Plumb brothers as co-drivers was at the Six Hours of VIR in 2008, when they drove a Mustang for Bill Fenton Motorsports in GS. In 2006, they co-drove to two victories and finished second in the ST championship.
Two New Models – Audi S3 and MINI JWC—To Make ST Debut
Two new models and a new team will debut in the Street Tuner (ST) class at Sebring.
Compass360 Racing will roll out a pair of Audi S3s – the No. 75 for Jim McGuire and Nico Rondet and the No. 75 for Kyle Gimple and Paul Holton in the AERO Advanced Paint Technology, Children's Tumor Foundation-sponsored team. Compass360 raced its familiar Hondas at Daytona, with Holton and Gimple taking seventh.
LAP Motorsports will debut in the series with the MINI John Cooper Works at Sebring. The Indianapolis-based team, headed by Luis Perocarpi, plans to field a pair of the top-of-the-line cars under the MINI John Cooper Works Team banner. Driver lineups are yet to be announced.
Mosing Returns To Murillo Racing Lineup
After missing the 2015 opener due to a family commitment, proud father Jeff Mosing returns to the No. 56 Murillo Racing/Mosing Motorcars Porsche Cayman for Sebring. Defending ST champion Eric Foss finished second at Daytona, co-driving with TOTAL Pole Award-winning substitute driver Justin Piscitell.
"Sebring is going to be interesting, because we didn't slip into the Cayman until late in the season," Mosing said. "Eric and I go in with not huge expectations. I think we're definitely capable of a top-five finish, but we're not setting expectations much higher than that.