Video: Mario Andretti returns to Charlotte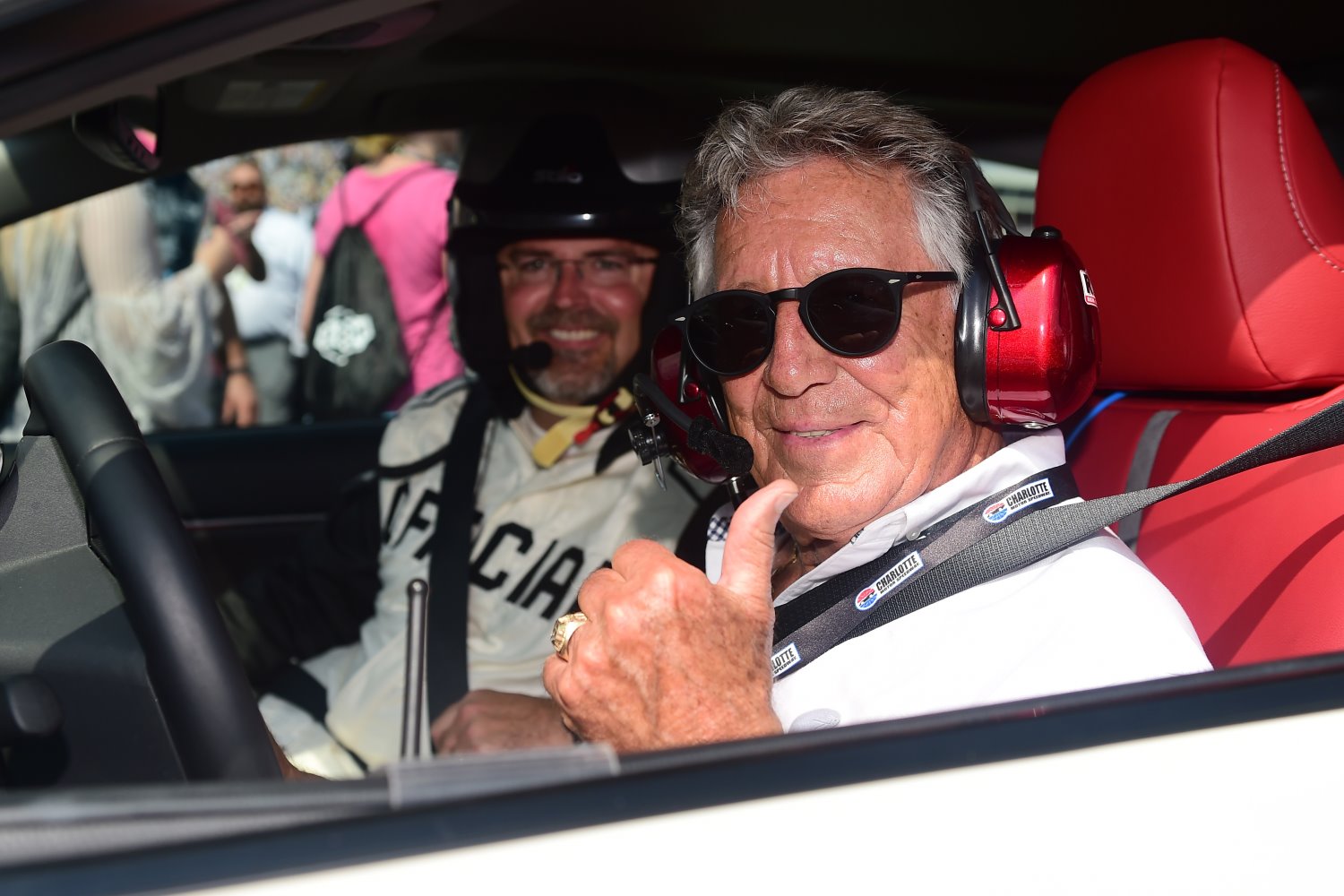 Mario Andretti poses for a photo opportunity prior to leading the field to the green flag for the Monster Energy NASCAR Cup Series Bank of America ROVAL 400 at Charlotte
Mario Andretti was on hand Sunday afternoon at Charlotte Motor Speedway to serve as the ceremonial pace car driver during the Bank of America ROVAL 400.
The 1969 Indianapolis 500 winner and 1967 Daytona 500 champion previously got to check out the ROVAL in 2017, when speedway officials were working to develop the course ahead of the inaugural ROVAL race in 2018.
"I can't take too much credit for the course itself," Andretti said. "The only thing I suggested at the time … they didn't have any of the chicanes. I thought that they created more action and they needed to slow the cars down before turn three.
"As you can see they put a chicane there last year, but it was too fast. Obviously they need more of a hard braking (zone). I like the way that they reacted for this year, which they put in a proper corner. That's going to be interesting."
"It's always a challenge to create a road course that has good technical and flow when you're somewhat limited with the geography," Andretti said. "I've never been too much of a fan of road courses inside an oval. I'm a fan of this one. They did the best job that you could have expected.
"I think they definitely needed something to slow the cars down before turn four, because they have that symmetrical road racing setup. So for all the reasons they obviously did the right thing."
Andretti was quick to respond about the potential of the NTT IndyCar Series partnering with NASCAR for a doubleheader event at the ROVAL or another circuit..
"Our sport has loyal fans for different disciplines, but there is also a lot of crossover," Andretti said. "If a doubleheader with IndyCar puts six more butts in the seats, then that is six more seats that you've gained. The crossover would be healthy for everyone.
"I would encourage it, of course. Probably IndyCar would benefit more than stock cars because the audience is much greater for NASCAR. But at the same time, you've got to look at the big picture – motorsports. Create the interest and the fans are the most important part."