Chase Elliott leads final Cup Series practice at Charlotte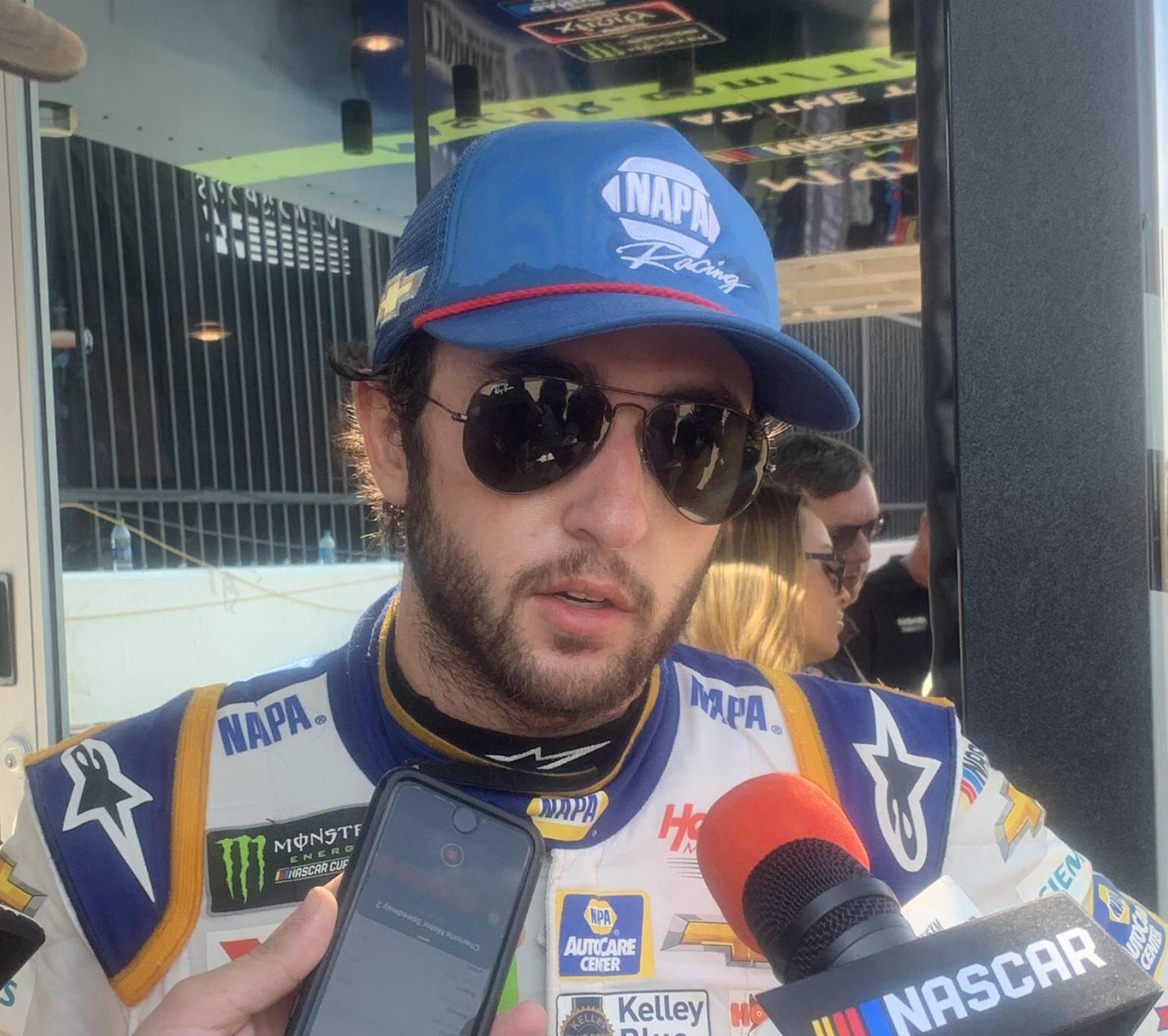 Chase Elliott
Pete McCole/AR1
Chase Elliott turned in the fastest lap in Saturday's final practice session for Sunday's Bank of America ROVAL 400 at Charlotte Motor Speedway.
Elliott ran his quickest lap toward the end of the one-hour session that saw Cup Series playoff contenders Martin Truex, Jr. and Alex Bowman find trouble in what will be the final race of the opening round Round of 16.
"I thought we made it a little better today from where we were yesterday," said Elliott. "Hopefully we have it driving well enough to be good as we go. Obviously, we qualified really bad yesterday, so we need to be able to try to stay out of trouble and have the ability to move forward. We'll give it our best shot."
Elliott put down a lap of 102.101 mph in the No. 9 Chevrolet. Truex was leading the practice session before his No. 19 Toyota lost the motor, forcing the team to change engines and sending Truex to the rear of the field to start Sunday's race.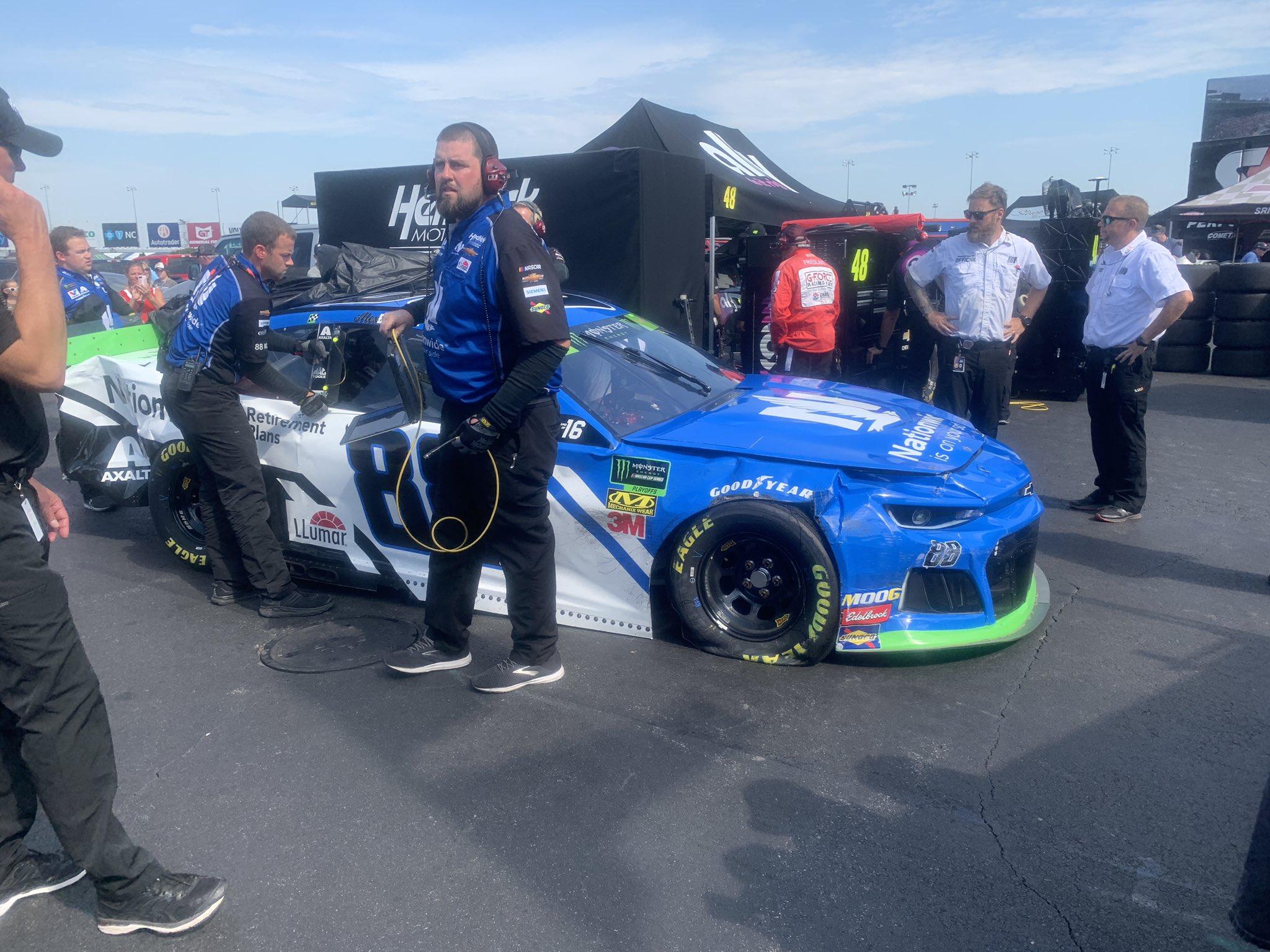 Alex Bowman's torn-up Chevrolet
Pete McCole/AR1
With 30 seconds left in the practice session, Bowman buried his car into the tire barrier, putting him in a backup car and also relegating him to a back-of-the field start on Sunday.
FINAL PRACTICE RESULTS
| | | | | | | |
| --- | --- | --- | --- | --- | --- | --- |
| Pos | # | Driver | Sponsor/Make | Lap | Speed | Behind |
| 1 | 9 | Chase Elliott (P) | NAPA Auto Parts Chevrolet | 81.801 | 102.101 | —.— |
| 2 | 19 | Martin Truex Jr. (P) | Bass Pro Shops Toyota | 81.875 | 102.009 | -0.074 |
| 3 | 2 | Brad Keselowski (P) | Alliance Truck Parts Ford | 81.97 | 101.891 | -0.095 |
| 4 | 14 | Clint Bowyer (P) | Rush/Cummins Ford | 82.063 | 101.775 | -0.093 |
| 5 | 34 | Michael McDowell | Love's Travel Stops Ford | 82.079 | 101.756 | -0.016 |
| 6 | 12 | Ryan Blaney (P) | Menards/Duracell Ford | 82.134 | 101.687 | -0.055 |
| 7 | 24 | William Byron (P) | UniFirst Chevrolet | 82.172 | 101.64 | -0.038 |
| 8 | 42 | Kyle Larson (P) | Clover Chevrolet | 82.196 | 101.611 | -0.024 |
| 9 | 1 | Kurt Busch (P) | Monster Energy Chevrolet | 82.208 | 101.596 | -0.012 |
| 10 | 88 | Alex Bowman (P) | Nationwide Retirement Plans Chevrolet | 82.281 | 101.506 | -0.073 |
| 11 | 11 | Denny Hamlin (P) | FedEx Freight Toyota | 82.34 | 101.433 | -0.059 |
| 12 | 22 | Joey Logano (P) | Shell Pennzoil/Autotrader Ford | 82.412 | 101.344 | -0.072 |
| 13 | 48 | Jimmie Johnson | Ally Chevrolet | 82.439 | 101.311 | -0.027 |
| 14 | 4 | Kevin Harvick (P) | Jimmy John's Ford | 82.52 | 101.212 | -0.081 |
| 15 | 21 | Paul Menard | Motorcraft/Quick Lane Tire & Auto Center Ford | 82.55 | 101.175 | -0.03 |
| 16 | 95 | Matt DiBenedetto | Toyota Express Maintenance Toyota | 82.596 | 101.119 | -0.046 |
| 17 | 8 | Daniel Hemric # | Cat Next Gen Excavators Chevrolet | 82.607 | 101.105 | -0.011 |
| 18 | 18 | Kyle Busch (P) | M&M's Hazelnut Toyota | 82.611 | 101.1 | -0.004 |
| 19 | 10 | Aric Almirola (P) | Smithfield Ford | 82.715 | 100.973 | -0.104 |
| 20 | 20 | Erik Jones (P) | Craftsman Toyota | 82.777 | 100.898 | -0.062 |
| 21 | 47 | Ryan Preece # | Kroger Chevrolet | 82.855 | 100.803 | -0.078 |
| 22 | 41 | Daniel Suarez | Haas Automation Ford | 82.865 | 100.79 | -0.01 |
| 23 | 37 | Chris Buescher | Velveeta Chevrolet | 82.891 | 100.759 | -0.026 |
| 24 | 6 | Ryan Newman (P) | Performance Plus Ford | 83.06 | 100.554 | -0.169 |
| 25 | 43 | Bubba Wallace | LeithCars.com Chevrolet | 83.07 | 100.542 | -0.01 |
| 26 | 17 | Ricky Stenhouse Jr. | SunnyD Ford | 83.128 | 100.472 | -0.058 |
| 27 | 38 | David Ragan | Citgard Heavy Duty Engine Oil Ford | 83.185 | 100.403 | -0.057 |
| 28 | 32 | Corey LaJoie | Samaritan's Feet Ford | 83.194 | 100.392 | -0.009 |
| 29 | 13 | Ty Dillon | GEICO Military Chevrolet | 83.453 | 100.08 | -0.259 |
| 30 | 3 | Austin Dillon | Jack Daniel's Chevrolet | 83.622 | 99.878 | -0.169 |
| 31 | 0 | Landon Cassill(i) | Coladka Chevrolet | 84.886 | 98.391 | -1.264 |
| 32 | *96 | Parker Kligerman(i) | TRD 40th Anniversary Toyota | 85.504 | 97.68 | -0.618 |