Jimmie Johnson leads Cup Series practice at Charlotte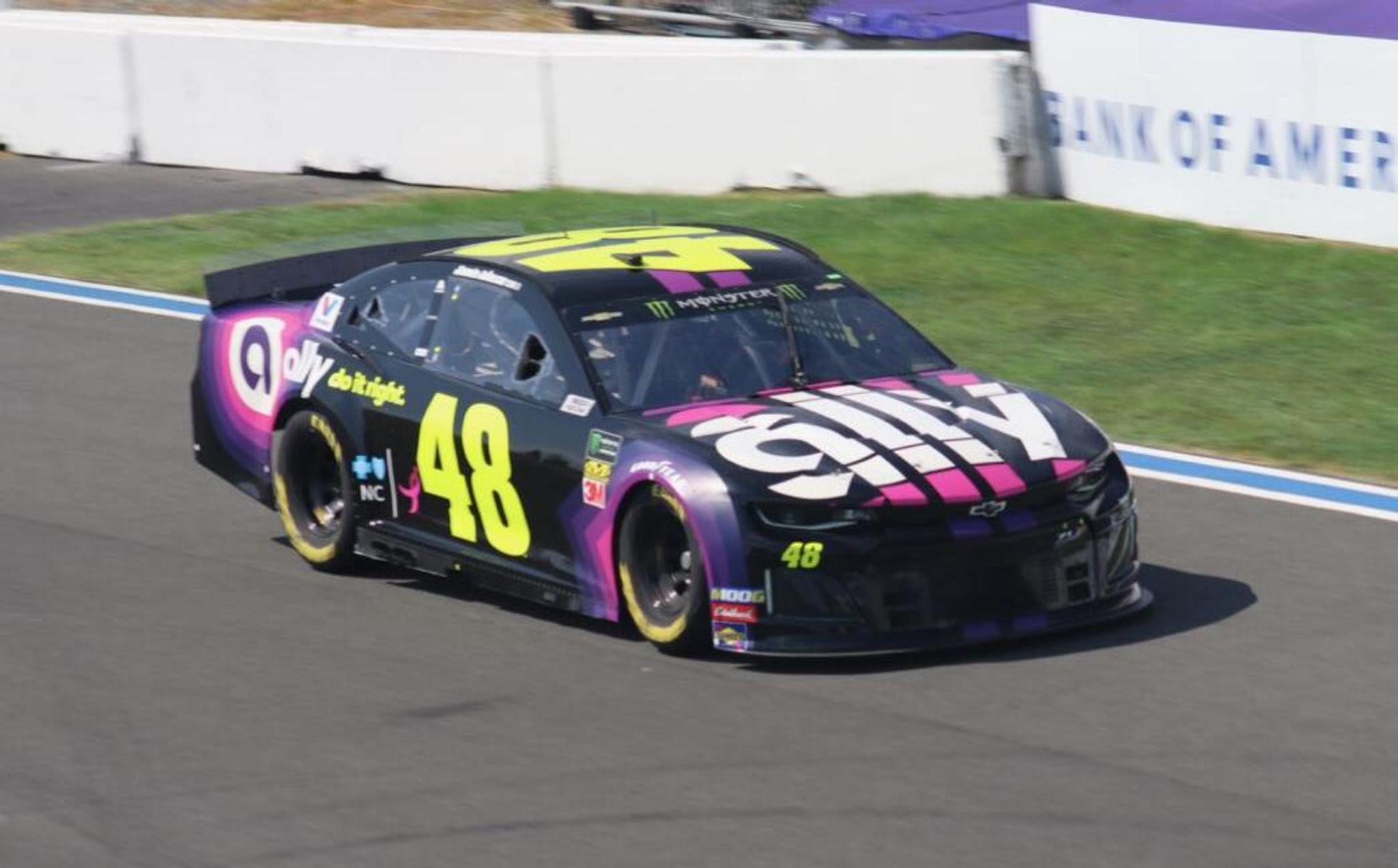 Jimmie Johnson
Amy Henderson/AR1
Jimmie Johnson led the field in Friday's lone Monster Energy NASCAR Cup Series practice for Sunday's Bank of America ROVAL 400 at Charlotte Motor Speedway.
Johnson turned a lap of 103.152 mph in the No. 48 Chevrolet to top the leaderboard, beating out Kyle Larson in the final minute of practice. Larson recorded the second-fastest lap of 103.088 mph, with William Byron placing third at 102.453 mph to give Chevrolet the top three positions. Toyota drivers Clint Bowyer (102.409) and Matt DiBenedetto (102.401) rounded out the top five in practice.
Friday's practice marked the first on-track action for the Cup Series since the speedway re-configured the backstretch chicane – making the chicane sharper and more difficult to for drivers to cut through. Drivers Kyle Busch and Joe Nemechek were among the drivers who had difficulty navigating the new chicane, which features raised curbing called "turtles" along the outside of the turn.
Denny Hamlin and Park Kligerman both smacked the wall during Friday's session, forcing both drivers to backup cars for Sunday's race. Darrell Wallace, Jr. also spun but only suffered minimal damage to his No. 43 Chevy.
PRACTICE RESULTS
| | | | | | | |
| --- | --- | --- | --- | --- | --- | --- |
| Pos | # | Driver | Sponsor/Make | Lap | Speed | Behind |
| 1 | 48 | Jimmie Johnson | Ally Chevrolet | 80.968 | 103.152 | —.— |
| 2 | 42 | Kyle Larson (P) | Clover Chevrolet | 81.018 | 103.088 | -0.05 |
| 3 | 24 | William Byron (P) | UniFirst Chevrolet | 81.52 | 102.453 | -0.552 |
| 4 | 14 | Clint Bowyer (P) | Rush/Cummins Ford | 81.555 | 102.409 | -0.587 |
| 5 | 95 | Matt DiBenedetto | Toyota Express Maintenance Toyota | 81.562 | 102.401 | -0.594 |
| 6 | 9 | Chase Elliott (P) | NAPA Auto Parts Chevrolet | 81.717 | 102.206 | -0.749 |
| 7 | 20 | Erik Jones (P) | Craftsman Toyota | 81.837 | 102.057 | -0.869 |
| 8 | 41 | Daniel Suarez | Haas Automation Ford | 81.954 | 101.911 | -0.986 |
| 9 | 47 | Ryan Preece # | Kroger Chevrolet | 82.148 | 101.67 | -1.18 |
| 10 | 12 | Ryan Blaney (P) | Menards/Duracell Ford | 82.207 | 101.597 | -1.239 |
| 11 | 37 | Chris Buescher | Velveeta Chevrolet | 82.208 | 101.596 | -1.24 |
| 12 | 38 | David Ragan | Citgard Heavy Duty Engine Oil Ford | 82.351 | 101.42 | -1.383 |
| 13 | 18 | Kyle Busch (P) | M&M's Hazelnut Toyota | 82.383 | 101.38 | -1.415 |
| 14 | 2 | Brad Keselowski (P) | Alliance Truck Parts Ford | 82.447 | 101.301 | -1.479 |
| 15 | 22 | Joey Logano (P) | Shell Pennzoil/Autotrader Ford | 82.475 | 101.267 | -1.507 |
| 16 | 13 | Ty Dillon | GEICO Military Chevrolet | 82.685 | 101.01 | -1.717 |
| 17 | 88 | Alex Bowman (P) | Nationwide Retirement Plans Chevrolet | 82.85 | 100.809 | -1.882 |
| 18 | 1 | Kurt Busch (P) | Monster Energy Chevrolet | 82.94 | 100.699 | -1.972 |
| 19 | 10 | Aric Almirola (P) | Smithfield Ford | 83.165 | 100.427 | -2.197 |
| 20 | 21 | Paul Menard | Motorcraft/Quick Lane Tire & Auto Center Ford | 83.205 | 100.379 | -2.237 |
| 21 | 19 | Martin Truex Jr. (P) | Bass Pro Shops Toyota | 83.232 | 100.346 | -2.264 |
| 22 | 4 | Kevin Harvick (P) | Jimmy John's Ford | 83.334 | 100.223 | -2.366 |
| 23 | 8 | Daniel Hemric # | Cat Next Gen Excavators Chevrolet | 83.436 | 100.101 | -2.468 |
| 24 | 34 | Austin Cindric(i) | Love's Travel Stops Ford | 83.479 | 100.049 | -2.511 |
| 25 | 11 | Denny Hamlin (P) | FedEx Freight Toyota | 83.585 | 99.922 | -2.617 |
| 26 | 17 | Ricky Stenhouse Jr. | SunnyD Ford | 83.719 | 99.762 | -2.751 |
| 27 | 43 | Bubba Wallace | LeithCars.com Chevrolet | 83.86 | 99.595 | -2.892 |
| 28 | 6 | Ryan Newman (P) | Performance Plus Ford | 83.963 | 99.472 | -2.995 |
| 29 | 32 | Corey LaJoie | Samaritan's Feet Ford | 84.086 | 99.327 | -3.118 |
| 30 | 3 | Austin Dillon | Jack Daniel's Chevrolet | 84.671 | 98.641 | -3.703 |
| 31 | 51 | Cody Ware(i) | Jacob Companies Chevrolet | 84.752 | 98.546 | -3.784 |
| 32 | 36 | Matt Tifft # | Louis Kemp Crab Delights Ford | 84.833 | 98.452 | -3.865 |
| 33 | *96 | Parker Kligerman(i) | TRD 40th Anniversary Toyota | 85.392 | 97.808 | -4.424 |
| 34 | 0 | Landon Cassill(i) | Coladka Chevrolet | 85.457 | 97.733 | -4.489 |
| 35 | 15 | Ross Chastain(i) | Empire Auto Group Chevrolet | 85.535 | 97.644 | -4.567 |
| 36 | 52 | Garrett Smithley(i) | Victory Lane/Kendall Oil Ford | 86.355 | 96.717 | -5.387 |
| 37 | *53 | Josh Bilicki(i) | AQRE.app Chevrolet | 86.934 | 96.073 | -5.966 |
| 38 | 77 | Reed Sorenson | Aquesta Bank Chevrolet | 90.845 | 91.937 | -9.877 |
| 39 | *66 | Timmy Hill(i) | Duracap Asphalt Toyota | 217.263 | 38.442 | -2:16.295 |