Sochi: Verstappen puts Red Bull on top in Practice 2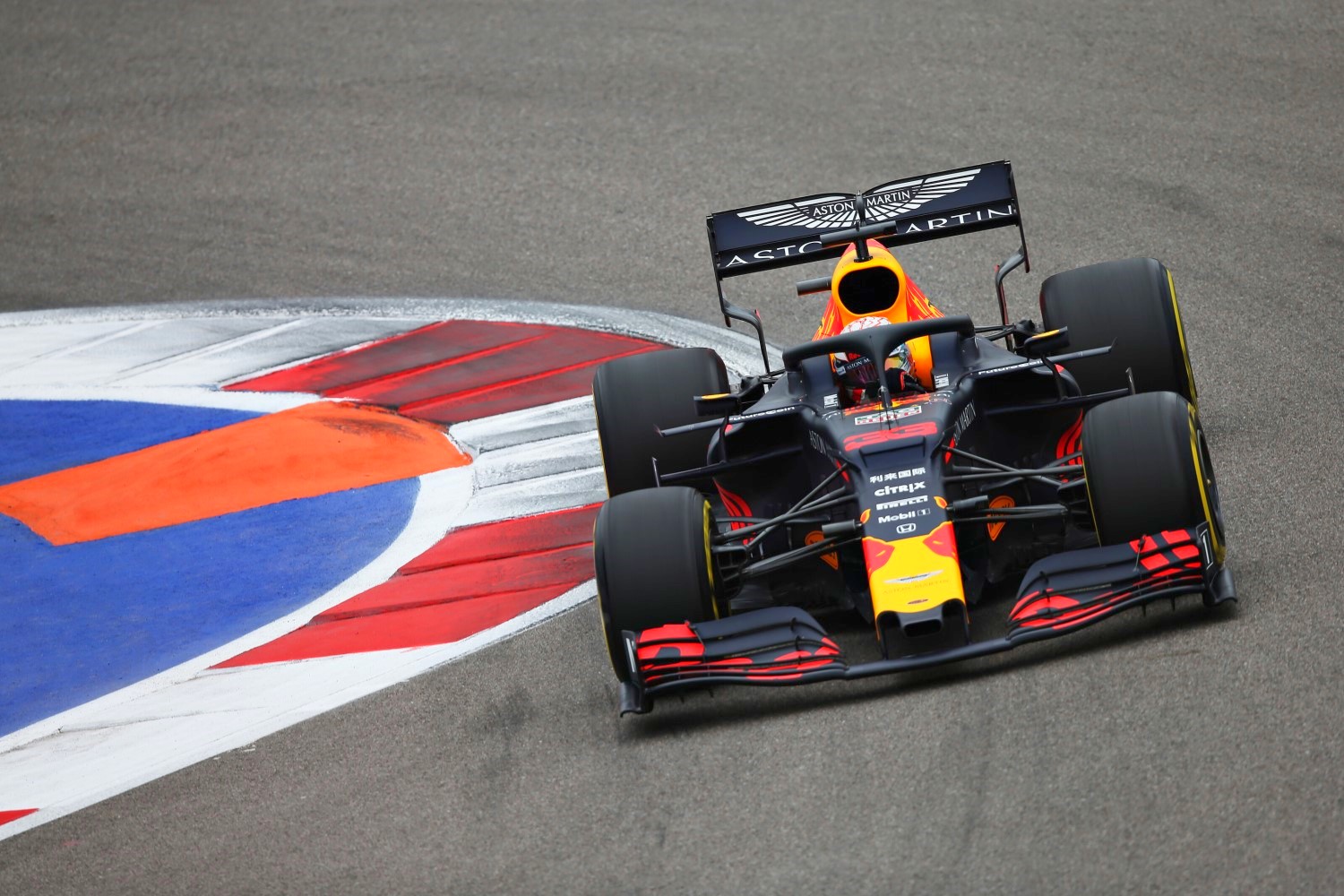 Verstappen flying on Friday
Max Verstappen turned the fastest lap in his Honda powered Red Bull to lead the 2nd practice session for the Russian GP over the Ferrari of Charles Leclerc by 0.335s on the soft Pirelli compound.
The two Mercedes of Valtteri Bottas and Lewis Hamilton were next up 0.646s and 0.798s back respectively.
Sebastian Vettel rounded out the top-5 in the 2nd Ferrari, just over 1-second behind the Honda.
Pierre Gasly was 1.8-sec behind his former teammate in 6th in theToro Rosso.
Lance Stroll made it two Racing Points in the top nine, with McLaren's Lando Norris rounding out the top 10 at the Sochi Autodrom.
Worth remembering that Verstappen is carrying a grid penalty for Sunday's race, as is his team mate. But with seemingly pace to burn, you'd imagine he won't have too many issues working his way up through the field come race day.
As is typical in FP2, teams spent the second half of the 90-minute session running high fuel to gather data for Sunday's race and the early signs suggest the sandbagging Mercedes are looking very strong.
Quotes
Max Verstappen
"Today was very positive and the car worked really well on both tires. We followed our own program, tried quite a few things set-up wise and got a good balance, especially in the last sector but even the first sector with the long straight looked competitive. When you have a good feeling with the car it comes alive in the last sector which is really nice after the strange weekend we had in Singapore. It looks like it may rain tomorrow so that will also mix things up but hopefully the car will also work well in those conditions. We will of course try and do our best in qualifying as the five place grid penalty will be applied after the session, so it is still very important to be quick but at least you can overtake around here and if you are fast you can get to the front. It's only Friday and too early to make any predictions as everyone will improve but it is a very positive start."
Alex Albon
"FP1 went well this morning but this afternoon in FP2, I got a bit of floor damage after running wide out of Turn 4 which meant we lost some running which was a shame. That delayed things and then when we got back out it was a never-ending traffic jam with everyone on long runs so I didn't get any clean laps in. I tried to stay out of trouble as best I could and I heard Bottas was just behind me but I didn't know Lewis was right behind him and so it was my mistake to get in his way. It was just one of those things, but I wouldn't say it was a waste of a session as there's definitely things I learned out there. It's encouraging to see where Max is and to see the car is back to being competitive again. I think the car is quick and the pace is good. I just need to work on it my side and get a cleaner run tomorrow. I'm building confidence with the car and this takes time, but compared to Singapore, I think we're looking good."
Valtteri Bottas
It's always good fun to drive on this track, but unfortunately the others were a bit too quick for us today. The balance of the car felt good, I was just struggling with the overall grip. Everything else seemed ok, but obviously we need to find some gains if we want to be in the fight for pole tomorrow. We will review the data tonight to see what we can do better. Tires are key for a good performance on this track and we need to try and extract more from the Soft tires on a single lap, but our performance on the Medium and Hard tire looked relatively decent. I hope for rain tomorrow, I think we might have a better chance in a wet qualifying.
Lewis Hamilton
It's been a day of discovery and exploring. It started off not too bad and while we've been improving, the others made some big progressions and improved much faster than we did. Our pace was a little bit better in FP2, but still not where we want to be. We'll work very late tonight to understand what we can do better and make some changes to the car for tomorrow. It's good to see the competition doing so well, but naturally we want to be in a fight with them, so that's what we're working towards. It's going to be a tough day tomorrow, but I hope it's going to be raining. I don't think we've ever driven here in the rain, so that would make it pretty interesting.
James Allison
That was mostly a difficult day but with some bright moments in it that give us hope that we can do a good job tomorrow and on Sunday. We're quite clearly a little bit out of step with the other teams in terms of our first lap performance on a track where we've traditionally found it a bit difficult to get the front tires to the temperature we need them. But we made some decent learning steps during the day and if we carry on in that direction, then things should look brighter tomorrow. We're also quite reassured by the fact that on high fuel and when the first lap is taken out of the picture, the car looks swift and looks like it will be a good racing car. There's definitely a load of work for us still to do, but hopefully we can get that done well and put the frustrations of today behind us and retain the good bits that we saw.
Practice 2 Results
| | | | | | | |
| --- | --- | --- | --- | --- | --- | --- |
| POS | NO | DRIVER | CAR | TIME | GAP | LAPS |
| 1 | 33 | Max Verstappen | Red Bull Racing Honda | 1:33.162 | +0.000s | 29 |
| 2 | 16 | Charles Leclerc | Ferrari | 1:33.497 | +0.335s | 33 |
| 3 | 77 | Valtteri Bottas | Mercedes | 1:33.808 | +0.646s | 22 |
| 4 | 44 | Lewis Hamilton | Mercedes | 1:33.960 | +0.798s | 32 |
| 5 | 5 | Sebastian Vettel | Ferrari | 1:34.201 | +1.039s | 32 |
| 6 | 10 | Pierre Gasly | Scuderia Toro Rosso Honda | 1:34.971 | +1.809s | 26 |
| 7 | 11 | Sergio Perez | Racing Point Bwt Mercedes | 1:34.998 | +1.836s | 31 |
| 8 | 27 | Nico Hulkenberg | Renault | 1:35.026 | +1.864s | 33 |
| 9 | 18 | Lance Stroll | Racing Point Bwt Mercedes | 1:35.176 | +2.014s | 31 |
| 10 | 23 | Alexander Albon | Red Bull Racing Honda | 1:35.216 | +2.054s | 18 |
| 11 | 4 | Lando Norris | McLaren Renault | 1:35.223 | +2.061s | 33 |
| 12 | 26 | Daniil Kvyat | Scuderia Toro Rosso Honda | 1:35.337 | +2.175s | 38 |
| 13 | 20 | Kevin Magnussen | Haas Ferrari | 1:35.351 | +2.189s | 26 |
| 14 | 3 | Daniel Ricciardo | Renault | 1:35.370 | +2.208s | 28 |
| 15 | 7 | Kimi Raikkonen | Alfa Romeo Racing Ferrari | 1:35.374 | +2.212s | 34 |
| 16 | 8 | Romain Grosjean | Haas Ferrari | 1:35.593 | +2.431s | 31 |
| 17 | 55 | Carlos Sainz Jr. | McLaren Renault | 1:35.635 | +2.473s | 29 |
| 18 | 99 | Antonio Giovinazzi | Alfa Romeo Racing Ferrari | 1:36.004 | +2.842s | 29 |
| 19 | 63 | George Russell | Williams Mercedes | 1:36.785 | +3.623s | 38 |
| 20 | 88 | Robert Kubica | Williams Mercedes | 1:37.838 | +4.676s | 36 |