F3: Shwartzman secures Sochi pole to set up title showdown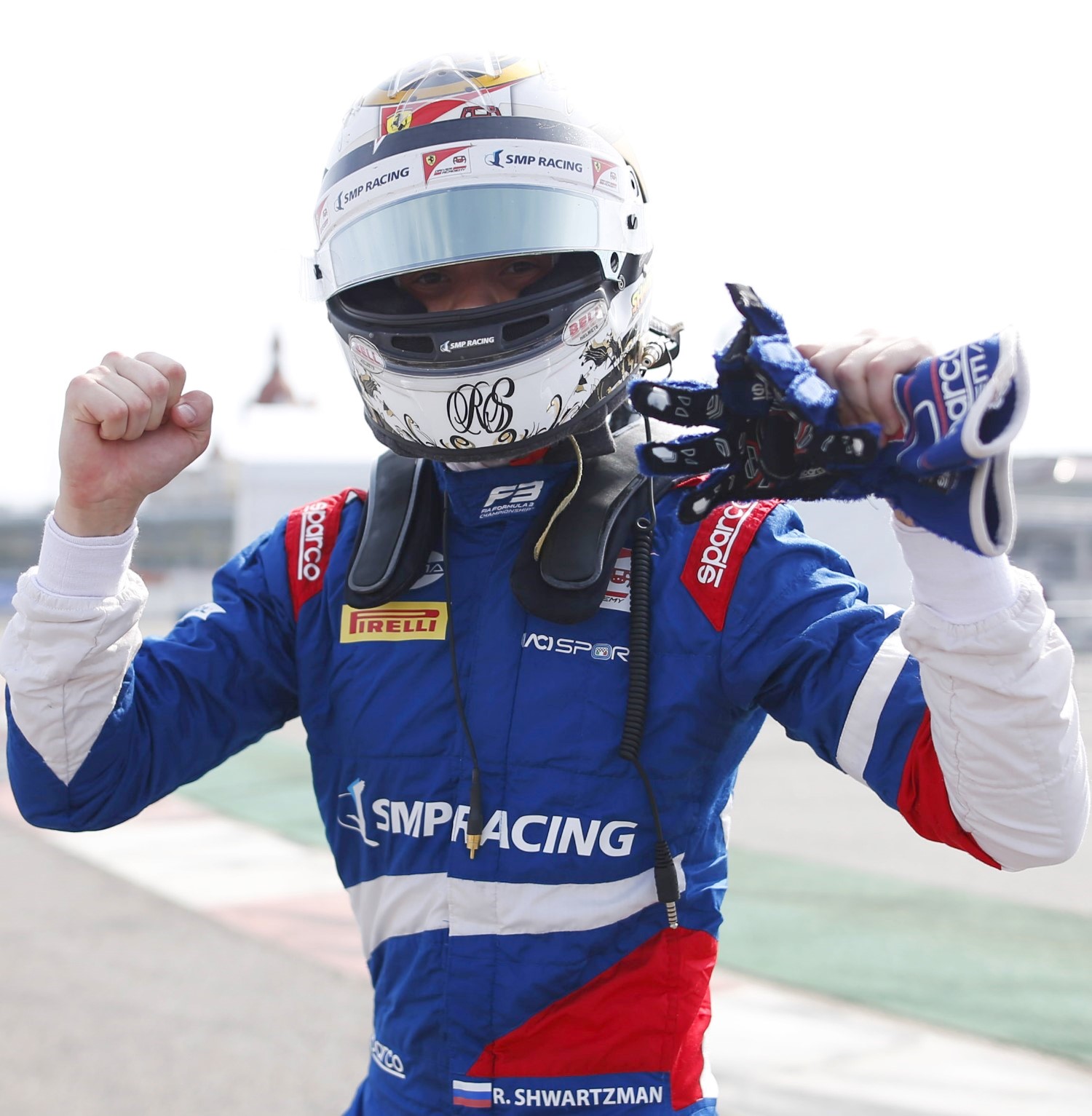 Robert Shwartzman
Robert Shwartzman switched on the styled when it counted, scoring his first pole position since Round 1 in Barcelona, to put himself within touching distance of the FIA Formula 3 crown. The Russian was rampant on home turf, fighting off strong sprints from both of his teammates to finish at the peak of a PREMA Racing 1-2-3. Jehan Daruvala secured second in the dying embers, while Marcus Armstrong settled for third.
With the title at stake, PREMA duo Shwartzman and Daruvala were first out on track and set fast flying laps, but both had to settle for a place beneath Free Practice pacesetter Marcus Armstrong.
Despite them starting so strongly, Niko Kari continued his upward turn of form to snatch provisional pole from the grasp of PREMA, climbing ahead of them with a lap of 1:53.845. Shwartzman found another gear shortly after to leap to the peak of the times, just ahead of Armstrong and the Finn.
The cars dived into the pits for a freshen up ahead of the second stint and Kari returned in similarly determined fashion, once again going top thanks to a purple sector 2. This forced Shwartzman to find further pace once more and yet again he obliged, returning to P1 with a time of under 1m 53s.
Armstrong attempted to better his teammate, but a slight wobble lost him time and he could only manage second. Meanwhile, Kari looked to have given it all he had, as slow second and third sectors cost him.
When the checkered flag was waved, the two title challengers had one last shot at pole and went head-to-head. Daruvala crossed the line first and briefly took P1, but he was shunted to second when Shwartzman nailed the perfect lap, firing in three purple sectors.
The title challenger now holds a 37-point lead in the Championship with just 44 left to play for. He starts ahead of his main rival Daruvala tomorrow, followed by the third PREMA of Armstrong. Kari and Christian Lundgaard complete the top five, ahead of Jake Hughes, Pedro Piquet, Leonardo Pulcini, Jüri Vips and Max Fewtrell.
The enthralling title battle could come to a close tomorrow morning, when racing returns at 10.15am (local time).
Qualifying Results
| | | | | |
| --- | --- | --- | --- | --- |
| POS | DRIVER | TEAM | TIME | LAPS |
| 1 | Robert Shwartzman | PREMA Racing | 1:52.583 | 14 |
| 2 | Jehan Daruvala | PREMA Racing | 1:52.775 | 14 |
| 3 | Marcus Armstrong | PREMA Racing | 1:52.853 | 13 |
| 4 | Niko Kari | Trident | 1:53.191 | 12 |
| 5 | Christian Lundgaard | ART Grand Prix | 1:53.274 | 14 |
| 6 | Jake Hughes | HWA RACELAB | 1:53.340 | 12 |
| 7 | Pedro Piquet | Trident | 1:53.349 | 13 |
| 8 | Leonardo Pulcini | Hitech Grand Prix | 1:53.451 | 13 |
| 9 | Juri Vips | Hitech Grand Prix | 1:53.530 | 13 |
| 10 | Max Fewtrell | ART Grand Prix | 1:53.539 | 13 |
| 11 | Felipe Drugovich | Carlin Buzz Racing | 1:53.550 | 12 |
| 12 | Logan Sargeant | Carlin Buzz Racing | 1:53.643 | 12 |
| 13 | Richard Verschoor | MP Motorsport | 1:53.824 | 14 |
| 14 | Bent Viscaal | HWA RACELAB | 1:53.842 | 12 |
| 15 | Raoul Hyman | Sauber Junior Team by Charouz | 1:53.877 | 14 |
| 16 | Devlin DeFrancesco | Trident | 1:53.882 | 13 |
| 17 | Yuki Tsunoda | Jenzer Motorsport | 1:53.938 | 13 |
| 18 | Ye Yifei | Hitech Grand Prix | 1:53.943 | 13 |
| 19 | Teppei Natori | Carlin Buzz Racing | 1:54.001 | 12 |
| 20 | Sebastian Fernandez | Campos Racing | 1:54.046 | 12 |
| 21 | Lirim Zendeli | Sauber Junior Team by Charouz | 1:54.112 | 14 |
| 22 | Fabio Scherer | Sauber Junior Team by Charouz | 1:54.145 | 13 |
| 23 | Liam Lawson | MP Motorsport | 1:54.557 | 13 |
| 24 | Simo Laaksonen | MP Motorsport | 1:54.757 | 13 |
| 25 | David Schumacher | Campos Racing | 1:54.889 | 13 |
| 26 | Andreas Estner | Jenzer Motorsport | 1:54.912 | 13 |
| 27 | Keyvan Andres | HWA RACELAB | 1:55.068 | 11 |
| 28 | Alessio Deledda | Campos Racing | 1:56.251 | 12 |
| 29 | Leong Hon Chio | Jenzer Motorsport | 1:57.166 | 10 |