Newgarden honored at Victory Banquet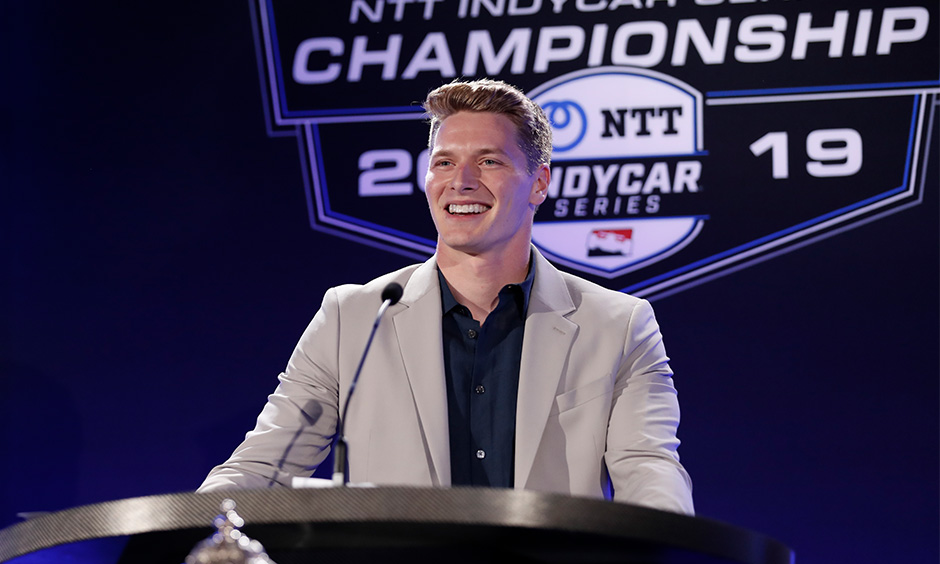 Newgarden collects his 2nd $1 million prize
NTT IndyCar Series champion Josef Newgarden and Team Penske celebrated prizes in excess of $1 million received Thursday night at the season-ending Victory Lap Celebration in Indianapolis.
Newgarden, who captured his second driver's title in three years Sunday at WeatherTech Raceway Laguna Seca, earned the $1 million bonus and a replica of the Astor Challenge Cup.
Driving the No. 2 Hitachi Chevrolet, Newgarden tied his career high with four race wins in 2019. He won two street races (St. Petersburg and Detroit 1) and two ovals (Texas Motor Speedway and Iowa Speedway). He also won a pair of poles (Detroit 2 and World Wide Technology Raceway at Gateway).
"I didn't feel like I got to do this right in 2017, so I want to make sure I get this one right," Newgarden said of a victory speech.
Newgarden again admitted feeling more pressure coming down the stretch this year, mostly because of his big lead heading into the season-ending Firestone Grand Prix of Monterey.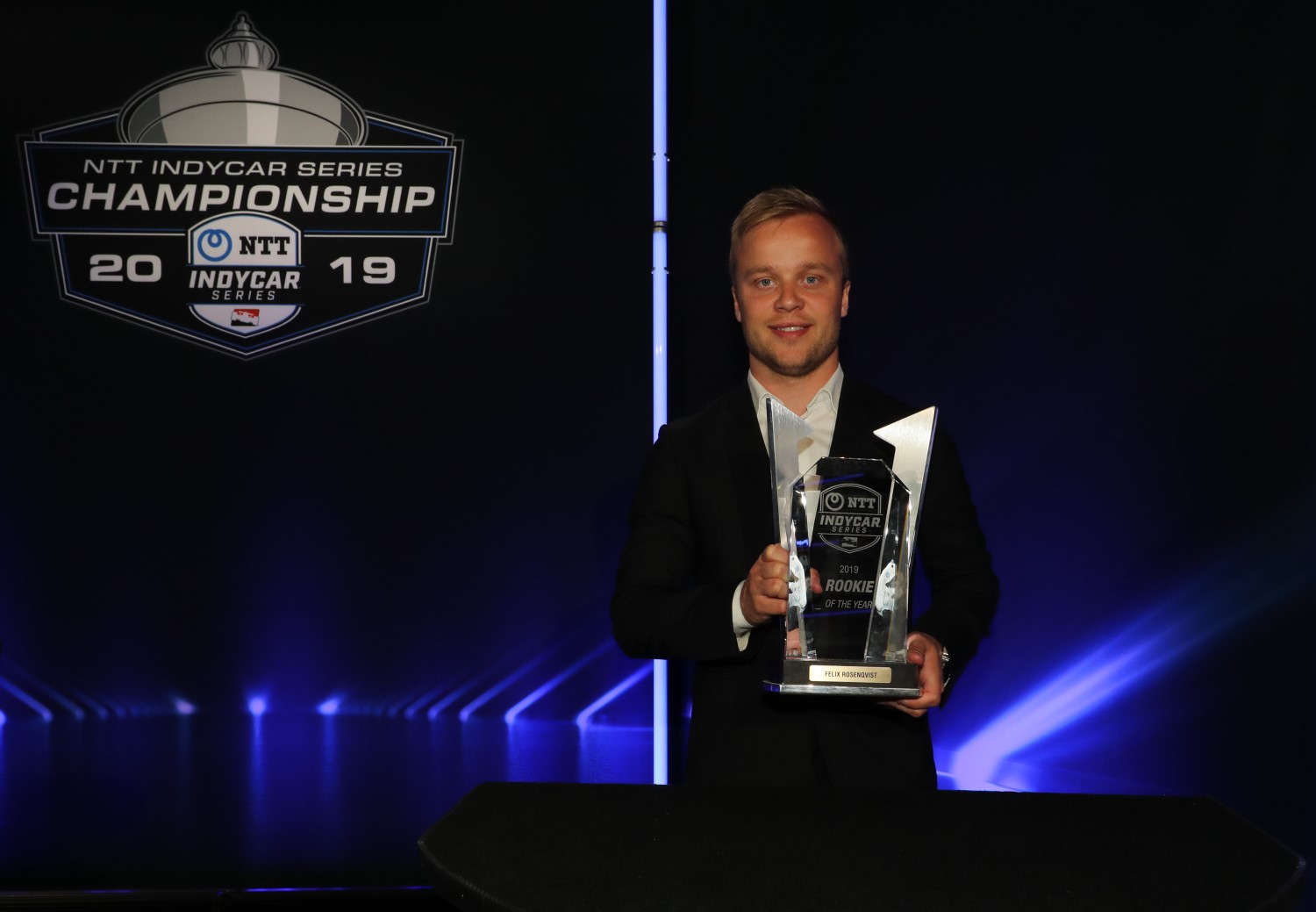 Rookie of the Year Felix Rosenqvist
"I was really feeling it," he said.
Newgarden gave special thanks to his first-year engineer, Gavin Ward. Newgarden said he struggled in his first year as an Indy car driver.
"But you crushed it," he said to Ward, who attended the event with all members of the 2 car and Team Penske executives.
Newgarden finished the season with a 25-point lead over Team Penske teammate Simon Pagenaud, who won the NTT P1 Season Award by scoring the most points in races in which he won the pole.
Team owner Roger Penske was also presented an Astor Cup replica during the celebration at the posh Union 50 Restaurant and Bar in downtown Indianapolis. Team Penske won its 16th series championship after capturing its 18 Indianapolis 500 (the latter with Pagenaud). Both are records.
Penske told the story of having one of his first meetings with Newgarden, who was presenting reasons why the organization should hire him to drive an Indy car. Penske said Newgarden spoke with such enthusiasm and passion that "we didn't even get to ask him a question," Penske said.
Chip Ganassi Racing driver Felix Rosenqvist, who finished sixth in the standings, was named Rookie of the Year and received a $50,000 bonus.
Honda was the Manufacturer Champion for the second year in a row.
The list of awards were:
Mini Astor Cup (Championship Driver): Josef Newgarden, Team Penske
Mini Astor Cup (Championship Owner): Roger Penske
Championship Team Manager: Kyle Moyer, Team Penske
Championship Chief Mechanic, Travis Law, Team Penske
Rookie of the Year: Felix Rosenqvist, Chip Ganassi Racing
Second Place in Championship: Simon Pagenaud, Team Penske
Third Place in Championship: Alexander Rossi, Andretti Autosport
NTT P1 Season Award: Simon Pagenaud, Team Penske
Manufacturer Champion Award: Honda
TAG Heuer "Don't Crack Under Pressure" Award ($25,000): Tony Kanaan, A.J. Foyt Enterprises
Indy Family Foundation Award: Seeds of Hope (Father Glenn O'Connor, INDYCAR Ministry)