F3: Armstrong unbeatable in final F3 Practice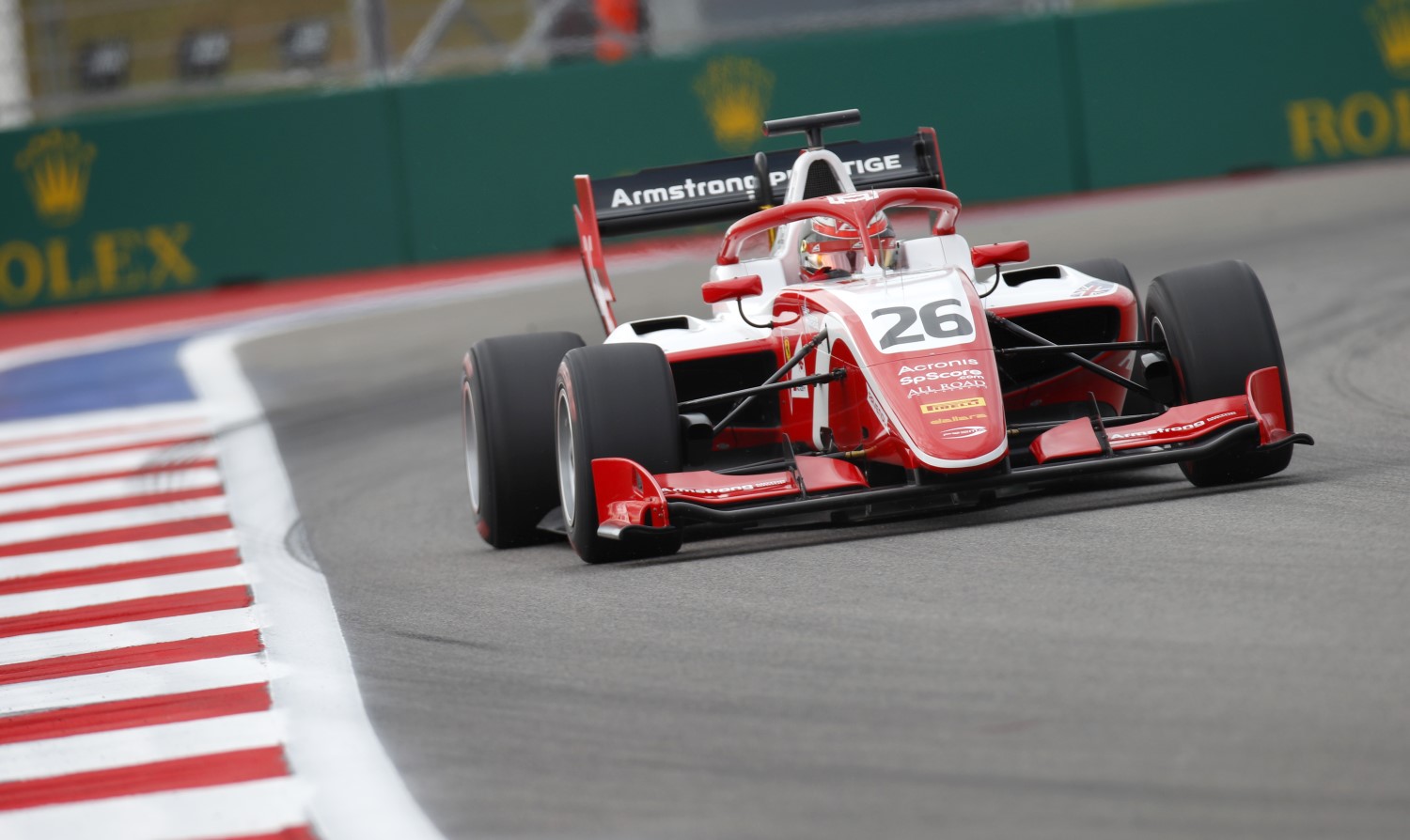 Marcus Armstrong
Marcus Armstrong topped the final Free Practice session of the FIA Formula 3 season, ahead of Championship leader Robert Shwartzman. The Russian, who is hoping to wrap up the title this weekend, couldn't quite match his Kiwi teammate, lapping 0.328s behind. The duo finished ahead of Trident's Niko Kari, who scored his best session placing since Round 1.
Lirim Zendeli and Ye Yifei got Free Practice underway on a cool morning in the Black Sea resort. The duo exchanged first and second in the early stages before Pedro Piquet took the times to under 1m 56s.
The PREMAs didn't take long to warm up their tires and Armstrong quickly seized control of proceedings, slashing the laps down to under 1m 55s, nearly 0.5s ahead of his teammate Shwartzman.
Christian Lundgaard made an attempt to dislodge him from first and briefly claimed P1, before the Kiwi replaced him moments later. The Trident machines were showing early pace, as Niko Kari not only joined Piquet near the top, but went faster. The Finn missed out on P1 by just 0.074s and was backed up by Shwartzman in third.
With five minutes on the clock, the final PREMA, Jehan Daruvala, leapt 10 places from 13th to third to steal the position from Shwartzman, but the Russian's next tour of the Sochi Autodrom proved quicker and pushed the Indian down into fourth.
Determined to lay down a marker ahead of a massive weekend for the Ferrari F1 junior, Shwartzman thundered through a final lap for second place, but still couldn't match his teammate as Armstrong held on to P1.
Kari completed the top three, ahead of Daruvala and Yifei. Zendeli, Lundgaard, Max Fewtrell, Piquet and Jüri Vips completed the top 10. The field return to action in the early afternoon, when Qualifying will take place at 1pm (local time).
Free Practice provisional classification
| | | | | |
| --- | --- | --- | --- | --- |
| POS | DRIVER | TEAM | TIME | LAPS |
| 1 | Marcus Armstrong | PREMA Racing | 1:53.504 | 16 |
| 2 | Robert Shwartzman | PREMA Racing | 1:53.832 | 17 |
| 3 | Niko Kari | Trident | 1:54.052 | 16 |
| 4 | Jehan Daruvala | PREMA Racing | 1:54.088 | 16 |
| 5 | Ye Yifei | Hitech Grand Prix | 1:54.158 | 18 |
| 6 | Lirim Zendeli | Sauber Junior Team by Charouz | 1:54.451 | 20 |
| 7 | Christian Lundgaard | ART Grand Prix | 1:54.548 | 15 |
| 8 | Max Fewtrell | ART Grand Prix | 1:54.574 | 15 |
| 9 | Pedro Piquet | Trident | 1:54.628 | 18 |
| 10 | Juri Vips | Hitech Grand Prix | 1:54.668 | 16 |
| 11 | Raoul Hyman | Sauber Junior Team by Charouz | 1:54.778 | 19 |
| 12 | Jake Hughes | HWA RACELAB | 1:54.785 | 16 |
| 13 | Felipe Drugovich | Carlin Buzz Racing | 1:54.786 | 15 |
| 14 | Leonardo Pulcini | Hitech Grand Prix | 1:54.836 | 16 |
| 15 | Logan Sargeant | Carlin Buzz Racing | 1:54.935 | 16 |
| 16 | Devlin DeFrancesco | Trident | 1:55.134 | 19 |
| 17 | Richard Verschoor | MP Motorsport | 1:55.137 | 18 |
| 18 | Simo Laaksonen | MP Motorsport | 1:55.185 | 16 |
| 19 | Bent Viscaal | HWA RACELAB | 1:55.230 | 13 |
| 20 | David Schumacher | Campos Racing | 1:55.258 | 16 |
| 21 | Teppei Natori | Carlin Buzz Racing | 1:55.303 | 16 |
| 22 | Yuki Tsunoda | Jenzer Motorsport | 1:55.387 | 18 |
| 23 | Sebastian Fernandez | Campos Racing | 1:55.414 | 16 |
| 24 | Fabio Scherer | Sauber Junior Team by Charouz | 1:55.460 | 17 |
| 25 | Keyvan Andres | HWA RACELAB | 1:55.599 | 18 |
| 26 | Alessio Deledda | Campos Racing | 1:56.138 | 19 |
| 27 | Andreas Estner | Jenzer Motorsport | 1:56.177 | 19 |
| 28 | Leong Hon Chio | Jenzer Motorsport | 1:56.972 | 19 |
| 29 | Liam Lawson | MP Motorsport | 2:21.088 | 7 |