Jenson Button discusses DTM guest start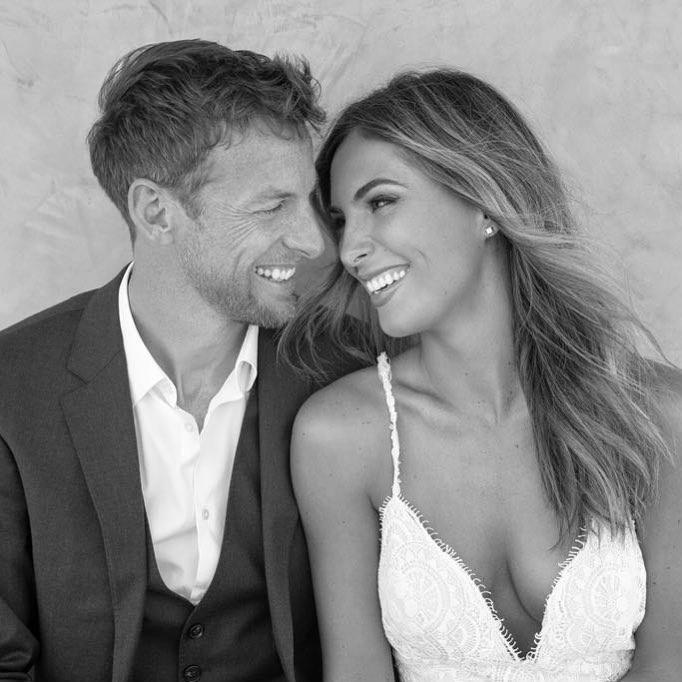 Jenson Button and Britny Ward
The DTM is preparing for the guest appearance of three cars from the Japanese SUPER GT series at next weekend's seasonal finale at Hockenheim (4-6 October). At the landmark event, Honda, Nissan and Lexus will enter one vehicle each, pitting them against the DTM's 18-car field of Aston Martins, BMWs and Audis.
The most prominent starter from the Japanese delegation is former Formula 1 World Champion and current SUPER GT champion Jenson Button. The 39-year-old Englishman, who became a father a few weeks ago, will drive a Team Kunimitsu Honda NSX GT, with the start-number one.
Button knows the Hockenheimring well from his time in F1. In an exclusive interview with DTM.com, he talks about his memories of the track, his time in Japan and his anticipation ahead of the DTM race. Here is an abridged version of the interview. Read the full interview on DTM.com.
What do you think of the whole SUPER GT x DTM concept, with six manufacturers racing against each other?
I think it's fantastic. Obviously, I've been racing in SUPER GT in Japan for the last two years, and I can honestly say that I've enjoyed every minute of it. The racing is great. I think people often think that GT and sports car racing isn't quite as frantic as single-seater racing, but I can tell you: it's just as crazy; just as full-on. There's more contact, there's a load more traffic – especially in SUPER GT – and you're pushing on every single lap.
I think the idea of bringing SUPER GT together with DTM is brilliant. These sorts of things aren't easy to arrange, and they're even harder to fine-tune, so I'd just remind people that we might not get it right immediately, so be patient as we try and make it work.
Obviously, for us, it's really exciting to be going to a new continent – back to Europe – and to a new circuit. And I think it's a massive opportunity to be racing against Audi and BMW and the might of the DTM. That's a huge thing for SUPER GT, and it's going to be fascinating.
Also, the fact that we have no idea how it's going to go – will the SUPER GT cars be faster? Will we struggle with the Hankook tires? It's fascinating. I can't wait.
How do you feel about racing in Germany after such a long time?
I'm old enough to have raced on the old Hockenheim – which is something I'll never forget; those massive, long straights flat-out into the forests. With a V10 screaming away behind me.
But, having said that, I actually really enjoy the new Hockenheim, and I've had some really enjoyable races there. I was on the podium in 2004 after getting an engine penalty for changing an engine – and I had to struggle with my helmet strap, which had come loose during the race, which was, er, interesting. I had a great race against Seb [Vettel] in 2012 – that was really enjoyable. I finished second – we had a fantastic car that year.
So, we lost that classic run out into the woods, but what we did get with the redesign was a circuit that's really great for racing on. The first corner is fast and fun; but it's the corners after the hairpin that are really great – you're able to position the car nicely to fight against other drivers. Whether you're attacking or defending, you can use the circuit as a weapon. It's a really fun place to race at, actually. It'll be good to be back.
Which DTM drivers do you know?
I know Paul [Di Resta], obviously, because we raced in Formula 1 together, and we'd see each other quite a lot when I lived in Monaco. We used to train quite a bit together – he's a cyclist too, so he'd be one of the guys on our regular runs from Monte-Carlo over to Ventimiglia, in Italy, where we'd stop for a coffee.
And, obviously, we share the same job – as a pundit for Sky's Formula 1 coverage – so we've still got quite a lot in common. But racing at Hockenheim together will be the first time we've raced alongside each other since we were both at Le Mans in 2018.
And then I know Timo [Glock] – again from Formula 1. Jamie Green, I remember from karting.
I'm really interested to meet some of the other drivers in DTM. For as long as I can remember, it's always been regarded as highly professional, with a very high standard of driver – and I can remember when Mika Häkkinen and David Coulthard went there, and they certainly didn't find it easy.
And I know from racing in SUPER GT that the standard and quality of driving that there is in these series is massive: these are professional drivers right at the top of their game. It's really impressive. I know that René [Rast] has just won the title, and I know that Gerhard [Berger] and Keke [Rosberg] both speak very highly of him, so I am interested to get an insight into the DTM world. You definitely don't take anything for granted.
You will be given starting number 1. What does it mean to you?
Well, it puts a bigger target on your back – I know that much! But, I've been there before, and it's always a privilege to have that number. I didn't actually know I was going to be car number one, so that's really cool.
Obviously, you go to every race wanting to win – and we've been able to do that a little bit in SUPER GT – but, in all honesty, I don't go to Hockenheim hell-bent on winning. I haven't been there for a couple of years, so it will just feel good to be back in a European racing paddock and to see some old faces. Hockenheim will be DTM's backyard, so I don't think we go there with too many expectations, and there's still a lot we have to discover about how the cars can run together on track.
Then, hopefully, we can come away from Hockenheim having had some fun and gathered some useful data, then we can really have some fun when the DTM comes to our backyard at Fuji in November. I know this whole process [of bringing the two series together] has been a huge amount of effort and a lot of work, so it will be fantastic to see it work.
Since joining SUPER GT, and racing in WEC, have you seen a growth in interest in sportscar and GT racing? Do you want to continue racing tin-tops?
When I was in Formula 1, I always said I'd go and do Rallycross – because that's what my dad did, and because it just looked such fun. That hasn't happened – yet! – but I've been doing off-road races and events with Rocket in the US, and it's something I want to go into more deeply.
And the SUPER GT opportunity with Honda came up, and it just looked like a lot of fun. The schedule really works – especially when you compare it to something as punishing as Formula 1, which is obviously a full-time occupation – but, more importantly, the cars are fantastic, and the formula – a self-contained GT endurance series – really appealed to me.
Obviously, everything always exists in the shadow of Formula 1, but I definitely think there's room for things like SUPER GT, WEC and DTM to have a higher profile. I think drivers and fans want to see fast, powerful cars, and that in turn attracts a higher caliber of driver and sponsor. I'd like to see those series become more popular on the international stage, definitely