IndyCar Laguna Seca TV Rating (2nd Update)
UPDATE
CORRECTION:
Laguna Seca's 0.50 was not the lowest IndyCar TV rating ever on network TV. NBC won that honor this year at Mid-Ohio with a 0.47 rating and 670,000 viewers. Laguna Seca was a close 2nd.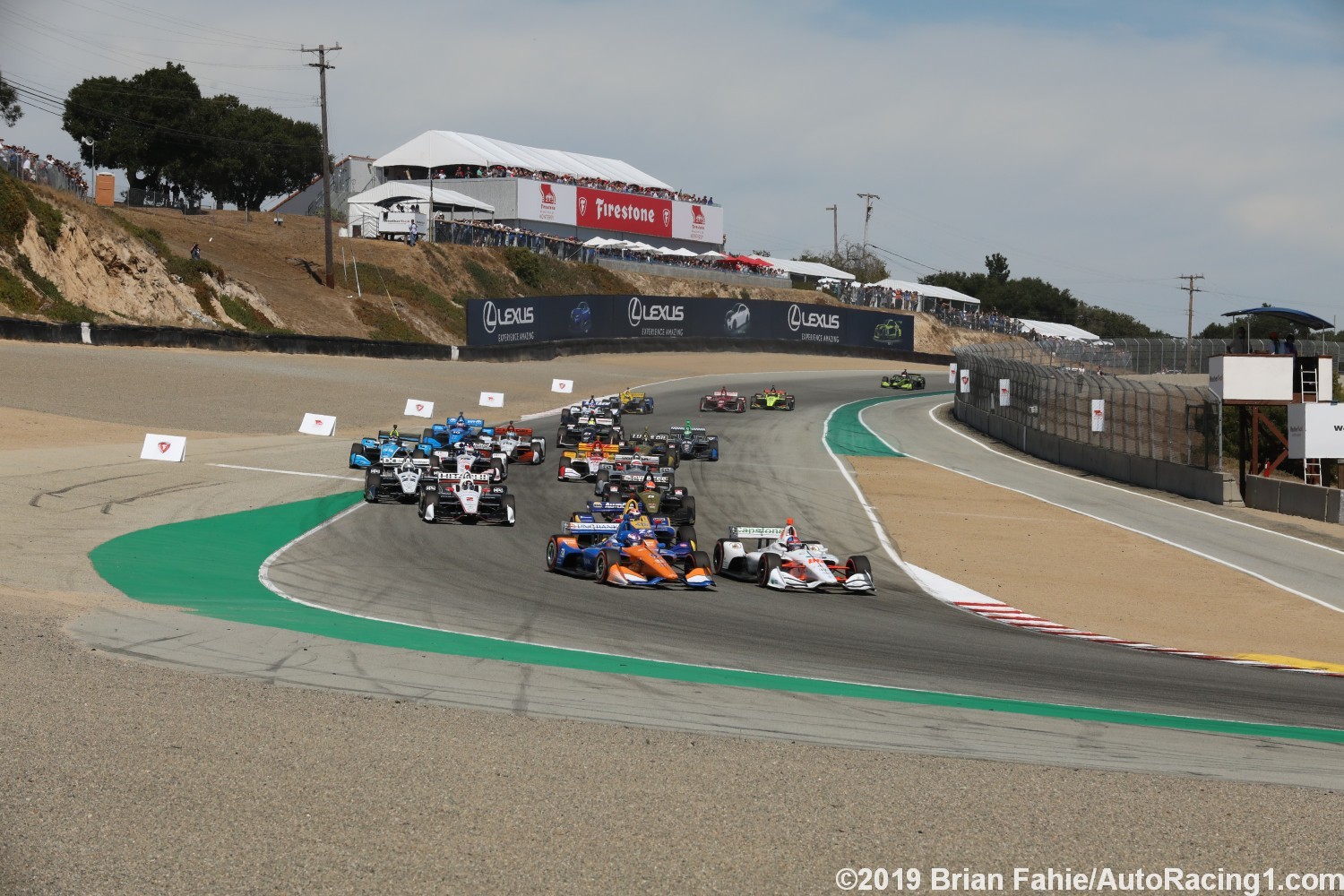 Race Start
09/24/19 The final TV rating for the IndyCar finale at Laguna Seca on NBC Sunday was a 0.50 with 732,000 viewers – a new all-time low for an IndyCar race on a 'network' TV channel.
It was up from the 0.38 final rating for the Sonoma IndyCar finale last year on NBCSN. The NBCSN broadcast pulled in 629,000 viewers last year and moving the finale to NBC this year only pulled in an additional 103,000 viewers – dismal for a network channel.
For the year, the total viewers for 2019 was up 1.49M over 2018 (13.886M vs 15.376M)- largely owing to 8 races on network TV instead of 5 in 2018. The 15.376M total viewers for 2019 is down from the 16.169M in 2016 and 16.303 in 2017 when only 5 races were on ABC. ESPN offered 11 races on ABC (vs. only 8 for NBC) which would have put total IndyCar TV viewership for 2019 over 20 million. That's just lost sponsor money in the IndyCar paddock, and likely a lost third engine manufacturer, as a result of IndyCar's poor management decision.
For comparison, F1 gets over 50M per race – three times what IndyCar gets for a full season.
If IndyCar were sold to Liberty, Liberty would leverage their global F1 TV deals to get IndyCar broadcast around the world, which would increase viewership tenfold and sponsor money in the paddock tenfold. Hence why it makes sense for IndyCar to be sold.
09/23/19 NBC earned a very disappointing 0.56 overnight rating for yesterday's NTT IndyCar Series Firestone GP of Monterey season finale at Laguna Seca.
While that may be a good number for NBCSN, it is horrible for a network station like NBC and worse than any network rating we saw over the years on ABC.
The number is up 40% from a 0.40 for last year's finale, at Sonoma on NBCSN, but that is to be expected.