Rosenqvist tops IndyCar Practice 3 over Penske Powerhouse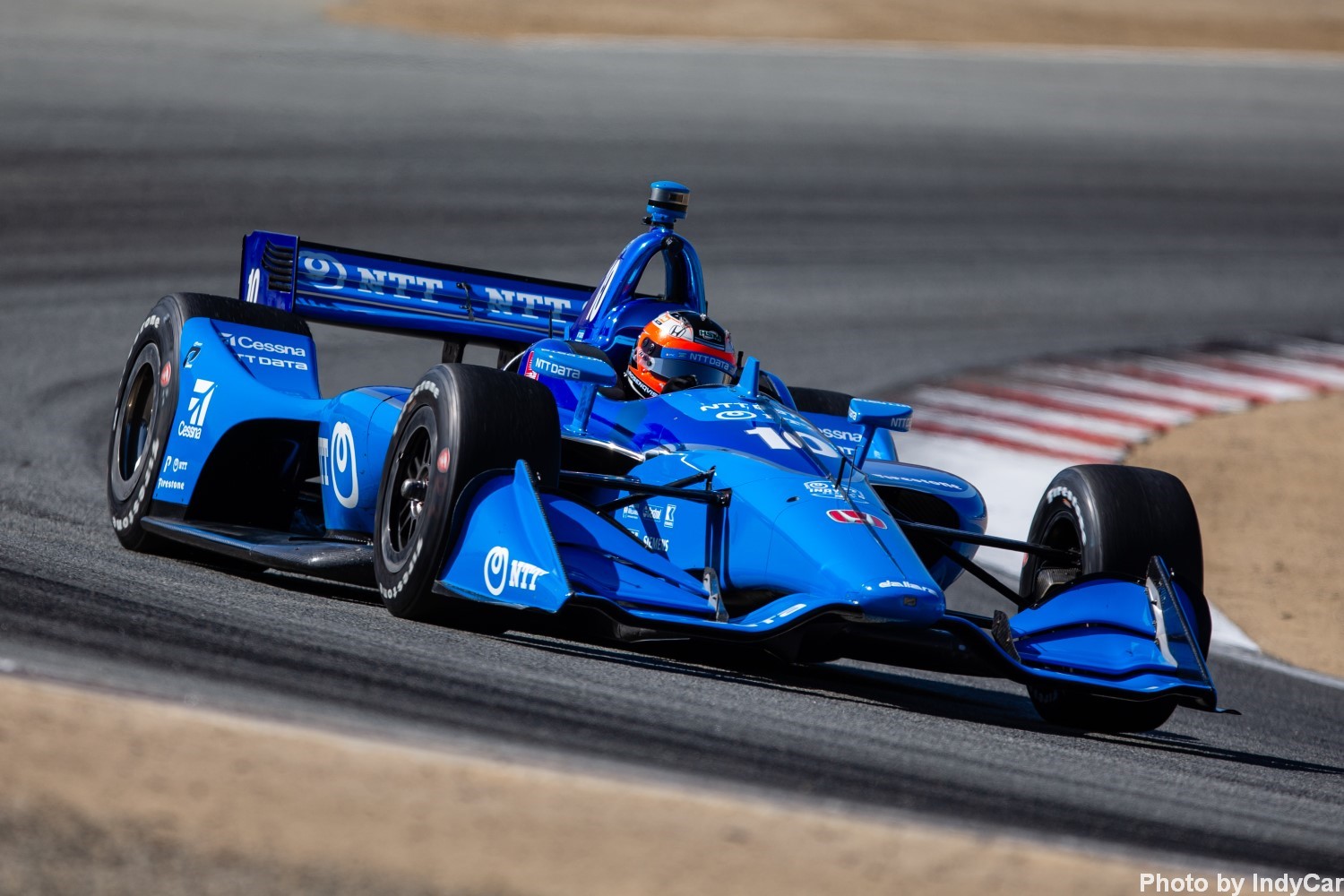 Felix Rosenqvist
If final practice is any indication, Team Penske appears poised to freeze Alexander Rossi out of any chance to win the IndyCar title. While Felix Rosenqvist turned the fastest lap in this session, the sandbagging Penske IndyCar team ran 2-3-4 in their Chevys led by points leader Josef Newgarden, Will Power and Simon Pagenaud. Their goal is to start 1-2-3 and let Rossi suck their fumes all race on Sunday. Without a win, and with Newgarden out front, Rossi will be left wondering how many titles and Indy 500s he might have won had he signed with Team Penske.
Rossi could only manage 10th quick in this session, so unless the Andretti boys are sandbagging, their cars are just too slow.
We will know in three short hours.
Practice 3 Results
| | | | | | | | | |
| --- | --- | --- | --- | --- | --- | --- | --- | --- |
| Pos | No | Name | Time | Diff | Gap | Speed | Engine | Team |
| 1 | 10 | Felix Rosenqvist | 1:10.406 | –.—- | –.—- | 114.433 | Honda | Chip Ganassi Racing Teams |
| 2 | 2 | Josef Newgarden | 1:10.589 | 0.1823 | 0.1823 | 114.137 | Chevy | Team Penske |
| 3 | 12 | Will Power | 1:10.593 | 0.1865 | 0.0042 | 114.130 | Chevy | Team Penske |
| 4 | 22 | Simon Pagenaud | 1:10.612 | 0.2057 | 0.0192 | 114.099 | Chevy | Team Penske |
| 5 | 30 | Takuma Sato | 1:10.711 | 0.3044 | 0.0987 | 113.940 | Honda | Rahal Letterman Lanigan Racing |
| 6 | 59 | Max Chilton | 1:10.713 | 0.3064 | 0.0020 | 113.937 | Chevy | Carlin |
| 7 | 88 | Colton Herta | 1:10.782 | 0.3759 | 0.0695 | 113.825 | Honda | Harding Steinbrenner Racing |
| 8 | 9 | Scott Dixon | 1:10.820 | 0.4138 | 0.0379 | 113.764 | Honda | Chip Ganassi Racing Teams |
| 9 | 15 | Graham Rahal | 1:10.863 | 0.4566 | 0.0428 | 113.695 | Honda | Rahal Letterman Lanigan Racing |
| 10 | 27 | Alexander Rossi | 1:10.874 | 0.4673 | 0.0107 | 113.678 | Honda | Andretti Autosport |
| 11 | 98 | Marco Andretti | 1:10.930 | 0.5236 | 0.0563 | 113.588 | Honda | Andretti Herta w/Marco & Curb-Agaj |
| 12 | 25 | Conor Daly | 1:10.941 | 0.5340 | 0.0104 | 113.571 | Honda | Andretti Autosport |
| 13 | 23 | Charlie Kimball | 1:11.007 | 0.6002 | 0.0662 | 113.465 | Chevy | Carlin |
| 14 | 18 | Sebastien Bourdais | 1:11.009 | 0.6026 | 0.0024 | 113.462 | Honda | Dale Coyne Racing with Vasser-Sullivan |
| 15 | 19 | Santino Ferrucci | 1:11.082 | 0.6751 | 0.0725 | 113.346 | Honda | Dale Coyne Racing |
| 16 | 26 | Zach Veach | 1:11.109 | 0.7026 | 0.0275 | 113.302 | Honda | Andretti Autosport |
| 17 | 7 | Marcus Ericsson | 1:11.161 | 0.7541 | 0.0515 | 113.220 | Honda | Arrow Schmidt Peterson Motorsports |
| 18 | 28 | Ryan Hunter-Reay | 1:11.243 | 0.8361 | 0.0820 | 113.090 | Honda | Andretti Autosport |
| 19 | 60 | Jack Harvey | 1:11.421 | 1.0143 | 0.1782 | 112.807 | Honda | Meyer Shank Racing w/Arrow SPM |
| 20 | 4 | Matheus Leist | 1:11.439 | 1.0325 | 0.0182 | 112.779 | Chevy | AJ Foyt Enterprises |
| 21 | 5 | James Hinchcliffe | 1:11.486 | 1.0799 | 0.0474 | 112.704 | Honda | Arrow Schmidt Peterson Motorsports |
| 22 | 21 | Spencer Pigot | 1:11.543 | 1.1361 | 0.0562 | 112.615 | Chevy | Ed Carpenter Racing |
| 23 | 20 | Ed Jones | 1:11.768 | 1.3619 | 0.2258 | 112.261 | Chevy | Ed Carpenter Racing |
| 24 | 14 | Tony Kanaan | 1:11.786 | 1.3791 | 0.0172 | 112.234 | Chevy | AJ Foyt Enterprises |