Rossi tops Laguna Seca Warm-Up Practice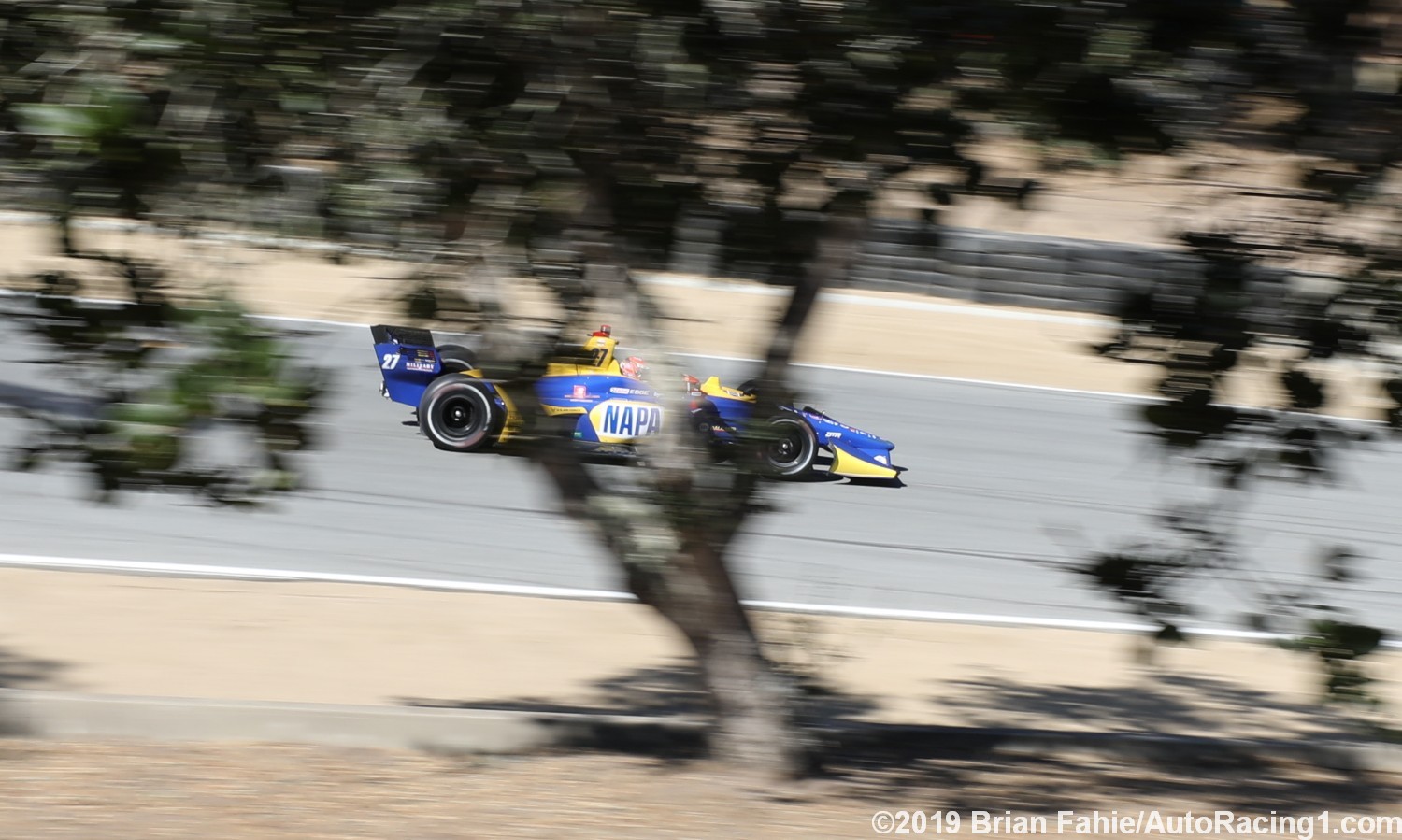 Rossi races out of the corkscrew
Instead of a 30-minute Sunday morning warm-up at some tracks IndyCar gives the teams an extra 30-minute session on Friday.
Andretti Honda driver Alexander Rossi finally put on a set of Firestone red tires and promptly turned the fastest lap at 1m10.099s.
Andretti Honda cars had 4 of the 5 fastest cars with Colton Herta third quick and Conor Daly 5th quick.
Scott Dixon broke up the Andretti team party with the 4th quick time in his Ganassi Honda giving Honda powered cars a 1-2-3-4-5.
30-Minute Warmup Times
| | | | | | | | | |
| --- | --- | --- | --- | --- | --- | --- | --- | --- |
| Pos | No | Name | Time | Diff | Gap | Speed | Engine | Team |
| 1 | 27 | Alexander Rossi | 1:10.099 | –.—- | –.—- | 114.935 | Honda | Andretti Autosport |
| 2 | 28 | Ryan Hunter-Reay | 1:10.893 | 0.7938 | 0.7938 | 113.648 | Honda | Andretti Autosport |
| 3 | 88 | Colton Herta | 1:10.895 | 0.7962 | 0.0024 | 113.644 | Honda | Harding Steinbrenner Racing |
| 4 | 9 | Scott Dixon | 1:11.037 | 0.9383 | 0.1421 | 113.417 | Honda | Chip Ganassi Racing Teams |
| 5 | 25 | Conor Daly | 1:11.118 | 1.0194 | 0.0811 | 113.287 | Honda | Andretti Autosport |
| 6 | 22 | Simon Pagenaud | 1:11.694 | 1.5951 | 0.5757 | 112.378 | Chevy | Team Penske |
| 7 | 30 | Takuma Sato | 1:11.859 | 1.7602 | 0.1651 | 112.120 | Honda | Rahal Letterman Lanigan Racing |
| 8 | 59 | Max Chilton | 1:11.884 | 1.7851 | 0.0249 | 112.081 | Chevy | Carlin |
| 9 | 10 | Felix Rosenqvist | 1:11.917 | 1.8180 | 0.0329 | 112.029 | Honda | Chip Ganassi Racing Teams |
| 10 | 4 | Matheus Leist | 1:12.116 | 2.0173 | 0.1993 | 111.720 | Chevy | AJ Foyt Enterprises |
| 11 | 98 | Marco Andretti | 1:12.130 | 2.0308 | 0.0135 | 111.699 | Honda | Andretti Herta w/Marco & Curb-Agaj |
| 12 | 20 | Ed Jones | 1:12.140 | 2.0414 | 0.0106 | 111.683 | Chevy | Ed Carpenter Racing |
| 13 | 23 | Charlie Kimball | 1:12.330 | 2.2309 | 0.1895 | 111.390 | Chevy | Carlin |
| 14 | 26 | Zach Veach | 1:12.434 | 2.3354 | 0.1045 | 111.229 | Honda | Andretti Autosport |
| 15 | 7 | Marcus Ericsson | 1:12.504 | 2.4048 | 0.0694 | 111.123 | Honda | Arrow Schmidt Peterson Motorsports |
| 16 | 2 | Josef Newgarden | 1:12.656 | 2.5569 | 0.1521 | 110.890 | Chevy | Team Penske |
| 17 | 15 | Graham Rahal | 1:12.660 | 2.5609 | 0.0040 | 110.884 | Honda | Rahal Letterman Lanigan Racing |
| 18 | 12 | Will Power | 1:12.681 | 2.5819 | 0.0210 | 110.852 | Chevy | Team Penske |
| 19 | 21 | Spencer Pigot | 1:12.701 | 2.6020 | 0.0201 | 110.821 | Chevy | Ed Carpenter Racing |
| 20 | 60 | Jack Harvey | 1:12.835 | 2.7361 | 0.1341 | 110.617 | Honda | Meyer Shank Racing w/Arrow SPM |
| 21 | 19 | Santino Ferrucci | 1:13.034 | 2.9347 | 0.1986 | 110.316 | Honda | Dale Coyne Racing |
| 22 | 5 | James Hinchcliffe | 1:13.394 | 3.2947 | 0.3600 | 109.775 | Honda | Arrow Schmidt Peterson Motorsports |
| 23 | 14 | Tony Kanaan | 1:13.465 | 3.3664 | 0.0717 | 109.668 | Chevy | AJ Foyt Enterprises |
| 24 | 18 | Sebastien Bourdais | No Time | — | — | — | Honda | Dale Coyne Racing /Vasser-Sullivan |
Combined Session Results
| | | | | | | | |
| --- | --- | --- | --- | --- | --- | --- | --- |
| Rank | Car | Driver Name | Engine | Session | Time | Speed | Laps |
| 1 | 28 | Hunter-Reay, Ryan | Honda | Practice 2 | 01:09.9105 | 115.244 | 35 |
| 2 | 10 | Rosenqvist, Felix (R) | Honda | Practice 2 | 01:09.9305 | 115.212 | 51 |
| 3 | 88 | Herta, Colton (R) | Honda | Practice 2 | 01:09.9317 | 115.210 | 38 |
| 4 | 27 | Rossi, Alexander | Honda | Warmup | 01:10.0988 | 114.935 | 28 |
| 5 | 22 | Pagenaud, Simon | Chevy | Practice 2 | 01:10.1353 | 114.875 | 41 |
| 6 | 19 | Ferrucci, Santino (R) | Honda | Practice 2 | 01:10.2066 | 114.758 | 40 |
| 7 | 2 | Newgarden, Josef | Chevy | Practice 2 | 01:10.2248 | 114.729 | 42 |
| 8 | 9 | Dixon, Scott | Honda | Practice 2 | 01:10.2722 | 114.651 | 32 |
| 9 | 12 | Power, Will | Chevy | Practice 2 | 01:10.3350 | 114.549 | 44 |
| 10 | 7 | Ericsson, Marcus (R) | Honda | Practice 2 | 01:10.3910 | 114.458 | 44 |
| 11 | 23 | Kimball, Charlie | Chevy | Practice 2 | 01:10.4359 | 114.385 | 40 |
| 12 | 98 | Andretti, Marco | Honda | Practice 2 | 01:10.4426 | 114.374 | 36 |
| 13 | 30 | Sato, Takuma | Honda | Practice 2 | 01:10.4468 | 114.367 | 47 |
| 14 | 21 | Pigot, Spencer | Chevy | Practice 2 | 01:10.4632 | 114.341 | 37 |
| 15 | 25 | Daly, Conor | Honda | Practice 2 | 01:10.4633 | 114.340 | 38 |
| 16 | 59 | Chilton, Max | Chevy | Practice 2 | 01:10.6346 | 114.063 | 42 |
| 17 | 26 | Veach, Zach | Honda | Practice 2 | 01:10.6620 | 114.019 | 45 |
| 18 | 4 | Leist, Matheus | Chevy | Practice 2 | 01:10.7009 | 113.956 | 39 |
| 19 | 18 | Bourdais, Sebastien | Honda | Practice 2 | 01:10.7061 | 113.948 | 20 |
| 20 | 5 | Hinchcliffe, James | Honda | Practice 2 | 01:10.7730 | 113.840 | 39 |
| 21 | 15 | Rahal, Graham | Honda | Practice 2 | 01:10.8807 | 113.667 | 42 |
| 22 | 20 | Jones, Ed | Chevy | Practice 2 | 01:10.8846 | 113.661 | 40 |
| 23 | 14 | Kanaan, Tony | Chevy | Practice 2 | 01:10.9484 | 113.559 | 32 |
| 24 | 60 | Harvey, Jack | Honda | Practice 2 | 01:11.0584 | 113.383 | 43 |