Hunter-Reay tops Practice 2 at Laguna Seca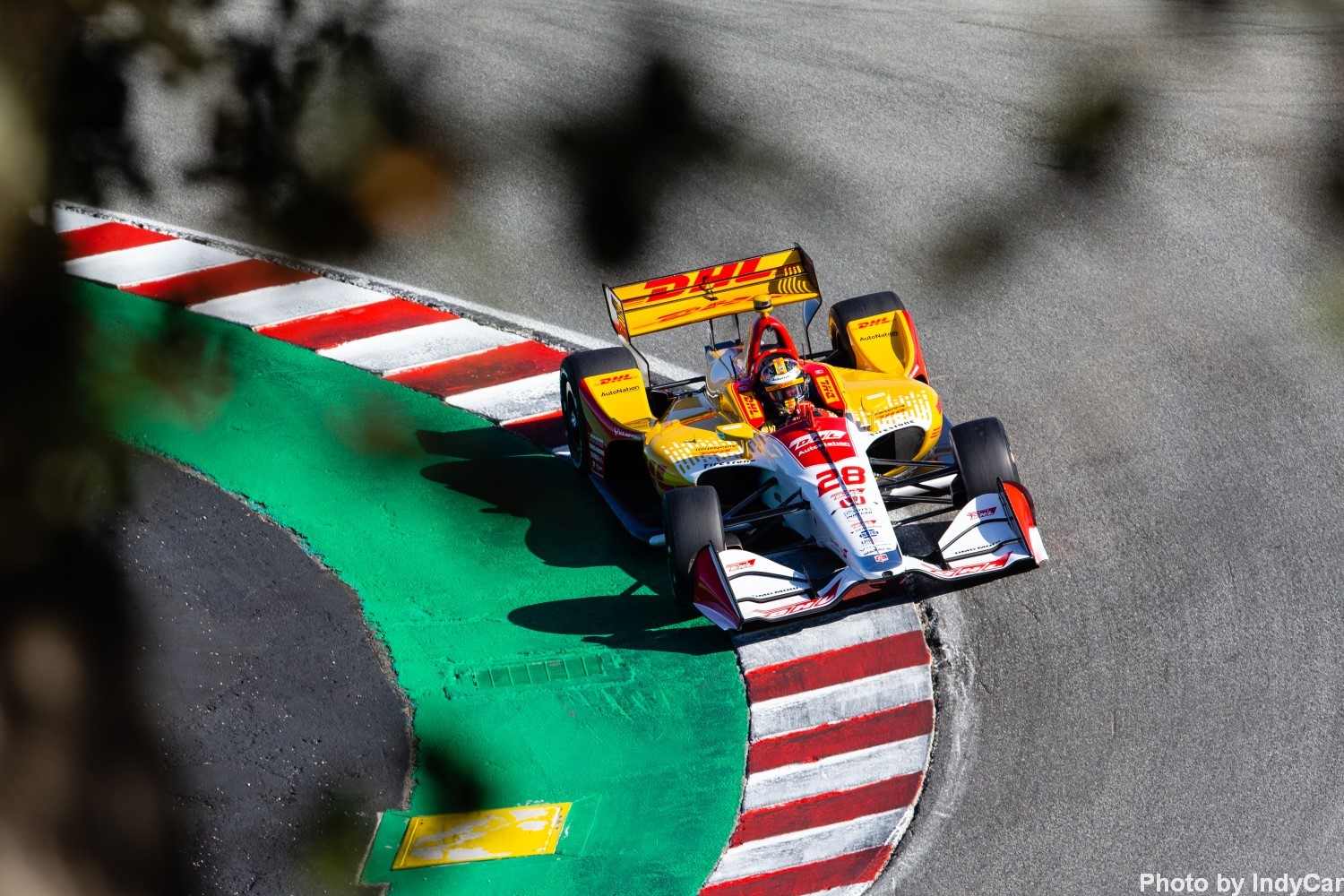 Ryan Hunter-Reay
When all the drivers except Alexander Rossi switched to the softer red Firestone tires in practice 2 Andretti Honda ace Ryan Hunter-Reay turned the fastest lap in practice for the Firestone GP of Laguna Seca.
Hunter-Reay's lap of 1m09.910s was 0.02s faster than both Ganassi Honda rookie Felix Rosenqvist and Harding Steinbrenner Honda rookie Colton Herta.
Simon Pagenaud was 4th quick for Team Penske while the third rookie Santino Ferrucci of Dale Coyne Racing rounded out the top-5.
Alexander Rossi was the only driver not to try the red tires and he was down in 23rd. It appears he wants an extra new set of reds for qualifying.
Ryan Hunter-Reay (Andretti Autosport Honda) Fastest in Friday practice:
"I'm feeling better about the car, but it's still very tricky out there. There's a very small window to get it right. I'm not really resting on this one, we have a lot more to do still. It's tough out there for everyone, and the margin is very, very thin. I think we can still make the car better. We're going to work to head in the right direction and hopefully put the DHL car on the front row."
Practice 2 Results
| | | | | | | | | | |
| --- | --- | --- | --- | --- | --- | --- | --- | --- | --- |
| Pos | No | Name | Time | Diff | Gap | Speed | Engine | Tire | Team |
| 1 | 28 | Ryan Hunter-Reay | 1:09.910 | –.—- | –.—- | 115.244 | Honda | Reds | Andretti Autosport |
| 2 | 10 | Felix Rosenqvist (R) | 1:09.930 | 0.0200 | 0.0200 | 115.212 | Honda | Reds | Chip Ganassi Racing Teams |
| 3 | 88 | Colton Herta (R) | 1:09.932 | 0.0212 | 0.0012 | 115.210 | Honda | Reds | Harding Steinbrenner Racing |
| 4 | 22 | Simon Pagenaud | 1:10.135 | 0.2248 | 0.2036 | 114.875 | Chevy | Reds | Team Penske |
| 5 | 19 | Santino Ferrucci | 1:10.207 | 0.2961 | 0.0713 | 114.758 | Honda | Reds | Dale Coyne Racing |
| 6 | 2 | Josef Newgarden | 1:10.225 | 0.3143 | 0.0182 | 114.729 | Chevy | Reds | Team Penske |
| 7 | 9 | Scott Dixon | 1:10.272 | 0.3617 | 0.0474 | 114.651 | Honda | Reds | Chip Ganassi Racing Teams |
| 8 | 12 | Will Power | 1:10.335 | 0.4245 | 0.0628 | 114.549 | Chevy | Reds | Team Penske |
| 9 | 7 | Marcus Ericsson | 1:10.391 | 0.4805 | 0.0560 | 114.458 | Honda | Reds | Arrow Schmidt Peterson Motorsports |
| 10 | 23 | Charlie Kimball | 1:10.436 | 0.5254 | 0.0449 | 114.385 | Chevy | Reds | Carlin |
| 11 | 98 | Marco Andretti | 1:10.443 | 0.5321 | 0.0067 | 114.374 | Honda | Reds | Andretti Herta w/Marco & Curb-Agaj |
| 12 | 30 | Takuma Sato | 1:10.447 | 0.5363 | 0.0042 | 114.367 | Honda | Reds | Rahal Letterman Lanigan Racing |
| 13 | 21 | Spencer Pigot | 1:10.463 | 0.5527 | 0.0164 | 114.341 | Chevy | Reds | Ed Carpenter Racing |
| 14 | 25 | Conor Daly | 1:10.463 | 0.5528 | 0.0001 | 114.340 | Honda | Reds | Andretti Autosport |
| 15 | 59 | Max Chilton | 1:10.635 | 0.7241 | 0.1713 | 114.063 | Chevy | Reds | Carlin |
| 16 | 26 | Zach Veach | 1:10.662 | 0.7515 | 0.0274 | 114.019 | Honda | Reds | Andretti Autosport |
| 17 | 4 | Matheus Leist | 1:10.701 | 0.7904 | 0.0389 | 113.956 | Chevy | Reds | AJ Foyt Enterprises |
| 18 | 18 | Sebastien Bourdais | 1:10.706 | 0.7956 | 0.0052 | 113.948 | Honda | Reds | Dale Coyne Racing wVasser-Sullivan |
| 19 | 5 | James Hinchcliffe | 1:10.773 | 0.8625 | 0.0669 | 113.840 | Honda | Reds | Arrow Schmidt Peterson Motorsports |
| 20 | 15 | Graham Rahal | 1:10.881 | 0.9702 | 0.1077 | 113.667 | Honda | Reds | Rahal Letterman Lanigan Racing |
| 21 | 20 | Ed Jones | 1:10.885 | 0.9741 | 0.0039 | 113.661 | Chevy | Reds | Ed Carpenter Racing |
| 22 | 14 | Tony Kanaan | 1:10.948 | 1.0379 | 0.0638 | 113.559 | Chevy | Reds | AJ Foyt Enterprises |
| 23 | 27 | Alexander Rossi | 1:11.023 | 1.1129 | 0.0750 | 113.439 | Honda | Blacks | Andretti Autosport |
| 24 | 60 | Jack Harvey | 1:11.058 | 1.1479 | 0.0350 | 113.383 | Honda | Reds | Meyer Shank Racing w/Arrow SPM |