Herta tops IndyCar Laguna Seca practice 1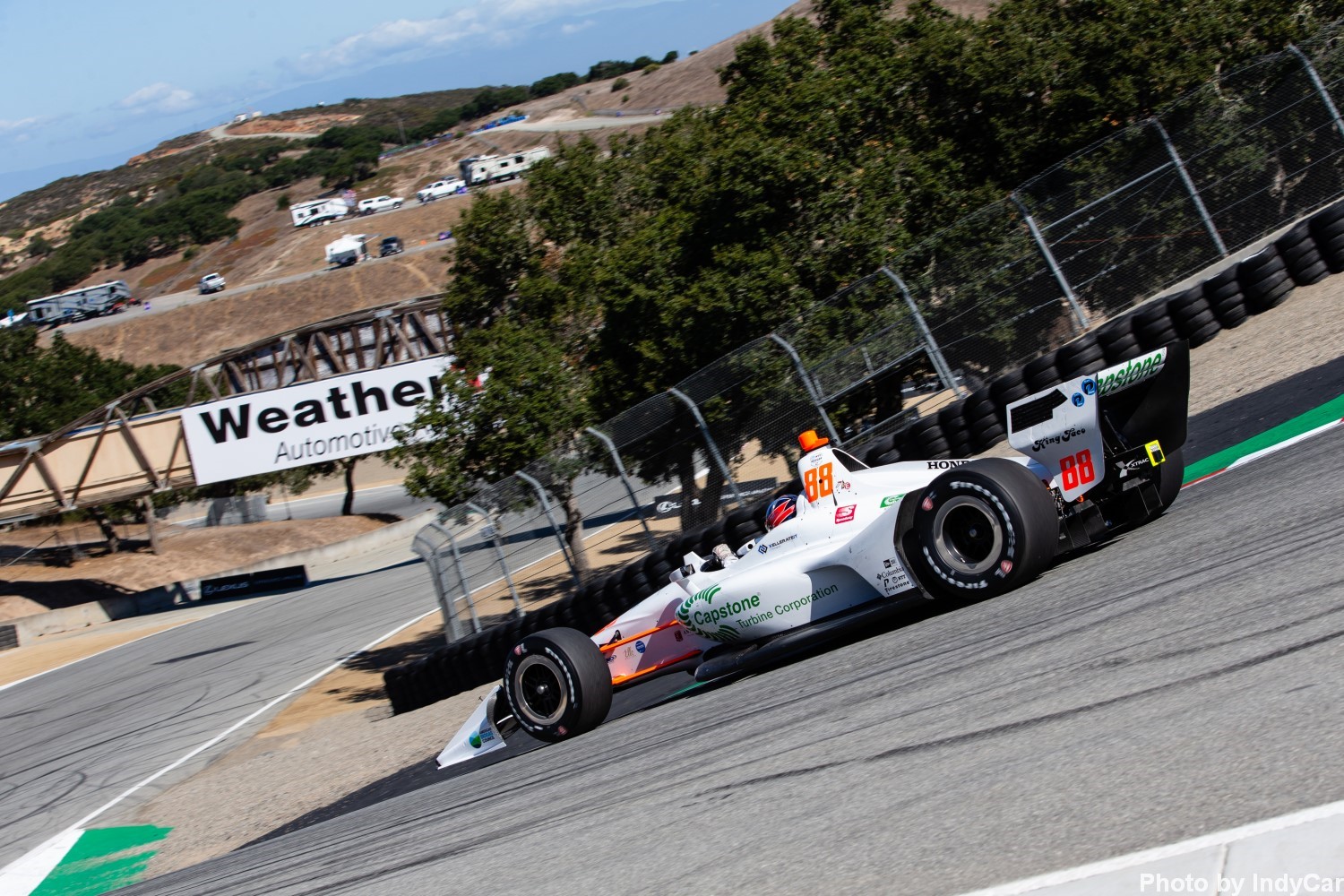 Colton Herta
Colton Herta was again quickest in official opening practice 1 for the Firestone IndyCar Grand Prix at Laguna Seca in his Harding Steinbrenner Racing Honda with a time of 1m10.734s
Meanwhile championship contender Alexander Rossi and his #27 Andretti Honda team were choking as Rossi finished dead last. The way the weekend is going so far, Rossi can kiss his championship hopes goodbye.
Rookies ran 1-2-3 with Felix Rosenqvist and Santino Ferrucci 2nd and 3rd.
Will Power and Zach Veach rounded out the top-5.
Friday Practice 1 Results
| | | | | | | | | |
| --- | --- | --- | --- | --- | --- | --- | --- | --- |
| Pos | No | Name | Time | Diff | Gap | Speed | Engine | Team |
| 1 | 88 | Colton Herta | 1:10.734 | –.—- | –.—- | 113.904 | Honda | Harding Steinbrenner Racing |
| 2 | 10 | Felix Rosenqvist | 1:10.805 | 0.0719 | 0.0719 | 113.788 | Honda | Chip Ganassi Racing Teams |
| 3 | 19 | Santino Ferrucci | 1:10.884 | 0.1502 | 0.0783 | 113.662 | Honda | Dale Coyne Racing |
| 4 | 12 | Will Power | 1:11.002 | 0.2689 | 0.1187 | 113.472 | Chevy | Team Penske |
| 5 | 26 | Zach Veach | 1:11.082 | 0.3481 | 0.0792 | 113.346 | Honda | Andretti Autosport |
| 6 | 22 | Simon Pagenaud | 1:11.152 | 0.4184 | 0.0703 | 113.234 | Chevy | Team Penske |
| 7 | 18 | Sebastien Bourdais | 1:11.158 | 0.4246 | 0.0062 | 113.224 | Honda | Dale Coyne Racing w/Vasser-Sullivan |
| 8 | 21 | Spencer Pigot | 1:11.238 | 0.5047 | 0.0801 | 113.097 | Chevy | Ed Carpenter Racing |
| 9 | 2 | Josef Newgarden | 1:11.246 | 0.5125 | 0.0078 | 113.084 | Chevy | Team Penske |
| 10 | 4 | Matheus Leist | 1:11.270 | 0.5367 | 0.0242 | 113.046 | Chevy | AJ Foyt Enterprises |
| 11 | 98 | Marco Andretti | 1:11.283 | 0.5492 | 0.0125 | 113.026 | Honda | Andretti Herta w/Marco & Curb-Agaj |
| 12 | 7 | Marcus Ericsson | 1:11.302 | 0.5680 | 0.0188 | 112.996 | Honda | Arrow Schmidt Peterson Motorsports |
| 13 | 59 | Max Chilton | 1:11.411 | 0.6775 | 0.1095 | 112.823 | Chevy | Carlin |
| 14 | 9 | Scott Dixon | 1:11.445 | 0.7116 | 0.0341 | 112.769 | Honda | Chip Ganassi Racing Teams |
| 15 | 28 | Ryan Hunter-Reay | 1:11.453 | 0.7197 | 0.0081 | 112.756 | Honda | Andretti Autosport |
| 16 | 23 | Charlie Kimball | 1:11.547 | 0.8137 | 0.0940 | 112.608 | Chevy | Carlin |
| 17 | 14 | Tony Kanaan | 1:11.624 | 0.8902 | 0.0765 | 112.488 | Chevy | AJ Foyt Enterprises |
| 18 | 30 | Takuma Sato | 1:11.677 | 0.9438 | 0.0536 | 112.404 | Honda | Rahal Letterman Lanigan Racing |
| 19 | 60 | Jack Harvey | 1:11.745 | 1.0114 | 0.0676 | 112.298 | Honda | Meyer Shank Racing with Arrow SPM |
| 20 | 25 | Conor Daly | 1:11.932 | 1.1985 | 0.1871 | 112.006 | Honda | Andretti Autosport |
| 21 | 15 | Graham Rahal | 1:12.004 | 1.2708 | 0.0723 | 111.893 | Honda | Rahal Letterman Lanigan Racing |
| 22 | 5 | James Hinchcliffe | 1:12.013 | 1.2790 | 0.0082 | 111.881 | Honda | Arrow Schmidt Peterson Motorsports |
| 23 | 20 | Ed Jones | 1:12.160 | 1.4266 | 0.1476 | 111.652 | Chevy | Ed Carpenter Racing |
| 24 | 27 | Alexander Rossi | 1:12.993 | 2.2597 | 0.8331 | 110.377 | Honda | Andretti Autosport |