Verstappen over Vettel in opening Singapore practice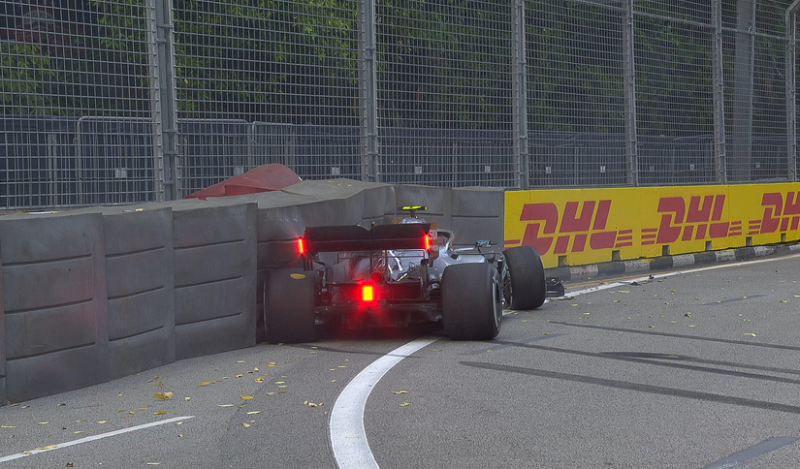 Bottas in the Turn 19 barriers
Red Bull's Max Verstappen nipped Ferrari's Sebastian Vettel in opening practice for the Singapore GP by 1/10th of a second Friday afternoon.
Verstappen put up a lap of 1m40.259s on the soft red tires while Vettel's Ferrari teammate suffered gearbox issues down in 19th.
Sandbagging Lewis Hamilton was third quick in his Mercedes while his teammate Valtteri Bottas crashed hard into the Turn 19 barriers.
Practice 1 Results
| | | | | | | |
| --- | --- | --- | --- | --- | --- | --- |
| POS | NO | DRIVER | CAR | TIME | GAP | LAPS |
| 1 | 33 | Max Verstappen | Red Bull Racing Honda | 1:40.259 | +0.000s | 22 |
| 2 | 5 | Sebastian Vettel | Ferrari | 1:40.426 | +0.167s | 23 |
| 3 | 44 | Lewis Hamilton | Mercedes | 1:40.925 | +0.666s | 26 |
| 4 | 77 | Valtteri Bottas | Mercedes | 1:41.336 | +1.077s | 14 |
| 5 | 23 | Alexander Albon | Red Bull Racing Honda | 1:41.467 | +1.208s | 24 |
| 6 | 27 | Nico Hulkenberg | Renault | 1:41.812 | +1.553s | 26 |
| 7 | 55 | Carlos Sainz Jr. | McLaren Renault | 1:41.966 | +1.707s | 20 |
| 8 | 4 | Lando Norris | McLaren Renault | 1:42.180 | +1.921s | 19 |
| 9 | 26 | Daniil Kvyat | Scuderia Toro Rosso Honda | 1:42.305 | +2.046s | 26 |
| 10 | 10 | Pierre Gasly | Scuderia Toro Rosso Honda | 1:42.377 | +2.118s | 24 |
| 11 | 3 | Daniel Ricciardo | Renault | 1:42.527 | +2.268s | 20 |
| 12 | 8 | Romain Grosjean | Haas Ferrari | 1:42.630 | +2.371s | 23 |
| 13 | 99 | Antonio Giovinazzi | Alfa Romeo Racing Ferrari | 1:42.677 | +2.418s | 15 |
| 14 | 7 | Kimi Raikkonen | Alfa Romeo Racing Ferrari | 1:42.786 | +2.527s | 13 |
| 15 | 18 | Lance Stroll | Racing Point Bwt Mercedes | 1:42.791 | +2.532s | 28 |
| 16 | 20 | Kevin Magnussen | Haas Ferrari | 1:43.150 | +2.891s | 22 |
| 17 | 88 | Robert Kubica | Williams Mercedes | 1:43.336 | +3.077s | 28 |
| 18 | 11 | Sergio Perez | Racing Point Bwt Mercedes | 1:43.369 | +3.110s | 23 |
| 19 | 16 | Charles Leclerc | Ferrari | 1:43.618 | +3.359s | 12 |
| 20 | 63 | George Russell | Williams Mercedes | 1:43.993 | +3.734s | 29 |