Herta tops IndyCar Open Test on Thursday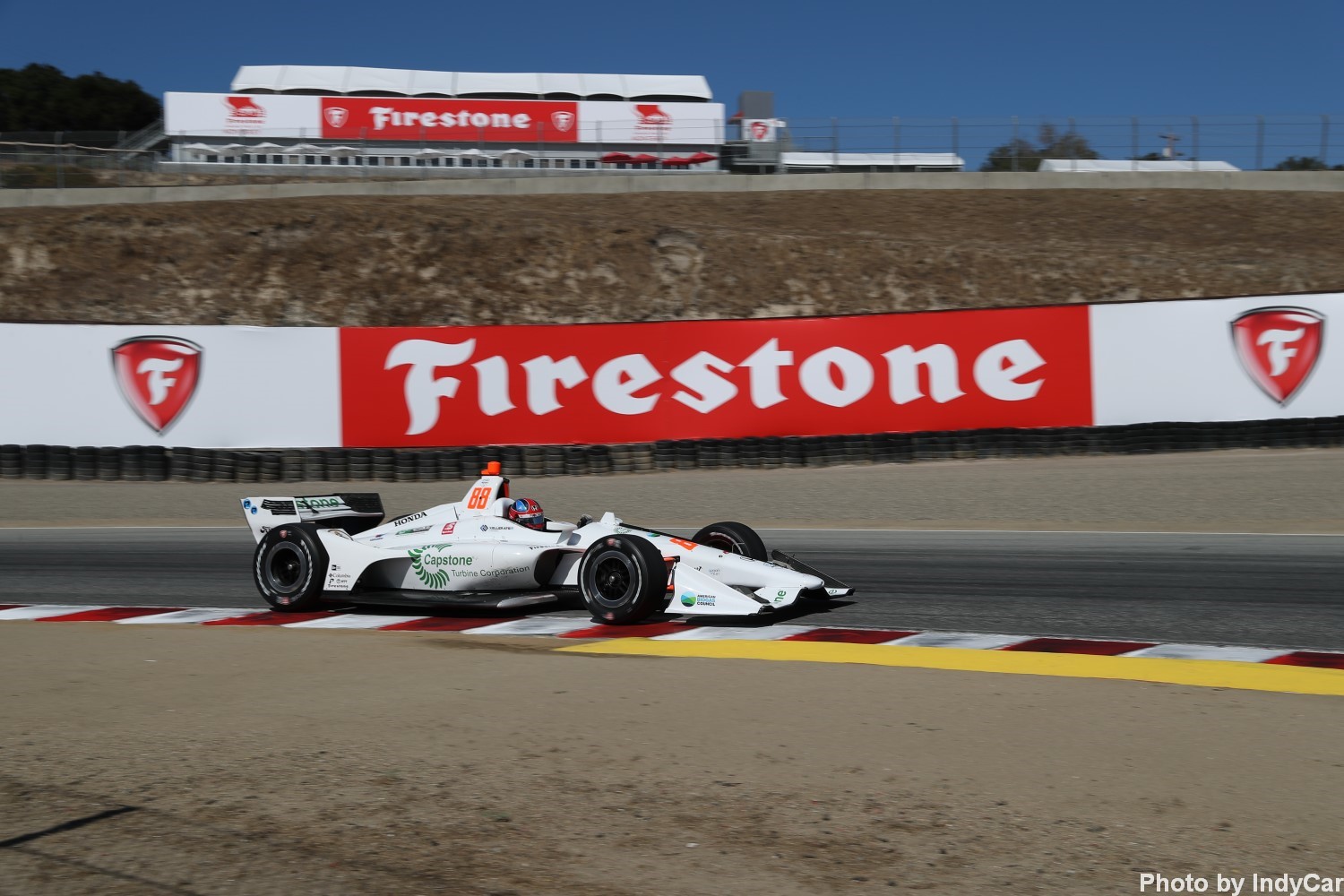 Colton Herta
Harding Steinbrenner's Honda rookie Colton Herta showed the veterans the way at Laguna Seca Thursday with a time of 1m10.072s on the undulating Laguna Seca road course.
Herta's time of 1m10.072s easily beat Team Penske's Will Power by 0.4663s – a whopping margin for Laguna Seca.
Ganassi Honda rookie Felix Rosenqvist was third quick while championship leader and soon to be 2019 IndyCar champion Josef Newgarden was 4th quick.
Graham Rahal rounded out the top-5 on a day when no one wanted to really show all their cards just yet.
A Helping Hand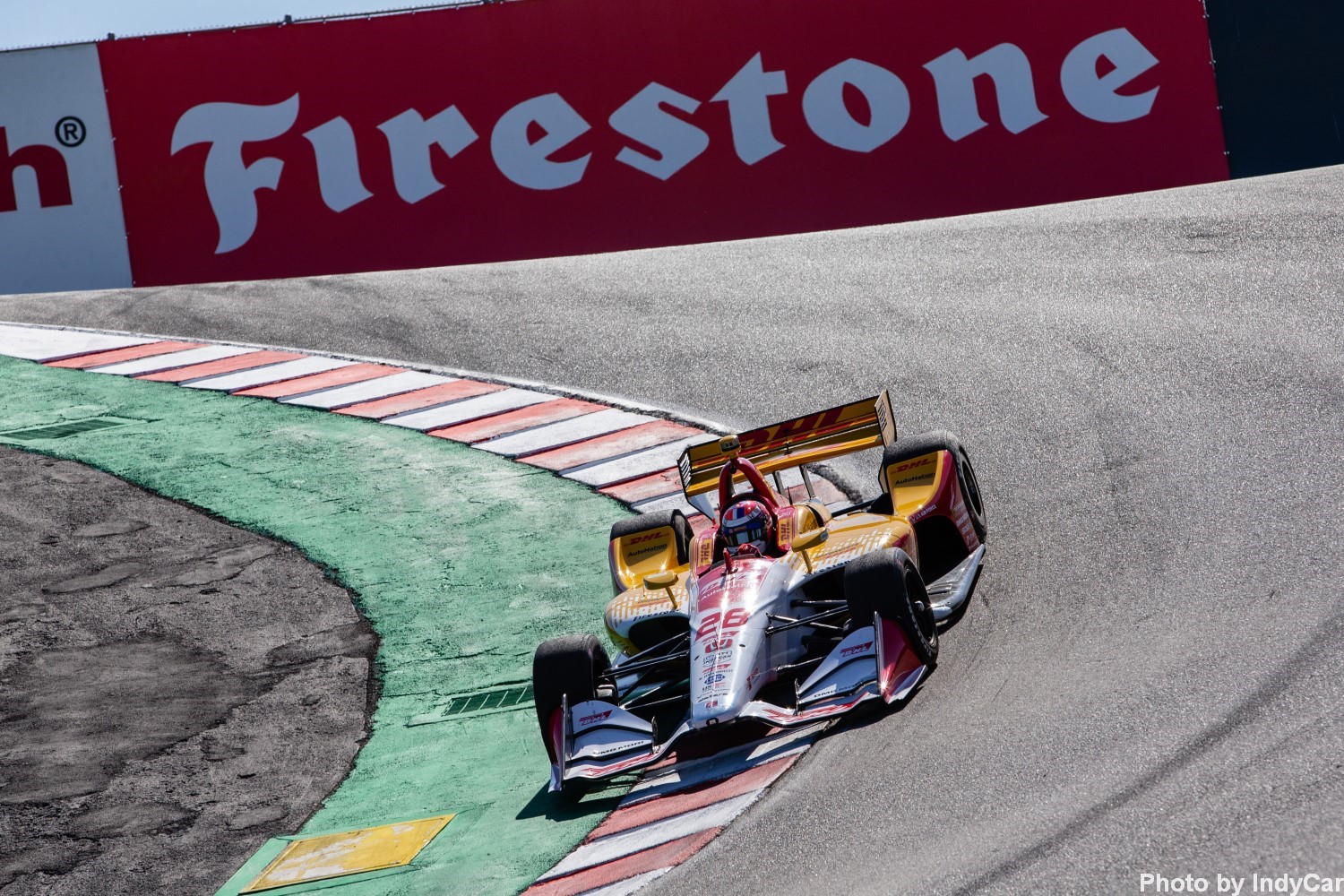 Rossi in Hunter-Reay's car
With Josef Newgarden (No. 2 Hitachi Chevrolet) and Simon Pagenaud (No. 22 DXC Technology Chevrolet) in championship contention, Team Penske might have its opponents outnumbered but Andretti Autosport is using its former series champion to help Alexander Rossi (No. 27 NAPA AUTO PARTS Honda) win this season's title.
In Thursday's six-hour open test at WeatherTech Raceway Laguna Seca in preparation for this weekend's Firestone Grand Prix of Monterey, 2012 series champion Ryan Hunter-Reay (No. 28 DHL Honda) did something uncommon in INDYCAR, switching cars with Rossi to explore different setup options.
Hunter-Reay drove seven laps in Rossi's car while Rossi made five circuits in Hunter-Reay's.
"With the open test, an extra day like this gave us the opportunity to come here with drastically different setups," Hunter-Reay said of the team's plan. "What would take you maybe two-and-a-half hours to change setups (didn't take additional time)."
It helps that Rossi and Hunter-Reay are nearly the same size, which means they can fit in each other's car without significant modifications.
"Alex and I like similar things in the car, similar setups, (have) similar driving styles," Hunter-Reay said.
They also ran each other's cars at the same time of the day, allowing for comparable conditions to get "a clear read as to the two setups," Hunter-Reay said.
"We can then go forward with the rest of the weekend," he added. "Maybe some things from one car apply to qualifying and others to the race. It was definitely a beneficial exercise for us."
Hunter-Reay said the best thing he can do for Rossi in Sunday's 90-lap race is to take points away from Newgarden, the series leader, and he is certainly capable of that. Last year, Hunter-Reay won the 18th Indy car race of his career from the pole at the season-ending race at Sonoma Raceway. A pole also comes with a bonus point. Rossi trails Newgarden by 41 points heading into the double-finishing points season finale. Pagenaud is third in the standings, 42 points out of the lead.
As for Thursday's action, Newgarden was fourth, Pagenaud eighth and Rossi ninth among the 24 drivers. Chip Ganassi Racing's Scott Dixon (No. 9 PNC Bank Honda) was sixth. He is the only other driver in contention for this year's title, although it will take a lot for him to overcome the aforementioned group.
Epic
There is considerable excitement in the INDYCAR paddock this week with the NTT IndyCar Series making its debut at WeatherTech Raceway Laguna Seca and open-wheel racing returning here for the first time since the Champ Car race of 2004.
Scott Dixon competed on the 11-turn, 2.258-mile permanent road course that sits atop a gorgeous Monterey Peninsula hill in 2001 and '02 while in CART. He called it "an epic track." Graham Rahal (No. 15 United Rentals Honda) is in total agreement.
"The biggest elevation drops here of anywhere you're ever going to go, drive or see," the Rahal Letterman Lanigan Racing driver said. "Everybody always asks, 'What is it like to go through the corkscrew (at Turn 8)? What does it look like?' It looks like nothing; you can't really see. You're waiting for the first thing to land and that's what you get.
"It's a tremendous track. We talk about Road America (and) Mid-Ohio. Here, they just don't build them like this. … These are the old-fashioned-style racetracks that we don't see anymore. That's why I think a lot of people are excited to be back."
Session 2 Results
| | | | | | | | | |
| --- | --- | --- | --- | --- | --- | --- | --- | --- |
| Pos | No | Name | Time | Diff | Gap | Speed | Engine | Team |
| 1 | 88 | Colton Herta | 1:10.072 | –.—- | –.—- | 114.979 | Honda | Harding Steinbrenner Racing |
| 2 | 12 | Will Power | 1:10.538 | 0.4663 | 0.4663 | 114.219 | Chevy | Team Penske |
| 3 | 10 | Felix Rosenqvist | 1:10.590 | 0.5176 | 0.0513 | 114.136 | Honda | Chip Ganassi Racing Teams |
| 4 | 2 | Josef Newgarden | 1:10.640 | 0.5684 | 0.0508 | 114.054 | Chevy | Team Penske |
| 5 | 15 | Graham Rahal | 1:10.771 | 0.6989 | 0.1305 | 113.843 | Honda | Rahal Letterman Lanigan Racing |
| 6 | 9 | Scott Dixon | 1:10.789 | 0.7174 | 0.0185 | 113.814 | Honda | Chip Ganassi Racing Teams |
| 7 | 28 | Ryan Hunter-Reay | 1:10.809 | 0.7370 | 0.0196 | 113.782 | Honda | Andretti Autosport |
| 8 | 22 | Simon Pagenaud | 1:10.813 | 0.7411 | 0.0041 | 113.776 | Chevy | Team Penske |
| 9 | 27 | Alexander Rossi | 1:10.823 | 0.7511 | 0.0100 | 113.759 | Honda | Andretti Autosport |
| 10 | 26 | Zach Veach | 1:10.831 | 0.7588 | 0.0077 | 113.747 | Honda | Andretti Autosport |
| 11 | 7 | Marcus Ericsson | 1:10.888 | 0.8156 | 0.0568 | 113.656 | Honda | Arrow Schmidt Peterson Motorsports |
| 12 | 19 | Santino Ferrucci | 1:10.947 | 0.8750 | 0.0594 | 113.561 | Honda | Dale Coyne Racing |
| 13 | 25 | Conor Daly | 1:10.948 | 0.8756 | 0.0006 | 113.560 | Honda | Andretti Autosport |
| 14 | 18 | Sebastien Bourdais | 1:11.075 | 1.0029 | 0.1273 | 113.356 | Honda | Dale Coyne Racing w/Vasser-Sullivan |
| 15 | 59 | Max Chilton | 1:11.171 | 1.0985 | 0.0956 | 113.204 | Chevy | Carlin |
| 16 | 5 | James Hinchcliffe | 1:11.231 | 1.1586 | 0.0601 | 113.109 | Honda | Arrow Schmidt Peterson Motorsports |
| 17 | 14 | Tony Kanaan | 1:11.282 | 1.2102 | 0.0516 | 113.027 | Chevy | AJ Foyt Enterprises |
| 18 | 98 | Marco Andretti | 1:11.299 | 1.2275 | 0.0173 | 112.999 | Honda | Andretti Herta w/Marco & Curb-Agaj |
| 19 | 23 | Charlie Kimball | 1:11.366 | 1.2942 | 0.0667 | 112.894 | Chevy | Carlin |
| 20 | 60 | Jack Harvey | 1:11.369 | 1.2969 | 0.0027 | 112.890 | Honda | Meyer Shank Racing w/Arrow SPM |
| 21 | 4 | Matheus Leist | 1:11.380 | 1.3084 | 0.0115 | 112.871 | Chevy | AJ Foyt Enterprises |
| 22 | 21 | Spencer Pigot | 1:11.392 | 1.3199 | 0.0115 | 112.853 | Chevy | Ed Carpenter Racing |
| 23 | 30 | Takuma Sato | 1:11.414 | 1.3418 | 0.0219 | 112.819 | Honda | Rahal Letterman Lanigan Racing |
| 24 | 20 | Ed Jones | 1:11.438 | 1.3655 | 0.0237 | 112.781 | Chevy | Ed Carpenter Racing |