Dixon tops IndyCar Open test Session 1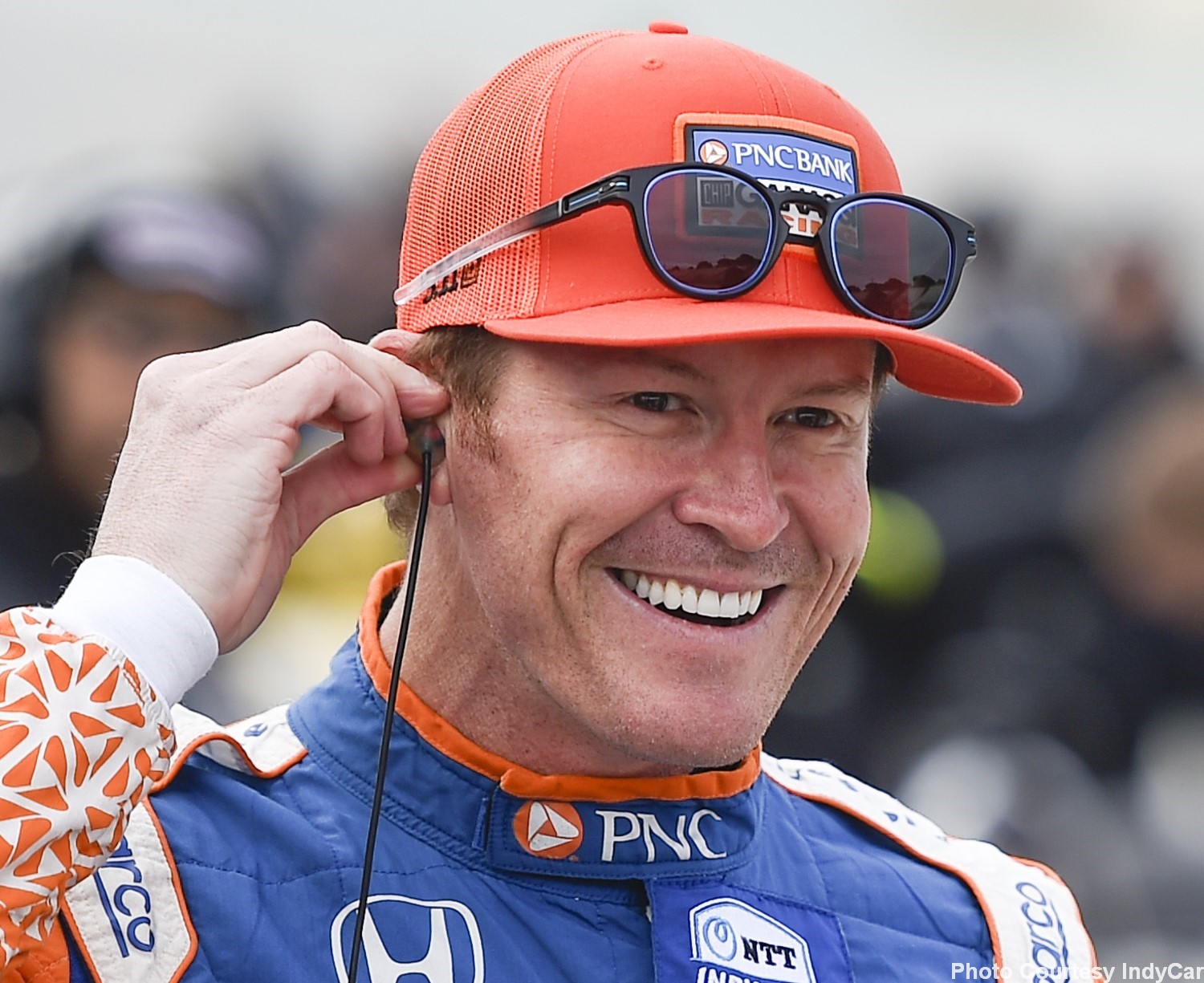 Dixon looks confident
Scott Dixon turned the fastest lap in open test session 1 for the IndyCars at Laguna Seca Thursday Morning in his #9 Ganassi Honda to lead a Honda 1-2-3-4-5.
He was followed by the Hondas of Colton Herta, Felix Rosenqvist, Jack Harvey and Alexander Rossi.
However, it's early days and the Penske Chevys of Simon Pagenaud and Will Power are lurking in 6th and 7th.
Open Test Session 1 Times
| | | | | | | | | | |
| --- | --- | --- | --- | --- | --- | --- | --- | --- | --- |
| Pos | No | Name | FTime | Diff | Gap | Laps | FSpeed | Engine | Team |
| 1 | 9 | Scott Dixon | 1:11.100 | –.—- | –.—- | 8 | 113.317 | Honda | Chip Ganassi Racing Teams |
| 2 | 88 | Colton Herta | 1:11.388 | 0.2885 | 0.2885 | 19 | 112.859 | Honda | Harding Steinbrenner Racing |
| 3 | 10 | Felix Rosenqvist | 1:11.468 | 0.3683 | 0.0798 | 23 | 112.733 | Honda | Chip Ganassi Racing Teams |
| 4 | 60 | Jack Harvey | 1:11.549 | 0.4499 | 0.0816 | 18 | 112.605 | Honda | Meyer Shank Racing w/Arrow SPM |
| 5 | 27 | Alexander Rossi | 1:11.567 | 0.4675 | 0.0176 | 10 | 112.577 | Honda | Andretti Autosport |
| 6 | 22 | Simon Pagenaud | 1:11.632 | 0.5319 | 0.0644 | 17 | 112.476 | Chevy | Team Penske |
| 7 | 12 | Will Power | 1:11.680 | 0.5804 | 0.0485 | 18 | 112.400 | Chevy | Team Penske |
| 8 | 5 | James Hinchcliffe | 1:11.708 | 0.6083 | 0.0279 | 9 | 112.356 | Honda | Arrow Schmidt Peterson Motorsports |
| 9 | 19 | Santino Ferrucci | 1:11.732 | 0.6320 | 0.0237 | 16 | 112.319 | Honda | Dale Coyne Racing |
| 10 | 21 | Spencer Pigot | 1:11.739 | 0.6398 | 0.0078 | 11 | 112.306 | Chevy | Ed Carpenter Racing |
| 11 | 59 | Max Chilton | 1:11.754 | 0.6547 | 0.0149 | 18 | 112.283 | Chevy | Carlin |
| 12 | 18 | Sebastien Bourdais | 1:11.798 | 0.6986 | 0.0439 | 18 | 112.215 | Honda | Dale Coyne Racing with Vasser-Sullivan |
| 13 | 98 | Marco Andretti | 1:11.852 | 0.7521 | 0.0535 | 22 | 112.131 | Honda | Andretti Herta w/Marco & Curb-Agaj |
| 14 | 15 | Graham Rahal | 1:11.864 | 0.7639 | 0.0118 | 21 | 112.113 | Honda | Rahal Letterman Lanigan Racing |
| 15 | 7 | Marcus Ericsson | 1:11.882 | 0.7820 | 0.0181 | 27 | 112.084 | Honda | Arrow Schmidt Peterson Motorsports |
| 16 | 2 | Josef Newgarden | 1:12.037 | 0.9377 | 0.1557 | 18 | 111.842 | Chevy | Team Penske |
| 17 | 28 | Ryan Hunter-Reay | 1:12.037 | 0.9379 | 0.0002 | 9 | 111.842 | Honda | Andretti Autosport |
| 18 | 26 | Zach Veach | 1:12.058 | 0.9581 | 0.0202 | 20 | 111.810 | Honda | Andretti Autosport |
| 19 | 30 | Takuma Sato | 1:12.329 | 1.2294 | 0.2713 | 18 | 111.391 | Honda | Rahal Letterman Lanigan Racing |
| 20 | 23 | Charlie Kimball | 1:12.364 | 1.2648 | 0.0354 | 22 | 111.337 | Chevy | Carlin |
| 21 | 14 | Tony Kanaan | 1:12.529 | 1.4290 | 0.1642 | 18 | 111.084 | Chevy | AJ Foyt Enterprises |
| 22 | 28 | Alexander Rossi | 1:12.545 | 1.4458 | 0.0168 | 5 | 111.059 | Honda | Andretti Autosport |
| 23 | 4 | Matheus Leist | 1:12.631 | 1.5315 | 0.0857 | 23 | 110.928 | Chevy | AJ Foyt Enterprises |
| 24 | 25 | Conor Daly | 1:12.833 | 1.7338 | 0.2023 | 18 | 110.620 | Honda | Andretti Autosport |
| 25 | 20 | Ed Jones | 1:12.860 | 1.7605 | 0.0267 | 20 | 110.579 | Chevy | Ed Carpenter Racing |
| 26 | 27 | Ryan Hunter-Reay | 1:13.052 | 1.9522 | 0.1917 | 7 | 110.289 | Honda | Andretti Autosport |