Van Gisbergen claims emotional victory on home soil in Auckland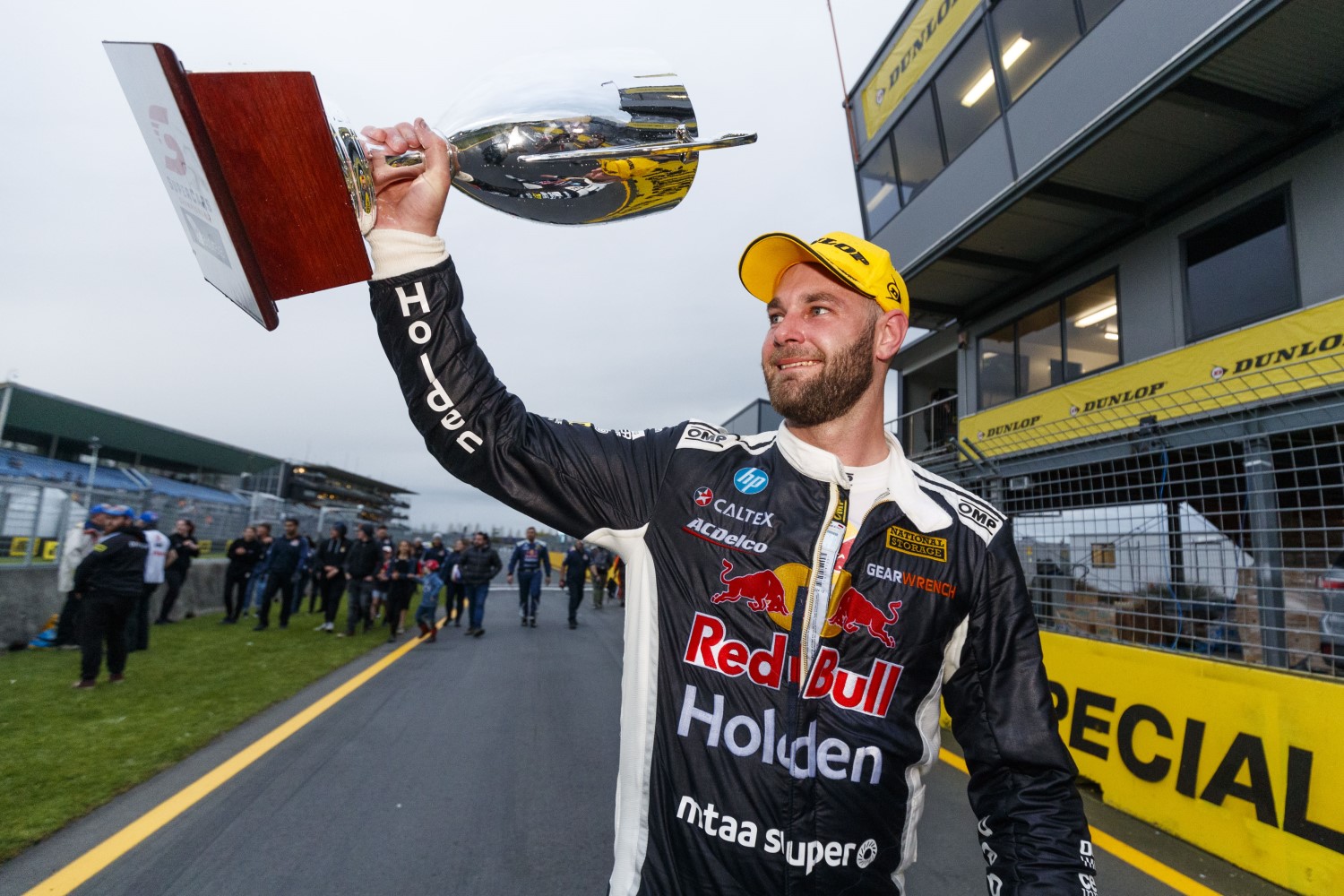 Shane van Gisbergen
Shane van Gisbergen has scored a Kiwi win in the ITM Auckland SuperSprint on home soil while teammate Jamie Whincup was denied second place following a post-race penalty.
Auckland-raised Van Gisbergen scored his fourth Pukekohe victory on top of his clean sweep of three races in 2016 to give himself a chance of reclaiming the Jason Richards Trophy in the honor of the Kiwi great who died from cancer in 2011.
Whincup finished the race in second but a 15 second post-race penalty for colliding with Nick Percat and pushing the Brad Jones Racing birthday boy off the track on the opening lap meant the 2nd place finish was wiped, and Whincup dropped back to officially finish in sixth position.
That mean the official top three was van Gisbergen, Cam Waters and David Reynolds.
"Man, this place and all the support here makes you lift," Van Gisbergen said. "It is such as awesome feeling to have so many Kiwi fans. I am glad to get one, hopefully we can get another tomorrow."
The race was shaped by a safety car which forced two strategies on the field – those who stopped before and those who stopped after. Van Gisbergen was on the latter, while Whincup on the former.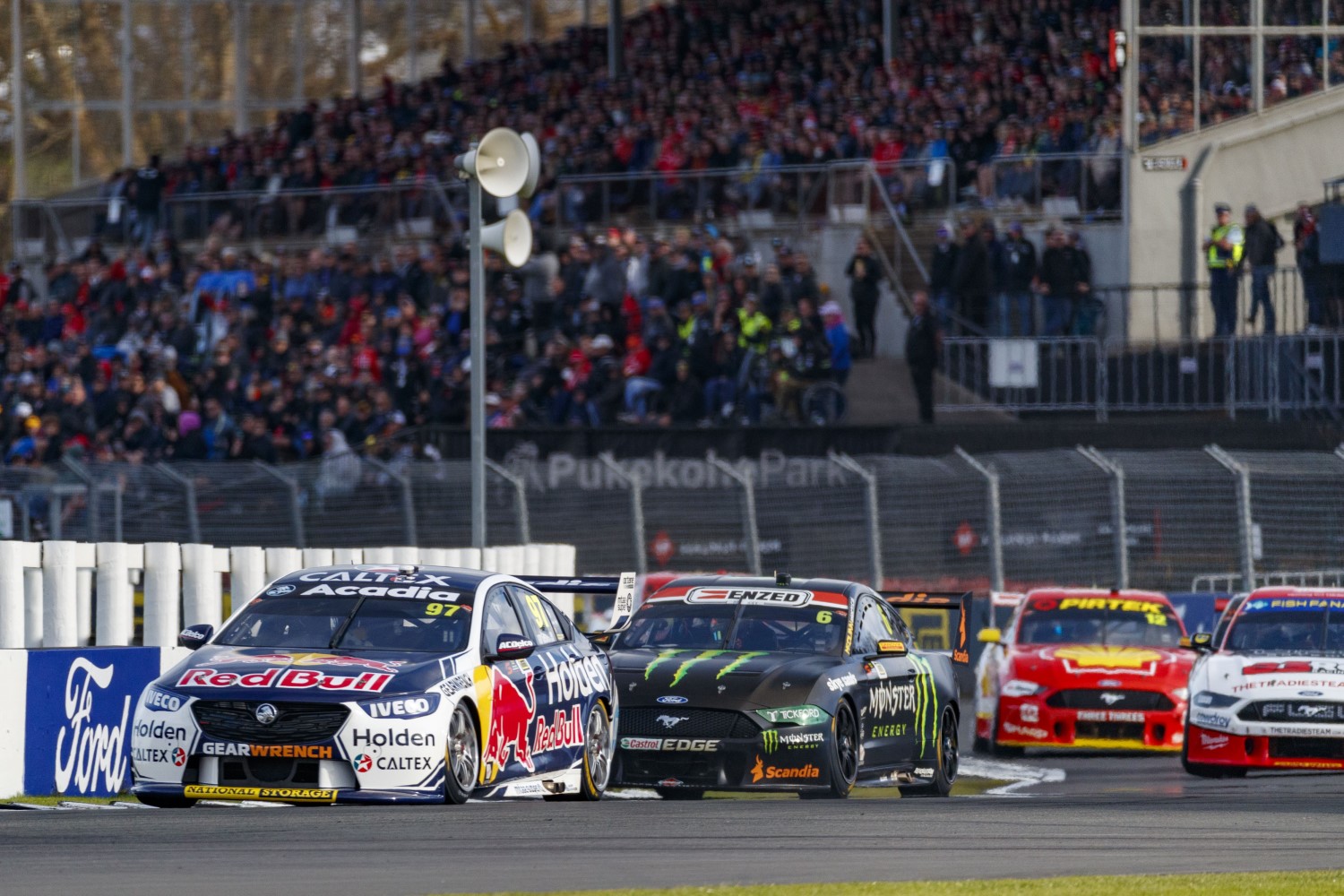 van Gisbergen grabs lead
Championship leader Scott McLaughlin officially finishes fourth, behind David Reynolds in what was a largely uneventful race for the pair who started side by side.
When Mark Winterbottom's IRWIN Commodore stopped suddenly on track having somehow run out of fuel after only 12 laps, it mixed the field up between those who had already done a pit stop and the others who got the chance under the safety car.
Fabian Coulthard was an early stopper with less fuel on board and assumed the lead from Anton de Pasquale and Whincup, all cars who needed to do a longer second stop.
Whincup was able to take advantage of some oil in the track which tripped up Coulthard to allow the seven-time Champion the lead, although both drivers were amongst a handful who stopped early.
As the race settled and stops were done Whincup retained the lead from Van Gisbergen only after Cam Waters and Chaz Mostert, who are team-mates, clashed with each other, taking Mostert out of the running with front end damage.
Van Gisbergen got passed his team-mate soon after, taking the lead he maintained to the flag.
All five Kiwis finished in the top 10, with Andre Heimgartner eighth and Richie Stanaway a season-best 10th.
The result has shaken up the Championship leaderboard, with McLaughlin now leading by 586-points from van Gisbergen who leapfrogged Mostert and Coulthard into second.
Mostert's collision with teammate Waters has seen him slip back to fourth while Whincup remains in fifth ahead of Reynolds.
Tomorrow there will be a final ARMOR ALL qualifying session followed by the fan-favorite Top Ten Shootout and the final race of the weekend, another 200km SuperSprint which will begin at 4:10pm local time.
Results
| | | | | | |
| --- | --- | --- | --- | --- | --- |
| POS | # | DRIVER | TEAM | BEHIND | PTS |
| 1 | 97 | Van Gisbergen | Red Bull Holden Racing Team | +0.000s | 150 |
| 2 | 88 | Whincup | Red Bull Holden Racing Team | +2.363 | 138 |
| 3 | 6 | C. Waters | Monster Energy Racing Team | +12.649 | 129 |
| 4 | 9 | Reynolds | Penrite Racing | +15.428 | 120 |
| 5 | 17 | McLaughlin | Shell V-Power Racing Team | +16.089 | 111 |
| 6 | 5 | Holdsworth | The Bottle-O Racing Team | +16.891 | 102 |
| 7 | 12 | Coulthard | Shell V-Power Racing Team | +21.383 | 96 |
| 8 | 7 | Heimgartner | Plus Fitness Racing | +21.996 | 90 |
| 9 | 23 | Davison | Milwaukee Racing | +24.822 | 84 |
| 10 | 33 | R. Stanaway | Boost Mobile Racing | +25.927 | 78 |
| 11 | 14 | Slade | Machinery House Racing | +26.661 | 72 |
| 12 | 8 | Percat | NZ Safety Blackwoods Racing | +31.849 | 69 |
| 13 | 2 | S. Pye | Mobil 1 Racing | +32.280 | 66 |
| 14 | 35 | T. Hazelwood | Bigmate Racing | +37.850 | 63 |
| 15 | 99 | A. de Pasquale | Penrite Racing | +38.320 | 60 |
| 16 | 78 | S. De Silvestro | Team Harvey Norman | +38.586 | 57 |
| 17 | 22 | Courtney | Mobil 1 Racing | +39.985 | 54 |
| 18 | 3 | G. Jacobson | RABBLE.club Racing | +42.178 | 51 |
| 19 | 15 | R. Kelly | Castrol Racing | +47.031 | 48 |
| 20 | 21 | M. Jones | Team CoolDrive | +57.902 | 45 |
| 21 | 19 | J. Le Brocq | Truck Assist TEKNO Racing | +1 Lap | 42 |
| 22 | 18 | Winterbottom | Irwin Racing | +5 Laps | 39 |
| 23 | 34 | J. Golding | Boost Mobile Racing | +10 Laps | 36 |
| 24 | 55 | Mostert | Supercheap Auto Racing | +14 Laps | 33 |