Lee Holdsworth quickest in P2, McLaughlin has engine drama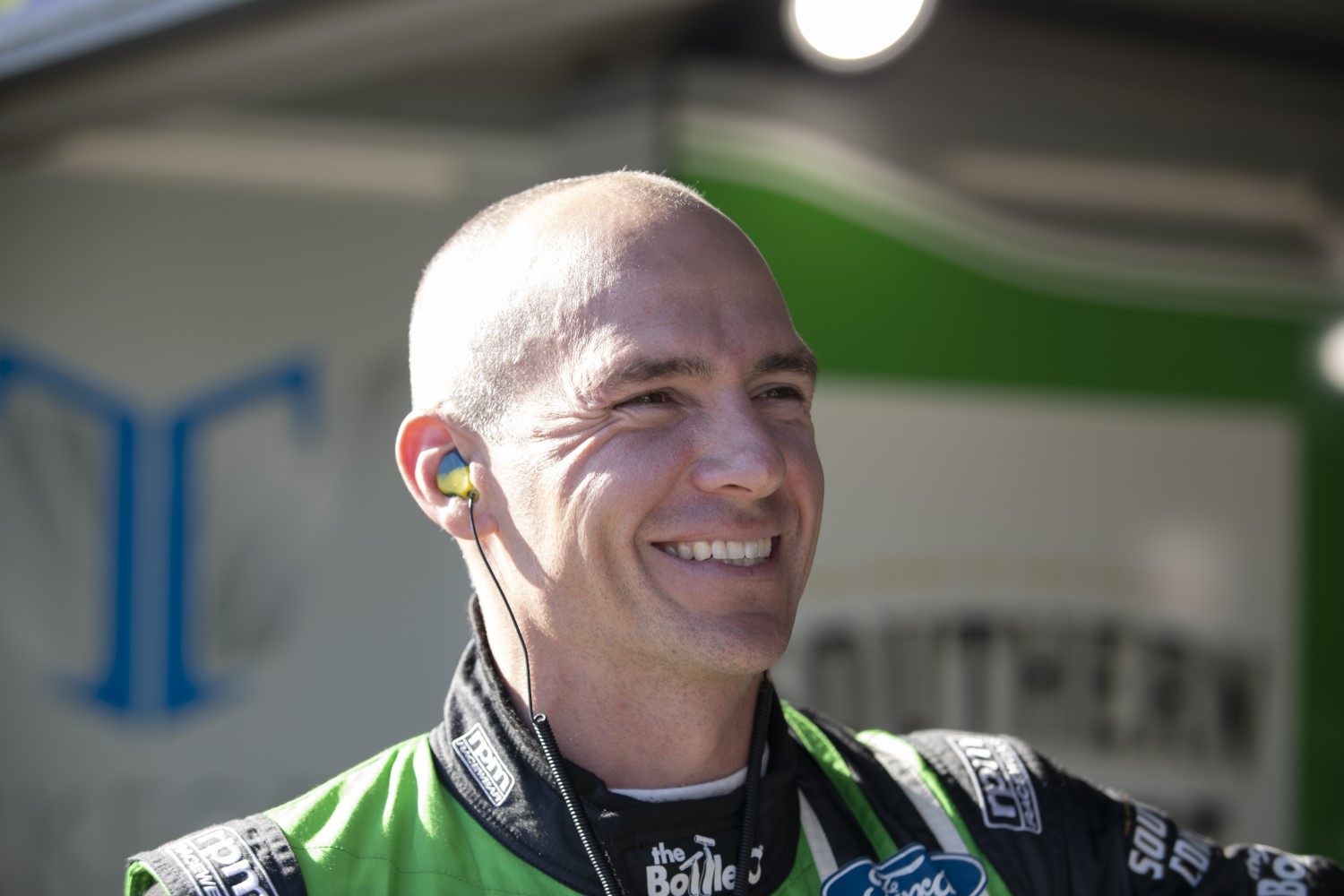 Lee Holdsworth
AUCKLAND – Lee Holdsworth has edged closer to his first podium finish in 1987 days, after clocking the fastest ever lap at Pukekohe Park Raceway in today's second practice session for the ITM Auckland SuperSprint.
The Bottle-O Mustang driver, who last stood on the podium as a winner at Winton in April 2014, was quickest in drying conditions this afternoon ahead of Auckland-born Red Bull Holden Ace Shane van Gisbergen and Milwaukee Racing Mustang's Will Davison.
Holdsworth's record-breaking effort in P2 topped a clean sweep for Tickford Racing drivers, with Davison the quickest in P1 earlier today.
"It was lit, the car is good. We did some changes there and it came out alive," Holdsworth said.
"We came here with a pretty nice base car so we have just been searching for that little bit extra to get us up into the top three. I feel like we have really found something now, we will wait and see now.
"This track is super quick at the moment and it is only going to get faster and faster. I am stoked. I could hope for a better start to the weekend, now we just have to follow it through."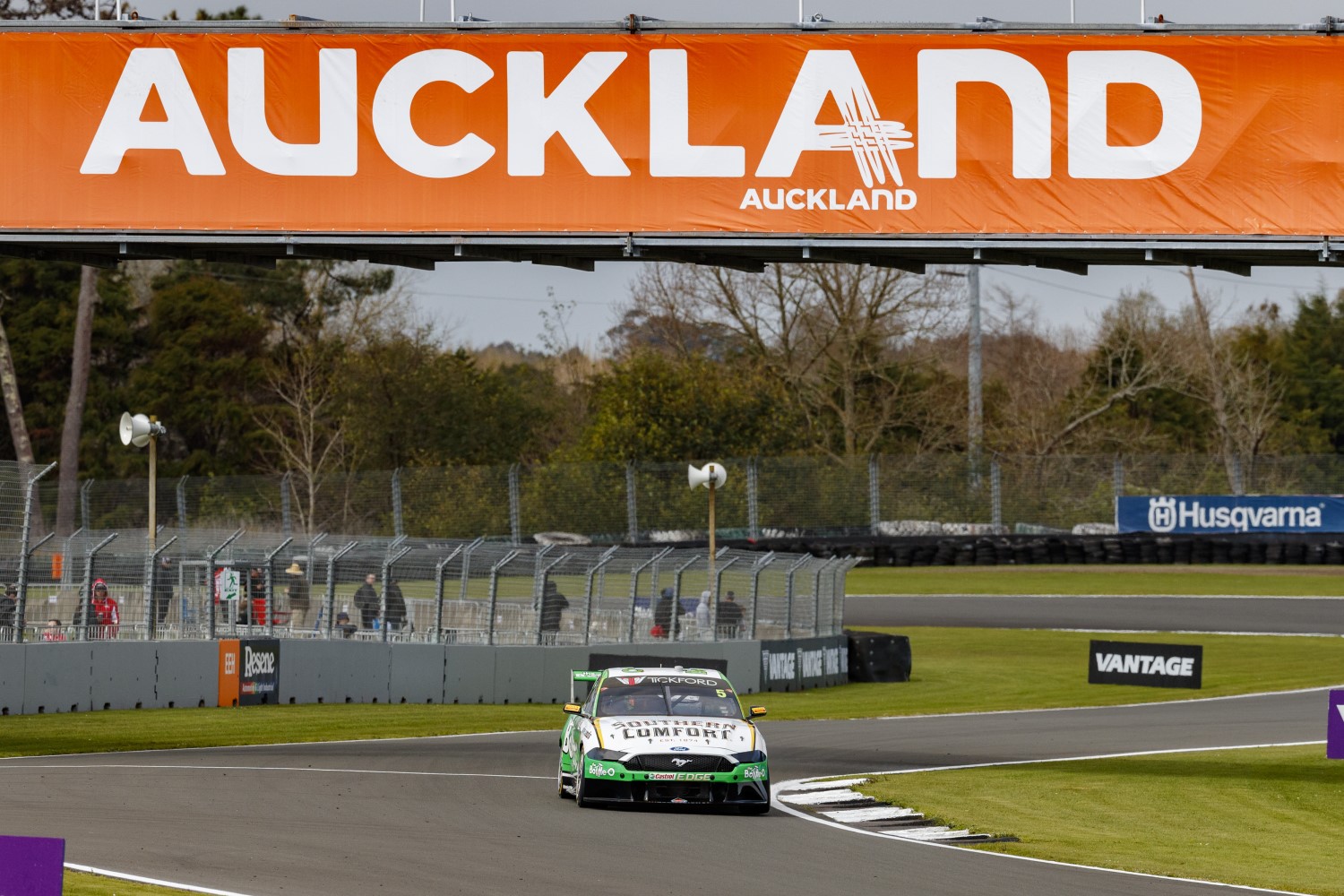 Holdsworth quickest in Auckland practice
Friday the 13th proved unlucky for defending Virgin Australia Supercars Champion Scott McLaughlin though, with his Shell V-Power Mustang starter motor not working in the opening stages of P2.
His team rallied in his 100th career round start and had the runaway series leader on track late, where he managed to clock the 7th quickest lap of the session.
"We didn't get as many laps in as we wanted but it was alright. At least we got back out, the boys were all over it. But I was holding on, it's hard work around here," the runaway Championship leader said.
Behind the top three this afternoon the Holden's of David Reynolds, Nick Percat and Jamie Whincup were four, five six. In front of McLaughlin, Anton De Pasquale, Fabian Coulthard and Scott Pye.
McLaughlin will put this afternoon's engine drama behind him for qualifying tomorrow as he chases his 15th pole position of 2019 and a potentially record breaking 17th race win of the year.
Australian drivers still hold the edge over the locals on race wins at Pukekohe, claiming 25 of the 40 Supercars races held at the venue.
McLaughlin and van Gisbergen won the two races held last year, the first time New Zealand drivers have swept a Pukekohe weekend since Greg Murphy won all three races in 2005.
There will be one final practice session tomorrow morning, before ARMOR ALL Qualifying begins at 1:55pm and the opening race of the weekend – a 200km 70-lap SuperSprint begins at 4:10pm local time.
Results Practice 2
| | | | | | | |
| --- | --- | --- | --- | --- | --- | --- |
| POS | # | DRIVER | TEAM | BEST LAP | GAP | LAPS |
| 1 | 5 | Holdsworth | The Bottle-O Racing Team | 1:01.628 | +0.000 | 15 |
| 2 | 97 | Van Gisbergen | Red Bull Holden Racing Team | 1:01.776 | +0.148 | 18 |
| 3 | 23 | Davison | Milwaukee Racing | 1:01.792 | +0.164 | 13 |
| 4 | 9 | Reynolds | Penrite Racing | 1:01.804 | +0.176 | 14 |
| 5 | 8 | Percat | NZ Safety Blackwoods Racing | 1:01.806 | +0.178 | 17 |
| 6 | 88 | Whincup | Red Bull Holden Racing Team | 1:01.821 | +0.193 | 13 |
| 7 | 17 | McLaughlin | Shell V-Power Racing Team | 1:01.929 | +0.301 | 7 |
| 8 | 99 | A. de Pasquale | Penrite Racing | 1:02.008 | +0.380 | 16 |
| 9 | 12 | Coulthard | Shell V-Power Racing Team | 1:02.037 | +0.409 | 13 |
| 10 | 2 | S. Pye | Mobil 1 Racing | 1:02.071 | +0.443 | 13 |
| 11 | 14 | Slade | Machinery House Racing | 1:02.146 | +0.518 | 14 |
| 12 | 55 | Mostert | Supercheap Auto Racing | 1:02.177 | +0.549 | 15 |
| 13 | 6 | C. Waters | Monster Energy Racing Team | 1:02.333 | +0.705 | 12 |
| 14 | 22 | Courtney | Mobil 1 Racing | 1:02.367 | +0.739 | 14 |
| 15 | 33 | R. Stanaway | Boost Mobile Racing | 1:02.436 | +0.808 | 15 |
| 16 | 7 | Heimgartner | Plus Fitness Racing | 1:02.514 | +0.886 | 18 |
| 17 | 35 | T. Hazelwood | Bigmate Racing | 1:02.517 | +0.889 | 14 |
| 18 | 18 | Winterbottom | Irwin Racing | 1:02.519 | +0.890 | 16 |
| 19 | 15 | R. Kelly | Castrol Racing | 1:02.589 | +0.961 | 13 |
| 20 | 34 | J. Golding | Boost Mobile Racing | 1:02.589 | +0.961 | 13 |
| 21 | 3 | G. Jacobson | RABBLE.club Racing | 1:02.608 | +0.980 | 17 |
| 22 | 78 | S. De Silvestro | Team Harvey Norman | 1:02.734 | +1.106 | 15 |
| 23 | 21 | M. Jones | Team CoolDrive | 1:02.761 | +1.133 | 17 |
| 24 | 19 | J. Le Brocq | Truck Assist TEKNO Racing | 1:03.369 | +1.741 | 16 |
Practice 1 Results
| | | | | | | |
| --- | --- | --- | --- | --- | --- | --- |
| POS | # | DRIVER | TEAM | BEST LAP | GAP | LAPS |
| 1 | 23 | Davison | Milwaukee Racing | 1:02.445 | +0.000 | 6 |
| 2 | 17 | McLaughlin | Shell V-Power Racing Team | 1:02.519 | +0.074 | 15 |
| 3 | 97 | Van Gisbergen | Red Bull Holden Racing Team | 1:02.655 | +0.210 | 17 |
| 4 | 9 | Reynolds | Penrite Racing | 1:02.726 | +0.281 | 7 |
| 5 | 2 | S. Pye | Mobil 1 Racing | 1:02.737 | +0.292 | 12 |
| 6 | 12 | Coulthard | Shell V-Power Racing Team | 1:02.801 | +0.355 | 9 |
| 7 | 5 | Holdsworth | The Bottle-O Racing Team | 1:02.997 | +0.552 | 9 |
| 8 | 18 | Winterbottom | Irwin Racing | 1:03.020 | +0.575 | 8 |
| 9 | 3 | G. Jacobson | RABBLE.club Racing | 1:03.547 | +1.102 | 18 |
| 10 | 78 | S. De Silvestro | Team Harvey Norman | 1:03.567 | +1.122 | 8 |
| 11 | 34 | J. Golding | Boost Mobile Racing | 1:03.571 | +1.126 | 9 |
| 12 | 22 | Courtney | Mobil 1 Racing | 1:03.663 | +1.218 | 8 |
| 13 | 7 | Heimgartner | Plus Fitness Racing | 1:03.837 | +1.391 | 8 |
| 14 | 33 | R. Stanaway | Boost Mobile Racing | 1:03.882 | +1.437 | 8 |
| 15 | 19 | J. Le Brocq | Truck Assist TEKNO Racing | 1:04.277 | +1.832 | 9 |
| 16 | 21 | M. Jones | Team CoolDrive | 1:04.641 | +2.196 | 9 |
| 17 | 88 | Whincup | Red Bull Holden Racing Team | 1:05.030 | +2.585 | 14 |
| 18 | 35 | T. Hazelwood | Bigmate Racing | 1:05.557 | +3.111 | 7 |
| 19 | 6 | C. Waters | Monster Energy Racing Team | 1:08.410 | +5.964 | 6 |
| 20 | 55 | Mostert | Supercheap Auto Racing | 3:07.862 | +2:05.417 | 6 |
| 21 | 15 | R. Kelly | Castrol Racing | 5:29.552 | +4:27.107 | 8 |
| 22 | 14 | Slade | Machinery House Racing | 11:40.269 | +10:37.823 | 4 |
| 23 | 99 | A. de Pasquale | Penrite Racing | – | +0.000 | 2 |
| 24 | 8 | Percat | NZ Safety Blackwoods Racing | – | +0.000 | 2 |