Video: Alex Peroni suffers broken back in 250 kph crash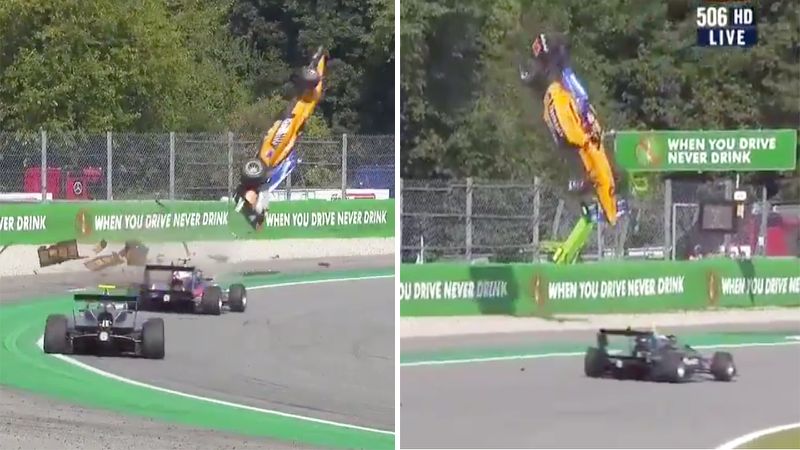 What goes up, must come down
Australian Formula 3 driver Alex Peroni has been diagnosed with concussion and a fractured vertebrae following a monster crash at Monza.
Peroni was in sixth place in the first of this weekend's two FIA Formula 3 Championship races at the Italian Grand Prix race meeting when the crash occurred.
His Dallara racecar was launched high into the air after running over a short section of 'sausage' curbing on the outside of the final turn on the 5.8km circuit. The 300kW open wheeler barrel-rolled two-and-a-half times, landed upside-down on the outer crash barrier, and then flipped rightside-up among the catch-fencing.
Miraculously Peroni was able to walk to a medical car after trackside officials extracted him from the wrecked machine. He was taken to a nearby hospital for precautionary checks and found to have a concussion and fractured vertebrae.
The cause of the accident hasn't been determined, pending an FIA investigation.
Decisions have yet to be made on whether Peroni will be fit to start tomorrow's second FIA F3 Championship race, and if his Campos Racing Team car can be repaired or replaced.
Peroni's parents, Piero and Cathy, and manager, David Quinn, were immensely relieved that the 19 year-old Formula 1 was still alive.
"Seeing that Alex was alive after such a huge crash was our first concern," Quinn said.
"I haven't spoken to him or the Campos team about what happens next. We'll issue a statement when things become clearer."
Peroni started the 22-lap, 127km race from 13th grid position in the 30-car field. By lap 18 he'd scythed through the midfield pack into sixth position, his best performance so far in the eight-round FIA Formula 3 Championship.
After the crash, the remaining laps were completed behind the Safety Car. PREMA team drivers Robert Schwartzman, Marcus Armstrong and Jehan Daruvala filled the top three places