Vettel keeps Ferrari on top in Monza practice 3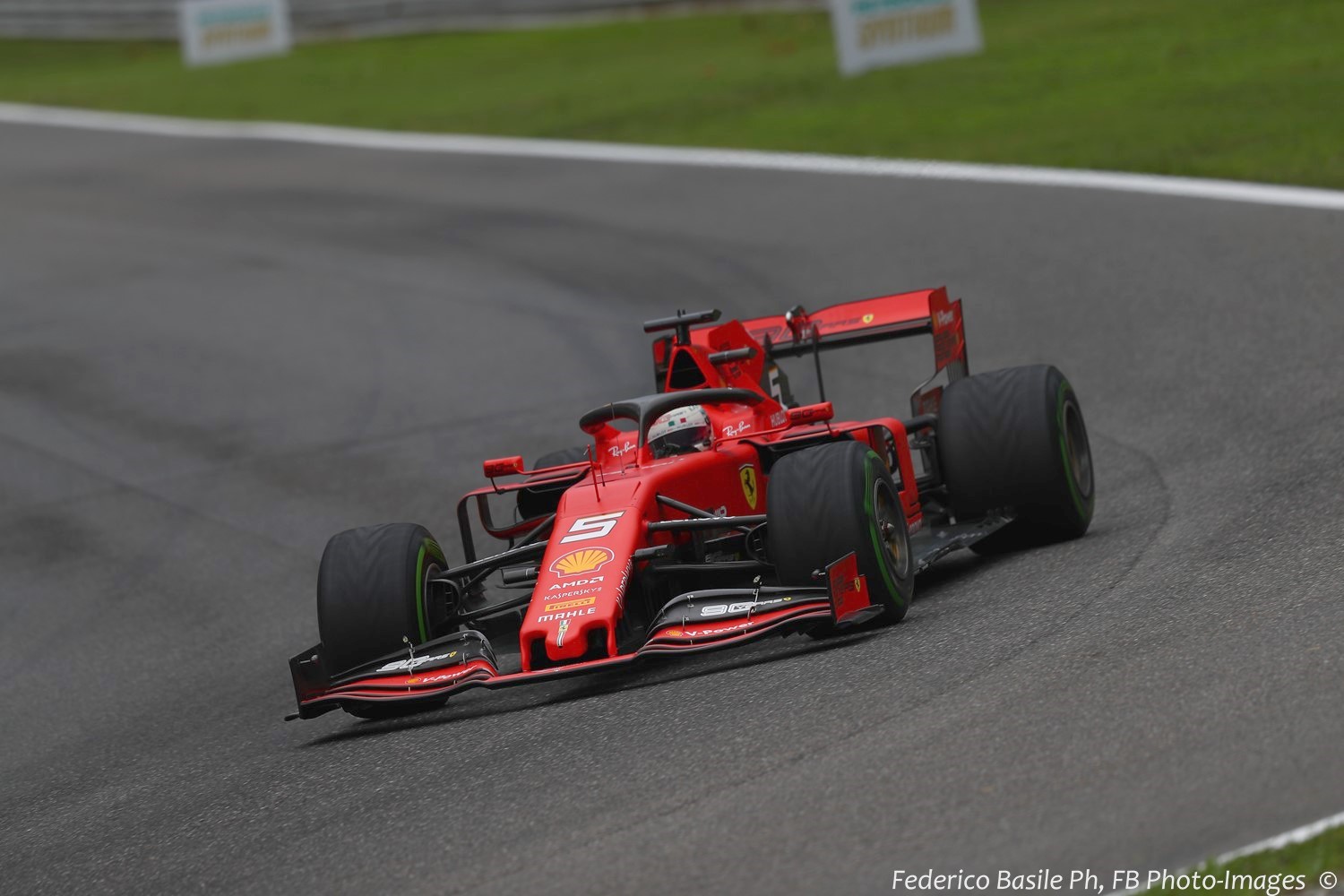 Sebastian Vettel goes fastest, but can he win pole?
Ferrari's Sebastian Vettel edged Red Bull's Max Verstappen by just 0.032s to set the fastest time in the final practice ahead of qualifying for the Italian Grand Prix.
Verstappen showed impressive performance in his Honda-powered Red Bull as Ferrari's chance for a home-pole could be in jeopardy.
Charles Leclerc fastest after the first qualifying simulations and his 1m20.452s headed Vettel by 0.16s with 20 minutes of the session remaining.
On their final runs, Vettel improved twice – he overhauled Leclerc on a 1m20.331s on his first flying lap, then cemented top spot with a 1m20.294s on the second.
Leclerc could not match his Ferrari teammate.
Valtteri Bottas was third at 1m20.403s, exactly the same time as Leclerc.
Sandbagging Lewis Hamilton was only sixth-fastest, behind Renault's Daniel Ricciardo.
Nico Hulkenberg was seventh-fastest time while Alex Albon set the eighth-fastest time.
Antonio Giovinazzi (Alfa Romeo) and Daniil Kvyat (Toro Rosso) completed the top 10.
Practice 3 Results
| | | | | | | |
| --- | --- | --- | --- | --- | --- | --- |
| POS | NO | DRIVER | CAR | TIME | GAP | LAPS |
| 1 | 5 | Sebastian Vettel | Ferrari | 1:20.294 | +0.000s | 14 |
| 2 | 33 | Max Verstappen | Red Bull Racing Honda | 1:20.326 | +0.032s | 11 |
| 3 | 77 | Valtteri Bottas | Mercedes | 1:20.403 | +0.109s | 23 |
| 4 | 16 | Charles Leclerc | Ferrari | 1:20.403 | +0.109s | 14 |
| 5 | 3 | Daniel Ricciardo | Renault | 1:20.564 | +0.270s | 11 |
| 6 | 44 | Lewis Hamilton | Mercedes | 1:20.595 | +0.301s | 21 |
| 7 | 27 | Nico Hulkenberg | Renault | 1:20.752 | +0.458s | 13 |
| 8 | 23 | Alexander Albon | Red Bull Racing Honda | 1:20.827 | +0.533s | 17 |
| 9 | 99 | Antonio Giovinazzi | Alfa Romeo Racing Ferrari | 1:20.881 | +0.587s | 15 |
| 10 | 26 | Daniil Kvyat | Scuderia Toro Rosso Honda | 1:20.945 | +0.651s | 20 |
| 11 | 55 | Carlos Sainz Jr. | McLaren Renault | 1:20.949 | +0.655s | 21 |
| 12 | 11 | Sergio Perez | Racing Point Bwt Mercedes | 1:21.003 | +0.709s | 15 |
| 13 | 10 | Pierre Gasly | Scuderia Toro Rosso Honda | 1:21.073 | +0.779s | 22 |
| 14 | 4 | Lando Norris | McLaren Renault | 1:21.292 | +0.998s | 21 |
| 15 | 7 | Kimi Raikkonen | Alfa Romeo Racing Ferrari | 1:21.325 | +1.031s | 19 |
| 16 | 20 | Kevin Magnussen | Haas Ferrari | 1:21.336 | +1.042s | 16 |
| 17 | 8 | Romain Grosjean | Haas Ferrari | 1:21.621 | +1.327s | 16 |
| 18 | 18 | Lance Stroll | Racing Point Bwt Mercedes | 1:21.639 | +1.345s | 17 |
| 19 | 63 | George Russell | Williams Mercedes | 1:22.374 | +2.080s | 22 |
| 20 | 88 | Robert Kubica | Williams Mercedes | 1:22.758 | +2.464s | 21 |