Hoosier Driver Haley Paces Opening Day of Practice for Indiana 250 at IMS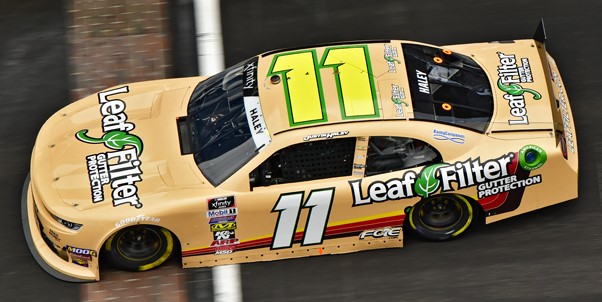 Justin Haley
Indiana native Justin Haley was the fastest driver overall in two NASCAR Xfinity Series practice sessions Friday for the Indiana 250 at the Indianapolis Motor Speedway.
Haley, 20, from Winamac, Indiana, topped the charts at 168.227 mph in his No. 11 LeafFilter Chevrolet that features a paint scheme honoring his grandfather. Xfinity Series championship leader Tyler Reddick was second at 168.199, followed by Brandon Jones at 168.196 in No. 19 First Foundation Toyota, Austin Dillon at 167.713 in the No. 10 Ellsworth Advisors Chevrolet and three-time Indiana 250 winner Kyle Busch at 167.710 in the No. 18 Combs Toyota.
Drivers ran in large packs of sometimes 10 or more cars in the final practice session as they tried to draft and slingshot past each other to simulate race conditions expected in the 100-lap race Saturday, which starts at 3 p.m.
The second practice session included contact between Mike Harmon and Michael Annett exiting Turn 4, with damage to the rear bumper of Annett's No. 1 Pilot Flying J Chevrolet. The contact prompted an intense discussion between the two in the Gasoline Alley garage area.
Joe Gibbs Racing swept the top three spots in opening NASCAR Xfinity Series practice. Christopher Bell was fastest at 168.218 in the No. 20 Rheem-Parker Hannifin Toyota. Jones was second at 168.215, followed by Busch at 167.782 mph.
The NASCAR Xfinity Series returns to the track Saturday for Indiana 250 qualifying at noon, followed by the race at 3 p.m.
Drivers from the Monster Energy NASCAR Cup Series turn laps on the famed 2.5-mile oval for the first time this weekend with a pair of Big Machine Vodka 400 at the Brickyard Powered by Florida Georgia Line practice sessions, at 11:05 a.m. and 1:30 p.m.
The Big Machine Vodka 400 at the Brickyard Powered by Florida Georgia Line has an action-packed day Sunday. The Monster Energy NASCAR Cup Series drivers will qualify for the race at 10:35 a.m. The 26th running of the race starts at 2 p.m.