Leclerc tops opening practice on wet Monza track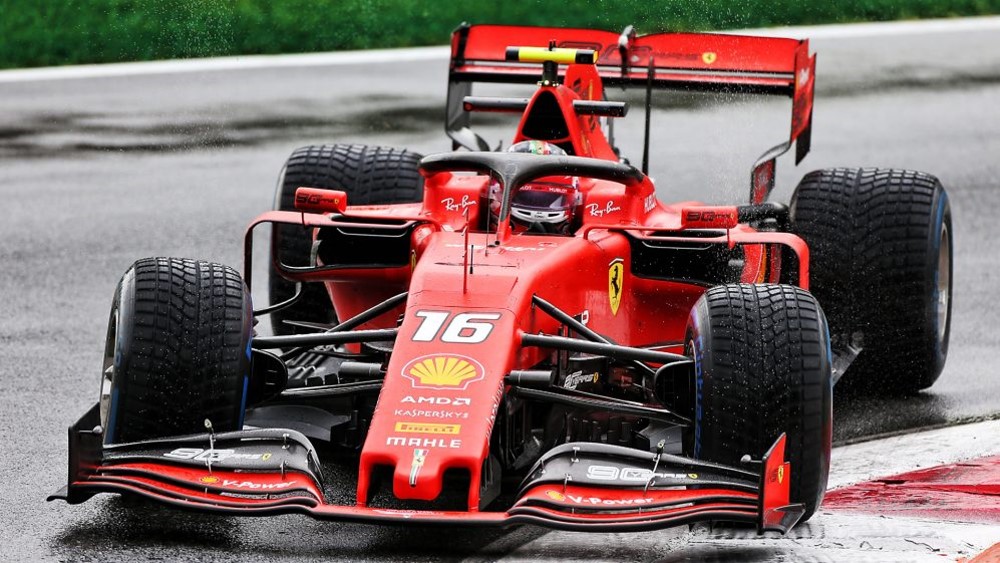 Charles Leclerc
Charles Leclerc bolted on a set of medium Pirellis on a drying track and turned the fastest lap in the waning moments of opening practice for the Italian GP.
In a session where times mean nothing unless it rains for qualifying and the race, Carlos Sainz Jr. was 2nd quick for McLaren ahead of the 2nd McLaren of Lando Norris who both went out on the soft tire late on to take advantage of the drier conditions for McLaren.
Meanwhile, Valtteri Bottas had a spin in the first chicane and was lucky to keep his car on track there at the end.
Lewis Hamilton (Mercedes) and Alex Albon (Red Bull) rounded out the top-5.
Taking no chances, Ferrari's Sebastian Vettel was only eighth, behind Red Bull's Max Verstappen. The low-downforce set-ups didn't help matters.
The first spin was Kimi Raikkonen, who beached his Alfa Romeo in the Parabolica gravel – giving fans at the outside of the corner a closer look at their special livery for the race – as he spun getting on the power. His session was ended without a time set, but teammate Antonio Giovinazzi managed the 11th-fastest lap.
Next to be eliminated was the leader of FP1 in 2018, Sergio Perez, who crashed his Racing Point at the exit of Ascari, damaging both wings and, he feared, his gearbox in the process. Pierre Gasly also triggered a stoppage, spinning at the same corner – and nearly collecting Albon in the process – but he managed to rescue his Toro Rosso from being stuck on the sausage curbs and ended the session in 10th.
Williams rounded out the order, 10 seconds off top spot as Robert Kubica finished 17th ahead of teammate George Russell in the inferior Paddy Lowe machines.
Practice 1 Times
| | | | | | | |
| --- | --- | --- | --- | --- | --- | --- |
| POS | NO | DRIVER | CAR | TIME | GAP | LAPS |
| 1 | 16 | Charles Leclerc | Ferrari | 1:27.905 | +0.000s | 20 |
| 2 | 55 | Carlos Sainz | McLaren Renault | 1:28.211 | +0.306s | 25 |
| 3 | 4 | Lando Norris | McLaren Renault | 1:28.450 | +0.545s | 23 |
| 4 | 44 | Lewis Hamilton | Mercedes | 1:28.730 | +0.825s | 11 |
| 5 | 23 | Alexander Albon | Red Bull Racing Honda | 1:29.025 | +1.120s | 19 |
| 6 | 26 | Daniil Kvyat | Scuderia Toro Rosso Honda | 1:29.960 | +2.055s | 25 |
| 7 | 33 | Max Verstappen | Red Bull Racing Honda | 1:30.100 | +2.195s | 11 |
| 8 | 5 | Sebastian Vettel | Ferrari | 1:30.507 | +2.602s | 19 |
| 9 | 77 | Valtteri Bottas | Mercedes | 1:30.596 | +2.691s | 11 |
| 10 | 10 | Pierre Gasly | Scuderia Toro Rosso Honda | 1:30.695 | +2.790s | 26 |
| 11 | 99 | Antonio Giovinazzi | Alfa Romeo Racing Ferrari | 1:32.848 | +4.943s | 22 |
| 12 | 18 | Lance Stroll | Racing Point Bwt Mercedes | 1:33.976 | +6.071s | 9 |
| 13 | 3 | Daniel Ricciardo | Renault | 1:34.528 | +6.623s | 10 |
| 14 | 20 | Kevin Magnussen | Haas Ferrari | 1:34.715 | +6.810s | 7 |
| 15 | 27 | Nico Hulkenberg | Renault | 1:35.133 | +7.228s | 10 |
| 16 | 8 | Romain Grosjean | Haas Ferrari | 1:35.980 | +8.075s | 7 |
| 17 | 88 | Robert Kubica | Williams Mercedes | 1:37.816 | +9.911s | 12 |
| 18 | 63 | George Russell | Williams Mercedes | 1:38.421 | +10.516s | 12 |
| 19 | 11 | Sergio Perez | Racing Point Bwt Mercedes | No Time | No Time | 4 |
| 20 | 7 | Kimi Raikkonen | Alfa Romeo Racing Ferrari | No Time | No Time | 4 |