F3: Shwartzman quickest in wet Free Practice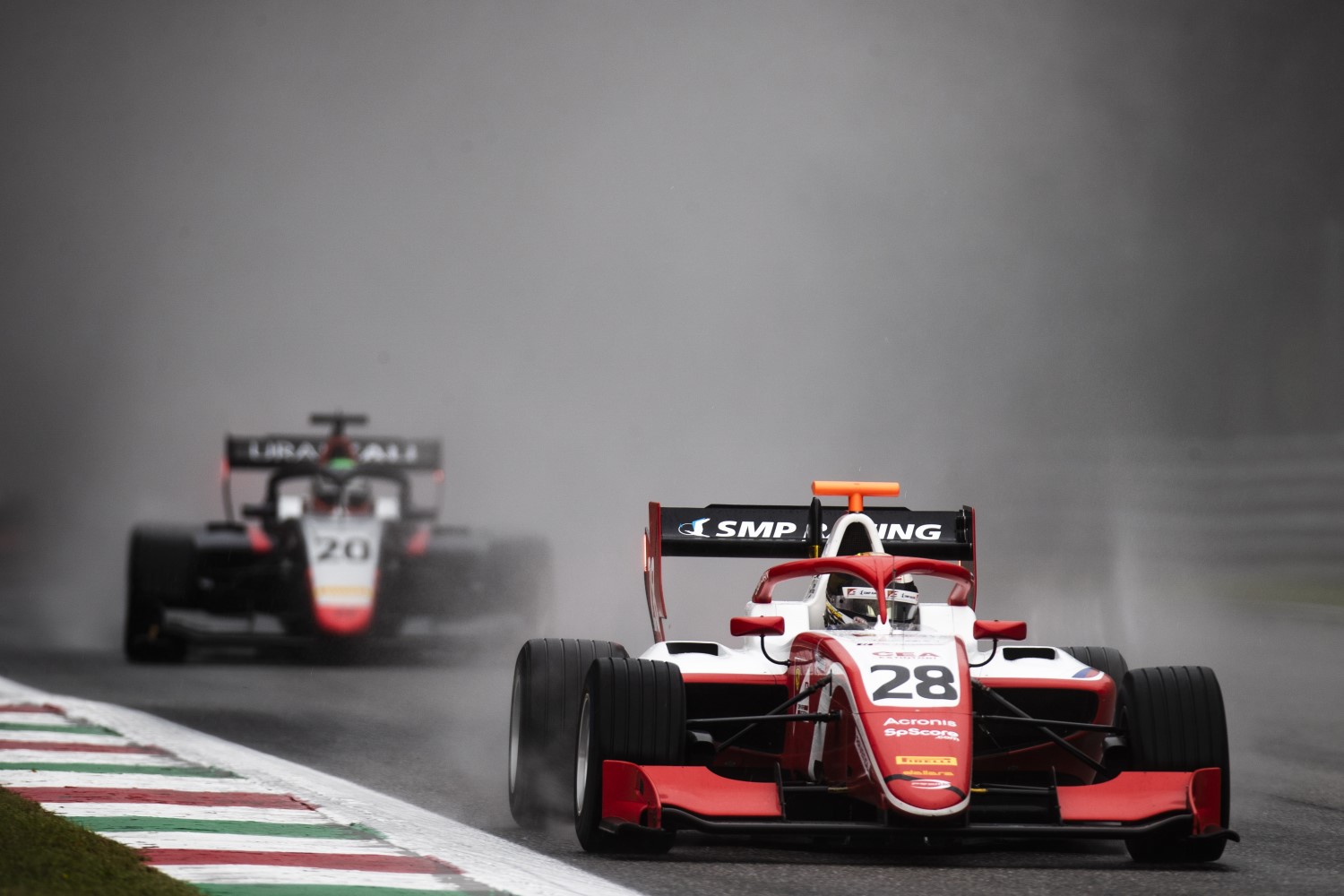 Robert Shwartzman
Robert Shwartzman topped a rain-hampered session in Monza, leading Free Practice for the first time in 2019. The PREMA racer set the quickest time early on – before the field all switched to wets – and finished ahead of in-form duo Marcus Armstrong, of PREMA Racing, and Pedro Piquet, of Trident.
The session begun under light rain down the pit straight as teams initially set out on slick tires. Spa-Francorchamps Race 2 winner Armstrong was first to notch a quick time, dipping under 1m 45s, followed by teammate Shwartzman.
On his second full lap of the course, Armstrong knocked two seconds off his time, but his Russian teammate was able to shave a further two tenths to take P1 as rain began to fall harder. Jüri Vips spun off track but was able to get going again, and teams began to feed back into the pits for wet tires.
Estner remained out and a wobble ended with the side of his Jenzer machine stuck in the wall. The German climbed out of his car unscathed, but his team now face a race against time to get his car ready for Qualifying later today.
Fabio Scherer was the first to get back out onto the Autodromo Nazionale Monza circuit and test the new tires. The rest of the field returned shortly after and focus was centered on getting to grips with the wets.
This saw the order remained unchanged, before the session ended under a yellow flag. Giorgio Carrara sailed off track and was beached on the sausage curb. This left Shwartzman and Armstrong to run home first and second, with Piquet in third. Jehan Daruvala and Teppei Natori completed the top five, with Niko Kari, Alex Peroni, Richard Verschoor, Felipe Drugovich and Liam Lawson all in the top 10.
Action will intensify this afternoon as Shwartzman aims to carry across his positive early form and become the first driver to earn a second pole position of the season, when qualifying begins at 5.50pm local time.
Free Practice provisional classification
| | | | | |
| --- | --- | --- | --- | --- |
| POS | DRIVER | TEAM | LAPTIME | LAPS |
| 1 | Robert Shwartzman | PREMA Racing | 1:42.587 | 13 |
| 2 | Marcus Armstrong | PREMA Racing | 1:42.780 | 12 |
| 3 | Pedro Piquet | Trident | 1:42.791 | 10 |
| 4 | Jehan Daruvala | PREMA Racing | 1:42.939 | 11 |
| 5 | Teppei Natori | Carlin Buzz Racing | 1:43.080 | 14 |
| 6 | Niko Kari | Trident | 1:43.158 | 12 |
| 7 | Alex Peroni | Campos Racing | 1:43.683 | 12 |
| 8 | Richard Verschoor | MP Motorsport | 1:43.813 | 12 |
| 9 | Felipe Drugovich | Carlin Buzz Racing | 1:43.836 | 16 |
| 10 | Liam Lawson | MP Motorsport | 1:43.981 | 11 |
| 11 | Raoul Hyman | Sauber Junior Team by Charouz | 1:44.180 | 15 |
| 12 | Juri Vips | Hitech Grand Prix | 1:44.477 | 15 |
| 13 | Ye Yifei | Hitech Grand Prix | 1:44.512 | 15 |
| 14 | Fabio Scherer | Sauber Junior Team by Charouz | 1:44.724 | 16 |
| 15 | Leonardo Pulcini | Hitech Grand Prix | 1:45.234 | 14 |
| 16 | Devlin DeFrancesco | Trident | 1:45.490 | 14 |
| 17 | Jake Hughes | HWA RACELAB | 1:45.593 | 5 |
| 18 | Sebastian Fernandez | Campos Racing | 1:46.094 | 12 |
| 19 | Bent Viscaal | HWA RACELAB | 1:46.374 | 12 |
| 20 | Yuki Tsunoda | Jenzer Motorsport | 1:46.566 | 16 |
| 21 | Simo Laaksonen | MP Motorsport | 1:47.499 | 10 |
| 22 | Giorgio Carrara | Jenzer Motorsport | 1:47.748 | 13 |
| 23 | Keyvan Andres | HWA RACELAB | 1:47.784 | 12 |
| 24 | Alessio Deledda | Campos Racing | 1:47.886 | 12 |
| 25 | Christian Lundgaard | ART Grand Prix | 1:49.071 | 14 |
| 26 | Logan Sargeant | Carlin Buzz Racing | 1:49.311 | 13 |
| 27 | Max Fewtrell | ART Grand Prix | 1:49.958 | 13 |
| 28 | Andreas Estner | Jenzer Motorsport | 1:50.342 | 6 |
| 29 | Lirim Zendeli | Sauber Junior Team by Charouz | 1:53.933 | 15 |
| 30 | David Beckmann | ART Grand Prix | 1:54.783 | 13 |