DiBenedetto: Revamped Charlotte Roval chicane 30mph slower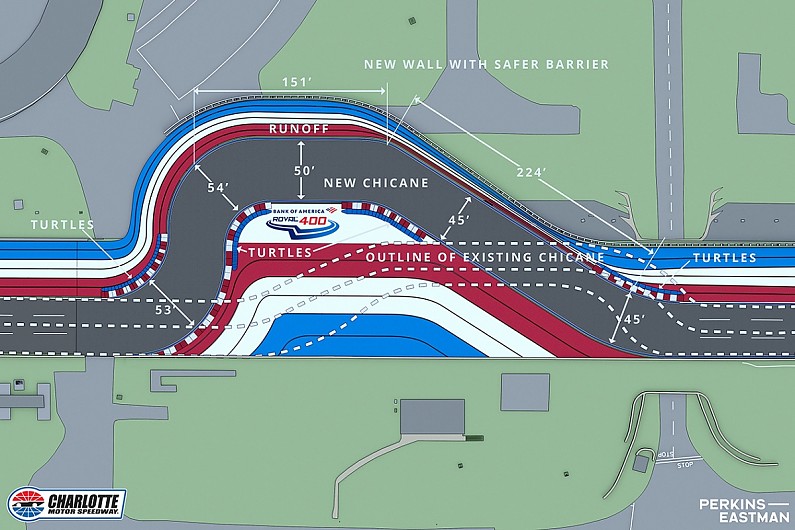 Revamped chicane is now Mickey Mouse
Matt DiBenedetto got some much-needed seat time aboard a Toyota Camry XSE pace car on Tuesday at Charlotte Motor Speedway. With only 26 days to go before the second Bank of America ROVAL 400, DiBenedetto became the first NASCAR driver to shake down Charlotte's new ROVAL™ backstretch chicane
DiBenedetto joined Greg Walter, the speedway's executive vice president and general manager, for some hot laps around the 17-turn, 2.28-mile road course oval that serves as the cutoff race for Round 1 of the Monster Energy NASCAR Cup Series Playoffs.
The backstretch chicane's original layout was 32 feet wide at its widest point, while the new version will be 54 feet at its widest point and will feature additional runoff areas for DiBenedetto and his fellow competitors.
"I was just excited to check it out and be able to give some input on it," DiBenedetto said. "This one being on a full straightaway is what will create a really hard, straight-line braking zone. It's going to create an extra passing zone from what we had. It's definitely going to be more of a challenge – I'm guessing you'll be going 30 miles per hour slower – so it's a drastic change, but it's better for the race.
"This will create a different opportunity that will change the outcome approaching the last corner of the track. Last year, this wasn't a passing zone. It was a momentum corner. This year, it's hard braking and it'll feel like a parking lot. … It's not just a small change. It affects our racing and our approach."
In addition to the time he spent on the track, DiBenedetto gave Walter real-time feedback regarding the newest wrinkle to the first-of-its-kind ROVAL.
"As we were approaching the entrance to the chicane, Matt leans to me and says, 'Oh yeah, this is going to make a difference,'" Walter said. "Braking equals passing. He confirmed everything we've been thinking about and what we've been designing. We're going to see a great race."