NASCAR Star Larson Wins Wild Stoops Pursuit Race at The Dirt Track at IMS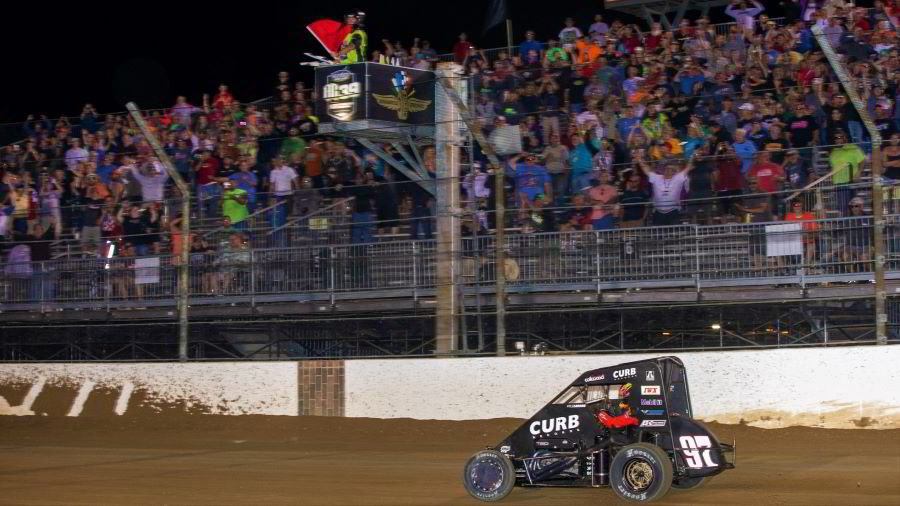 NASCAR's Kyle Larson makes those open wheel racers look silly
NASCAR star Kyle Larson prevailed in a thrilling, late-race battle to emerge from a last-lap, last-corner fracas victorious in the Stoops Pursuit race at The Dirt Track at IMS on the opening night of the Driven2SaveLives BC39 Powered by NOS Energy Drink.
Michael Pickens finished second, while Justin Grant was third.
"This track is so racy that sliders are easy to throw, and Mike (Pickens) was throwing everything he had at me," Larson said after the race. "We made contact there on the backstretch. He was trying to park it on the bottom. That was wild. I didn't know it was going to be that crazy of a race. I hope you guys enjoyed it."
The field of 24 cars was whittled to just Larson, Grant and Pickens for the final five-lap segment of the elimination-format exhibition race for USAC National Midget Championship cars. Larson was nearly eliminated from the event in the second-to-last segment, but he gained two positions before the end of the segment to keep himself in the event.
Larson, Grant and Pickens traded all three positions back and forth in the final segment. As the white flag came out, the three drivers found themselves bunched together heading into Turn 3 of the quarter-mile dirt oval.
Pickens committed his car to the inside groove, while Grant went to the outside and Larson found himself in the middle lane. Pickens rutted his car and flipped in Turn 3. Larson spun trying to avoid Pickens' airborne car, and Grant backed his car into the wall and flipped as he evaded Pickens.
With Larson's car staying on the ground, he did a 360-degree spin on the inside line. He spun his car in the right direction, gassed it up and crossed the finish line for the victory. Both Grant and Pickens were unhurt in the wreck.
Larson is perfect so far through one of his three races this weekend at IMS. He also hopes to qualify for the A-Main feature for the Driven2SaveLives BC39 Powered by NOS Energy Drink on Thursday night at The Dirt Track at IMS and also will race in the Big Machine Vodka 400 at the Brickyard Powered by Florida Georgia Line on Sunday in the No. 42 Chip Ganassi Racing Chevrolet.
"That's probably one of the most fun times I've ever had in a race car," Larson said after the Stoops Pursuit victory. "For an off night (from Cup Series racing) like that, that was a ton of fun. You can't say enough about the Indianapolis Motor Speedway and (IMS President) Doug Boles and what they do to put this event on. Awesome crowd tonight; I'm sure it will be even bigger tomorrow. Hopefully we can build this event into something huge. I look forward to it."
Larson earned $2,100 for the win.
Larson did not race in the inaugural BC39 last year. He said that after seeing last year's thrilling action in front of a sold-out crowd and feeling like he missed out on something big, he knew he had to race in this year's event.
"I was bummed I couldn't make it last year," Larson said. "I saw how exciting it was, and I said, 'Screw it: I'm going to try and make it this year.' I landed at the Indy airport at 3:45 p.m. or so and got here at 4:45 p.m. (today) in time for hot laps. It was worth it, though."
The Stoops Pursuit race consisted of 24 drivers that raced their way into the event via heat race wins, as well as drivers that were the top in qualifying points from each heat. Plus five drivers were placed into the field through promoter options.
The 25-lap event was broken into five-lap segments. After each segment a caution was thrown, and cars that were passed, along with the car running last at the end of the segment, exited the track. The field was filled with racing stars such as NASCAR's Christopher Bell and Ricky Stenhouse Jr., as well as defending Stoops Pursuit winner Zeb Wise and defending BC39 winner Brady Bacon.
The Driven2SaveLives BC39 Powered by NOS Energy Drink will feature another full night of action Thursday at The Dirt Track at IMS. Public gates open at 3 p.m., with hot lap sessions starting at 5 p.m.
Qualifying races at 6 p.m. and Main races at 7:45 p.m. will whittle the third largest USAC field in recent history of 90 cars to 26 starters for the 39-lap feature event, which starts at 9:30 p.m.
Tickets for the Driven2SaveLives BC39 presented by NOS Energy Drink are available at IMS.com and at the gate.
All Shaw Grandstand seats are reserved Thursday, with prices ranging from $35-$75. There is no General Admission seating available Thursday night. All kids need a ticket to the event regardless of age. Pit passes are available for $25 and do not include gate admission.
Results

SIMPSON RACE PRODUCTS FIRST HEAT: (10 laps) 1. Brady Bacon (#76E FMR), 2. Chris Windom (#17BC Clauson/Marshall), 3. Robert Dalby (#4D Dalby), 4. Chase Briscoe (#5B Briscoe), 5. Daniel Robinson (#57D McCreery), 6. Tyler Nelson (#88 Nelson), 7. David Prickett (#15DJ Neverlift), 8. Randi Pankratz (#8 Pankratz), 9. Ken Drangmeister (#76 Drangmeister). 2:08.04
COMPETITION SUSPENSION (CSI) SECOND HEAT: (10 Laps) 1. Kevin Thomas, Jr. (#5 Petry), 2. Karsyn Elledge (#1 Tucker/Boat), 3. Holley Hollan (#67K Kunz/Curb-Agajanian), 4. Tyler Courtney (#7BC Clauson/Marshall), 5. Clinton Boyles (#9B Mounce), 6. Sam Johnson (#72 Johnson), 7. Ray Seach (#54m Manic), 8. Shannon McQueen (#15s Garrett). 2:11.03
AUTOMETER THIRD HEAT: (10 Laps) 1. Zeb Wise (#39BC Clauson/Marshall), 2. Ricky Stenhouse, Jr. (#17 Clauson/Marshall), 3. Jerry Coons, Jr. (#25 Petry), 4. Ace McCarthy (#28 Neuman), 5. Cannon McIntosh (#08 Dave Mac), 6. Cody Weisensel (#20 Weisensel), 7. Oliver Akard (#41 Akard). 2:10.53
INDY RACE PARTS FOURTH HEAT: (10 Laps) 1. Dillon Welch (#81 Tucker/Boat), 2. Justin Grant (#4A RAMS), 3. C.J. Leary (#21KS Reynolds), 4. Kyle O'Gara (#67F SFHR), 5. Cody Swanson (#71s Campbell), 6. Brayton Lynch (#1K RKR), 7. Justin Dickerson (#21D Dickerson), 8. Chris Jagger, Jr. (#32J Jagger), 9. Trey Osborne (#61 Kenyon). 2:12.21
FIFTH HEAT: (10 Laps) 1. Gio Scelzi (#85 Tucker/Boat), 2. Jason McDougal (#76m FMR), 3. Tucker Klaasmeyer (#27 Kunz/Curb-Agajanian), 4. Steve Buckwalter (#25B Buckwalter), 5. Brent Beauchamp (#43 Arnold), 6. Austin O'Dell (#97A O'Dell), 7. Conor Daly (#35 Petry), 8. Robert Bell (#71B Bell), 9. Blaze Bennett (#77B Bennett). NT
SIXTH HEAT: (10 Laps) 1. Zach Daum (#5D Daum), 2. Tanner Carrick (#71K Kunz/Curb-Agajanian), 3. Billy Wease (#12w Wease), 4. Chase Jones (#1BR SFHR), 5. Kyle Jones (#7u Trifecta), 6. Andrew Layser (#47 Clauson/Marshall), 7. Kendall Ruble (#11m Martin), 8. Colten Cottle (#56AP Young), 9. Michael Klein (#10A Wallace). NT
SEVENTH HEAT: (10 Laps) 1. Jake Neuman (#3N Neuman), 2. Michael Pickens (#1NZ RMS), 3. Christopher Bell (#21 Kunz/Curb-Agajanian), 4. Tony DiMattia (#50 TDM), 5. J.J. Yeley (#2J Taylor), 6. Chris Baue (#9 Baue), 7. Dave Darland (#15 Petry), 8. Jonathan Beason (#21FS Reynolds). NT
EIGHTH HEAT: (10 Laps) 1. Chad Boat (#84 Tucker/Boat), 2. Logan Seavey (#67 Kunz/Curb-Agajanian), 3. Alex Bright (#1ST Saucier), 4. Tyler Thomas (#91T Thomas), 5. Russ Gamester (#46 Gamester), 6. Mark Chisholm (#56x Chisholm), 7. Kevin Studley (#57K Studley), 8. Maria Cofer (#21mc Reynolds), 9. Critter Malone (#7 Seven). NT
NINTH HEAT: (10 Laps) 1. Thomas Meseraull (#7x RMS), 2. Kyle Larson (#97 Kunz/Curb-Agajanian), 3. Ethan Mitchell (#19m Bundy Built), 4. Nick Drake (#55 Cline), 5. Aaron Leffel (#11L Taylor), 6. David Budres (#23m Manic), 7. Ryan Hall (#2 Bush), 8. Rich Drangmeister (#3 Drangmeister), 9. Carson Garrett (15x Garrett). NT
TENTH HEAT: (10 Laps) 1. Spencer Bayston (#19 Hayward), 2. Matt Westfall (#54 Bordner), 3. Jesse Colwell (#71 Kunz/Curb-Agajanian), 4. Luke Howard (#00 Mounce), 5. Jeff Wimmenauer (#15J Wimmenauer), 6. Matt Linder (#2x Bush), 7. Tommy Kouns (#11T Taylor), 8. John Heydenreich (#22 Givens). NT
ALSO AT THE TRACK: Lance Bennett (#10 Bennett)
STOOPS PURSUIT RACE: (25 Laps, starting position in parentheses) 1. Kyle Larson (7), 2. Michael Pickens (3), 3. Justin Grant (12), 4. Tyler Courtney (17), 5. Jason McDougal (15), 6. Tanner Carrick (11), 7. Chris Windom (18), 8. Ricky Stenhouse, Jr. (16), 9. Chad Boat (2), 10. 19 Spencer Bayston (4), 11. 67 Logan Seavey (5), 12. Zach Daum (14), 13. Kevin Thomas, Jr. (19), 14. Jesse Colwell (1), 15. Gio Scelzi (10), 16. Jake Neuman (6), 17. Dillon Welch (9), 18. Zeb Wise (13), 19. Brady Bacon (20), 20. Christopher Bell (25), 21. Robert Dalby (24), 22. Kyle O'Gara (21), 23. Jerry Coons, Jr. (23), 24. Thomas Meseraull (8), 25. Chase Briscoe (22). NT
—————————-
**Andrew Layser flipped during the sixth heat. Chris Baue flipped during the seventh heat. Michael Pickens & Justin Grant flipped on lap 25 of the pursuit race.
STOOPS PURSUIT LAP LEADERS: Laps 1-5 Chad Boat, Laps 6-20 Michael Pickens, Laps 21-22 Kyle Larson, Lap 23 Michael Pickens, Laps 24-25 Kyle Larson.
NEW USAC NOS ENERGY DRINK MIDGET NATIONAL CHAMPIONSHIP POINTS: 1-Tyler Courtney-1,517, 2-Chris Windom-1,403, 3-Logan Seavey-1,350, 4-Zeb Wise-1,286, 5-Kevin Thomas, Jr.-1,284, 6-Chad Boat-1,208, 7-Jerry Coons, Jr.-1,147, 8-Tanner Carrick-1,129, 9-Jason McDougal-1,069, 10-Tucker Klaasmeyer-1,034.
PROSOURCE PASSING MASTER POINTS: 1-Thomas Meseraull-8, 2-Brady Bacon, Chris Windom, Kevin Thomas, Jr. & Spencer Bayston-6, 6-Jerry Coons, Jr., Tanner Carrick & Logan Seavey-5.
NEXT USAC NOS ENERGY DRINK MIDGET NATIONAL CHAMPIONSHIP RACE: September 5, 2019 – The Dirt Track at Indianapolis Motor Speedway – Speedway, Indiana – Driven2SaveLives BC39 powered by NOS Energy Drink