DragonSpeed Tops ELMS Qualifying at Silverstone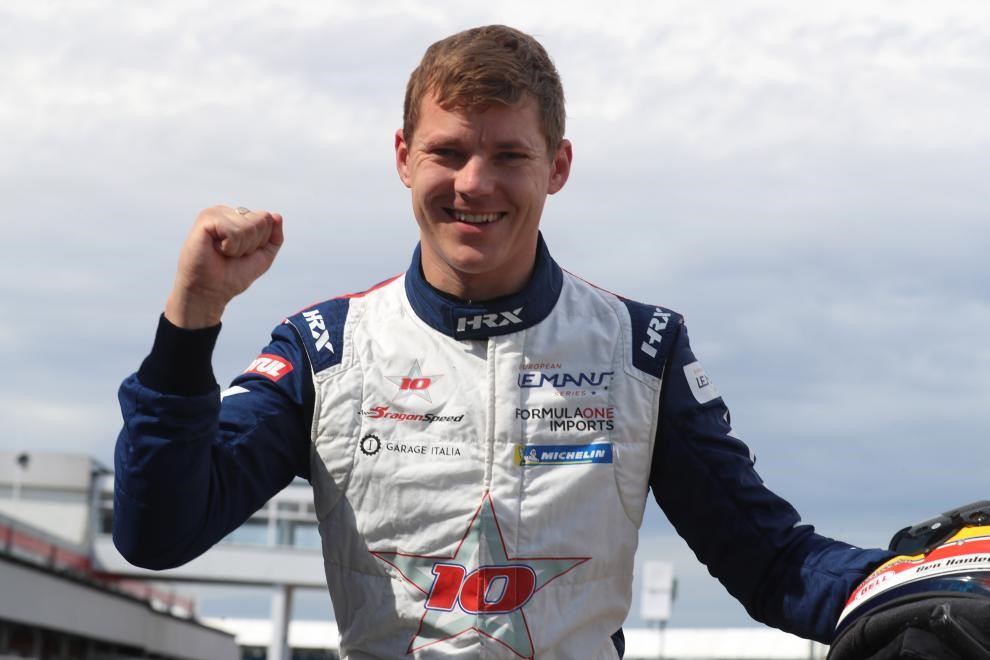 Ben Hanley puts DragonSpeed on pole
The sun was shining at Silverstone for qualifying for Round 4 of the 2019 European Le Mans Series. Each of the three classes had 10 minutes to set their fastest lap to form the grid for this afternoon's 4 Hours of Silverstone.
The no21 DragonSpeed Oreca of Ben Hanley will start at the front of the 39-car grid after the 10 minutes LMP2 session was led by the no22 United Autosports Oreca of Filipe Albuquerque. The British driver took pole at the checkered flag to move ahead of the no22 Oreca. Albuquerque had been unsighted on his penultimate lap by the spinning no27 IDEC Sport Oreca driven by William Cavailhes. The Portuguese driver had one more lap but also spun at Club and will start on the front row alongside Hanley.
Hanley's time of 1m41.795 was 0.395s ahead of Albuquerque, with Paul Loup Chatin in the no28 IDEC Sport Oreca in third on 1m42.460, with Nico Lapierre in the no37 Cool Racing Oreca in 4th 0.1 seconds behind Chatin.
Yann Ehrlacher took the LMP3 pole after a titanic battle between several contenders for the top spot on the class grid in the no19 M Racing Norma. The French driver posted a mighty 1m53.468 on his penultimate flying lap to beat the rest of the field by 0.262 seconds. However, it was extremely close with the top five cars split by less than four tenths of a second. The second placed car was the no17 Ultimate Norma M30-Nissan of Matthieu Lahaye, with the no10 Oregon Team Norma third fastest, Damiano Fioravanti finishing the ten minute qualifying session just 0.014s behind Lahaye.
Thomas Preining dominated the LMGTE qualifying session in the no88 Proton Competition Porsche 911 RSR, the Austrian posting a 1m55.322 lap at the checkered flag, 0.856 seconds ahead of the nearest rival, the no60 Kessel Racing Ferrari F488 GTE EVO of Giacomo Piccini. The no55 Spirit of Race Ferrari of Matt Griffin will start this afternoon's 4 Hours of Silverstone from the second row of the LMGTE grid, the Irish driver posting a 1m56.335 lap.
The 4 Hours of Silverstone will begin later today at 14h30 BST.
Lineup
| Pos | Team | No. | Car | Class | Time |
| --- | --- | --- | --- | --- | --- |
| 1 | DragonSpeed | 21 | Oreca 07 – Gibson | LMP2 | 1:41.798 |
| 2 | United Autosports | 22 | Oreca 07 – Gibson | LMP2 | 1:42.127 |
| 3 | Idec Sport | 28 | Oreca 07 – Gibson | LMP2 | 1:42.460 |
| 4 | Cool Racing | 37 | Oreca 07 – Gibson | LMP2 | 1:42.557 |
| 5 | Panis Barthez Competition | 23 | Oreca 07 – Gibson | LMP2 | 1:42.716 |
| 6 | G-Drive Racing | 26 | Aurus 01 – Gibson | LMP2 | 1:42.993 |
| 7 | Duqueine Engineering | 30 | Oreca 07 – Gibson | LMP2 | 1:43.089 |
| 8 | Graff | 39 | Oreca 07 – Gibson | LMP2 | 1:43.240 |
| 9 | RLR MSport | 43 | Oreca 07 – Gibson | LMP2 | 1:43.299 |
| 10 | United Autosports | 32 | Ligier JSP217 – Gibson | LMP2 | 1:43.323 |
| 11 | Algarve Pro Racing | 25 | Oreca 07 – Gibson | LMP2 | 1:43.549 |
| 12 | High Class Racing | 20 | Oreca 07 – Gibson | LMP2 | 1:43.644 |
| 13 | BHK Motorsport | 35 | Oreca 07 – Gibson | LMP2 | 1:44.360 |
| 14 | Inter Europol Competition | 34 | Ligier JSP217 – Gibson | LMP2 | 1:44.936 |
| 15 | Panis Barthez Competition | 24 | Ligier JSP217 – Gibson | LMP2 | 1:45.207 |
| 16 | Algarve Pro Racing | 31 | Oreca 07 – Gibson | LMP2 | 1:45.570 |
| 17 | Carlin | 45 | Dallara P217 – Gibson | LMP2 | 1:46.245 |
| 18 | Idec Sport | 27 | Ligier JSP217 – Gibson | LMP2 | 1:47.630 |
| Pos | Team | No. | Car | Class | Time |
| --- | --- | --- | --- | --- | --- |
| 1 | M Racing | 19 | Norma M 30 – Nissan | LMP3 | 1:53.468 |
| 2 | Ultimate | 17 | Norma M 30 – Nissan | LMP3 | 1:53.730 |
| 3 | Oregon Team | 10 | Norma M 30 – Nissan | LMP3 | 1:53.744 |
| 4 | Eurointernational | 11 | Ligier JS P3 – Nissan | LMP3 | 1:53.781 |
| 5 | 360 Racing | 6 | Ligier JS P3 – Nissan | LMP3 | 1:53.847 |
| 6 | Nielsen Racing | 7 | Norma M 30 – Nissan | LMP3 | 1:54.103 |
| 7 | Realteam Racing | 9 | Norma M 30 – Nissan | LMP3 | 1:54.372 |
| 8 | United Autosports | 2 | Ligier JS P3 – Nissan | LMP3 | 1:54.605 |
| 9 | United Autosports | 3 | Ligier JS P3 – Nissan | LMP3 | 1:54.615 |
| 10 | RLR MSport | 15 | Ligier JS P3 – Nissan | LMP3 | 1:54.968 |
| 11 | Nielsen Racing | 8 | Ligier JS P3 – Nissan | LMP3 | 1:55.062 |
| 12 | Inter Europol Competition | 14 | Ligier JS P3 – Nissan | LMP3 | 1:55.483 |
| 13 | 360 Racing | 5 | Ligier JS P3 – Nissan | LMP3 | 1:55.649 |
| 14 | Inter Europol Competition | 13 | Ligier JS P3 – Nissan | LMP3 | 1:55.772 |
| Pos | Team | No. | Car | Class | Time |
| --- | --- | --- | --- | --- | --- |
| 1 | Proton Competition | 88 | Porsche 911 RSR | LMGTE | 1:55.322 |
| 2 | Kessel Racing | 60 | Ferrari F488 GTE EVO | LMGTE | 1:56.178 |
| 3 | Spirit of Race | 55 | Ferrari F488 GTE EVO | LMGTE | 1:56.335 |
| 4 | Dempsey – Proton Racing | 77 | Porsche 911 RSR | LMGTE | 1:56.619 |
| 5 | Luzich Racing | 51 | Ferrari F488 GTE EVO | LMGTE | 1:56.783 |
| 6 | Kessel Racing | 83 | Ferrari F488 GTE EVO | LMGTE | 1:57.137 |
| 7 | JMW Motorsport | 66 | Ferrari F488 GTE EVO | LMGTE | 1:57.204 |