Leclerc leads Ferrari 1-2 as Hamilton crashes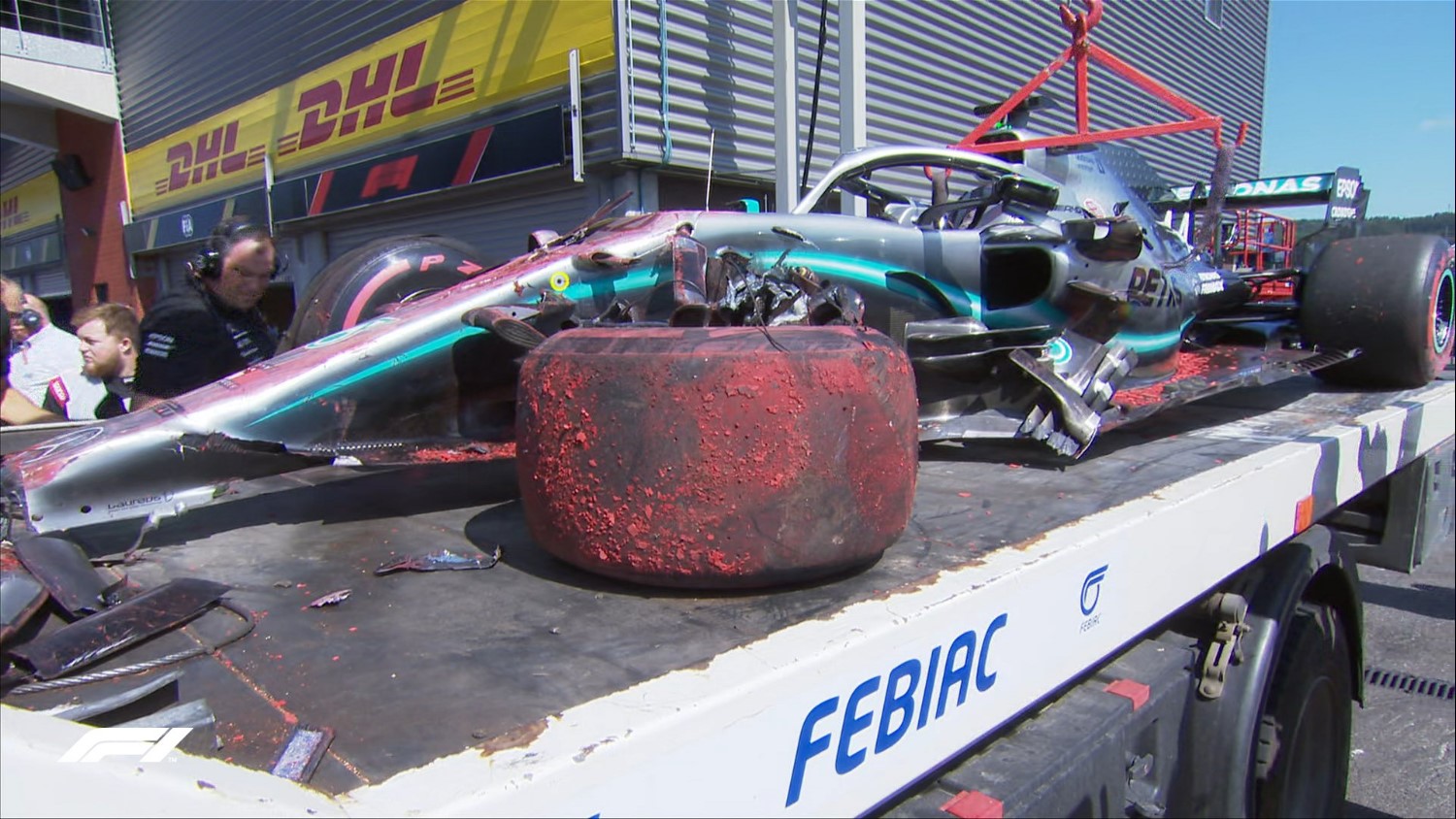 Hamilton's wrecked car comes back on the flatbed
Charles Leclerc again led a Ferrari 1-2 in final practice for the Belgium GP at Spa Saturday morning. Leclerc's lap of 1m44.206s was 4/10ths up on his teammate Sebastian Vettel who locked a wheel on his fast lap..
Valtteri Bottas almost matched Vettel's time in the sandbagging Mercedes to get 3rd while Daniel Ricciardo carried the Renault to 4th quick and Max Verstappen rounded out the top-5 for Red Bull but 1.1 secs back with Verstappen still complaining about the set up of his RB15.
Meanwhile Lewis Hamilton tried to match his Mercedes teammate's time but ran out of talent in Turn 12 and stuffed his #44 into the tire barrier. The team is scrambling to get a car ready for him in time for qualifying.
There is no word from Mercedes yet as to the level of damage sustained by Hamilton's car in that crash, with the team bustling around in the garage. They will be skipping lunch as they try to get the reigning world champion out in time for qualifying in a couple of hours' time.
It is a bit of a shame that Renault have grid penalties here, as that car is looking quicker over one lap than it has of late and the idea of Ricciardo slugging it out towards the front of the field is one everyone would have loved to see.
Alexander Albon has to start at the back of the grid so he focused solely on race setups.
Practice 3 Results
| | | | | | | |
| --- | --- | --- | --- | --- | --- | --- |
| POS | NO | DRIVER | CAR | TIME | GAP | LAPS |
| 1 | 16 | Charles Leclerc | Ferrari | 1:44.206 | +0.000s | 9 |
| 2 | 5 | Sebastian Vettel | Ferrari | 1:44.657 | +0.451s | 12 |
| 3 | 77 | Valtteri Bottas | Mercedes | 1:44.703 | +0.497s | 11 |
| 4 | 3 | Daniel Ricciardo | Renault | 1:44.974 | +0.768s | 10 |
| 5 | 33 | Max Verstappen | Red Bull Racing Honda | 1:45.312 | +1.106s | 11 |
| 6 | 11 | Sergio Perez | Racing Point Bwt Mercedes | 1:45.521 | +1.315s | 12 |
| 7 | 44 | Lewis Hamilton | Mercedes | 1:45.566 | +1.360s | 4 |
| 8 | 7 | Kimi Raikkonen | Alfa Romeo Racing Ferrari | 1:45.659 | +1.453s | 13 |
| 9 | 99 | Antonio Giovinazzi | Alfa Romeo Racing Ferrari | 1:45.688 | +1.482s | 13 |
| 10 | 10 | Pierre Gasly | Scuderia Toro Rosso Honda | 1:45.752 | +1.546s | 15 |
| 11 | 8 | Romain Grosjean | Haas Ferrari | 1:45.806 | +1.600s | 15 |
| 12 | 27 | Nico Hulkenberg | Renault | 1:45.855 | +1.649s | 11 |
| 13 | 20 | Kevin Magnussen | Haas Ferrari | 1:46.004 | +1.798s | 15 |
| 14 | 55 | Carlos Sainz Jr. | McLaren Renault | 1:46.017 | +1.811s | 14 |
| 15 | 4 | Lando Norris | McLaren Renault | 1:46.270 | +2.064s | 13 |
| 16 | 18 | Lance Stroll | Racing Point Bwt Mercedes | 1:46.379 | +2.173s | 11 |
| 17 | 26 | Daniil Kvyat | Scuderia Toro Rosso Honda | 1:46.642 | +2.436s | 13 |
| 18 | 63 | George Russell | Williams Mercedes | 1:47.858 | +3.652s | 14 |
| 19 | 88 | Robert Kubica | Williams Mercedes | 1:48.350 | +4.144s | 14 |
| 20 | 23 | Alexander Albon | Red Bull Racing Honda | 1:50.681 | +6.475s | 14 |