Toyota locks out top spots in Silverstone WEC second practice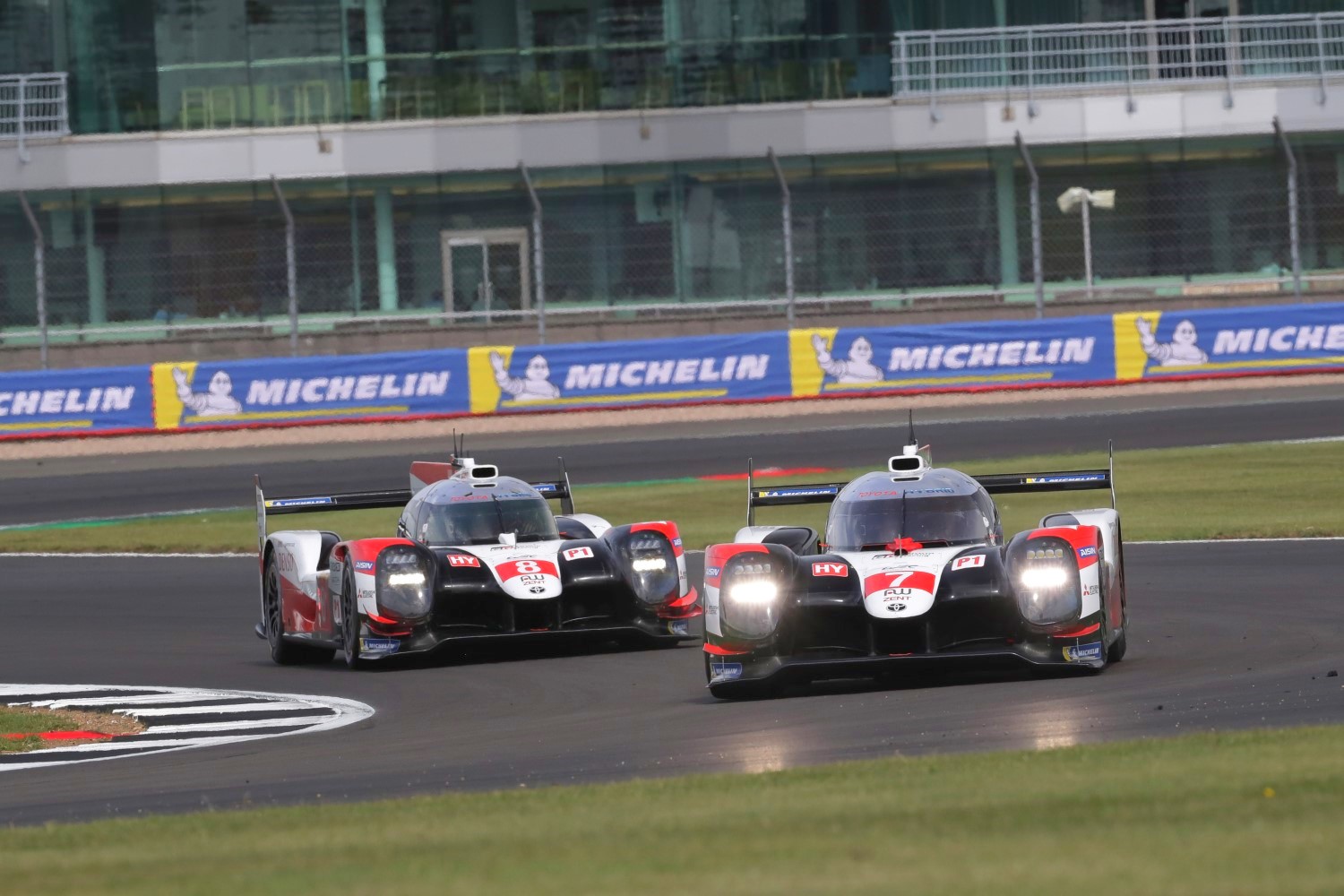 Toyotas 1-2….again
Defending champions TOYOTA GAZOO Racing got the new 2019-2020 FIA World Endurance Championship (WEC) season underway with the first practice sessions for the 4 Hours of Silverstone today.
The fastest non-hybrid, the #1 Rebellion, was 1.029secs away from Kamui's lap as all competitors adjusted to a revised Equivalence of Technology, which sees the TS050 HYBRID now carrying at least 99kg of additional weight compared to its competitors, who also benefit from at least 50% more fuel per lap.
Earlier in the day, Rebellion #1 had set the pace in the first session, indicating that the fight for pole position and race victory could be an exciting one to begin the final season of TOYOTA GAZOO Racing's double Le Mans-winning TS050 HYBRID.
To prepare for Sunday's race, the team worked on fine-tuning the high-downforce-specification TS050 HYBRID to the specific demands of the 5.901km Silverstone circuit, famed for its flowing high-speed corners.
Mike Conway (TS050 HYBRID #7): "It's good to be back on track, especially here at Silverstone in front of the British fans. They've done a nice job with resurfacing the track; it's nice and smooth with lots of grip. So it feels good to be out there. There's been some close competition and I expect qualifying will be interesting; I'm looking forward to that and I hope the fans enjoy the show."
Kamui Kobayashi (TS050 HYBRID #7): "We worked on optimizing the car today and tried to develop our set-up. The car feels okay but it's always our target to find improvements and prepare ourselves as well as possible. The balance has been getting better throughout the day and I'm quite happy about the pace. Let's see what we can do in qualifying."
Jose María L¢pez (TS050 HYBRID #7): "It went well today. It was nice to be back in the car and in a competitive environment again. We can definitely see the competition is much closer and able to create a nice fight. We expected that so we have to work hard to maximize our car and be ready for the race. We haven't had a lot of testing with the updated car so there are a few things to adjust to, particularly the aero updates."
Sébastien Buemi (TS050 HYBRID #8): "It was a good day on the new track surface, which has a lot of grip. It's nice to be back at Silverstone and we completed a lot of laps. It's the last time we will drive the TS050 HYBRID at this track so I'm trying to enjoy it as much as possible. There's certainly some strong competition this weekend but we are pushing to fight at the front and start the season in the right way."
Kazuki Nakajima (TS050 HYBRID #8): "It was helpful to have stable track conditions thanks to the nice weather and this helped us to have a positive day. The car is behaving nicely and I'm pleased with how we have progressed. Our long run pace looks good but we need to look into the data to get the full picture. Overall I'm happy with the first day of the season."
Brendon Hartley (TS050 HYBRID #8): "It was a very smooth day of normal Friday running for us. We had a pretty long list of items to test and we got through that without any major issues. I'm feeling pretty comfortable behind the wheel; there are still a few small things to get used to but I am adjusting well to the TS050 HYBRID and it's exciting to be here for my first race with the team."
Practice 2 Result
| | | | | | |
| --- | --- | --- | --- | --- | --- |
| POS | CL | DRIVER | CAR | GAP | LAPS |
| 1 | LMP1 | M. Conway, K.Kobayashi, J.M.Lopez | Toyota | 1m36.847s | 31 |
| 2 | LMP1 | S.Buemi, K.Nakajima, B.Hartley | Toyota | 0.826s | 43 |
| 3 | LMP1 | B.Senna, G.Menezes, N.Nato | Rebellion/Gibson | 1.029s | 38 |
| 4 | LMP1 | N.Berthon, P.Derani, L.Duval | Rebellion/Gibson | 1.840s | 40 |
| 5 | LMP1 | C.Robertson, B.Hanley, E.Orudzhev | Ginetta/AER | 2.753s | 17 |
| 6 | LMP1 | M.Simpson, O.Jarvis, G.Smith | Ginetta/AER | 3.047s | 39 |
| 7 | LMP2 | P.Hanson, F.Albuquerque, P.Di Resta | ORECA/Gibson | 6.212s | 30 |
| 8 | LMP2 | M.Patterson, K.Yamashita, A.Fjordbach | ORECA/Gibson | 6.233s | 30 |
| 9 | LMP2 | F.van Eerd, G.van der Garde, J.van Uitert | ORECA/Gibson | 6.387s | 44 |
| 10 | LMP2 | N.Lapierre, A.Borga, A.Coigny | ORECA/Gibson | 6.502s | 38 |
| 11 | LMP2 | T.Laurent, A.Negrao, P.Ragues | Alpine/Gibson | 6.945s | 27 |
| 12 | LMP2 | R.Gonzalez, A.Davidson, A.F.da Costa | ORECA/Gibson | 7.603s | 42 |
| 13 | LMP2 | H-Pin Tung, G.Aubry, W.Stevens | ORECA/Gibson | 7.987s | 37 |
| 14 | LMP2 | R.Lacorte, A.Belicchi, G.Sernagiotto | Dallara/Gibson | 8.031s | 41 |
| 15 | GTE Pro | J.Calado, A.P.Guidi | Ferrari | 18.654s | 43 |
| 16 | GTE Pro | G.Bruni, R.Lietz | Porsche | 18.818s | 40 |
| 17 | GTE Pro | D.Rigon, M.Molina | Ferrari | 19.060s | 36 |
| 18 | GTE Pro | M.Christensen, K.Estre | Porsche | 19.089s | 43 |
| 19 | GTE Pro | M.Sorensen, N.Thiim | Aston Martin | 19.129s | 42 |
| 20 | GTE Pro | A.Lynn, M.Martin | Aston Martin | 19.359s | 34 |
| 21 | GTE Am | P.D.Lana, D.Turner, R.Gunn | Aston Martin | 19.616s | 41 |
| 22 | GTE Am | S.Yoluc, C.Eastwood, J.Adam | Aston Martin | 19.712s | 44 |
| 23 | GTE Am | F.Perrodo, E.Collard, N.Nielsen | Ferrari | 19.744s | 32 |
| 24 | GTE Am | E.Perfetti, D.Kolkmann, M.Cairoli | Porsche | 20.213s | 37 |
| 25 | GTE Am | M.Ishikawa, O.Beretta, K.Cozzolino | Ferrari | 20.229s | 35 |
| 26 | GTE Am | B.Grimes, J.Mowlem, C.Hollings | Ferrari | 20.710s | 37 |
| 27 | GTE Am | M.Wainwright, A.Watson, B.Barker | Porsche | 20.830s | 37 |
| 28 | GTE Am | B.Keating, F.Fraga, J.Bleekemolen | Porsche | 20.882s | 36 |
| 29 | GTE Am | T.Flohr, F.Castellacci, G.Fisichella | Ferrari | 20.917s | 37 |
| 30 | GTE Am | T.Preining, G.Giraudi, R.Sanchez | Porsche | 21.103s | 36 |
| 31 | GTE Am | C.Ried, M.Campbell, R.Pera | Porsche | 21.182s | 26 |