Bourdais leads practice 2 in Portland, then crashes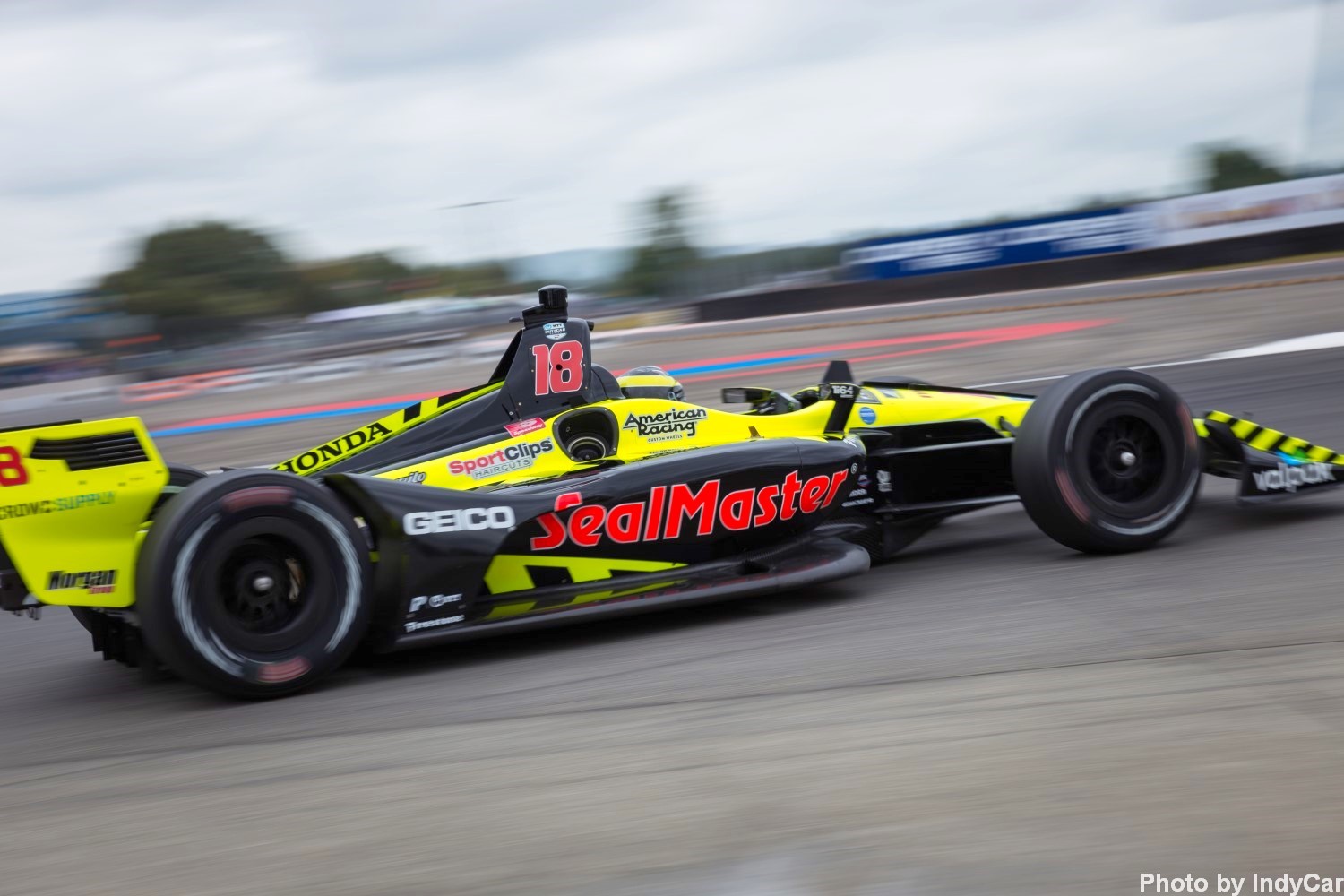 Sebastien Bourdais before he crashed
Sebastien Bourdais posted the fast time with about two minutes remaining in practice 2 for the Grand Prix of Portland, then promptly stuffed it into the tire barrier. The resulting red flag ended the session giving the driver of the No. 18 Dale Coyne Racing Honda the fastest time.
Will Power was the fast Chevrolet two-hundredths of a second behind Bourdias. Rookies Felix Rosenqvist and first practice leader Colton Herta were third and fourth respectively. Championship leader Josef Newgarden rounded out the top-five.
Sample Quotes
Alexander Rossi, No. 27 NAPA AUTO PARTS HONDA
Finished the day second overall with a best lap time of 0:57.5538
"We didn't get a lap in on Reds, so I think our theoretical is being third quick. Overall, I'm super happy with the NAPA car. We'll have to figure some things out overnight but overall I think the general pace is there and we just need to fine tune it."
Marco Andretti No. 98 OBERTO CIRCLE K / CURB HONDA
Finished the day fifth overall with a best lap time of 0:57.9006
"Practice 1 was alright – it's always unclear with overtake. For Practice 2, I think we misread where the Reds were going to go so, we didn't really wring it out. We ran the Warm Up on old tires, so we weren't really anywhere. I think there's more to come from the Oberto Circle K car."
Zach Veach No. 26 GAINBRIDGE HONDA
Finished the day ninth overall with a best lap time of 0:57.9619
Finished the Warm Up second on the timing charts
"Today went really good. I'm really happy with today. We were P7 this morning, and then P14 in the second session – but we never got a clean run on our reds, so I feel like that explains it. In the final Warm Up today, we were P2 and I feel that is the pace we have with the Gainbridge car. I'm excited to see what we can do tomorrow. We got our first [Firestone] Fast Six here last year and I think we have a car that is capable of that again. We just need a few more details in our recipe.
Ryan Hunter-Reay No. 28 DHL HONDA
Finished the day 11th overall with a best lap time of 0:58.1618
Recorded the fastest time of the day's Warm Up session
"It was a busy day. We are trying to work through a few issues we've had throughout the day. In the end, I think we found the issue, but it made it so that we couldn't run the Reds in Practice 2. We had to run our Reds in Warm Up, which is actually an extension of Practice 2, I guess. Overall a bit of a muddied mess, but we figured out some things and hopefully tomorrow is a smoother day."
PRACTICE 2 RESULTS
| | | | | | | | | |
| --- | --- | --- | --- | --- | --- | --- | --- | --- |
| Pos | No | Name | Time | Diff | Gap | Speed | Engine | Team |
| 1 | 18 | Sebastien Bourdais | 57.921 | –.—- | –.—- | 122.069 | Honda | Dale Coyne Racing w/Vasser-Sullivan |
| 2 | 12 | Will Power | 57.950 | 0.0289 | 0.0289 | 122.008 | Chevy | Team Penske |
| 3 | 10 | Felix Rosenqvist | 58.060 | 0.1389 | 0.1100 | 121.777 | Honda | Chip Ganassi Racing Teams |
| 4 | 88 | Colton Herta | 58.085 | 0.1635 | 0.0246 | 121.725 | Honda | Harding Steinbrenner Racing |
| 5 | 2 | Josef Newgarden | 58.097 | 0.1756 | 0.0121 | 121.700 | Chevy | Team Penske |
| 6 | 27 | Alexander Rossi | 58.210 | 0.2889 | 0.1133 | 121.463 | Honda | Andretti Autosport |
| 7 | 22 | Simon Pagenaud | 58.221 | 0.2994 | 0.0105 | 121.441 | Chevy | Team Penske |
| 8 | 60 | Jack Harvey | 58.249 | 0.3276 | 0.0282 | 121.383 | Honda | Meyer Shank Racing with Arrow SPM |
| 9 | 5 | James Hinchcliffe | 58.279 | 0.3578 | 0.0302 | 121.320 | Honda | Arrow Schmidt Peterson Motorsports |
| 10 | 30 | Takuma Sato | 58.286 | 0.3643 | 0.0065 | 121.306 | Honda | Rahal Letterman Lanigan Racing |
| 11 | 9 | Scott Dixon | 58.308 | 0.3863 | 0.0220 | 121.260 | Honda | Chip Ganassi Racing Teams |
| 12 | 19 | Santino Ferrucci | 58.337 | 0.4159 | 0.0296 | 121.199 | Honda | Dale Coyne Racing |
| 13 | 98 | Marco Andretti | 58.362 | 0.4410 | 0.0251 | 121.147 | Honda | Andretti Herta w/Marco & Curb-Agaj |
| 14 | 26 | Zach Veach | 58.444 | 0.5225 | 0.0815 | 120.978 | Honda | Andretti Autosport |
| 15 | 21 | Spencer Pigot | 58.461 | 0.5398 | 0.0173 | 120.942 | Chevy | Ed Carpenter Racing |
| 16 | 4 | Matheus Leist | 58.466 | 0.5449 | 0.0051 | 120.931 | Chevy | AJ Foyt Enterprises |
| 17 | 28 | Ryan Hunter-Reay | 58.524 | 0.6029 | 0.0580 | 120.812 | Honda | Andretti Autosport |
| 18 | 15 | Graham Rahal | 58.606 | 0.6845 | 0.0816 | 120.643 | Honda | Rahal Letterman Lanigan Racing |
| 19 | 20 | Ed Jones | 58.618 | 0.6967 | 0.0122 | 120.618 | Chevy | Ed Carpenter Racing |
| 20 | 59 | Max Chilton | 58.638 | 0.7169 | 0.0202 | 120.577 | Chevy | Carlin |
| 21 | 7 | Conor Daly | 58.711 | 0.7898 | 0.0729 | 120.427 | Honda | Arrow Schmidt Peterson Motorsports |
| 22 | 23 | Charlie Kimball | 58.829 | 0.9078 | 0.1180 | 120.185 | Chevy | Carlin |
| 23 | 14 | Tony Kanaan | 58.840 | 0.9185 | 0.0107 | 120.164 | Chevy | AJ Foyt Enterprises |
Combined Results
| | | | | | | | |
| --- | --- | --- | --- | --- | --- | --- | --- |
| Rank | Car | Driver Name | Engine | Session | Time | Speed | Laps |
| 1 | 88 | Herta, Colton (R) | Honda | Practice 1 | 00:57.4293 | 123.115 | 32 |
| 2 | 27 | Rossi, Alexander | Honda | Practice 1 | 00:57.5538 | 122.849 | 28 |
| 3 | 9 | Dixon, Scott | Honda | Practice 1 | 00:57.7922 | 122.342 | 32 |
| 4 | 2 | Newgarden, Josef | Chevy | Practice 1 | 00:57.8504 | 122.219 | 34 |
| 5 | 98 | Andretti, Marco | Honda | Practice 1 | 00:57.9006 | 122.113 | 30 |
| 6 | 18 | Bourdais, Sebastien | Honda | Practice 2 | 00:57.9213 | 122.069 | 29 |
| 7 | 5 | Hinchcliffe, James | Honda | Practice 1 | 00:57.9479 | 122.013 | 31 |
| 8 | 12 | Power, Will | Chevy | Practice 2 | 00:57.9502 | 122.008 | 36 |
| 9 | 26 | Veach, Zach | Honda | Practice 1 | 00:57.9619 | 121.984 | 36 |
| 10 | 10 | Rosenqvist, Felix (R) | Honda | Practice 1 | 00:58.0262 | 121.848 | 47 |
| 11 | 28 | Hunter-Reay, Ryan | Honda | Practice 1 | 00:58.1618 | 121.564 | 30 |
| 12 | 30 | Sato, Takuma | Honda | Practice 1 | 00:58.1906 | 121.504 | 34 |
| 13 | 22 | Pagenaud, Simon | Chevy | Practice 2 | 00:58.2207 | 121.441 | 30 |
| 14 | 60 | Harvey, Jack | Honda | Practice 2 | 00:58.2489 | 121.383 | 42 |
| 15 | 19 | Ferrucci, Santino (R) | Honda | Practice 2 | 00:58.3372 | 121.199 | 33 |
| 16 | 4 | Leist, Matheus | Chevy | Practice 1 | 00:58.3381 | 121.197 | 40 |
| 17 | 59 | Chilton, Max | Chevy | Practice 1 | 00:58.3436 | 121.186 | 32 |
| 18 | 21 | Pigot, Spencer | Chevy | Practice 2 | 00:58.4611 | 120.942 | 32 |
| 19 | 15 | Rahal, Graham | Honda | Practice 1 | 00:58.4616 | 120.941 | 36 |
| 20 | 20 | Jones, Ed | Chevy | Practice 1 | 00:58.5005 | 120.861 | 26 |
| 21 | 14 | Kanaan, Tony | Chevy | Practice 1 | 00:58.6592 | 120.534 | 26 |
| 22 | 7 | Daly, Conor | Honda | Practice 2 | 00:58.7111 | 120.427 | 37 |
| 23 | 23 | Kimball, Charlie | Chevy | Practice 2 | 00:58.8291 | 120.185 | 38 |