Vettel leads Ferrari 1-2 in opening Spa practice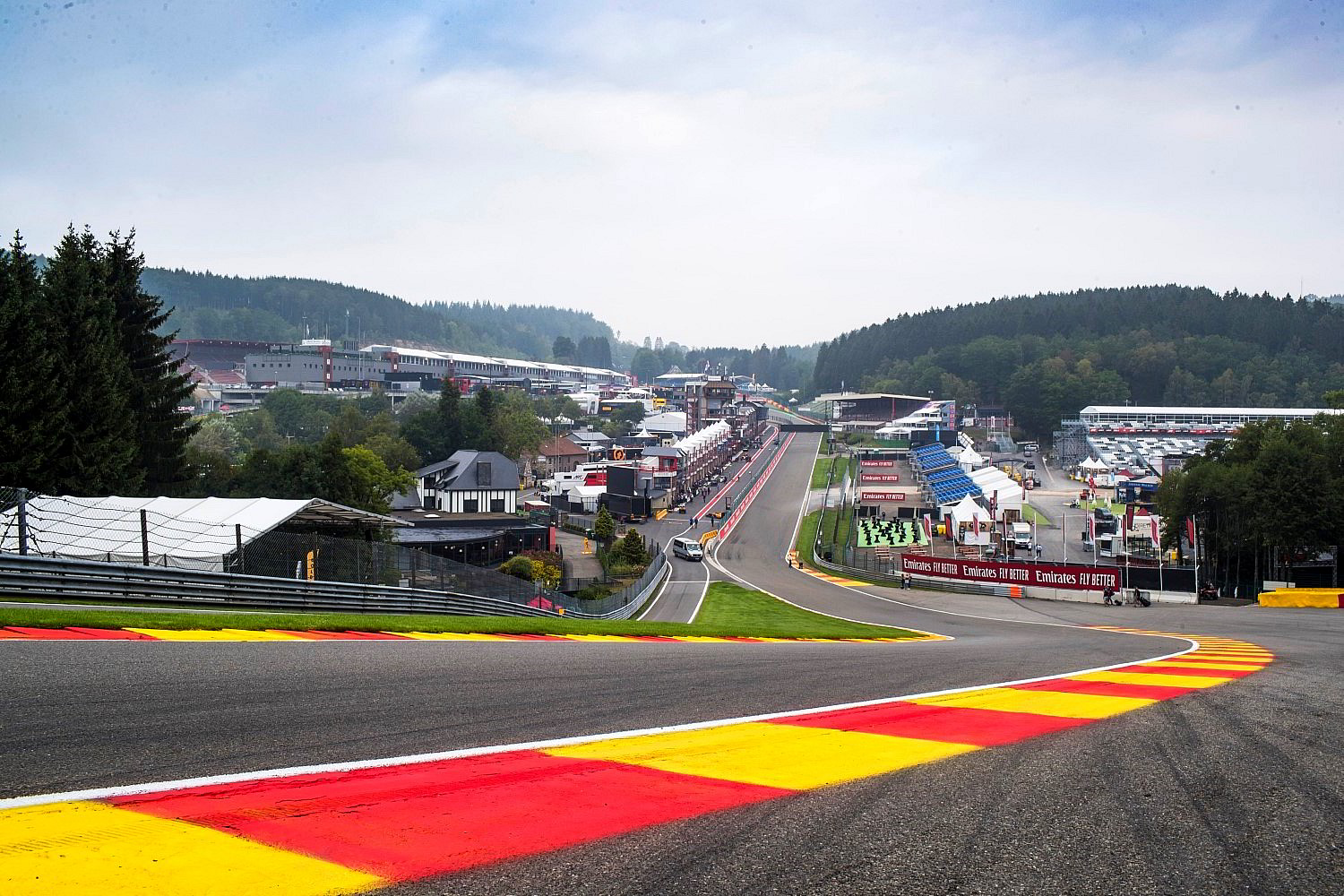 Spa Friday morning
While Mercedes ran on harder tires and Lewis Hamilton suffered Power Unit problems, the Ferraris of Sebastian Vettel and Charles Leclerc led a Ferrari 1-2 in opening practice for the Belgium GP at Spa.
Vettel's lap of 1m44.574s topped the best Leclerc could do by 0.214s.
Red Bull's Max Verstappen was 3rd quick almost a second back with his new teammate Alexander Albon 1/10th slower.
The sandbagging Mercedes' of Valtteri Bottas and Lewis Hamilton were 5th and 6th, both 1.3 sec. back.
A bizarre incident for Racing Point's Lance Stroll early on saw the right-hand part of the Canadian's engine cover blow off at the end of the Kemmel straight, leading to a brief Virtual Safety Car appearance. When the action got back underway, however, Stroll went on to finish a strong P7 for Racing Point, 1.624s off the lead pace.
Daniel Ricciardo was eighth for Renault, ahead of Stroll's Racing Point team mate Sergio Perez, with McLaren's Carlos Sainz rounding out the top 10.
Practice 1 Results
| | | | | | | |
| --- | --- | --- | --- | --- | --- | --- |
| POS | NO | DRIVER | CAR | TIME | GAP | LAPS |
| 1 | 5 | Sebastian Vettel | Ferrari | 1:44.574 | +0.000s | 20 |
| 2 | 16 | Charles Leclerc | Ferrari | 1:44.788 | +0.214s | 20 |
| 3 | 33 | Max Verstappen | Red Bull Racing Honda | 1:45.507 | +0.933s | 18 |
| 4 | 23 | Alexander Albon | Red Bull Racing Honda | 1:45.584 | +1.010s | 19 |
| 5 | 77 | Valtteri Bottas | Mercedes | 1:45.882 | +1.308s | 25 |
| 6 | 44 | Lewis Hamilton | Mercedes | 1:45.973 | +1.399s | 16 |
| 7 | 18 | Lance Stroll | Racing Point Bwt Mercedes | 1:46.198 | +1.624s | 16 |
| 8 | 3 | Daniel Ricciardo | Renault | 1:46.426 | +1.852s | 23 |
| 9 | 11 | Sergio Perez | Racing Point Bwt Mercedes | 1:46.433 | +1.859s | 22 |
| 10 | 55 | Carlos Sainz Jr. | McLaren Renault | 1:46.557 | +1.983s | 20 |
| 11 | 27 | Nico Hulkenberg | Renault | 1:46.669 | +2.095s | 23 |
| 12 | 4 | Lando Norris | Mclaren Renault | 1:46.670 | +2.096s | 19 |
| 13 | 7 | Kimi Raikkonen | Alfa Romeo Racing Ferrari | 1:47.024 | +2.450s | 20 |
| 14 | 8 | Romain Grosjean | Haas Ferrari | 1:47.176 | +2.602s | 18 |
| 15 | 99 | Antonio Giovinazzi | Alfa Romeo Racing Ferrari | 1:47.333 | +2.759s | 22 |
| 16 | 20 | Kevin Magnussen | Haas Ferrari | 1:47.488 | +2.914s | 21 |
| 17 | 26 | Daniil Kvyat | Scuderia Toro Rosso Honda | 1:47.636 | +3.062s | 20 |
| 18 | 10 | Pierre Gasly | Scuderia Toro Rosso Honda | 1:47.968 | +3.394s | 26 |
| 19 | 40 | Nicholas Latifi | Williams Mercedes | 1:48.784 | +4.210s | 24 |
| 20 | 88 | Robert Kubica | Williams Mercedes | 1:48.966 | +4.392s | 24 |