F3: Hughes fastest in Spa Free Practice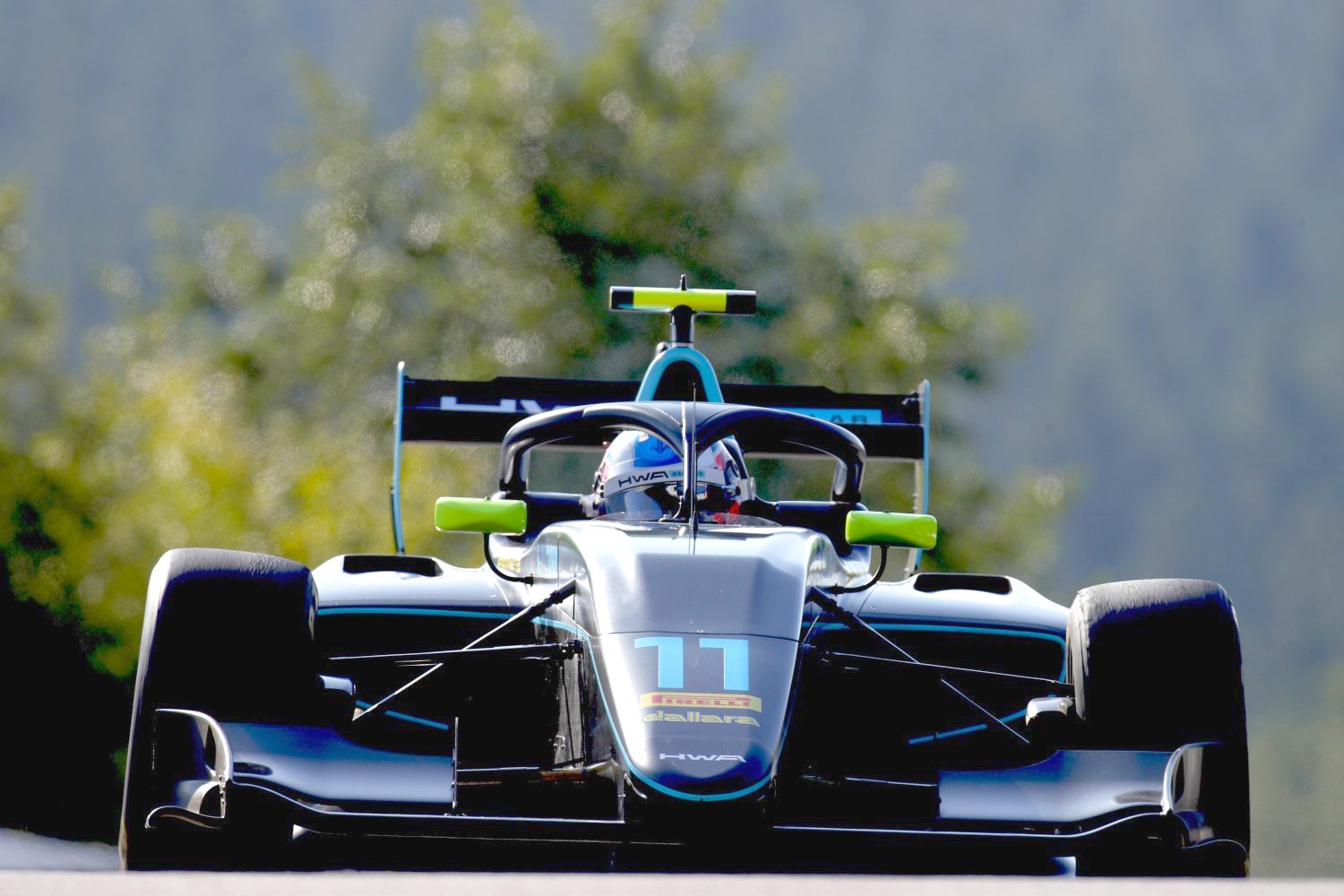 Jake Hughes
Jake Hughes showed no signs of a summer break hangover, carrying on his good form from Round 5 and topping today's Free Practice in Spa-Francorchamps. The HWA RACELAB man was electric on his penultimate tour of the Belgian circuit to finish ahead of Trident's Niko Kari and Campos Racing's Alex Peroni in a new look top 10.
Around half of the grid set out onto the track when the session got underway and it was Lirim Zendeli who put in the first lap, before Devlin DeFrancesco set the standard at 2:11.153. Giorgio Carrara – in just his third FIA Formula 3 outing – then took the time to under 2m 10s, as the rest of the field began to filter out onto the track.
From then on, Pedro Piquet began to dominate the session, initially taking the lead on his first flying lap, before beating his own time to secure first at the halfway point. The order beneath him remained in a constant state of evolution – Logan Sargeant, Ye Yifei and Leonardo Pulcini were amongst the drivers to prop up the Brazilian and sit in second place.
Round 5's top performers, ART Grand Prix, began to get their bearings in the second half of Free Practice and Christian Lundgaard leapt to first, followed closely by teammate David Beckmann.
With less than 15 minutes to go, the teams dived in the pits for a freshen-up. Most returned with seven minutes on the clock, but Lundgaard's departure from the pits was stalled as he required a new steering wheel.
Upon the Dane's return, Fabio Scherer had climbed a mammoth 27 places to steal his place at the top of the standings with a laptime of 2:06.912. This was short lived as Liam Lawson, Yifei and Peroni all took turns in first place.
Looking to make a statement, Hughes set a purple Sector 2 and sailed around the track with less than five minutes on the clock in search of P1. The Brit fought off traffic on a crowded track to set the quickest time of the morning.
With time left for just one more lap, no one was able to topple the HWA RACELAB driver's time of 2:05.929, as Kari and Peroni settled for places in the top three. Yifei, Richard Verschoor and Lawson completed the top five, followed by Bent Viscaal, Scherer, Raoul Hyman and Andreas Estner.
Action will resume for Qualifying at 5.50pm local time and the new look top ten will hope to carry their positive starts into the all-important race for pole.
Practice Results
| | | | | |
| --- | --- | --- | --- | --- |
| POS | DRIVER | TEAM | TIME | LAPS |
| 1 | Jake Hughes | HWA RACELAB | 2:05.929 | 13 |
| 2 | Niko Kari | Trident | 2:06.462 | 15 |
| 3 | Alex Peroni | Campos Racing | 2:06.479 | 15 |
| 4 | Ye Yifei | Hitech Grand Prix | 2:06.512 | 16 |
| 5 | Richard Verschoor | MP Motorsport | 2:06.544 | 17 |
| 6 | Liam Lawson | MP Motorsport | 2:06.629 | 15 |
| 7 | Bent Viscaal | HWA RACELAB | 2:06.895 | 14 |
| 8 | Fabio Scherer | Sauber Junior Team by Charouz | 2:06.912 | 17 |
| 9 | Raoul Hyman | Sauber Junior Team by Charouz | 2:06.915 | 15 |
| 10 | Andreas Estner | Jenzer Motorsport | 2:06.968 | 17 |
| 11 | Keyvan Andres | HWA RACELAB | 2:07.013 | 12 |
| 12 | Lirim Zendeli | Sauber Junior Team by Charouz | 2:07.023 | 16 |
| 13 | Simo Laaksonen | MP Motorsport | 2:07.033 | 16 |
| 14 | Giorgio Carrara | Jenzer Motorsport | 2:07.158 | 16 |
| 15 | Jehan Daruvala | PREMA Racing | 2:07.742 | 15 |
| 16 | Christian Lundgaard | ART Grand Prix | 2:07.797 | 12 |
| 17 | David Beckmann | ART Grand Prix | 2:07.897 | 14 |
| 18 | Pedro Piquet | Trident | 2:07.913 | 14 |
| 19 | Marcus Armstrong | PREMA Racing | 2:07.930 | 15 |
| 20 | Yuki Tsunoda | Jenzer Motorsport | 2:07.981 | 15 |
| 21 | Leonardo Pulcini | Hitech Grand Prix | 2:07.982 | 13 |
| 22 | Max Fewtrell | ART Grand Prix | 2:08.121 | 14 |
| 23 | Robert Shwartzman | PREMA Racing | 2:08.167 | 15 |
| 24 | Juri Vips | Hitech Grand Prix | 2:08.283 | 14 |
| 25 | Devlin DeFrancesco | Trident | 2:08.331 | 16 |
| 26 | Logan Sargeant | Carlin Buzz Racing | 2:08.826 | 13 |
| 27 | Felipe Drugovich | Carlin Buzz Racing | 2:08.857 | 14 |
| 28 | Teppei Natori | Carlin Buzz Racing | 2:08.913 | 13 |
| 29 | Sebastian Fernandez | Campos Racing | 2:10.457 | 14 |
| 30 | Alessio Deledda | Campos Racing | 2:10.734 | 14 |