FOX Sports Delivers Historic 65th NHRA U.S. Nationals Over Labor Day Weekend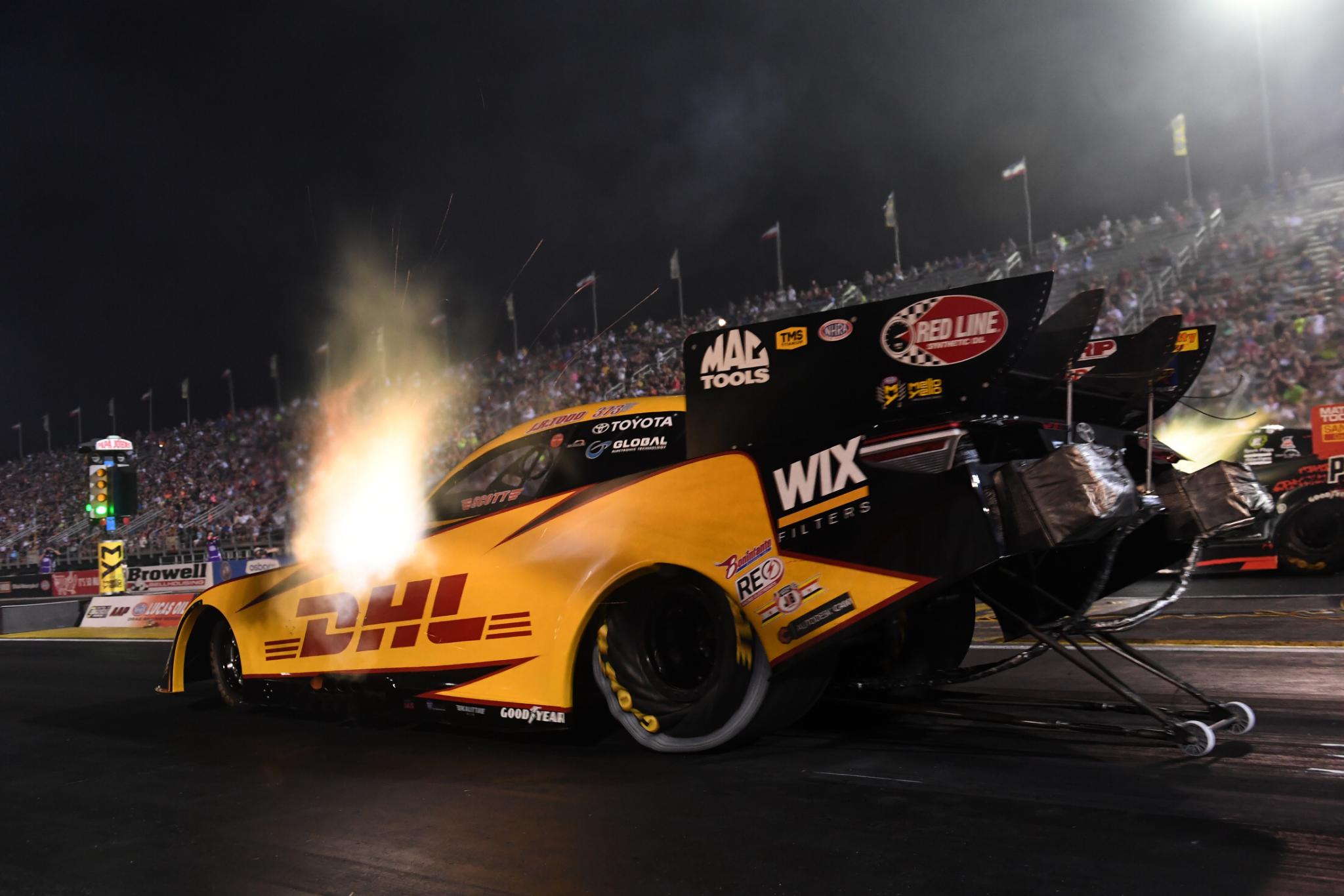 JR Todd at Indy last year
The 65th running of the prestigious Chevrolet Performance NHRA U.S. Nationals from Lucas Oil Raceway in Indianapolis airs Labor Day weekend, culminating Monday with five hours of live coverage on FOX, FS1 and the FOX Sports app.
"Knowing some of the most shocking, awesome, unexpected, tragic and triumphant moments in the sport's history have happened in the same place we'll be working from this weekend gives me chills," said FOX NHRA play-by-play voice Brian Lohnes, who is calling his first U.S. Nationals for the network. "It's a long race, with poetry often written into the competition each year."
Lohnes teams with two-time NHRA Funny Car champion Tony Pedregon in the booth, with reporting from two-time NHRA Competition Eliminator champion Bruno Massel, Jamie Howe and Amanda Busick. Lewis Bloom and John Kernan provide additional analysis for FS1's weekend coverage.
Eight-time NHRA champion and 10-time U.S. Nationals winner Tony Schumacher, the winningest NHRA Top Fuel driver in drag racing history with 83 victories, joins the FOX NHRA broadcast team on Monday.
Known in the racing community as the "Big Go," the U.S. Nationals is the final race in which drivers can qualify for the NHRA Countdown to the Championship, which begins Sept. 12-15 from Maple Grove Raceway in Reading, Pa., and the FOX NHRA production team has a full arsenal of equipment, including:
The Lucas Oil helicopter for overhead perspective
Enhanced SMT system – an advanced touchscreen telestrator with virtual ID capability and enhanced animation elements
Updated "interval graphics," which break down elapsed time at standard distance benchmarks along the track … displays which vehicle is in the lead at these distance markers, highlighting where each car may gain or lose ground during the race
So, who does Lohnes see taking home the "Wallys," event trophies named for NHRA founder Wally Parks, and etching their names in U.S. Nationals history?
"Boy howdy, this is a tough one," Lohnes said. "I like the way Erica Enders has trended in Pro Stock. She was matching Jason Line blow for blow at Brainerd and just didn't quite have enough in the Final. She's built for this type of stage mentally, so she is my Pro Stock pick.
"In Nitro Funny Car, I just can't lay my imaginary money on J.R. Todd this weekend, because of their recent performance. I feel as though the Indy conditions this year will favor Matt Hagan's team and Robert Hight's team. Look for some monster numbers there with Hight getting the job done.
"Lastly, in Top Fuel, the Torrence boys were both gone by the semi-finals in Brainerd, our last race. I think that they'll be racing with Texas-sized chips on their shoulders. The winner in Top Fuel will carry the Torrence name. Pick one."
FOX NHRA broadcast schedule for the 65th U.S. Nationals (all times ET; subject to change):
Sunday, Sept. 1 – Qualifying (2:00 PM to 4:00 PM, FS1)
Sunday, Sept. 1 – NHRA SUNDAY LIVE (4:00 PM to 6:00 PM, FS1)
Monday, Sept. 2 – Finals (11:00 AM to 1:00 PM, FS1)
Monday, Sept. 2 – Finals (1:00 PM to 4:00 PM, FOX)