Rookies Ferrucci and Ericsson 1-2 in opening practice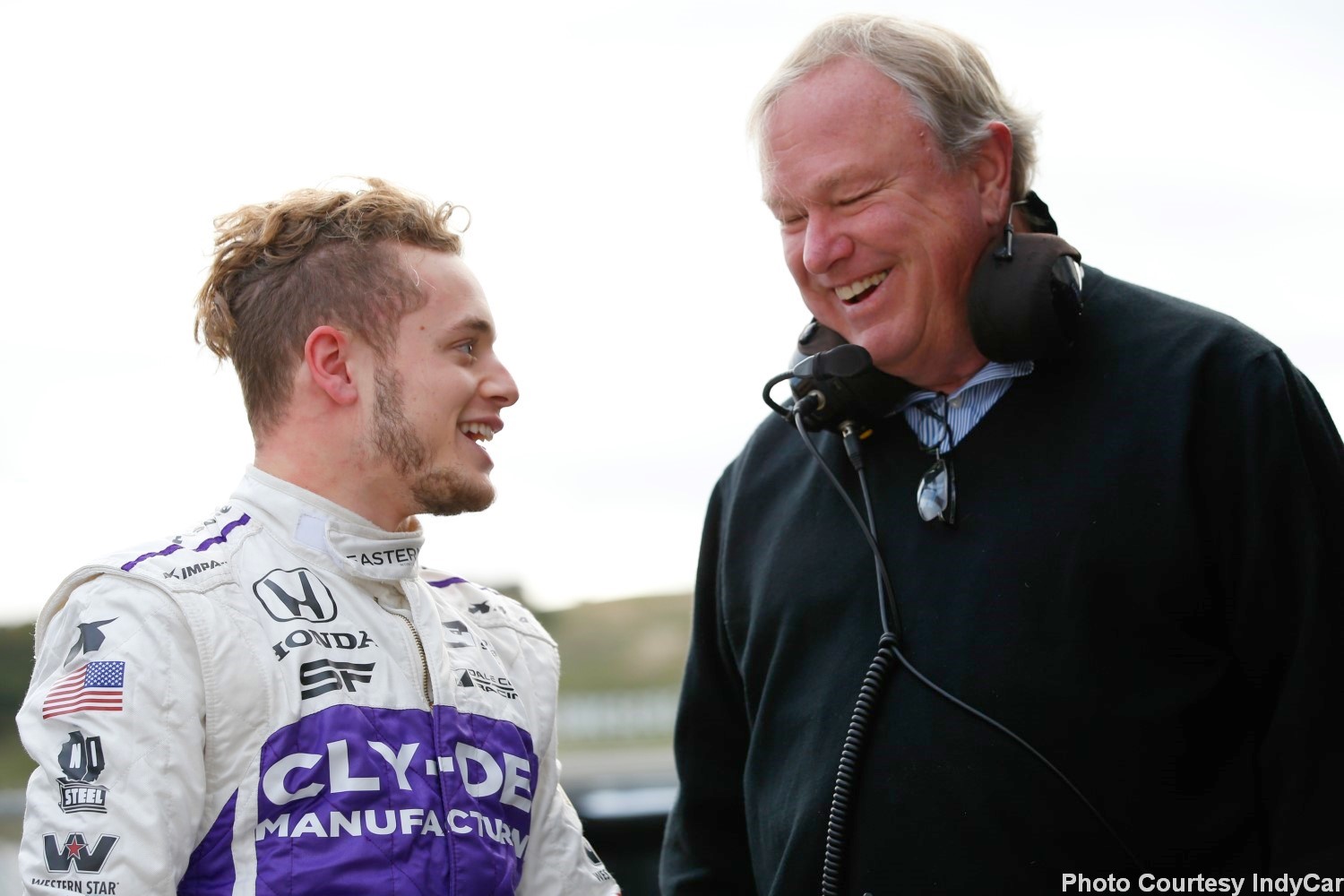 Santino Ferrucci and team owner Dale Coyne are happy with the results
IndyCar rookies Santino Ferrucci and Marcus Ericsson, both with road course backgrounds, put their Hondas on top in opening practice Bommarito Automotive Group 500 at Gateway.
Ferrucci in the Dale Coyne Racing Honda was quickest at 184.804mph while Ericsson was right behind at 184.527mph.
Ferrucci topped the speed chart in this practice session for this 248-lap race around the four-turn, 1.25-mile (2.012-kilometer) World Wide Technology Raceway at Gateway oval in Madison, Illinois by recording a top lap time of 24.3501 seconds in his #19 Honda.
The Ganassi Honda of Scott Dixon was third quick 1t 184.433mph while Josef Newgarden put his Penske Chevy 4th quick at 184.348mph.
Sebastien Bourdais was the last driver to crack the 184mph mark in 5th place.
Andretti Autosport's Alexander Rossi finished in sixth place in thed #27 Honda.
Five Honda drivers rounded out the top 12. Rahal Letterman Lanigan Racing's Takuma Sato, Andretti Autosport's Ryan Hunter-Reay, Harding Steinbrenner Racing rookie Colton Herta, Chip Ganassi Racing rookie Felix Rosenqvist and Andretti Autosport's Zach Veach finished in eighth, ninth, 10th, 11th and 12th place in their #30 Honda, #28 Honda, #88 Honda, #10 Honda and #26 Honda, respectively.
Carlin's Conor Daly was the fastest non-Team Penske Chevrolet driver of this practice session. He finished in 13th place in his #59 Chevrolet.
Next up in IndyCar qualifying at 6:00pm ET
Practice 1 Results
| | | | | | | | | | |
| --- | --- | --- | --- | --- | --- | --- | --- | --- | --- |
| Pos | No | Name | Time | Diff | Gap | Laps | Speed | Engine | Team |
| 1 | 19 | Santino Ferrucci | 24.350 | –.—- | –.—- | 59 | 184.804 | Honda | Dale Coyne Racing |
| 2 | 7 | Marcus Ericsson | 24.387 | 0.0366 | 0.0366 | 46 | 184.527 | Honda | Arrow Schmidt Peterson Motorsports |
| 3 | 9 | Scott Dixon | 24.399 | 0.0490 | 0.0124 | 41 | 184.433 | Honda | Chip Ganassi Racing Teams |
| 4 | 2 | Josef Newgarden | 24.410 | 0.0602 | 0.0112 | 36 | 184.348 | Chevy | Team Penske |
| 5 | 18 | Sebastien Bourdais | 24.428 | 0.0782 | 0.0180 | 46 | 184.213 | Honda | Dale Coyne Racing w/Vasser-Sullivan |
| 6 | 27 | Alexander Rossi | 24.502 | 0.1520 | 0.0738 | 42 | 183.658 | Honda | Andretti Autosport |
| 7 | 12 | Will Power | 24.509 | 0.1588 | 0.0068 | 53 | 183.607 | Chevy | Team Penske |
| 8 | 30 | Takuma Sato | 24.511 | 0.1606 | 0.0018 | 47 | 183.593 | Honda | Rahal Letterman Lanigan Racing |
| 9 | 28 | Ryan Hunter-Reay | 24.566 | 0.2163 | 0.0557 | 40 | 183.177 | Honda | Andretti Autosport |
| 10 | 88 | Colton Herta | 24.592 | 0.2421 | 0.0258 | 48 | 182.985 | Honda | Harding Steinbrenner Racing |
| 11 | 10 | Felix Rosenqvist | 24.611 | 0.2611 | 0.0190 | 62 | 182.844 | Honda | Chip Ganassi Racing Teams |
| 12 | 26 | Zach Veach | 24.621 | 0.2708 | 0.0097 | 55 | 182.772 | Honda | Andretti Autosport |
| 13 | 59 | Conor Daly | 24.621 | 0.2710 | 0.0002 | 42 | 182.770 | Chevy | Carlin |
| 14 | 22 | Simon Pagenaud | 24.679 | 0.3288 | 0.0578 | 50 | 182.342 | Chevy | Team Penske |
| 15 | 21 | Spencer Pigot | 24.690 | 0.3398 | 0.0110 | 39 | 182.261 | Chevy | Ed Carpenter Racing |
| 16 | 15 | Graham Rahal | 24.708 | 0.3576 | 0.0178 | 52 | 182.129 | Honda | Rahal Letterman Lanigan Racing |
| 17 | 14 | Tony Kanaan | 24.768 | 0.4178 | 0.0602 | 40 | 181.687 | Chevy | AJ Foyt Enterprises |
| 18 | 4 | Matheus Leist | 24.794 | 0.4436 | 0.0258 | 54 | 181.498 | Chevy | AJ Foyt Enterprises |
| 19 | 23 | Charlie Kimball | 24.832 | 0.4817 | 0.0381 | 43 | 181.219 | Chevy | Carlin |
| 20 | 20 | Ed Carpenter | 24.845 | 0.4946 | 0.0129 | 45 | 181.125 | Chevy | Ed Carpenter Racing |
| 21 | 98 | Marco Andretti | 24.914 | 0.5641 | 0.0695 | 52 | 180.620 | Honda | Andretti Herta w/Marco & Curb-Agaj |
| 22 | 5 | James Hinchcliffe | 24.983 | 0.6330 | 0.0689 | 50 | 180.122 | Honda | Arrow Schmidt Peterson Motorsports |