McLaughlin quickest as Andretti team out to lunch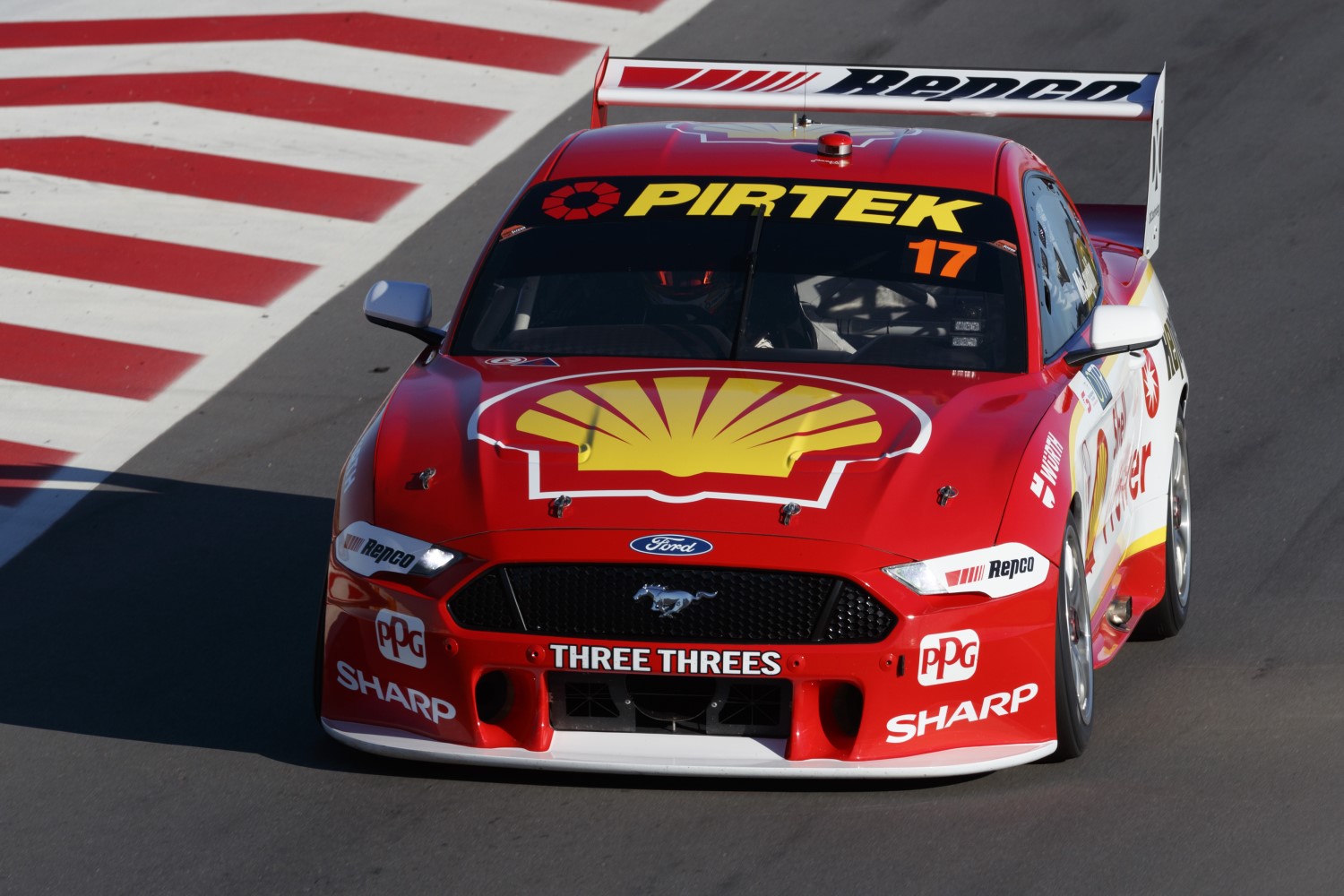 Scott McLaughlin untouchable in his Penske Mustang
Scott McLaughlin set a new practice lap record at The Bend as he ended Friday practice over half-a-second ahead of his nearest rival.
The other story of the day was wildcard Thomas Randle, who in his first ever Supercars session was quickest on track before showing it was no fluke, with a top ten finish in the final session of the day.
The defending Virgin Australia Supercars Champion went a second clear of the field 11 minutes into the half-hour and improved that once again, going well under Jamie Whincup's practice lap record of set during the circuit's inaugural Supercars event last year.
Late laps from Chaz Mostert and Cameron Waters put the Tickford Racing pair second and third.
McLaughlin's team-mate Fabian Coulthard was fourth, while Tickford's Lee Holdsworth completed a Mustang sweep of the top five.
"We rolled out with a really good car," said McLaughlin.
"Obviously it was a bogey round for us last year, so it was about getting out there and getting a balance straight away.
"So we tried a couple of things in Practice 1, got to a nice balance and just then it felt awesome so there's not much I can fault from it.
"I think last year we were so low on the drag, we had to drop the wing so much to try to keep up with the Holdens down the straight and stuff so it was just crazy loose.
"We have made it better as well with how we're running our setup and stuff… so yeah, stoked, stoked for everyone."
All seven Mustangs made the top 10, with Will Davison ninth and wildcard Randle 10th.
Joining them in getting a free pass through Q1 for Saturday's knockout ARMOR ALL Qualifying are Penrite Racing's David Reynolds, Nissan's Rick Kelly and youngster Anton De Pasquale.
Dunlop Super2 regular Randle was ecstatic with his effort, which followed topping the additional driver session, and a fourth in Practice 2.
"I'm speechless," he said. "It was in the back of our heads coming into the weekend, imagine if we could get straight into Q2.
"It doesn't feel real, it's just fantastic and to be sitting out of Q1 straight away is awesome."
It was a tough day for the Red Bull Holden Racing Team, with Shane van Gisbergen 16th and Whincup 25th after an off on his final lap.
The team struggled throughout the day on a circuit at which it dominated last year.
"The car is quite difficult to drive, just haven't quite refined it at this stage," said Whincup.
"We weren't going to get into the 10, but we came into the second-last corner around P15 and locked the rears and ran wide.
"Talking to Shane both cars are a little bit hard to drive at the moment. We've got some work to do on set-up overnight to find some more pace."
Walkinshaw Andretti United drivers Scott Pye and James Courtney were among others finding it tough going, ending up 20th and 24th respectively.
Practice Results
| | | | | | | |
| --- | --- | --- | --- | --- | --- | --- |
| POS | # | DRIVER | TEAM | Time | GAP | LAPS |
| 1 | 17 | McLaughlin G. Murphy | Shell V-Power Racing Team | 1:48.104 | +0.000 | 11 |
| 2 | 55 | Mostert Moffat | Supercheap Auto Racing | 1:48.611 | +0.507 | 11 |
| 3 | 6 | C. Waters Caruso, A. Davison | Monster Energy Racing Team | 1:48.859 | +0.754 | 10 |
| 4 | 12 | Coulthard G. Murphy | Shell V-Power Racing Team | 1:48.904 | +0.800 | 8 |
| 5 | 5 | Holdsworth Moffat | The Bottle-O Racing Team | 1:49.009 | +0.905 | 11 |
| 6 | 9 | Reynolds W. Brown, L. Youlden | Penrite Racing | 1:49.009 | +0.905 | 11 |
| 7 | 15 | R. Kelly B. Fullwood, Wood | Castrol Racing | 1:49.134 | +1.029 | 9 |
| 8 | 99 | A. de Pasquale W. Brown, L. Youlden | Penrite Racing | 1:49.161 | +1.056 | 8 |
| 9 | 23 | Davison Caruso, A. Davison | Milwaukee Racing | 1:49.201 | +1.096 | 9 |
| 10 | 66 | T. Randle | Scandia Racing | 1:49.322 | +1.218 | 9 |
| 11 | 18 | Winterbottom S. Richards | Irwin Racing | 1:49.357 | +1.253 | 9 |
| 12 | 7 | Heimgartner B. Fullwood, Wood | Plus Fitness Racing | 1:49.362 | +1.257 | 11 |
| 13 | 21 | M. Jones D. Canto | Team CoolDrive | 1:49.369 | +1.265 | 9 |
| 14 | 14 | Slade Blanchard, Walsh | Freightliner Racing | 1:49.370 | +1.266 | 9 |
| 15 | 8 | Percat Blanchard, Walsh | X Convenience Mobil Racing | 1:49.562 | +1.457 | 10 |
| 16 | 97 | Van Gisbergen Lowndes, Tander | Red Bull Holden Racing Team | 1:49.662 | +1.558 | 10 |
| 17 | 78 | S. De Silvestro D. Fiore, A. Rullo | Team Harvey Norman | 1:49.717 | +1.613 | 11 |
| 18 | 34 | J. Golding R. Muscat, C. Pither | Boost Mobile Racing | 1:49.718 | +1.613 | 10 |
| 19 | 35 | T. Hazelwood | Unit Racing | 1:49.840 | +1.735 | 9 |
| 20 | 2 | S. Pye J. Perkins, W. Luff | Mobil 1 MEGA Racing | 1:49.906 | +1.802 | 10 |
| 21 | 3 | G. Jacobson D. Fiore, A. Rullo | RABBLE.club Racing | 1:50.112 | +2.008 | 11 |
| 22 | 4 | J. Smith | SCT Logistics Racing | 1:50.782 | +2.677 | 9 |
| 23 | 33 | R. Stanaway R. Muscat, C. Pither | Boost Mobile Racing | 1:51.027 | +2.922 | 10 |
| 24 | 22 | Courtney J. Perkins, W. Luff | Mobil 1 MEGA Racing | 1:51.108 | +3.003 | 10 |
| 25 | 88 | Whincup Lowndes, Tander | Red Bull Holden Racing Team | 1:51.479 | +3.374 | 9 |
| 26 | 19 | J. Le Brocq J. Webb | Truck Assist TEKNO Racing | 1:52.032 | +3.928 | 9 |