IndyCar Drivers say Pocono track is plenty safe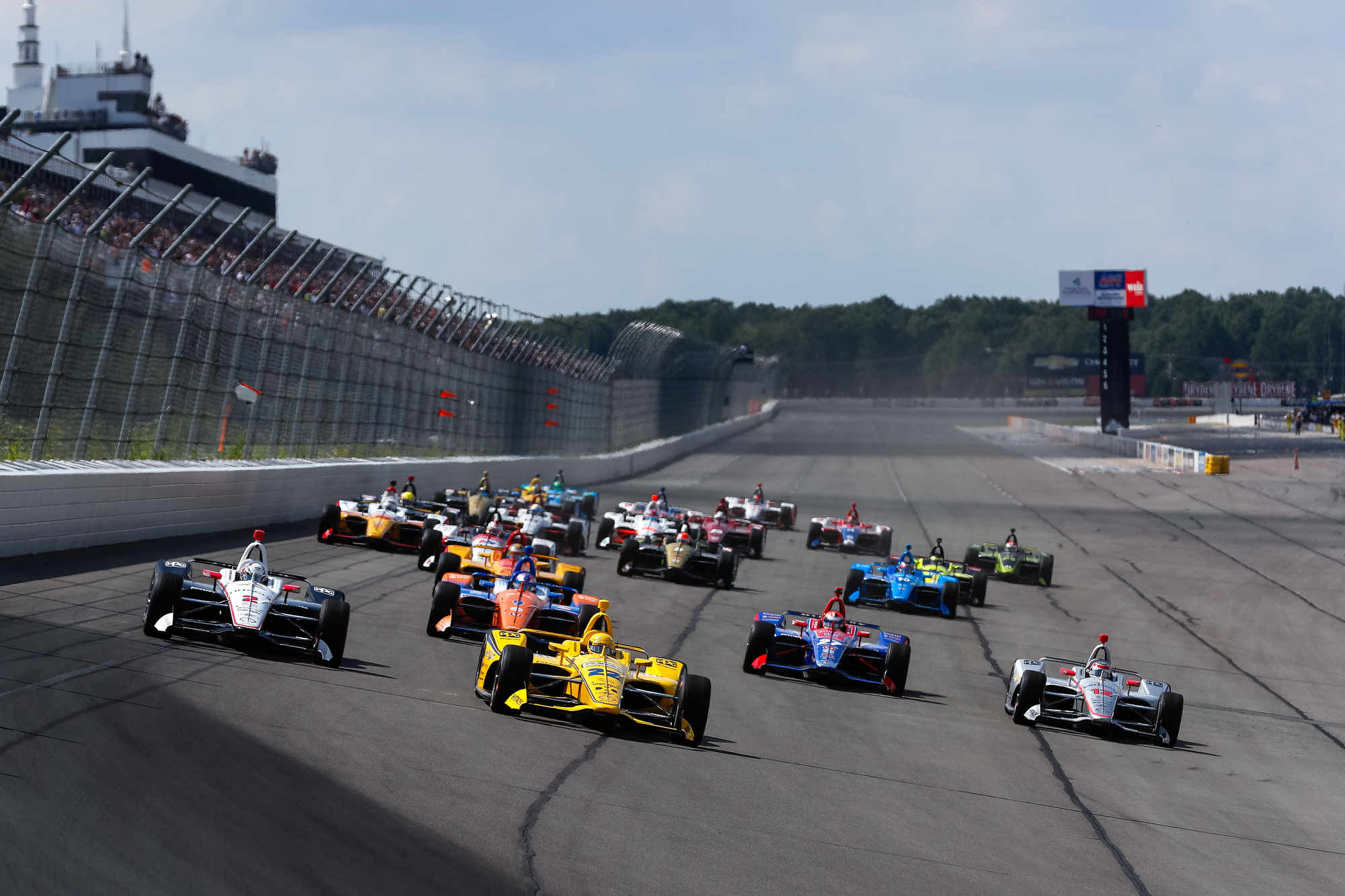 Pocono start
After the IndyCar drivers wrecked in Turn 2 on the opening lap of the Pocono 500 social media lit up blaming the Pocono track, calling it unfit and unsafe for an IndyCar race.
Even Robert Wickens chimed in on social media but the fact of the matter is it was driver error in 2018 (Wickens fault) and driver error again in 2019 (Sato's fault) that there was a big wreck. And Justin Wilson being killed was a freak accident and could have happened at any track. Look how close Scott Dixon was to being killed at Indy last year – inches.
How many times do we have to go through the same situation before we can all accept that an IndyCar should not race at Pocono. It's just a toxic relationship and maybe it's time to consider a divorce. I'm very relieved (to my knowledge) that everyone is okay from that scary crash

— Robert Wickens (@robertwickens) August 18, 2019
However the IndyCar drivers after the race quickly shot down any notion that the track was to blame and quickly pointed out that all the Pocono accidents could have happened anywhere.
Q. Gentlemen, we saw some comments during the race from Robert Wickens, Sage Karam, whether INDYCAR should be running here at Pocono in the future. What are your thoughts after finishing the race today? Do you see those changing as you get more time to think about it?
SCOTT DIXON: Honestly I feel bad for Pocono. The group of people here that work, they work extremely hard. I felt the crowd today at the start of the race was fantastic. It was gaining some really good momentum. Hopefully it does continue.
But down to weather, some mistakes that have happened on track, honestly they could happen anywhere, if you look at Justin or Robby, those can happen anywhere. I feel bad that it gets a bit of a bad taste in that scenario. I think the drivers in a lot of situations can do a better job to help that situation.
Honestly, I hope we come back. I just want to say a big thank you to everybody here at Pocono, the fans and everybody that come out, because it's definitely a tough place. Will can tell you how rewarding it is to win here just because it is so difficult to get it right.
WILL POWER: I agree. It's a great oval for us. Obviously some unfortunate accidents here, like Scott said, that could happen anywhere. Kind of got a bad rap for that.
The crowd is up 15% every year we come back. It's getting better. Like Scott said, the crowd was great today. It's a good racetrack, man. A good track for racing. I really hope we come back, I do. I think the guys do a great job. A cool track for us. It's hard for us to find good ovals these days that suit our cars.
SIMON PAGENAUD: Tough to add to that. I think they said it all.
It is a fun track to drive on. Real unfortunate, close to New York, a great market for INDYCAR. It's an opportunity to bring people from New York to the Indy car races. Really enjoy that.
I love personally superspeedways. I think it's been the best, like they said. Obviously when you're traveling at such high speed, you know a crash is going to be a big crash.
Hopefully we can come back and hopefully we can keep working with people at Pocono because it's been a lot of fun. I've been racing here since 2012 in the series. I've enjoyed it more and more every year. So we'll see what happens next.
As a driver, I really enjoy coming here.