IndyCar Fast Friday News, Notes & Happenings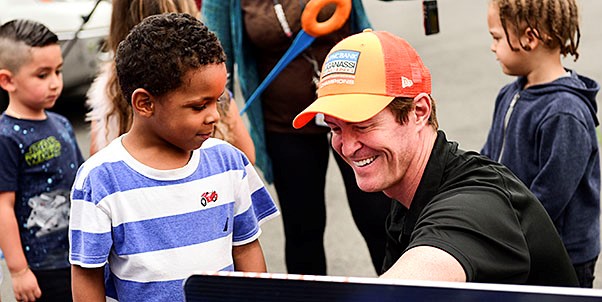 Dixon with kids
LONG POND, Pennsylvania — Fast Friday News, Notes & Happenings is a new addition that will be produced during recapping the opening day of activity for the ABC Supply 500 at Pocono Raceway. On track activity begins Saturday with a pair of 60-minute practices and qualifying for the NTT P1 Award. The quick-hitting, notebook-style content is designed to keep media apprised of the happenings in the NTT IndyCar Series and Road to Indy ladder program.
"Well Read"
With two young daughters, five-time NTT IndyCar Series champion Scott Dixon is well acquainted with the exploits of Pete the Cat.
Dixon shared the Pete The Cat racing-themed "Go, Pete, Go" book with another group of children Friday as part of primary sponsor PNC Bank's "Grow Up Great" early education initiative. Dixon, who is competing this weekend in the ABC Supply 500 at Pocono Raceway, visited with 30 pre-K students at The Mountain Center in nearby Tobyhanna, Pa.
Dixon read the book aloud to the group, handed out a copy of the book to each child and then surprised them outside of The Mountain Center with his No. 9 PNC Bank Chip Ganassi Racing Honda show car on display for them to check out up close.
"In Indy car racing in general, there are a lot of community outreach programs and this one is very special to help promote and create a passion for learning, especially at this young age," Dixon said afterward. "Having two kids at the moment and another on the way, you know how huge it (reading) is for their growth and learning and what an exciting way to do it with our Indy car, Chip's team (owner Chip Ganassi) and the PNC Bank community outreach program. It has been a lot of fun."
Pitch out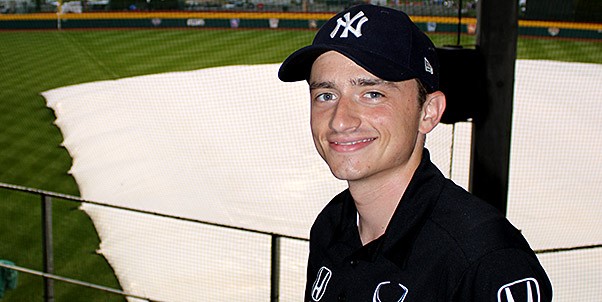 George Steinbrenner IV
Harding Steinbrenner Racing co-owner George Steinbrenner IV had his opportunity Thursday to throw out the first pitch in the Little League Baseball World Series washed out, but he still enjoyed his visit to South Williamsport, Pa.
Steinbrenner, the son of New York Yankees part-owner and Co-Chairman Hank Steinbrenner and grandson of legendary owner George Steinbrenner III, visited with fans and officials on the opening day, toured the museum and had his day highlighted by a special surprise.
Little League officials found the 2006 roster of the Little League team he played for in Clearwater, Fla.
"I played Little League for six years growing up and always watched the Little League World Series, so to see the complex in person was extraordinary," Steinbrenner IV said. "Especially touring the Little League museum where I explored its rich history. Little League's history of teamwork and inclusion makes it a catalyst for professional athletes, politicians, scientists and even astronauts.
"Unfortunately, I wasn't able to throw out the first pitch due to inclement weather, but had a lot of fun with the fans before the weather turned. I had an amazing time with Honda and Little League Baseball at the Little League World Series before the ABC Supply 500 at Pocono Raceway weekend."
"It's Tricky"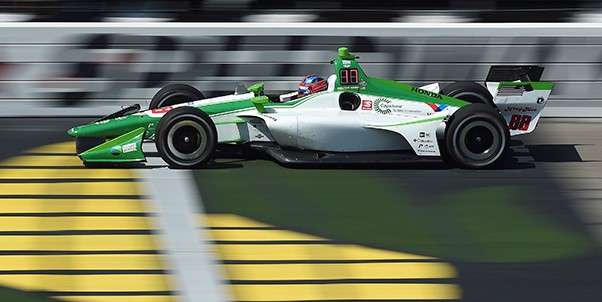 Colton Herta
Saturday's opening day of on-track activity – practice and qualifying – will be the first look at Pocono Raceway for all four rookies, Marcus Ericsson, Santino Ferrucci, Colton Herta and Felix Rosenqvist. All four will be making their first start at Pocono Raceway in Sunday's ABC Supply 500.
Nicknamed "The Tricky Triangle," Pocono Raceway's three turns are each modeled after a different track, Turn 1 after Trenton Speedway, Turn 2 after the Indianapolis Motor Speedway and Turn 3 after the Milwaukee Mile.
"I'm really looking forward to racing at Pocono Raceway this weekend," said Herta, who drives for Harding Steinbrenner Racing. "We were so fast throughout the month of May on the Indianapolis Motor Speedway 2.5-mile oval, so I know the No. 88 Capstone Turbine Honda can be quick and competitive around the 2.5-mile 'Tricky Triangle.' I'm really excited for the next three races in a row, especially having the opportunity to race at Pocono Raceway since I have never competed there."
"Riding a ripKurrent"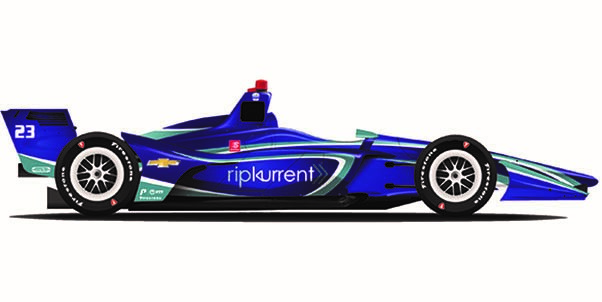 Charlie Kimball – Gateway
Veteran Charlie Kimball has been tapped to drive the No. 23 entry for Carlin Racing in next week's Bommarito Automotive Group 500 at World Wide Technology Raceway at Gateway.
The entry will be sponsored by ripKurrent, an innovative energy services company that delivers significant energy savings for clients that have a high intensity of energy consumption. The one-race primary car sponsorship is the company's first venture into motorsports, but open-wheel racing is quite familiar to the chief executives.
"Both Justin Dye (ripKurrent CEO) and I have been passionate about INDYCAR for many years, dating back to our childhood in southern Indiana," said Jade Culbertson, ripKurrent President. "We grew up watching open-wheel racing on small dirt tracks and, of course, the Indianapolis 500. To have ripKurrent partnered with an NTT IndyCar Series team is special to us. Also, being associated with Carlin and Charlie Kimball is extremely exciting. Charlie is a very accomplished and well-respected driver – he's the first licensed driver with diabetes in the history of Indy car racing, which is significant to me, having lost my mother due to complications with diabetes two years ago.
"Speed, innovation, technology and efficiency have always been synonymous with INDYCAR and that aligns perfectly with our brand and energy services business at ripKurrent."
The Bommarito Auto Group 500 with be Kimball's fifth start of the season. His most recent came in June at Texas Motor Speedway and he's scheduled to compete in the ABC Supply 500 this weekend.
Up Next
The ABC Supply 500 will be held Sunday, Aug. 18 at Pocono (Pa.) Raceway. Television coverage begins on NBCSN at 2 p.m. ET with the green flag at 2:45 p.m. The Advance Auto Parts INDYCAR Radio Network provided the action on radio affiliates, including Sirius Channel 98 and XM Channel 209.