Five things to look for at ABC Supply Pocono 500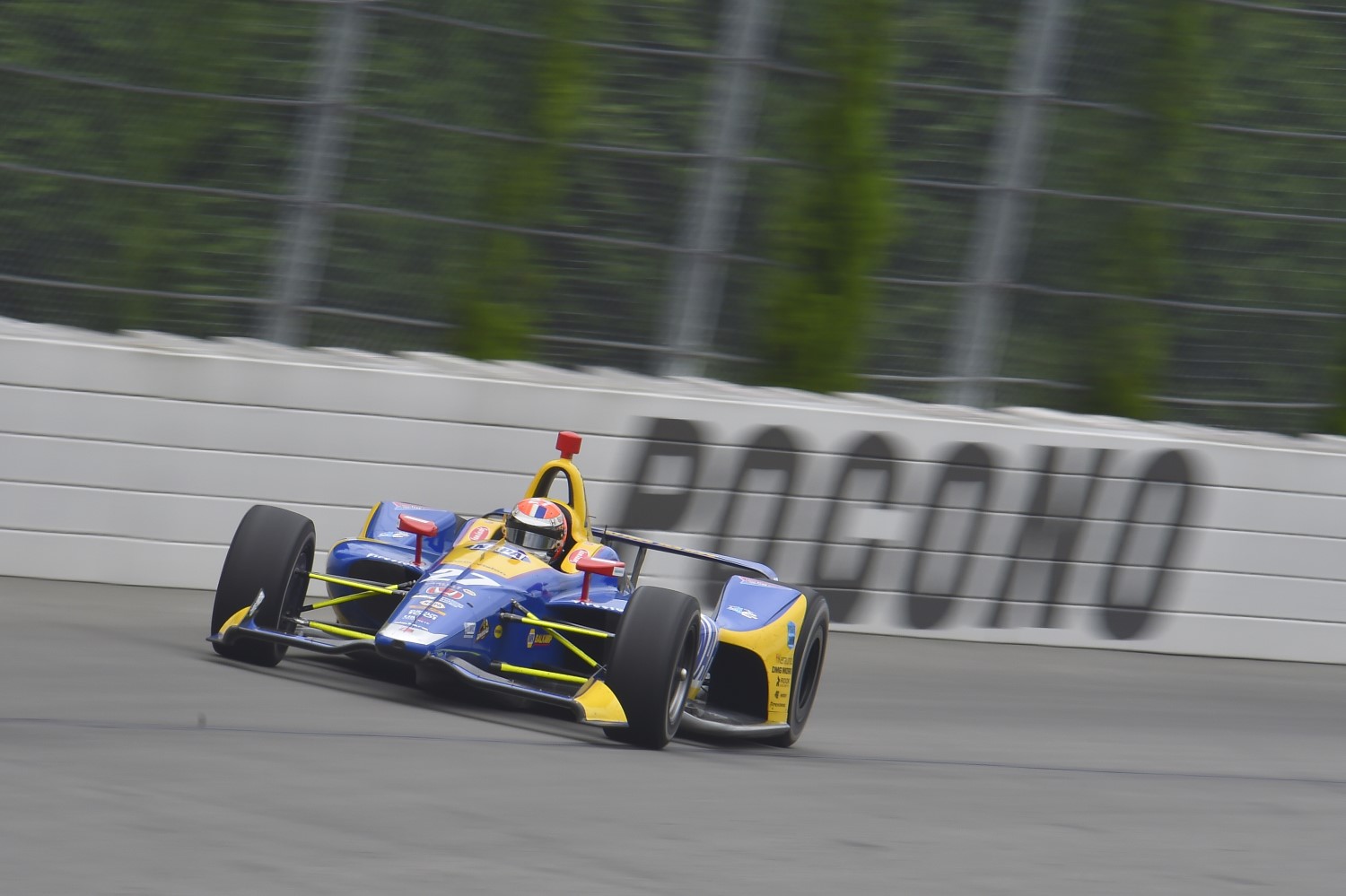 Can Rossi dominate again or are the Chevys too powerful?
The NTT IndyCar Series, fresh off a two-week break, will culminate the oval portion of the season with back-to-back races, beginning with this weekend's ABC Supply 500 at Pocono Raceway.
Sunday's ABC Supply 500 on the 2.5-mile "Tricky Triangle" in Long Pond, Pa., will be the fourth of five scheduled oval races on the season, following events at Indianapolis Motor Speedway, Texas Motor Speedway and Iowa Speedway. The series will then head to the 1.25-mile World Wide Technology Raceway at Gateway on Saturday, Aug. 24, for the Bommarito Automotive Group 500, Round 15 of 17 of the season. Here are "5 Things To Look For" heading into Sunday's ABC Supply 500:
"Running Circles Around The Competition"
Team Penske has been dominant on the first three ovals of the season, earning the pole and victory at Indianapolis and Iowa while collecting the win at Texas.
Josef Newgarden (No. 2 Hitachi Chevrolet) earned wins at Texas and Iowa while Simon Pagenaud (No. 22 Penske Truck Rental Chevrolet) won from the pole at the Indianapolis 500 presented by Gainbridge and added another NTT P1 Award at Iowa. Newgarden and Pagenaud have collectively finished sixth or better in all three oval races and have led 438 of a possible 748 laps (58.55 percent).
"It was good to have a couple of weeks off, so I took some time to reset and refocus as we head into the final stretch of the season," Newgarden said. "Pocono is a difficult track, and it takes the right pit and fuel strategy to do well with any 500-mile race. We have a pretty good plan in place for the Hitachi Chevy, so we're ready to put it into action. My crew has been really giving it their all every race and we're all ready to keep fighting for more wins to keep gaining points and continue to make a run at the championship."
"Power Play"
Let's not forget the third Team Penske driver Will Power (No. 12 Verizon Chevrolet) when it comes to Pocono and ovals. Power won back-to-back races in 2016 and '17 at the "Tricky Triangle" and followed up those performances with a runner-up finish last year. He also ranks third among active drivers for oval wins with eight. Power has a pair of top-10 oval finishes in three starts this season, taking fifth at Indy and ninth at Texas.
"The Verizon Chevy team has been working hard to give me everything I need to run a good race, but we've just had some bad luck and mistakes we've been fighting against," said Power, who is seeking his first win of the season. "However, it's great to get back to an oval. Pocono is a track I feel really comfortable at. It's really technical, so it's a fun one for me to drive. Pit strategy is so important there so we're ready for that. We're going to do everything we can to go out there and just compete for wins."
"Table For Two"
Andretti Autosport and Team Penske have won five of the six races since the NTT IndyCar Series returned to Pocono in 2013.
Following a win by Chip Ganassi Racing's Scott Dixon (No. 9 PNC Bank Honda) in that inaugural year, it has been all Penske and Andretti. Team Penske won in 2014 with Juan Pablo Montoya and Power added consecutive wins in '16 and '17. Andretti Autosport won with Ryan Hunter-Reay (No. 28 DHL Honda) in 2015 and last year with Alexander Rossi (No. 27 MilitaryToMotorsports.com Honda).
"It's one of my favorite tracks to go back to each year – and obviously we had a good race there last year," Rossi said. "We're getting into a critical point of the championship and we need to win races. Pocono is a great place for us to hopefully do that."
"Making Their Points"
With four races remaining, Newgarden heads into the ABC Supply 500 holding a 16-point advantage, 504-488, over Rossi in the series championship standings. Pagenaud is 47 points back while Dixon, the defending series champion, trails by 62.
Of the group, only Pagenaud has yet to gain a podium finish at Pocono. Newgarden has a pair of runner-up finishes (2015, '17); Rossi a win ('18) and third-place finish ('17); and Dixon a win ('13) and third-place effort ('18).
"Pocono is really fast and produces great Indy car racing," Dixon said. "It's such a unique challenge to get everything right. The team swept the podium in 2013 and that is a perfect example of things going your way here when you get everything right. It's a long race and it's now time to roll the dice and take chances. Race wins are all that matter at this stage in the season if you want to have a shot at defending this championship title.
"Rally Cry"
Dale Coyne Racing rookie Santino Ferrucci (No. 19 Cly-Del Manufacturing Honda) loves fast cars so it's no surprise that he helped organize an auto rally of exotic cars departing near his hometown of Woodbury, Conn., to Pocono Raceway on Saturday.
The auto rally, which will raise awareness for Dream Ride and the Hometown Foundation, will consist of 20 cars with a collective worth of more than $2 million that are sure to turn heads on the road. Among the high-performance head turners are a McLaren 720S, Ferrari F430, pair of Lamborghini Gallardos, pair of Porsche GT3s, Porsche 911 Turbo S, Audi R8, BMW 850i, Dodge Viper and a Chevrolet Corvette C7 ZR1.
The rally route will start at 9 a.m. ET from ACI Dynamix in Seymour, Conn., and travel through Oxford, Conn.; Carmel Hamlet, Mahopac and Montgomery, N.Y.; and Lehman Township, Pa., before heading into Long Pond, Pa., home of Pocono Raceway. Ferrucci will join the group on the final leg in his Honda Civic Type R to escort them into the track at approximately 2 p.m. Pocono Raceway will treat the auto rally participants to parade laps on the track at 3:30 p.m.
"I'm super excited working with INDYCAR and Pocono Raceway to create a car rally from my home state to the ABC Supply 500," Ferrucci said. "We have an incredible mixture of cars and people as well as a partnership with Dream Ride and the Hometown Foundation. I hope all of the fans can come by and see the cars in person at the racetrack or on the racetrack! It means a lot to have all of the support from the series, track, family and friends to make this happen."
NBCSN Race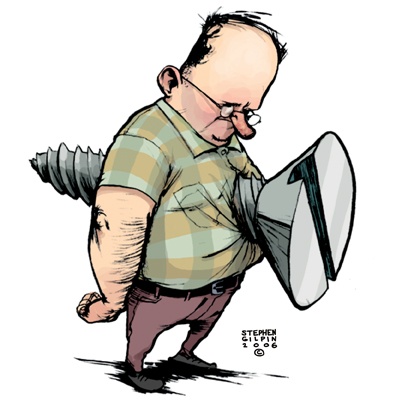 Pocono, like many other races on NBCSN, will be seen by very few
The ABC Supply 500 will be an abbreviated, two-day race weekend with action opening Saturday with qualifying (12:30 p.m. ET, NBC Gold – Live; 2:30 p.m., NBCSN – same-day delay) being sandwiched by a pair of 60-minute practice sessions (9:30 a.m. and 4 p.m., NBC Gold).
The ABC Supply 500, a 200-lap, 500-mile race, will be televised live by NBCSN beginning with the pre-race show at 2 p.m. and green flag scheduled for 2:45 p.m.