Rossi and Hinchcliffe granted wild card entry to Bathurst 1000 (Update)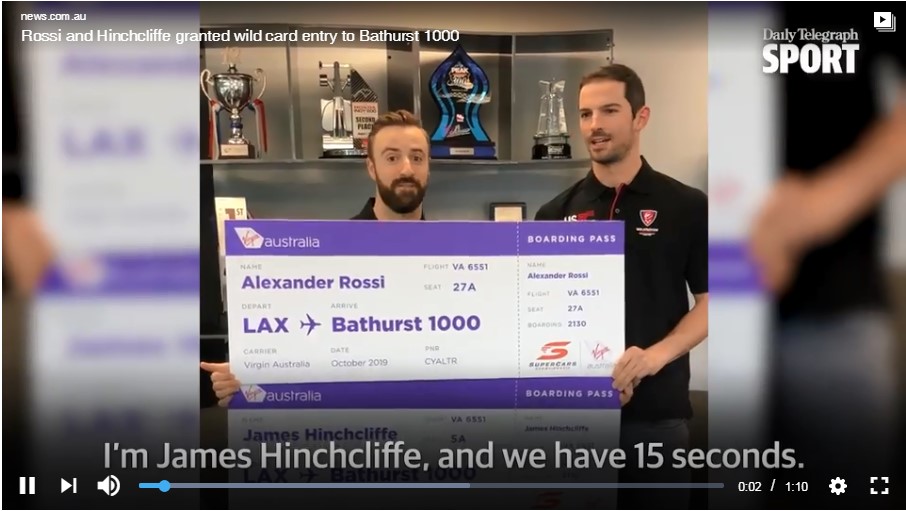 Hinchcliffe and Rossi have their plane tickets
UPDATE [MELBOURNE, AUSTRALIA] — Walkinshaw Andretti United, in collaboration with Andretti Autosport and United Autosports, has today announced a wildcard entry into the 2019 Supercheap Auto Bathurst 1000, on October 10-13.
The entry will be piloted by full-time NTT IndyCar Series drivers Alexander Rossi and James Hinchcliffe. A naming rights partner of the entry is yet to be announced, as the Team looks to align with a high profile brand for the biggest day in Australian motorsport. Importantly, both William Sandbrook and Virgin Australia have thrown their support behind the program.
William Sandbrook, Chairman and CEO of U.S. Concrete will personally support the entry of the car, which will be used to promote U.S. Concrete's international products, WheresMyConcrete and Polaris Materials' Orca High Performance Concrete Aggregates.
Virgin Australia will not only ensure the drivers and international crew make it to Bathurst and back, but they will also use the Wildcard to help promote their Australia to Los Angeles flights.
In a complete collaboration between all facets of Walkinshaw Andretti United, engineering and mechanical staff for the entry will be sourced from Walkinshaw Andretti United staff locally, as well as Andretti Autosport and United Autosports employees, who will also make the trek to Australia for the Great Race.
The Holden ZB Commodore entry will run under No. 27, which, historically has been an Andretti Autosport number with a successful history. Rossi currently uses the No. 27 in the IndyCar Series, Hinchcliffe also ran it during his time with the team, while it is also seen on Andretti Autosport's Indy Lights and Formula E entries.
It will form the third car out of the Walkinshaw Andretti United stable, alongside both Mobil 1™MEGA Racing entries of Scott Pye and Warren Luff, as well as James Courtney and Jack Perkins.
Rossi, 27, hails from Nevada City, California, and currently drives the No. 27 NAPA AUTO PARTS backed Andretti Autosport Indy car. It was recently announced that he will continue to call Andretti Autosport home, after extending his tenure on a multi-year extension with the Team alongside long-time partners NAPA AUTO PARTS and AutoNation.
He began his motorsport career in the United States before moving to Europe as a teenager to pursue a career in Formula 1. Successful GP2, GP3 and Formula BMW Campaigns led him to five Formula 1 starts for Marussia between 2014 and 2015.
After returning back to America in 2016, Rossi sensationally won the 2016 Indianapolis 500 for Andretti Autosport on debut, and was later named the series' 2016 Rookie of the Year.
Since then, he has added a further six wins to his IndyCar résumé, and currently sits second in the 2019 IndyCar Championship.
Hinchcliffe, 32, who was born in Ontario, Canada, currently drives the No. 5 IndyCar entry for Arrow Schmidt Peterson Motorsports.
Like Rossi, he worked his way up through the open-wheel ranks through categories like Formula BMW and the Star Mazda Series, represented Canada in the A1 Grand Prix in 2006 and 2007, before graduating from Indy Lights into the IndyCar series in 2011.
He spent three seasons with Andretti Autosport between 2012 – 2014, which included his first IndyCar win at St. Petersburg. To date, his IndyCar career has yielded six wins. The 2019 Bathurst 1000 won't be Hinchcliffe's first experience behind the wheel of a Supercar however, having raced for Gary Rogers Motorsport at the 2012 Gold Coast 600.
For Rossi, it will be the first time he gets behind of the wheel of a Supercar, however, he has a brief history in sportscars, having raced the 24 Hours of Le Mans in 2013, the 24 Hours of Daytona in2014, while more recently running the 24 Hours of Daytona and 12 Hours of Sebring in 2019.
Before they tackle Bathurst, the drivers will have three-day test at Winton Raceway onOctober 1-3, a chance for them to become accustom to the 650hp beast.
QUOTE BOARD
ALEXANDER ROSSI – DRIVER NO. 27
"It's 100 per cent a bucket list item. It's in one of those six big races alongside the likes of the Indy 500 and 24 Hours of Le Mans. Bathurst is right up there, so to be able to have this opportunity to do it with Walkinshaw Andretti United and still be close to home with the Andretti Autosport connection is very cool and I can't wait to get started.
"It's going to be a steep learning curve and I'm very aware of that. I've got a few friends who are Supercars drivers, so I know how talented the competition is, and how challenging this specific racetrack is, but at the same time it's a really exciting challenge and something that has been on my target list for a long time, we're going to go out and do the best we can.
"The team is excellent, there are guys who are going over who I know from the IndyCar program, so with all of that in place and having a great team mate to learn off, and other local guys as well, it's going to be the best possible recipe to have a successful event.
"As much as we are going to try and put our best foot forward, it's important for us to enjoy the experience as well, because it's certainly a once in a lifetime opportunity."
JAMES HINCHCLIFFE – DRIVER NO. 27
"Bathurst is one of those bucket list things. As drivers we look back at the era of guys like Mario (Andretti) jumping in a different car every weekend, the nature of the sport now is quite different and it's not quite as easy to do that. When these opportunities come up you want to jump at them and really grab a hold of them.
"The Gold Coast race some years ago was a huge blast and a bucket list thing to, but for Supercars the Bathurst 1000 is their Indy 500, it is their 24 Hours of Le Mans, it's their hallmark event so to get to add that one to the résumé is very special.
"For sure it's a big ask, we are neophytes to the car, to the track, to everything involved, but I think we are both competitive and Alex is an immensely talented guy, a very driven guy, and together we can push ourselves and the team and hopefully not make ourselves look too silly.
"It's obviously nice to have a familiar element in the whole thing, there is going to be a lot new to us, and there is going to be a lot of unknowns, but knowing there is a great team like Walkinshaw Andretti United, and knowing there is that tieback to Andretti Autosport with whom I had a very successful stint in IndyCar, it does make it a little bit easier, and makes it feel a bit more natural to jump into a new situation."
MICHAEL ANDRETTI – DIRECTOR, WALKINSHAW ANDRETTI UNITED
"Running a wildcard entry for the Bathurst 1000 has been a goal for us since the formation of Walkinshaw Andretti United, and I'm really looking forward to bringing some of Andretti Autosport to The Mountain.
"We have great talents both within Andretti Autosport and within the IndyCar Series. Alexander and James are both great fits within our team and will be natural teammates. I have no doubt that they will adapt quickly. It's great to be able to bring this program to life and provide this opportunity for everyone involved.
"This effort wouldn't have been possible without Bill Sandbrook and the support of Sean Seamer and the Supercars organization. I'm looking forward to boarding that Virgin Australia flight in LA and seeing everyone in Bathurst!"
RYAN WALKINSHAW – DIRECTOR, WALKINSHAW ANDRETTI UNITED
"It's fantastic to bring this program to life, and to strengthen our relationship with our partners.
"I can't wait to see both Alexander and James behind the wheel of a Supercar. It's not only a big deal for our team, but the sport as a whole. "To further enhance those links between us, Andretti Autosport and United Autosports, not only on the driving front, but with staff who can add to their experience is a really fulfilling thing. It shows the strength and connection between our organisations.
"This program would not be possible without the support of Sean Seamer and the entire Supercars organisation. We must also thank Bill and U.S. Concrete, as well as Virgin Australia for their support in making this happen.
"Keep an eye out for them up there, they will be ones to watch."
ZAK BROWN – DIRECTOR, WALKINSHAW ANDRETTI UNITED
"It's great to finally bring the wildcard to life. We've spoken about it for a while now, so I'm really excited to see it in motion, and what a place to be able to make it happen.
"To have two drivers of Alexander and James' calibre behind the wheel is fantastic, but also, to have some of our guys from United Autosports there at one of the biggest races in the world is extremely exciting.
"Bring on The Mountain, I can't wait to get there!"
SEAN SEAMER – CEO, SUPERCARS
"It's great to have these celebrated international stars race with us at Mount Panorama.
"Over the years, some of the world's best drivers have tackled the 1000 and we look forward to welcoming both Alexander and James at this year's event."
08/15/19 Alexander Rossi and James Hinchcliffe have been granted wild card entry for the 2019 Bathurst 1000.
Both currently race in the IndyCar series, with Rossi winning the 2016 Indy 500 in his rookie season, while Hinchcliffe was awarded 'Rookie of the Year' in 2011.