Pirelli GT4 America SprintX to debut at 2020 Acura GPALB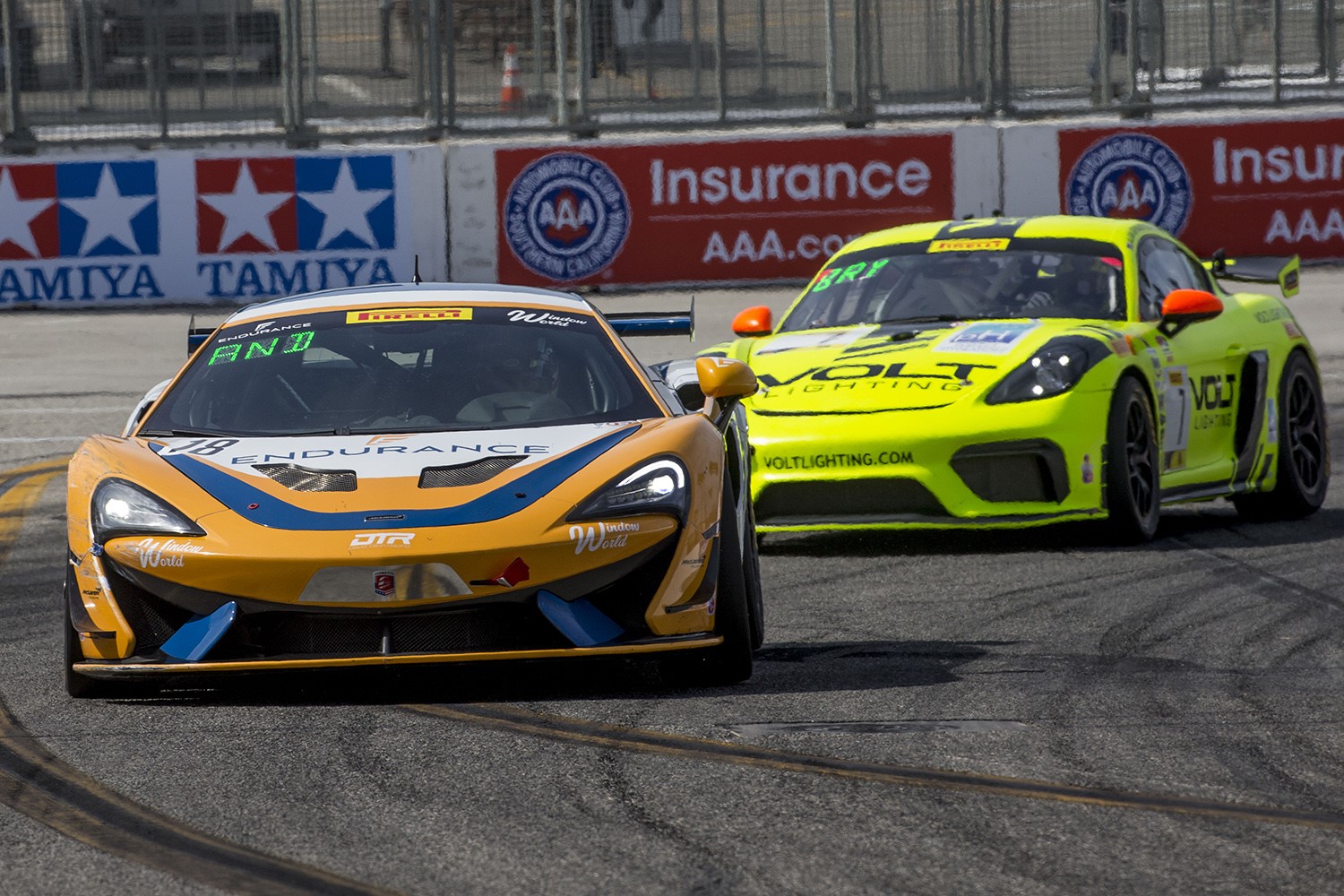 Pirelli GT4 America SprintX
SRO Motorsports Group
SRO Motorsports Group and Grand Prix Association of Long Beach officials announced today that a round of the 2020 Pirelli GT4 America SprintX Series will run at next year's Acura Grand Prix of Long Beach, set to take place April 17-19.
The 60-minute race will take place Sunday, April 19, and feature a pit stop with a driver change. It's the first time the GT4 America SprintX series has run at Long Beach.
"The Acura Grand Prix of Long Beach is one of the preeminent events on the motorsports calendar every year and we are excited to be bringing our Pirelli GT4 America SprintX series to the 2020 schedule," said Greg Gill, President and CEO of SRO Motorsports America. "To be able to say that you have won at Long Beach is an honor and I know our teams and drivers will be pushing hard to stand on the top step that day."
"We are delighted to bring the GT4 America SprintX to Long Beach," said Jim Michaelian, president and CEO of the Grand Prix Association of Long Beach. "The driver-change format should make for some excitement for our fans, and the longer race will give everyone more on-track action as part of an enhanced Sunday schedule that we are putting together for the 2020 Acura Grand Prix."
The Pirelli GT4 America SprintX Series features top GT4-spec sports car teams competing in marques such as Audi, BMW, Ford, McLaren, Mercedes, Panoz and Porsche.
In addition to the GT4 America SprintX race, the 2020 Acura Grand Prix will be headlined by a round of the NTT IndyCar Series and also feature the IMSA WeatherTech SportsCar Championship, Motegi Racing Super Drift Challenge, Robby Gordon's SPEED Energy Stadium SUPER Trucks and the new-for-2020 Historic Formula Atlantic Challenge in a doubleheader format.
Off the track, the Acura Grand Prix will have evening concerts, free to Friday and Saturday race ticket holders, along with the popular Lifestyle Expo and Family Fun Zone, the Food Truck Experience, Mothers Exotic Car Paddock (Sunday only) and driver autograph sessions from all race series. Fans will also see lower beer prices and healthier food options throughout the venue.
Tickets will go on public sale beginning Oct. 21, with fans able to renew their 2019 seats beginning Aug. 19. Ticket prices range from $34 for a Friday General Admission ticket to $155 for a three-day ticket that includes Sat./Sun. reserved seating in grandstand upper levels. Pre-paid parking packages are also available, along with handicapped seating, NTT IndyCar Series Paddock passes, Super Photo tickets and a wide variety of hospitality packages.
Fans can also follow the Acura Grand Prix of Long Beach on Facebook (GrandPrixLB), Twitter @GPLongBeach (#AGPLB) and Instagram @GPLongBeach.
SRO Motorsports Group – The global leader in GT racing
With more than 25 years' experience at the forefront of a continuously evolving industry, SRO Motorsports Group is the established international leader in GT racing.
Best known for the development and implementation of the GT3 and GT4 regulations, SRO promotes and organises championships that embrace professional and amateur competitors. Its portfolio of highly regarded series spans Europe, America and Asia, while its flagship Intercontinental GT Challenge features events on five different continents.
The 2019 season will see more than 100 races run under the SRO Motorsports Group banner, highlighted by the prestigious Total 24 Hours of Spa. In addition to promotion and organisation, the company operates SRO Race Centre by MMC – a high-level technical centre at Circuit Paul Ricard – and provides the ultimate driving opportunities at world-renowned facilities through Curbstone Track Events.
SRO Motorsports Group is chaired by company founder and CEO Stephane Ratel. With offices in London, Paris, Liège, Austin, and Hong Kong, its work is facilitated by a dedicated global team of full-time and freelance staff.
Combining a passion for performance with industry-leading experience, SRO is ready to play a key role in shaping the future of international GT racing.