Larson, Bell Adding NASCAR Star Power to Growing IMS dirt race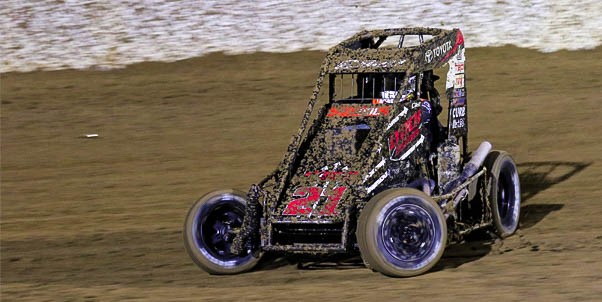 Mud covered USAC Midget Action
NASCAR standouts Kyle Larson and Christopher Bell are returning to their short-track roots Sept. 4-5 at The Dirt Track at IMS, as both were assigned to cars on the growing entry list for the Driven2SaveLives BC39 Powered by NOS Energy Drink USAC National Midget race.
NASCAR Cup Series star Larson and NASCAR Xfinity Series title contender Bell both will drive cars fielded by the powerful Keith Kunz Motorsports/Curb-Agajanian team on the quarter-mile clay oval inside Turn 3 at IMS. The event field has grown to 55 cars, with more entries expected.
Larson, who drives for Chip Ganassi Racing in the Cup Series, will make his BC39 debut in the No. 97 car. His USAC career has included a sweep of the 4-Crown Nationals in 2011 at Eldora Speedway and victories in the Turkey Night Grand Prix in 2012 and 2016.
Bell, who drives for Joe Gibbs Racing in the Xfinity Series, will be behind the wheel of the No. 21 car for the second consecutive year in the BC39. He finished fifth in the feature last year in the inaugural event. 2017 NASCAR Gander Outdoors Truck Series champion Bell won the 2013 USAC National Midget title and is a three-time winner of the Turkey Night Grand Prix and Chili Bowl midget races.
Oklahoma native Bell is one of five USAC National Midget champions to be added to the field for the BC39 in this entry update, along with Jerry Coons Jr., Dave Darland, Logan Seavey and Tanner Thorson. Larson, Bell, Seavey and Thorson are part of an eight-car stable from Keith Kunz Motorsports/Curb-Agajanian entered in the race.
Another prominent recent entry is defending BC39 winner Brady Bacon, who will drive the No. 76E car fielded by FMR Racing. Two-time USAC AMSOIL National Sprint Car champion Bacon led the final nine laps to capture the inaugural event last September.
Two-time series champs Coons and Darland are part of a star-studded Petry Motorsports lineup that also features Kevin Thomas Jr., who led a race-high 30 of 39 laps and finished third in the BC39 main event last year.
The latest entries join a stacked field.
Clauson/Marshall Racing has entered its core roster of four full-time USAC competitors for the event: Tyler Courtney, Chris Windom, Zeb Wise and Andrew Layser. The team is co-owned by Tim Clauson, the father of event namesake and late USAC champion Bryan Clauson.
Defending USAC AMSOIL National Sprint Car champion Courtney, from Indianapolis, leads all drivers with six USAC NOS Energy Drink National Midget feature wins in 2019 and has led the standings since the start of the season. His CMR teammate Chris Windom, the 2016 USAC Silver Crown and 2017 USAC National Sprint Car champion, runs second in the standings.
Wise, 16, from Angola, Indiana, runs fourth in the standings with two recent victories during Pennsylvania Midget Week. He won the Stoops Pursuit race on opening night of last year's BC39. Layser is dominating the Midget rookie points this season.
Other top drivers previously entered include 2017 USAC National Midget champion Spencer Bayston, Michael Pickens of New Zealand, Thomas Meseraull, David Prickett, Tyler Thomas, Brent Beauchamp, Matt Westfall, Shannon McQueen and many others.
Tickets for the Driven2SaveLives BC39 Powered by NOS Energy Drink are on sale at www.ims.com, along with tickets for the Big Machine Vodka 400 at the Brickyard Powered by Florida Georgia Line on Sunday, Sept. 8 and the Indiana 250 and FGL Fest on Saturday, Sept. 7.
On-track action begins Wednesday, Sept. 4 at the quarter-mile Dirt Track at IMS. Public gates open at 3 p.m., with cars on track for practice at 4 p.m., followed by opening ceremonies at 7 p.m. Heat races and the Stoops Pursuit race will conclude the night's racing action.
Public gates will open at 3 p.m. Thursday, Sept. 5 for the second and final night of action. Cars will be on track for practice at 4 p.m., with qualifying races at 5 p.m. Opening ceremonies are scheduled for 7:30 p.m. and followed by the main feature events, starting with multiple D-Mains and C-Mains, the semi-feature and the 39-lap main event.
BC39 ENTRY LIST (55 cars as of Aug. 14, 2019)
1NZ MICHAEL PICKENS/Auckland, NZ (RMS LLC)
1ST TBA (Daryl Saucier)
2 RYAN HALL/Midlothian, TX (Mark Bush)
2x MATT LINDER/Hoschton, GA (Mark Bush)
3N JAKE NEUMAN/New Berlin, IL (Jim Neuman)
4A JUSTIN GRANT/Ione, CA (RAMS Racing)
4D ROBERT DALBY/Anaheim, CA (Ken Dalby)
5 KEVIN THOMAS, JR./Cullman, AL (Petry Motorsports)
7BC TYLER COURTNEY/Indianapolis, IN (Clauson/Marshall Racing)
7u KYLE JONES/Kennedale, TX (Trifecta Motorsports)
7x THOMAS MESERAULL/San Jose, CA (RMS LLC)
8 RANDI PANKRATZ/Atascadero, CA (Wally Pankratz)
9 CHRIS BAUE/Indianapolis, IN (Chris Baue)
9H EMILIO HOOVER/Broken Arrow, OK (James Hoover)
11L AARON LEFFEL/Springfield, OH (Chuck Taylor)
11T TBA (Chuck Taylor)
14H TBA (Mike Dickerson)
15 DAVE DARLAND/Lincoln, IN (Petry Motorsports)
15J JEFF WIMMENAUER/Indianapolis, IN (Jeff Wimmenauer)
15s SHANNON McQUEEN/Bakersfield, CA (Broc Garrett)
15x CARSON GARRETT/Littleton, CO (Broc Garrett)
17 JUSTIN PECK/Monrovia, IN (Bus Racing Team)
17BC CHRIS WINDOM/Canton, IL (Clauson/Marshall Racing)
19 SPENCER BAYSTON/Lebanon, IN (Brodie Hayward)
20 CODY WEISENSEL/Sun Prairie, WI (Kevin Weisensel)
21 CHRISTOPHER BELL/Norman, OK (Keith Kunz Motorsports/Curb-Agajanian)
21D JUSTIN DICKERSON/Pittsboro, IN (Mike Dickerson)
22Q DAVID PRICKETT/Fresno, CA (Neverlift Motorsports)
25 JERRY COONS, JR./Tucson, AZ (Petry Motorsports)
27 TUCKER KLAASMEYER/Paola, KS (Keith Kunz Motorsports/Curb-Agajanian)
28 ACE McCARTHY/Tahlequah, OK (Jim Neuman)
35 TBA (Petry Motorsports)
39BC ZEB WISE/Angola, IN (Clauson/Marshall Racing)
41 OLIVER AKARD/Fort Myers, FL (Dan Akard)
43 BRENT BEAUCHAMP/Avon, IN (Kevin Arnold)
47BC ANDREW LAYSER/Collegeville, PA (Clauson/Marshall Racing)
50 TONY DiMATTIA/Malvern, PA (Tony DiMattia Motorsports)
54 MATT WESTFALL/Pleasant Hill, OH (Steve Bordner)
56A COLTEN COTTLE/Kansas, IL (Travis Young)
57A TBA (Bill Ecker)
57D DANIEL ROBINSON/Ewing, IL (McCreery Motorsports)
57K KEVIN STUDLEY/Plainfield, IN (Kevin Studley)
61 TREY OSBORNE/Columbus, Ohio (Mel Kenyon)
67 LOGAN SEAVEY/Sutter, CA (Keith Kunz Motorsports/Curb-Agajanian)
67K HOLLEY HOLLAN/Broken Arrow, OK (Keith Kunz Motorsports/Curb-Agajanian)
71 JESSE COLWELL/Red Bluff, CA (Keith Kunz Motorsports/Curb-Agajanian)
71K TANNER CARRICK/Lincoln, CA (Keith Kunz Motorsports/Curb-Agajanian)
71s CODY SWANSON/Norco, CA (Marcie Campbell)
76E BRADY BACON/Broken Arrow, OK (FMR Racing)
76m JASON McDOUGAL/Broken Arrow, OK (FMR Racing)
88 TYLER NELSON/Olathe, KS (Tyler Nelson)
91T TYLER THOMAS/Collinsville, OK (Brian Thomas)
97 KYLE LARSON/Elk Grove, CA (Keith Kunz Motorsports/Curb-Agajanian)
97A AUSTIN O'DELL/Rochester, IL (Patrick O'Dell)
98 TANNER THORSON/Minden, NV (Keith Kunz Motorsports/Curb-Agajanian)