Alice Powell will join Katherine Legge at VIR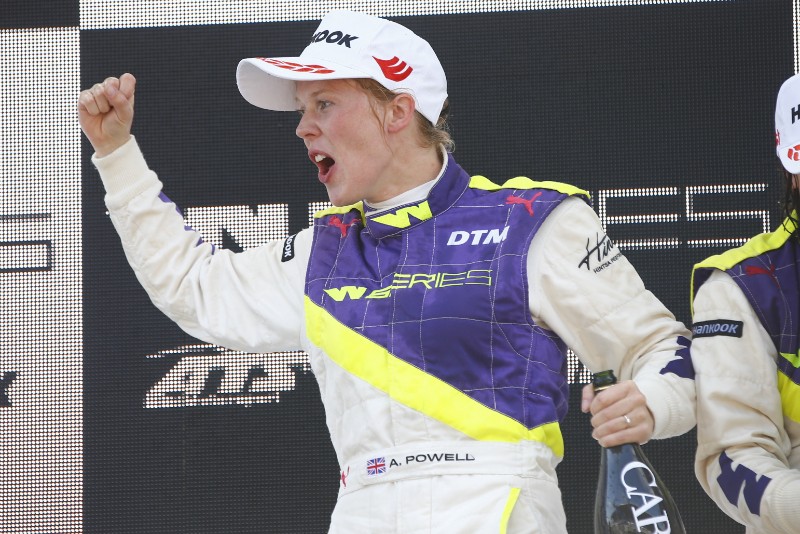 Recent W-Series race winner Alice Powell
Recent W Series Brands Hatch race winner Alice Powell will make her IMSA WeatherTech SportsCar Championship debut at Virginia International Raceway alongside fellow Brit Katherine Legge in the #57 Caterpillar Acura NSX GT3.
"I am very excited to be joining Heinricher Racing and Meyer Shank Racing for the next round of the IMSA WeatherTech SportsCar Championship," said Powell."This is such a successful and well-respected team. I am looking forward to working with them and settling into driving the Acura NSX GT3.
"It will be my first time racing in the States and only the second endurance race of my career, so I am very keen to experience VIR."
In addition to her race win on Sunday, she earned podium finishes at the first round held at the Hockenheimring as well as at Zolder and Assen.
In Formula Renault, GP3 and Formula 3 Powell has been a frequent race winner.
In 2009, aged just 16, she was the youngest female to compete in the Michelin Formula Renault UK Championship.
She also won the British Women Racing Drivers Club Goldstars 'Elite' Category award and was the first woman to win a Formula Renault Race in the UK, going on to become the first woman to win a Formula Renault Championship (2010).
Last year Powell's fellow British teammate Legge stood on the podium at VIR. She is looking forward to making another podium run in the #57 Caterpillar Acura NSX. "I'm looking forward to VIR and to a fresh start after the last couple of races where we haven't had the best results," said Legge. Powell joins Legge at VIR for US debut "I'm really looking forward to racing with Alice. She is a well-respected driver and just won her latest race."We'll all help her get even more comfortable with the Acura NSX so her speed translates to sports car racing. And, being a fellow Brit, I'm sure we'll share too many laughs."