British F3 storms to Silverstone for potential title decider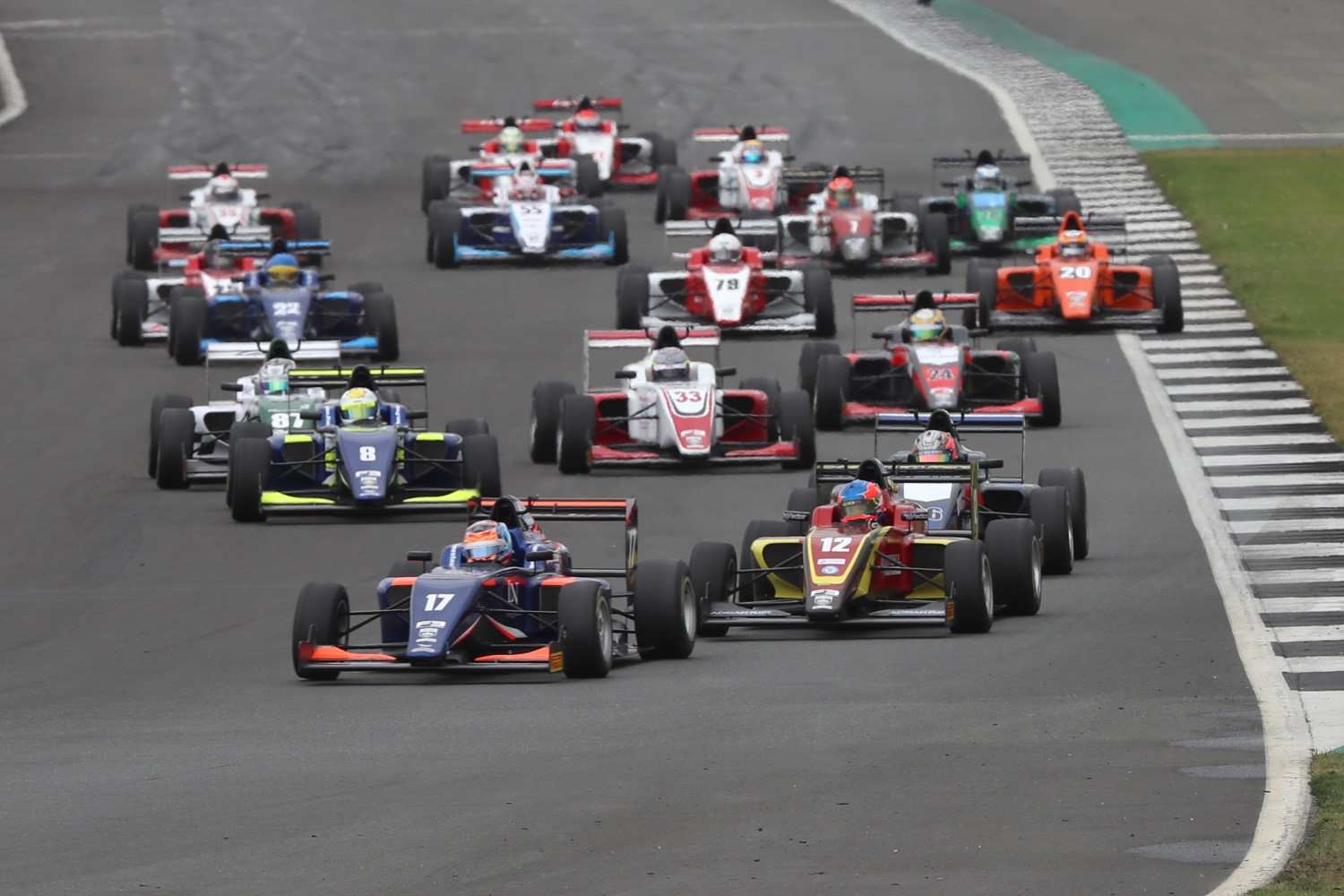 British F3 action
The BRDC British F3 Championship storms into Silverstone this weekend (17-18 August) for the penultimate round of this year's title battle, and the first weekend where this year's title could be decided.
Mathematically there are still 10 drivers in contention with six races to go, but realistically it's a three-way scrap for the championship between Clement Novalak, Jonathan Hoggard and Ayrton Simmons.
Novalak has led the championship for Carlin since day one, and boasts two wins and five additional podium finishes. While he's not won since the first race of the weekend here back in June, metronomic consistency has ensured he's kept a strong points lead while his rivals have either faltered or hit misfortune.
While it's unlikely as it stands, Novalak could wrap up the title in the final race of this weekend should he have a strong opening two contests, and his main rivals hit trouble. He enters this weekend with a 40-point margin over Hoggard, and would need to extend that to at least 107 points by Sunday evening to be provisional champion.
Fortec's Hoggard registered his fifth win of the year on the Brands Hatch Grand Prix circuit last time out, and has been eating into Novalak's lead recently, outscoring the title leader by 15 points at Brands Hatch. A similar story this weekend could set us up for a nail-biter at Donington on 14-15 September!
And then there's Chris Dittmann Racing's Simmons, who has shown some blistering pace this season and claimed his first win of the year at this round in June. Simmons has two wins and six additional podiums, but lies 81 points shy of Novalak. While still very much in the running, it would take quite a turnaround, starting this weekend, for him to claim the title next month.
Away from the title battle, BRDC British F3 has again proven itself as easily the most competitive single-seater championship in Europe. No fewer than 11 drivers have taken wins so far this year, and with some fast names still to stand on the top step of the podium this year, don't rule out the chances of that number increasing on the Grand Prix circuit this weekend.
Douglas Motorsport's Kiern Jewiss is the latest driver to claim a breakthrough win and has climbed into the championship top four after overcoming a run of misfortune earlier in the year. Jewiss is the most in form driver at the moment, having taken three podiums from the last four races including that breakthrough triumph at Brands, so expect him to get involved with the title contenders all weekend.
Neil Verhagen, Manuel Maldonado and Ulysse De Pauw are all drivers searching for their first wins of the season, and keep an eye out in particular for Verhagen who won on the road at Silverstone in June, only to lose it thanks to a five-second time penalty.
Kaylen Frederick in eighth is a two-time winner for Carlin, while Swede Hampus Ericsson's solid maiden full British F3 campaign for Double R has been highlighted with a victory at Snetterton. Hillspeed's Sasakorn Chaimongkol has climbed into the championship top 10 after an improved run of form recently that included a first podium of the year at Donington Park, and it would be no surprise to see him claim a win before the end of the year.
A total of 17 cars are entered for Silverstone, with Spa winner Nico Varrone returning to the grid for Hillspeed.
British F3 will race three times at Silverstone, with qualifying on Saturday commencing at 10.25 ahead of the opening contest at 14.25. Sunday's action starts with the reverse grid encounter at 10.10 before the final race at 14.35. All the action can be followed with live timing and updates on the official British F3 website.
As this weekend falls outside of the SRO package, there will be no live streaming coverage available, though highlights will be available to view on ITV4 a week after the races.
BRDC British F3 Championship standings after race 18 of 24:
1. Clement Novalak, Carlin, 406pts
2. Jonathan Hoggard, Fortec Motorsports, 366pts
3. Ayrton Simmons, Chris Dittmann Racing, 325pts
4. Kiern Jewiss, Douglas Motorsport, 287pts
5. Neil Verhagen, Double R Racing, 259pts
6. Manuel Maldonado, Fortec Motorsports, 253pts
7. Ulysse De Pauw, Douglas Motorsport, 252pts
8. Kaylen Frederick, Carlin, 236pts
9. Hampus Ericsson, Double R Racing, 225pts
10. Sasakorn Chaimongkol, Hillspeed, 204pts
Click here for full standings