Marquez pole, Ducati win: will history repeat today?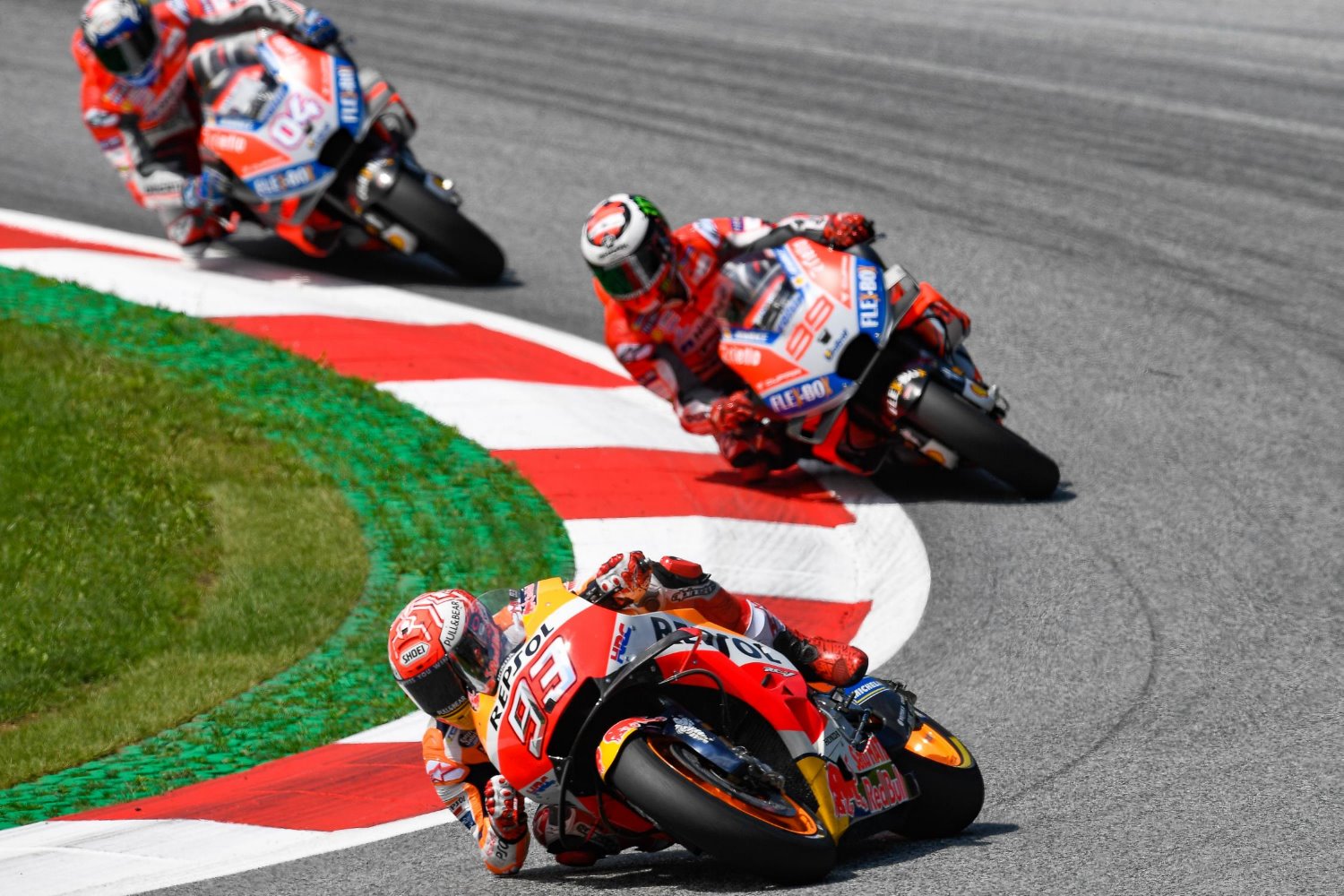 Last year Marquez had to fight two Ducatis but in the end the HP of the Ducatis were too much
For the 59th and record-breaking time, Marc Marquez (Repsol Honda Team) claimed a premier class pole position as he showed superior form on Saturday at the myWorld Motorrad Grand Prix von Osterreich. It's a result that sees him start from P1 for the third successive year at the Red Bull Ring, but it's a circuit he's yet to win at.
It remains the only track on the current calendar that Marquez is yet to stand on the top step at. So, will the seven-time Champion be able to break the Ducati stranglehold on Austrian soil, or will the Bologna factory's 100% win record continue? It goes without saying that Marquez will be hoping history won't repeat itself this time around, having lost out to both Andrea Dovizioso and Jorge Lorenzo in the last two seasons come Sunday afternoon, despite claiming pole position just 24 hours earlier.
A four-tenth margin in Q2 certainly sent a message to his competitors that the number 93 means business this weekend. But Ducati and Dovizioso – who starts from P3 – have been in a similar position before. In terms of race pace, the Italian is Marquez' closest competitor and Dovi is confident he has "a big chance" of taking it to Marquez.
The start will be crucial for Dovizioso on Sunday. Get ahead of Marquez in the opening exchanges and we could be in for a repeat of the 2017 epic the duo treated us to. No one knows what will happen, but will history repeat itself for Ducati and Marquez? The Bologna factory and Dovizioso will be hoping for a hat trick, while Marquez is aiming for third time lucky.
Mind Games in Full Swing
After taking his record-breaking pole, Marquez remained coy on the challenges that his rivals will pose on race day, particularly Dovizioso.
"Dovi knows that it can be a challenge for me, that I'll try things that I wouldn't try with a clear mind," Marquez said after qualifying.
"I'm certain that if Dovi, tomorrow, is inspired and I can't be, I will still try.
"If I can't be, I'll finish second. But it's clear that the game is his strategy, and his strategy is to pull at the chord and see if it breaks.
"But I'm very focused in my box, on my strategy, on my mentality, and his game has no effect on me.
"I have my objective very clear. If it's not possible to win this year, we'll try again next year."
However, all eyes will be on the front row, with Dovizioso putting on the chasers' hat and deeming himself the most significant challenger to Marquez.
"Marc wants to decide the pace," the Ducati rider said.
"I'll have to be ready to react. He's fast, but I'm there with him, and I still have some margin.
"If I look at the 28 laps, Marc and I are the fastest. Even if not by much.
"I don't expect there to be other riders with us at the end of the race."