Brown: The door is 'always open' for Alonso in IndyCar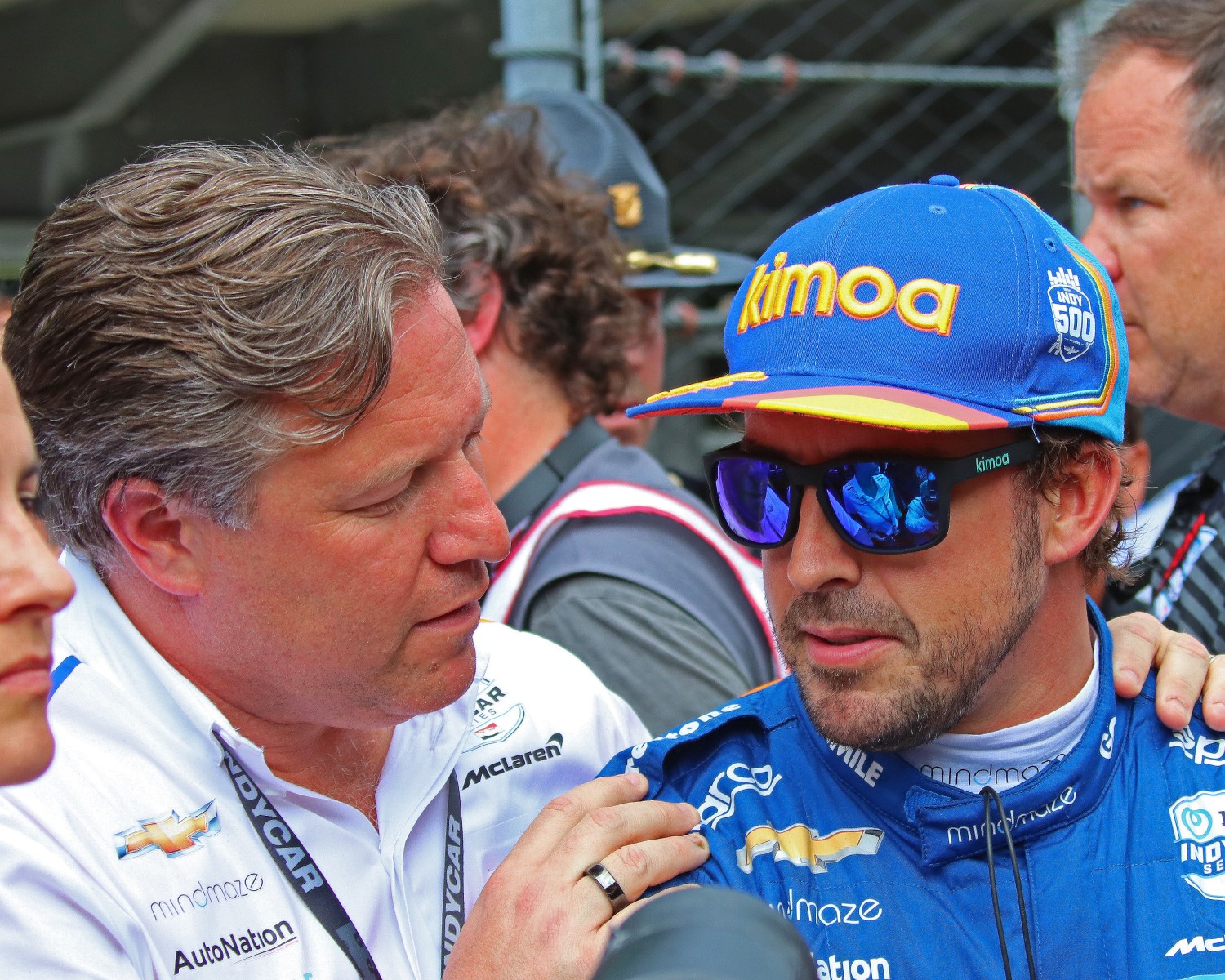 Brown and Alonso
Zak Brown says Arrow McLaren Racing SP would welcome Fernando Alonso's involvement with the team in IndyCar, either as a third driver for the new entity or as a one-off return to Indianapolis.
McLaren and Schmidt Peterson Motorsports announced on Friday that they will be joining forces for a full-time onslaught on the NTT IndyCar Series in 2020.
Arrow SPM currently runs James Hinchcliffe and Marcus Ericsson in America's premier open-wheel championship, but today's release made no mention of the outfit's driver line-up for 2020.
Hinchcliffe is contracted to SPM for next season and Brown hinted that Arrow McLaren Racing SP could pair the six-time IndyCar winner with a younger driver.
"James Hinchcliffe is a great member of the team and has a contract through 2020, and we look forward to confirming drivers soon," Brown told RACER.
"As we now get into our review of what do we want to do together, drivers and long-term thinking, even beyond '20, is arguably one of the most – if not the most – important element of a successful IndyCar team.
"And so, no decisions have been made yet. Experience is very important. And having a long runway.
"If you look at what we did in Formula 1, we have two young drivers, one rookie, one quite experienced, and that's working really well with Lando and Carlos.
"So, I'm not saying that's exactly the same approach we'll take, but I think it gives you a sense of the type of thinking that we think makes sense.
"And we're going to do this very hand in hand with Sam. Drivers is something he knows a lot about. Moving forward, our decisions are not McLaren decisions or SPM decisions, they're group decisions. We're now one team."
Predictably, Fernando Alonso has been suggested as a possible recruit for Arrow McLaren SP. Brown says that hypothesis is on the cards, although within the context of a third full-time entry for the team in 2020, or another one-off at Indy.
"The door's always open for Fernando," said the McLaren Racing CEO.
"He's part of the family, he's a contracted McLaren driver and for the first time in a long time he doesn't have a full racing calendar ahead of him.
"He's obviously well aware of what we're doing here, and I'll be seeing him later in the year and we'll be discussing our plans and his plans and see if those converge at any point."
Alonso has yet to divulge his plans for next year. The Spaniard did not renew his deal with Toyota for the 2019/20 WEC super season although the 38-year-old is rumored to retain a relationship with the manufacturer in the context of his participation in the 2020 Dakar rally-raid event, an involvement that could be made official in the coming days.